307
Camera recommendation: Which camera is best suited for use with a microscope?
Digital single-lens reflex cameras (DSLRs) and digital single-lens mirrorless cameras (DSLMs or system cameras) with interchangeable lens mounts deliver excellent image quality at an economical price.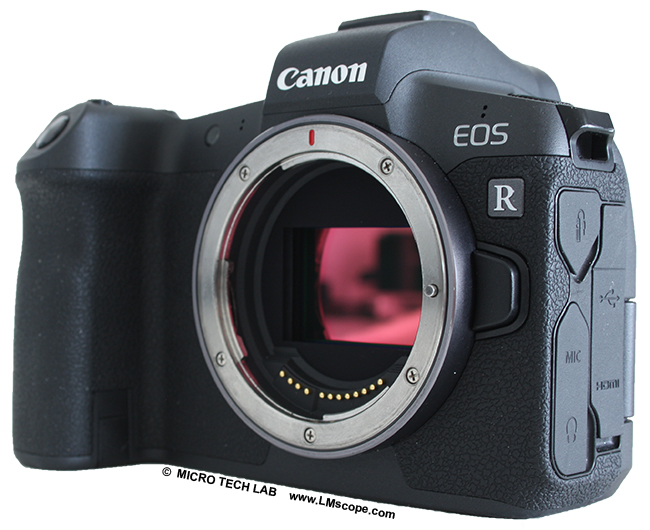 The MICRO TECH LAB team spends a lot of time testing digital cameras to assess their suitability for use in microscopy. To give our customers and readers the benefit of our experience, we publish test reports outlining the results of our tests on our website free of charge. In our camera ranking, we evaluate the cameras we have reviewed. For custom advice on which camera would be best for your needs, please contact us.
We offer adapter solutions for connecting all commercially available DSLRs, system cameras (DSLMs) and C-mount cameras to microscopes.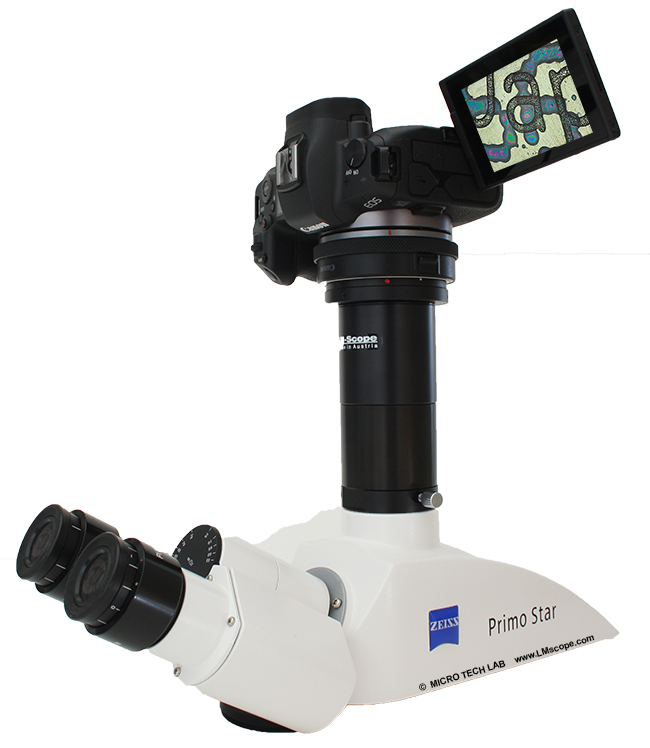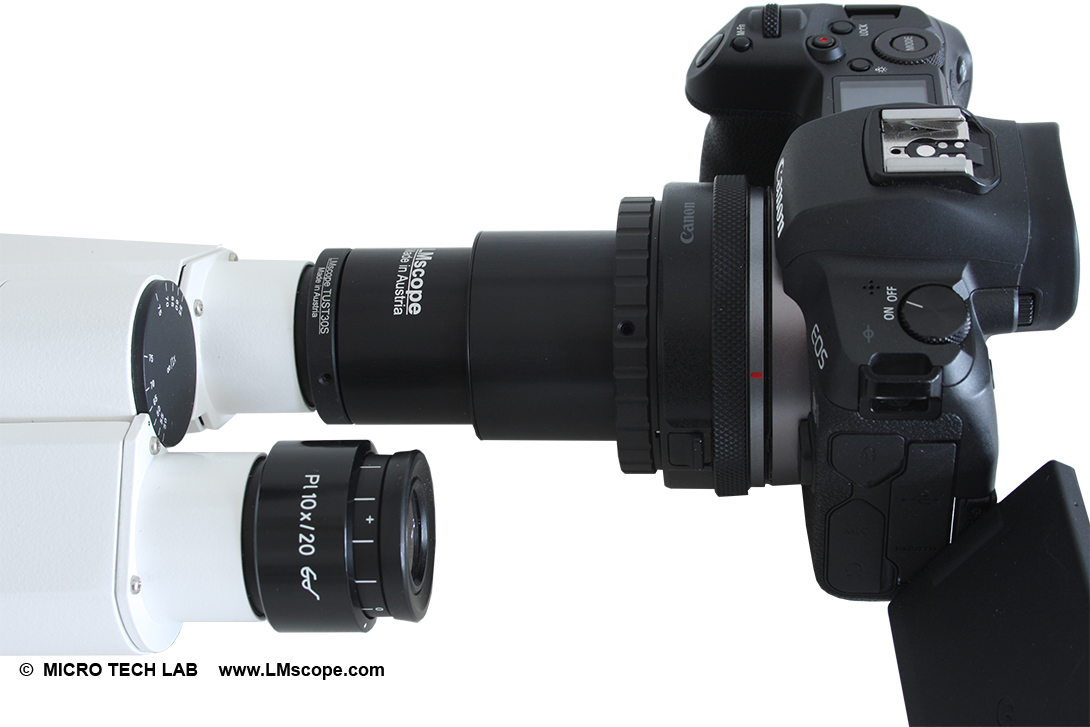 For challenging imaging tasks (fluorescence microscopy, low-light imaging, slow motion or time lapse shooting, etc.) and excellent image quality, we recommend current DSLR or system cameras with a full-frame sensor. These powerful cameras are equipped with state-of-the-art technology.
In the price range up to EUR 1,000, Canon currently has the most to offer. Canon cameras are excellently suited for microscopy, and the software for remote control from a PC, Mac or smartphone is included when the camera is purchased.
For basic tasks, entry-level cameras with a large APS-C sensor (such as the Canon EOS 2000D / 4000D or M50II) produce great results for under EUR 500 and have a better sensor quality than most C-mount cameras.
Mid-level cameras such as the Canon EOS 800D / 250D / M50 with a high-quality APS-C sensor and articulated screen are priced at around EUR 600.
We do not recommend any compact cameras at this time, because they generally cannot be used satisfactorily for microscopy.
The following aspects are particularly important for use on a microscope:
Quality of the image sensor: optimal combination of sensor resolution, dynamic range and light sensitivit

Live View mode with magnifying function

Possibility to use auto exposure (A) mode (without the original objective)

Articulated camera screen

Digital video output interface (HDMI) for high-quality Live View feed (Full HD, Ultra HD (4K))

In-camera HDR (High Dynamic Range imaging)

High-speed video mode to record fast-moving processes (slow motion)

Ability to control the camera remotely from the PC, Mac, tablet or smartphone via Live View
Breakdown of camera models and price categories:
1) Budget-priced older DSLRs below EUR 300 on the used-camera market
Older DSLR cameras, which can be bought at bargain prices on the used-camera market, are often quite well suited for use with a microscope. You just need to make sure that the camera has a good sensor, Live View mode with magnifying function and can be controlled remotely from the computer.
Canon: EOS 40D , EOS 50D, EOS 60D, 500D, 550D, 600D, 650D, 700D, 1000D, 1100D
2) Affordable cameras with a price of up to EUR 400
Canon: EOS 1200D / 1300D / 2000D/ 4000D (These cameras don't have an articulated screen).
3) Mid-range price segment up to EUR 1,000
Canon: EOS M50 , EOS M50II, EOS 70D, EOS 80D , EOS 90D, EOS 200D, EOS 250D, 760D / 750D, 800D, 850D, EOS R10 (These cameras have an articulated screen)
Nikon: D7200, Z50
Sony: Alpha 6500, Alpha 6400
4) Upper-range price segment between EUR 1,000 and 2,000
Nikon D610
Sony Alpha 6600, Alpha 7C
5) Top-shelf cameras with a full-frame sensor; these are aimed at professional users and come with a price tag of EUR 2,000 and up.
Nikon: Z-Serie (Z7), D4, D5, D800, D810 , D850
Canon: EOS R , EOS 1D X Mark II, EOS-1D X, EOS 6D Mark II, EOS 5D Mark IV, EOS 5DS R, EOS 5DS, EOS R5
Sony: Alpha 9, Alpha 9 II, Alpha 7S II, Alpha 7R/ 7R II, Alpha 7R III, Alpha 7R IV, Alpha 1
6) Special section films 4K / 6K videos:
Special cameras are used especially for long-term recordings in 4K or even 6K resolution. For customs reasons, many DSLR and system cameras have an artificial limitation of the recording time of 30 minutes. The following cameras are also excellent on a microscope:
Blackmagic Pocket Cinema Camera 4K
RED Scarlet Camera
GoPro Hero 7 Black
Panasonic Lumix DC-GH5
The following mirrorless system cameras have an 8K video function and have become extremely interesting alternatives for professional film cameras:
Canon: EOS R5
Sony: Alpha 1 (no recording time limit)
Nikon Z9
7.) Special section slow motion cameras with interchangeable lens mount
The following cameras are suitable for use for slow motion effects on the microscope. The recorded frames per second (fps) are decisive:
Olympus OM‑1: 240fps (Full HD)

Panasonic GH5s: 240fps (Full HD)

RIBCAGE RX0 (modified Sony RX0): 1000fps

RIBCAGE RX0II (modified Sony RX0 II): 1000fps

Canon EOS R6 MII: 180fps (Full HD)

Sony Alpha 7S III: 120 fps (4K)
01.01.2015 Update:15.09.2022