490
The Alpha 6500 is another top-end system camera from Sony that performs impressively on the microscope
Sony's Alpha 6500 is a small, handy mirrorless camera that packs lots of power in a small package. It is equipped with a 24 MP APS-C image sensor which can capture full-resolution images with exceptional detail and depth. We wanted to take a closer look at how the Alpha 6500 performs with our digital adapters for photomicro- and –macrographic use. In our test, we focused on important basic functions and connection options. The bottom line: we can award the Alpha 6500 a strong rating in terms of performance, image quality and supported connection types.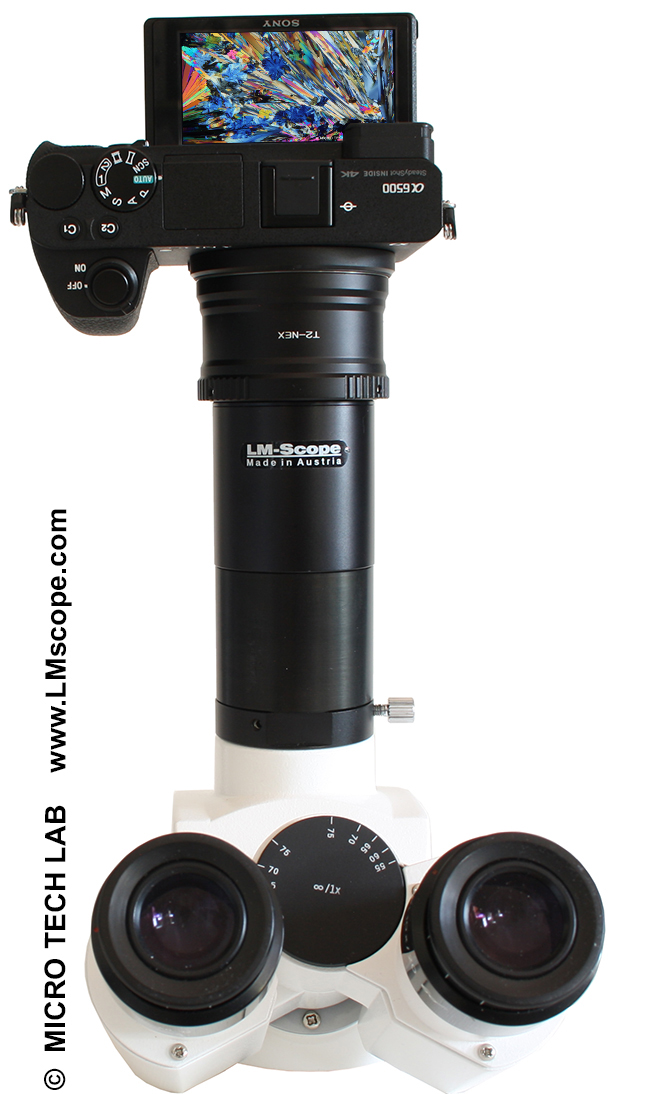 As a system camera, one of the major boons of the Alpha 6500 is its low body weight.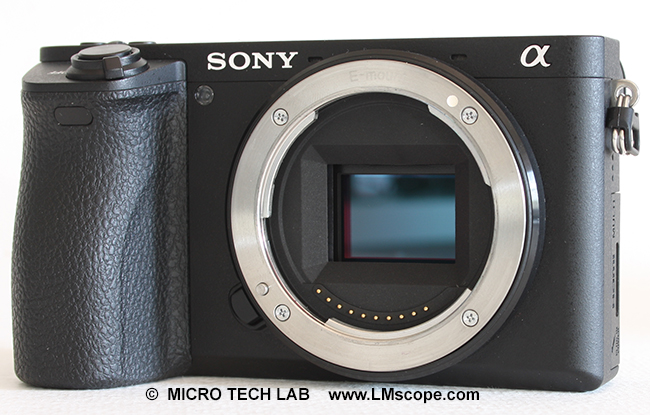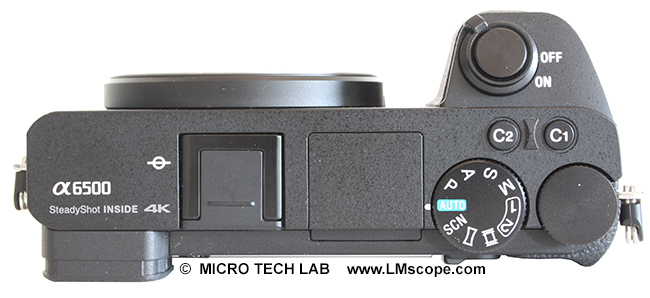 A follow-up to the Alpha 6300, the Alpha 6500 was released in spring 2017. Its price tag of around EUR 1,600 puts it in the same price range as Sony's Alpha 7R II and 7R III (body only, no lenses), although the Alpha 6500 has a slightly smaller APS-C CMOS sensor. Native sensitivity runs from ISO 100 to 25,600 with an expanded setting of ISO 51,200, which is mid-range. Compared to Sony cameras with full-frame sensors, the Alpha 6500 has a slightly inferior dynamic range, but is still able to handle demanding specimens such as insects.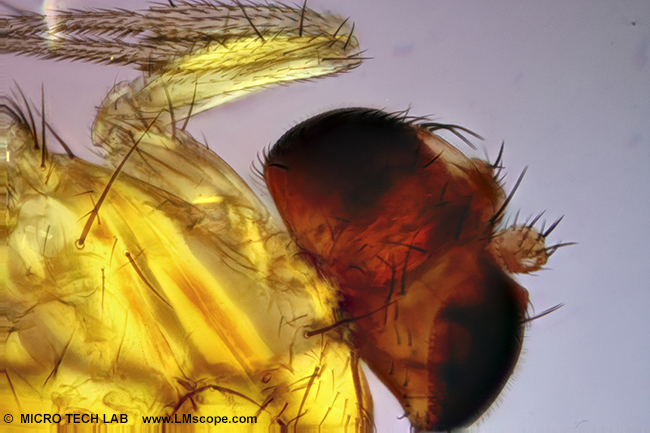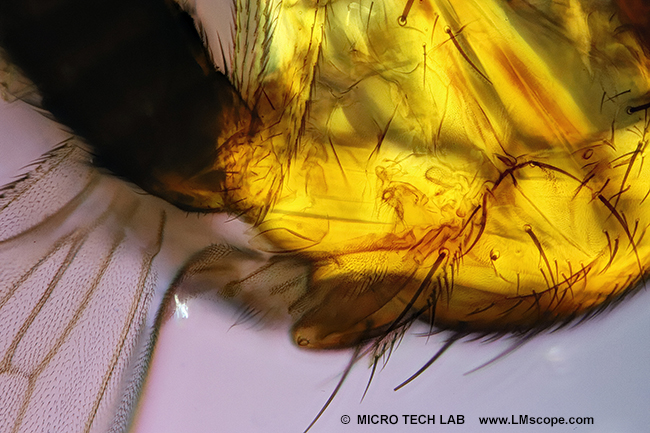 With our LM microscope adapter solutions, which feature a plan achromatic precision optical system, attaching the camera to the microscope is a quick and simple procedure because the adapter connects directly to the camera body. For this reason, the "release without lens" feature has to be enabled on the camera to trigger an exposure.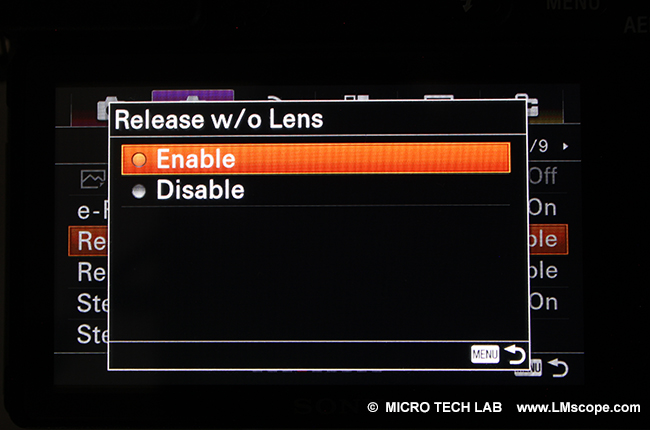 Of course, the best way to connect a camera to a microscope is via the photo tube. If the microscope doesn't have a photo tube, the camera can also be attached to the eyepiece tube. As a system camera, the Alpha 6500 has a huge advantage over the heavier digital SLR cameras, because thanks to its low weight of only about 450 grams and its trim dimensions (just 7 cm tall, 12 cm wide and 5 cm thick), it can also be used on smaller, lighter microscopes without causing stability issues.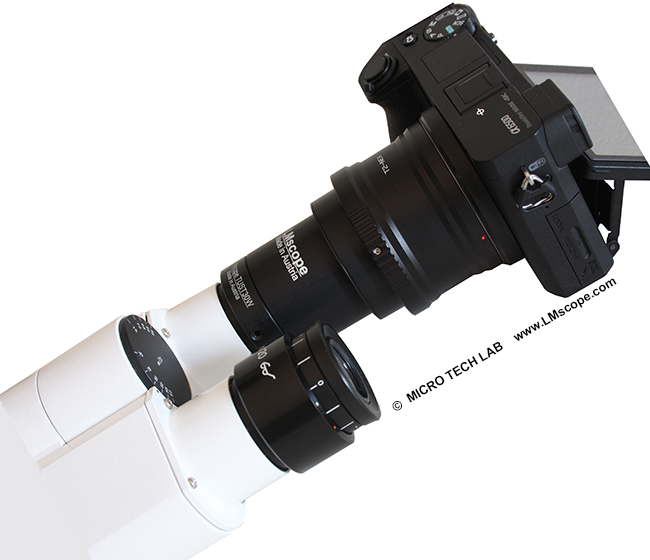 Standard eyepiece tubes with an internal diameter of 23.2 mm only require the standard adapter version. For tubes with an internal diameter of 30 mm, an additional coupling piece (TUST 30) is needed. Like all our adapter solutions, the TUST 30 is precision machined from solid aluminium.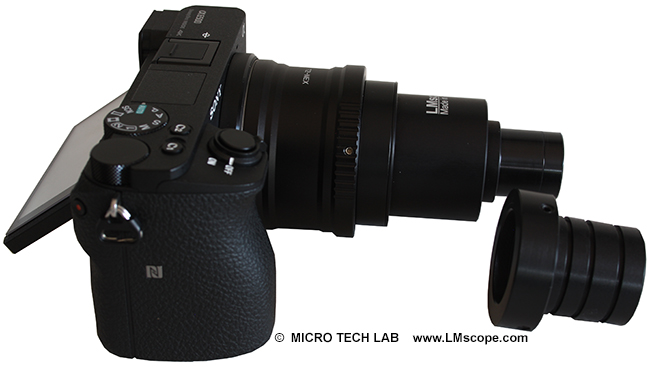 Our "Pro" line LM microscope adapters feature a modular design and therefore can be used for attaching a camera via the photo port or the eyepiece tube. Only one extra accessory part – a C-mount extension – is required.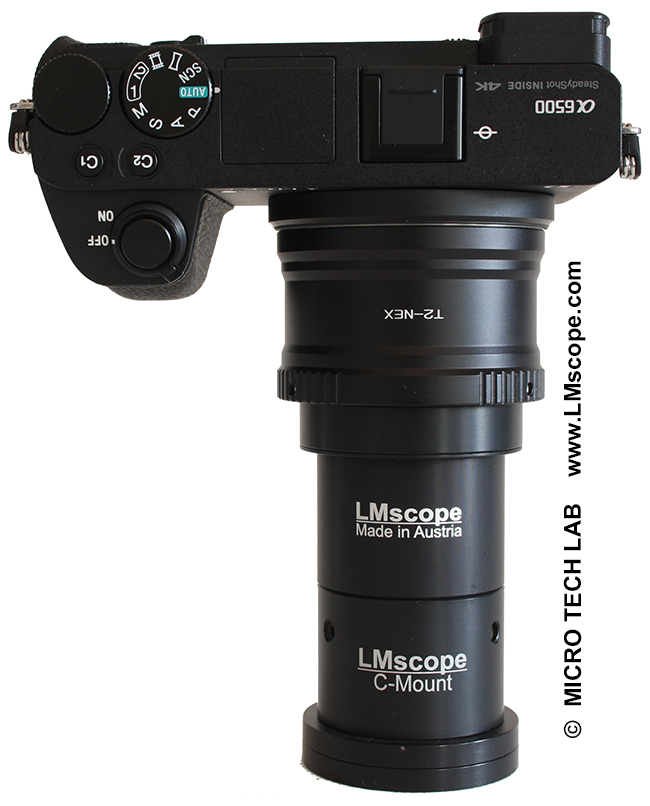 The screen features are particularly important when the camera is used to take pictures through a microscope without tethering to a computer or using an external screen. A tilting 3 inch touchscreen can be considered standard in this price segment and has obvious ergonomic benefits: the operator can remain seated when reviewing the images and doesn't have to get up to make adjustments.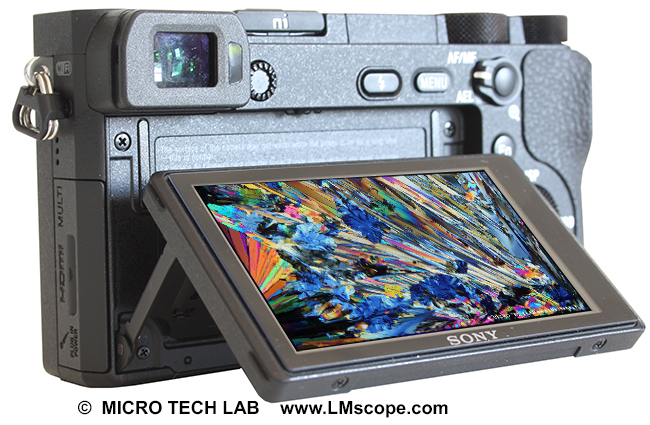 In video mode, the Alpha 6500 supports Ultra HD (4K) recording (38.10–21.60 pixels) at a rate of 25 frames per second. This allows the user to achieve the level of video quality and detail resolution necessary for professional results.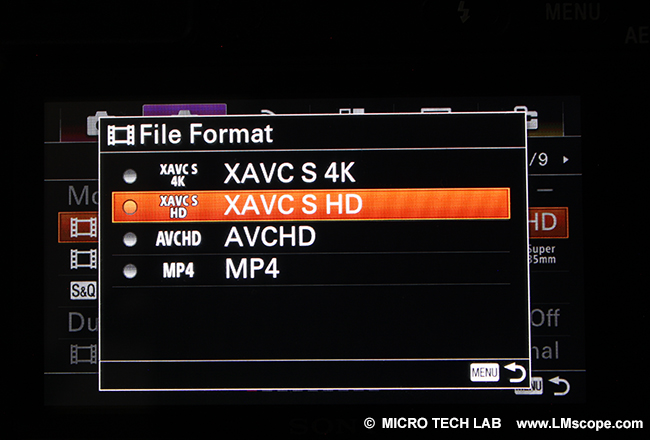 The Alpha 6500 has a micro HDMI port at the side of the body, which can be used to feed Live View images in 4K quality to an external monitor.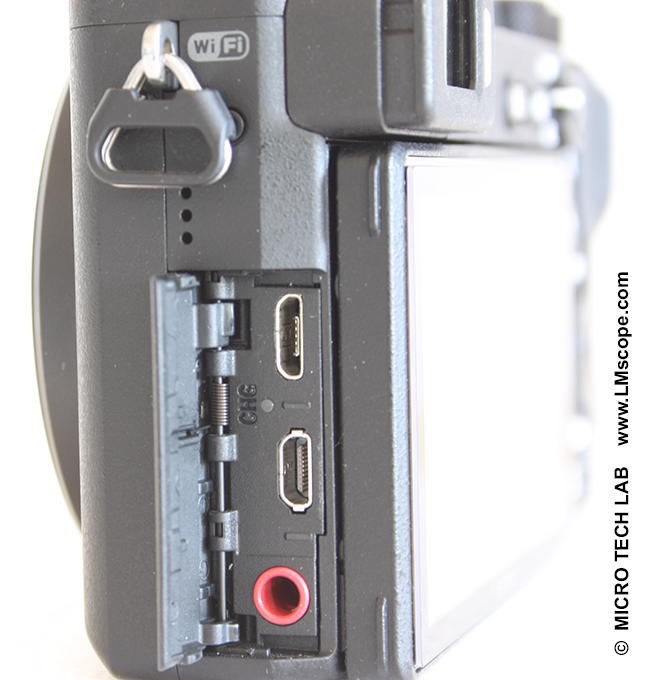 This is a very important feature when giving presentations or engaging in discussions, or simply for better focusing the image.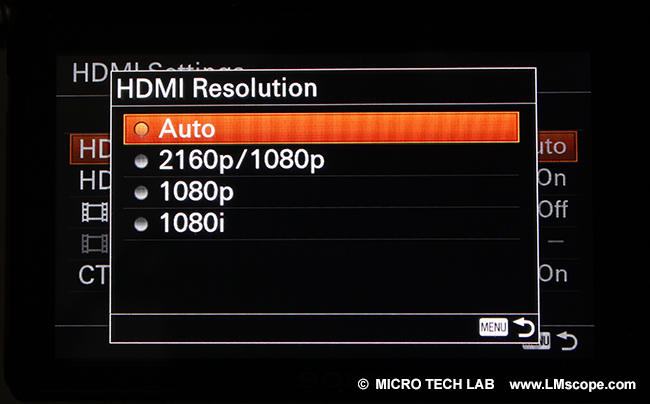 In mobile use, power saving modes to preserve battery life are very important and useful. When used in a stationary setting, however, it tends to rather annoying when the camera automatically shuts off the screen. If none of the buttons of the Alpha 6500 have been pressed for a maximum of 30 minutes, the camera goes into power saving mode and automatically shuts itself off. The Canon EOS DSLR cameras, by contrast, allow the user to fully disable the automatic power-off function.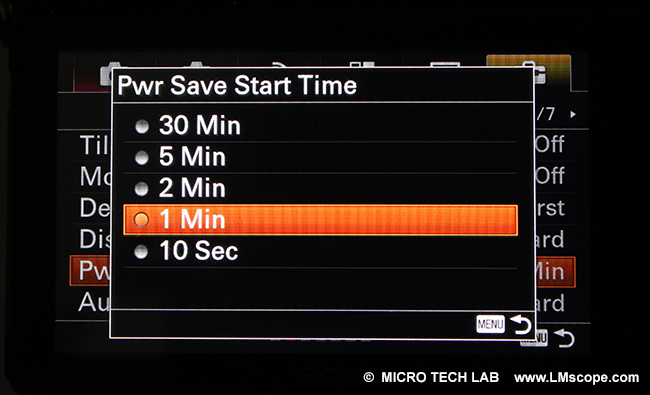 Another remarkable aspect of the Sony Alpha 6500 is its USB charging port, which permits the user to charge the camera just like a mobile phone. This even eliminates the need for dummy batteries, which we usually recommend to ensure uninterrupted work.
Another aspect that has become increasingly important is the camera's ability to communicate. Specifically, this means the option to remotely control the camera in Live View mode via smartphone or tablet, and to adjust the focus and several other settings. The Alpha 6500 has a built-in Wi-Fi module for easy connection to tablets or smartphones. We have put this feature to the test and connected the Alpha 6500 to an android tablet by Samsung with the PlayMemories app, which we downloaded from the Google Play store. Click here for a detailed test report.
The app features all of the core functions needed:
Live View and remote shutter release

Change settings in the menu

Display grid lines for measuring specimens

Option to flip or rotate the image (an important feature for photomicrography)
A wired connection can also be established for communicating with a PC or Mac. For this, we recommend the (for-cost) Capture One software, which offers an extensive range of functions, such as Live View, magnification, rotation, flipping, image optimisation and much more.
CONCLUSION: Sony's Alpha 6500 is a powerful all-round DSLM camera which is well suited for microscopy. With a very approachable price tag (around EUR 1,600), it comes chock-full of useful features, including 4K video, in-camera HDR options and a USB charging port.