402
The Sony Alpha 7R II – a top-notch camera with full-frame sensor for use in microscopy
Since the mirrorless, full-frame Sony Alpha 7R II received top ratings in every magazine review and test report, we were very curious about the camera and could hardly wait to test it with our LM digital adapters in the photomicro- and –macrography environments.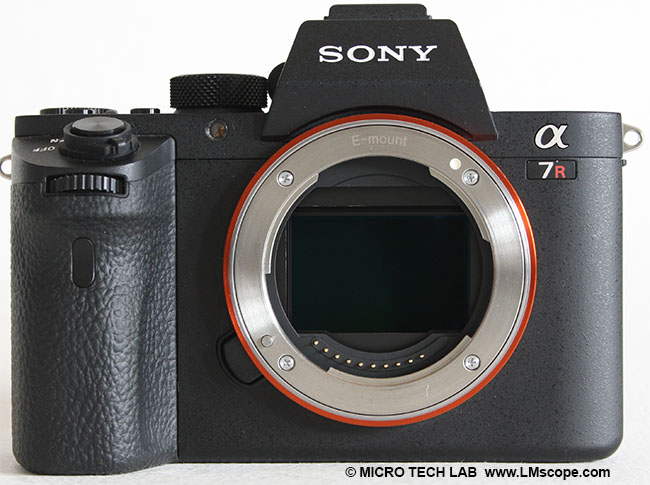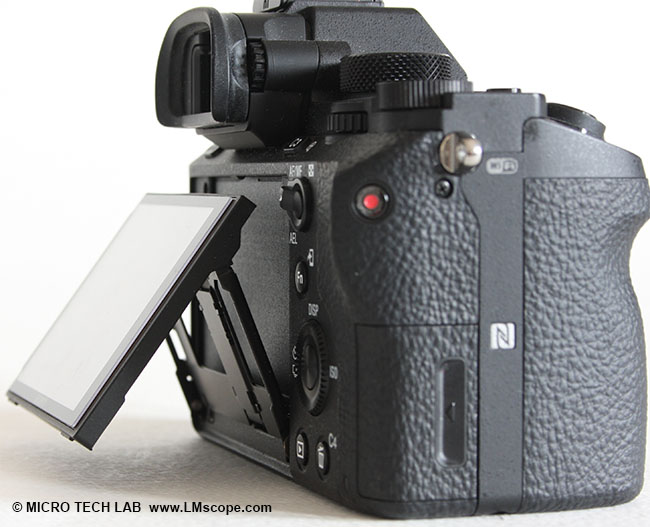 The body of the Sony Alpha 7R II is of a rigid magnesium alloy design. Without the lens, it weighs 638 grams and has a tilting, rear-mounted screen. Unlike the Sony Alpha 7 II, this model also features a locking mode dial on the top along with an expanded range of customisable functions and buttons.
So much for the external appearance. When working with the Sony Alpha 7R II, it soon becomes obvious that the many positive reviews it has received are indeed justified. The camera uses what is currently the most sophisticated and advanced technology available. The full-frame 42.4 megapixel sensor includes a sensor-shift image stabilisation system, which enables the camera to compensate for vibrations and prevent movement-induced blurring.
These capabilities certainly pay off when working on the microscope, since at high microscope magnifications (> 100x), even the most subtle vibrations can have negative impacts on image quality.
In our test shots, we used a Zeiss Axiolab.A1 polarisation microscope with "E-Plan Neofluar" objectives, a microscope that is also quite well suited for fluorescence applications.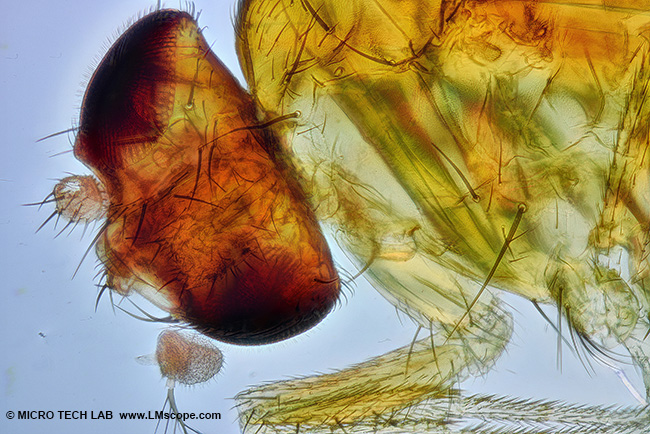 The fruit fly (drosophilidae family) was fixed with 70% ethanol, then dehydrated and mounted using our proprietary Clear Matrix® mounting medium. This process made it possible to retain the insect's natural state with no air bubbles or shrinkage. The quality of the mounting medium is particularly important when working with specimen slides that have a sealing layer. Because of the thickness of the sealing layer used on our fruit fly, we used the Sony Alpha 7R II's HDR mode. This way, the thick and thin areas of the specimen were illuminated as much as possible, which made more details visible. Had we not chosen that setting, the image would have shown a black head and light body, but no details.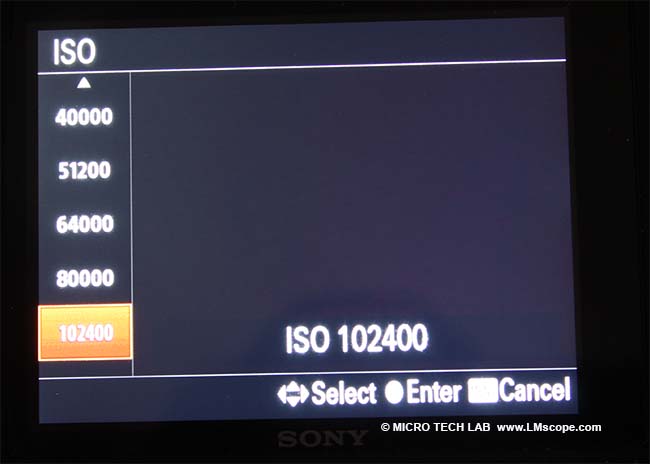 The sensor on the Sony Alpha 7R II is exceptionally light sensitive and delivers extremely low-noise results, which allows very high ISO values without loss of quality. The ISO range can be freely selected and extends all the way to 102,400. With such tremendous performance, Sony is placing serious pressure on competitors like Canon and Nikon (which have already announced new camera models for 2016: Canon's EOS 1Dx Mark II and Nikon's D5 and D500).
As thermally generated noise is an important parameter for image quality, we measured the Sony Alpha 7R II's sensor surface temperature during operation, since we were curious about how the camera would manage. The result? After 30 minutes of Live View operation, its temperature rose to 32º C. Compared to the sensor surface temperature of other cameras we have measured, the Sony Alpha 7R II produced a very low and especially good outcome, particularly since other cameras had already reached 40º C at the same point.
With increased temperature, thermal noise increases commensurately, but if the sensor remains cool, noise is reduced, which produces better image quality. Notably, the Sony Alpha 7R II's cooling effectiveness yields a superior signal-to-noise ratio, while keeping power consumption low.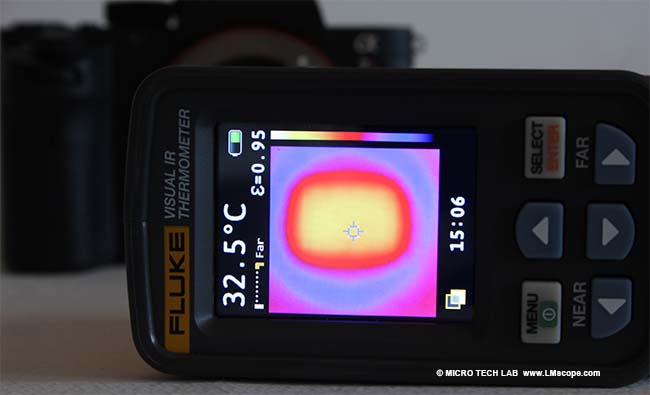 The camera's high ISO sensitivity also offers many benefits for microscopy applications. In numerous microscopic imaging methods (e.g. fluorescence applications with fluorene dyes, marked antibodies or self-illuminating specimen slides), very little light is emitted. This means that only a small amount of light reaches the camera sensor. But Sony's new camera technology solves those microscopic challenges very easily. The Sony Alpha 7R II's ability to handle high ISO settings (102,400) and longer exposure times opens up fantastic new possibilities! Expensive microscope cameras with special cooling systems are no longer needed.
The Sony Alpha 7R II features 4k Ultra HD (3,840 x 2,160) resolution video recording capabilities that yield about four times as many pixels as Full HD. At this massive resolution, even more microscopic detail can be captured in the video. Live View videos and images can be displayed on an external 4k monitor via the HDMI port, which is very convenient for demonstrations, lectures and discussions. However, maximum Live View time is limited to 30 minutes. After that, the camera shuts down automatically. This is a slight a disadvantage, especially during lectures and talks.
Attaching the Sony Alpha 7R II to a microscope is simple, as our comprehensive range of products allows the camera to be used on almost all microscope models. We offer LM digital adapter solutions that work on photo tubes as well as on eyepiece tubes (30 mm and 23.3 mm internal diameter).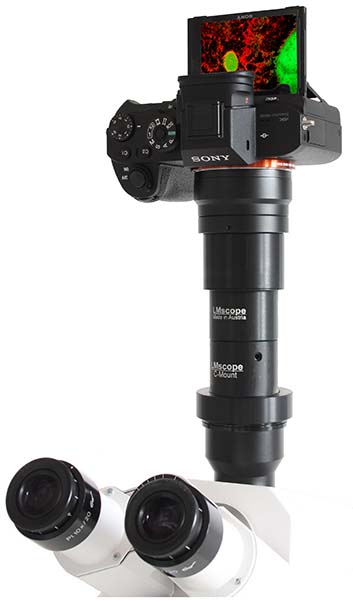 The most convenient means of connecting the camera is to attach it to the photo tube (see image above).
When used in a stationary setting (laboratory, photo studio, etc.), the camera is usually attached to the PC/Mac via USB cable. Wherever possible, the camera should be controlled by the PC, as remote control not only improves workflow, but also produces considerably better image quality, since it eliminates the image-degrading vibrations produced when the shutter is pressed manually.
Unfortunately, Sony's remote control software (with Live View mode) does not provide the full range of remote control capabilities, as it lacks the option of displaying the Live View image on the computer. That function would be very convenient for checking and adjusting focus, and its absence means that these settings must be configured on the camera display. In comparison, the software being offered by Nikon and Canon is far superior.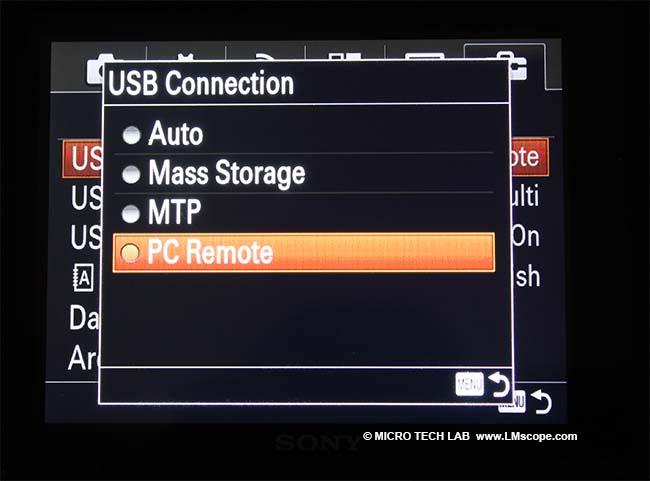 Conclusion:
The Sony Alpha 7R II is an outstanding camera with an excellent sensor. It is very well suited for use with microscopes, particularly in the area of fluorescence imaging. The camera's only shortcoming is its remote control software, and we certainly hope Sony will provide a solution that incorporates Live View capabilities. For that reason alone, we had to deduct a few points in our overall ranking of the Sony Alpha 7R II.
14.06.2016
New LM Digital Adapter for:
Sony Alpha 1 / Sony FX3 Cinema Line / Sony Alpha 9 II (ILCE-9M2) / Sony Alpha 9 / Sony Alpha 7R IV / Sony Alpha 7S II / Sony Alpha 7S III / Sony Alpha 7R III / Sony Alpha 7R II / Sony Alpha 7C / Sony Alpha 7S / Sony Alpha 7III / Sony Alpha 6700 / Sony Alpha 6600 / Sony Alpha 6400 / Sony Alpha 6100 / Sony ZV-E10 / Sony Alpha 6300 / Sony Alpha 6500 / Sony Alpha 99 II (SLT-A99 II) / Sony Alpha 77 II / Sony Alpha 7R / Sony Alpha 7 / Sony Alpha 68 / Sony Alpha 99 (SLT-A99) / Sony Alpha 7II / Sony Alpha 6000 / Sony Alpha 77V / Sony Alpha 580 / Sony Alpha 5100 /