397
An overview of LM adapters for microscopy applications
In professional photomicro- and –macrography, adapters provide the necessary link between a camera and a microscope to produce high-quality images (high resolution, focus and colour contrast). Thus, all of our digital adapters are equipped with a plan-achromatic optical system that ensures a flat field of view with no loss of focus at the edges. Since we correct the lenses of our LM digital adapters, they deliver images that are not affected by vignetting, chromatic aberrations (colour fringing) or barrel-shaped distortions. Additionally, they are equipped with an anti-reflex system that prevents glare, reflections and hot spots.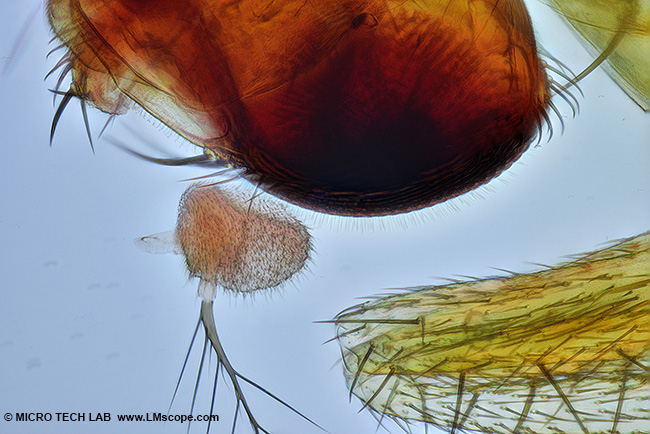 We offer adapter solutions that are optimised to the sensor size of the respective camera. This enables the sensor to achieve the best effect and the largest possible field of view.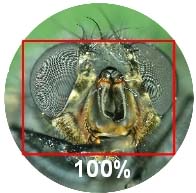 The type of camera used has a major impact on image quality. Regardless of the price segment of a particular camera, not all digital cameras work equally well with a microscope. As a special service to our customers, our website offers both camera rankings (a tool to assess the suitability of different camera models for photomicrography) and a camera guide (which helps our customers choose the camera best suited to their needs).
We also test new camera models regularly and publish our test reports, which allows customers to benefit from our experience. We maintain an inventory of adapter solutions for most camera types (DSLR, system, microscope and compact cameras). Our product portfolio also includes wide field optical designs that provide an extra-large field of view. Please see the infographic for more information.
The modular construction of our "Pro" adapters facilitates maximum flexibility and easy pairing with many microscopes from different manufacturers (Nikon, Olympus, Zeiss, Leica, etc.), using small accessory parts. We offer adapter solutions for microscopes with photo tubes and eyepiece tubes, and also for special microscopes that use beam splitters (such as split lamps or surgical microscopes). The LM "Pro" adapter line works both on photo tubes and eyepiece tubes. Since we develop and manufacture our products ourselves, we are also able to provide customised solutions.
We place great importance on quality and sustainability, which is why we use only high-quality materials such as CNC machined aircraft-grade aluminium or brass parts for our adapters.
Typical connection options:
Adapter solution for microscopes equipped with a photo tube:
If the microscope has a photo tube, this tube can be used to create a stable and secure connection between the microscope and the camera: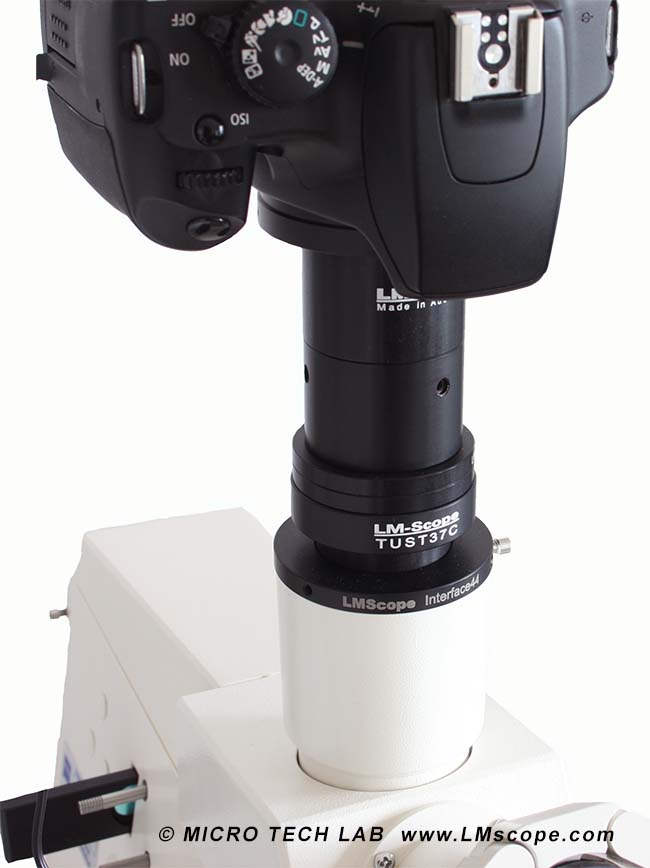 Adapter solution for eyepiece tube connection (in a variety of diameters including 23.2 mm and 30 mm):
If the microscope does not have a photo tube, the camera can be connected to the eyepiece tube. This method is also ideal if an adapter will be paired with several different microscopes.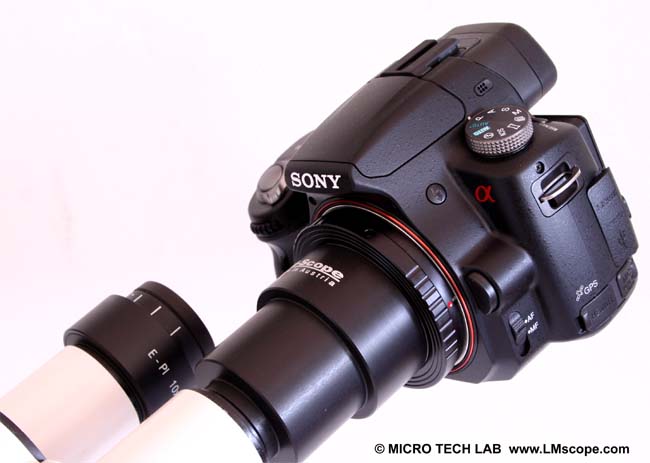 Adapter solution for special microscopes:
We also offer adapter solutions for special microscopes with integrated beam splitters, such as split lamps or surgical microscopes.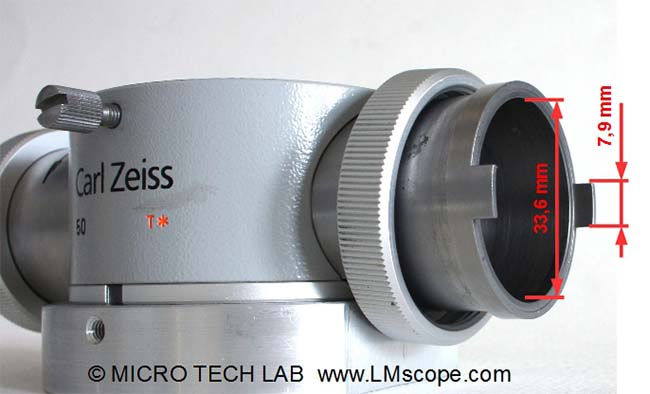 Microscopes are used in a variety of disciplines, fields and contexts, such as laboratories, industry applications, measurement technology, etc. Our customised solutions can accommodate the unique requirements of each application. The image below shows an older microscope with the LM digital adapter solution attached directly to its body: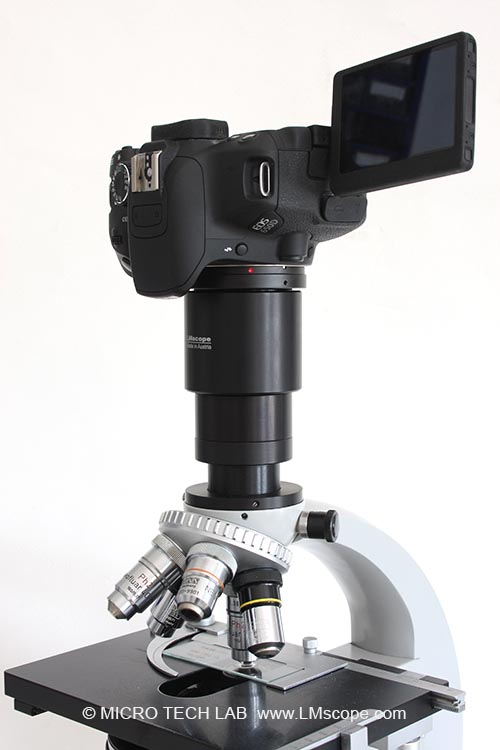 LM photomacroscopes- and –microscopes:
In addition to our adapter solutions, we offer special microscopes and macroscopes that are optimised for professional digital photography.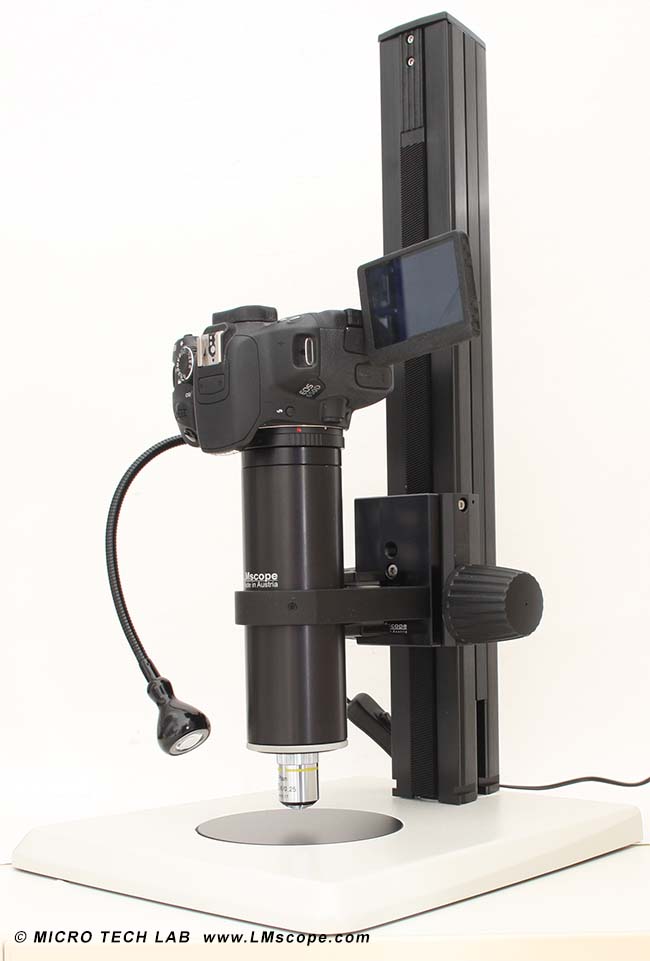 To select the adapter solution that is right for you, please use our online configurator or email us – ideally with an attached photograph of your instrument.
14.06.2016
New LM Digital Adapter for:
Nikon Z9 / Nikon Z8 / Sony Alpha 7R V / Sony Alpha 1 / Sony FX3 Cinema Line / Sony Alpha 9 II (ILCE-9M2) / Sony Alpha 9 / Nikon D6 / Canon EOS R3 / Canon EOS R6 Mark II / Canon EOS R8 / Sony Alpha 7R IV / Canon EOS R5 / Sony Alpha 7S II / Sony Alpha 7S III / Sony Alpha 7R III / Canon EOS R6 / Nikon Z6 / Nikon Z6II / Sony Alpha 7R II / Nikon Z7 /