255
LM digital SLR wide-field adapter: With focus settings and larger image field
The new and optimized version of our popular LM adapter for eyepiece tubes with 30 mm inner diameter!
We improved and updated our LM digital tube adapter (see also LM digital C-mount adapter). The new LM digital universal wide-field adapter has a relay lens (corresponds to a field of view of a 10x eyepiece), an image field enlarged by 25% in comparison to our standard LM digital adapter and is focusable!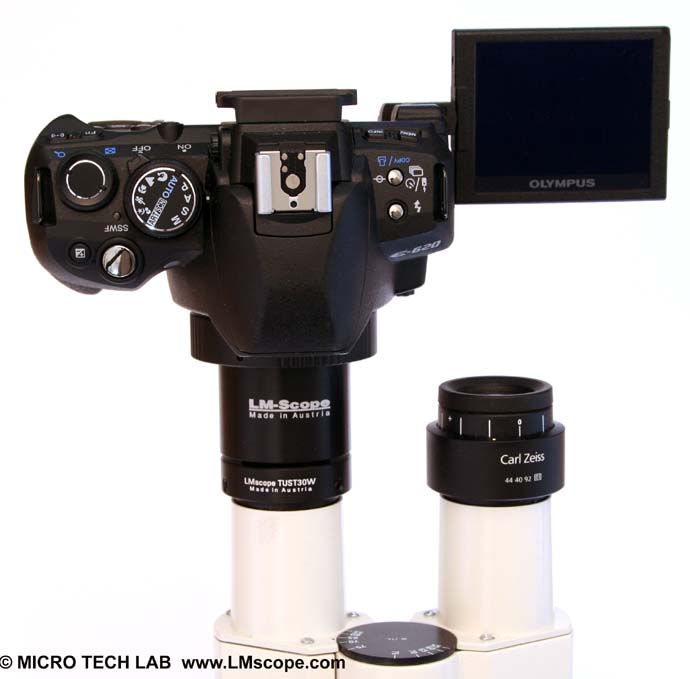 The LM digital wide-field adapter is focusable and has a sophisticated plan achromatic lens design. It uses the whole image field of the microscope - even the edges of the image are shown on the photo. Therefore we recommend using the LM wide-field adapter only with high-quality microscopes with fully corrected lenses (e.g. infinity corrected plan achromats, plan flourites, plan apochromats, etc.) With lower-quality microscope lenses (without the "plan" denotation) it is not possible to get the centre and the edges of the image in focus simultaneously since these lenses mostly show a pronounced focus field curvature. Looking through the eyepiece, however, the image appears in focus because the human eye is able to focus on objects at different distances. This process is called accommodation.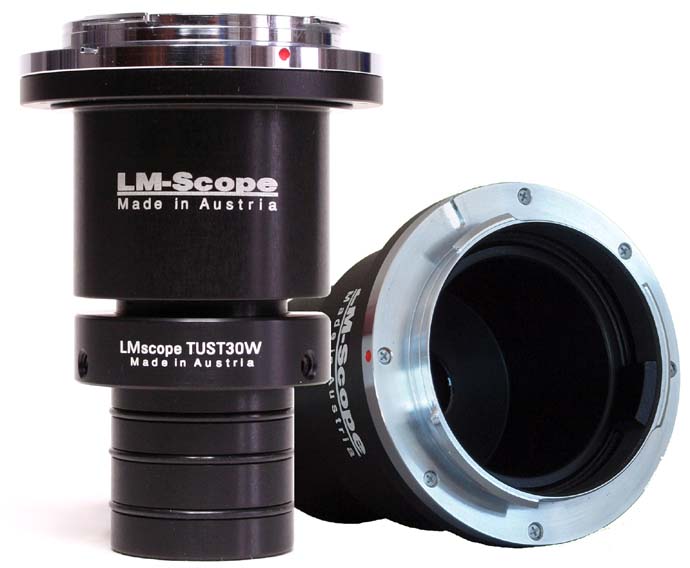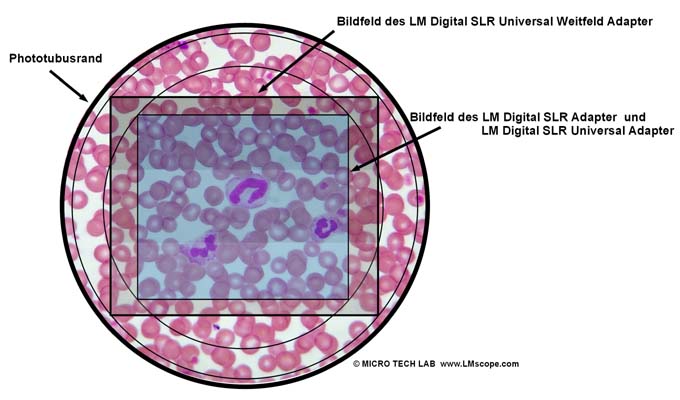 In our produce search tool (online configurator) this article can be found under "Advanced adapter solution with focusable LM DSLR universal adapter and larger image field".
New LM Digital Adapter for:
Nikon Z9 / Nikon Z8 / Sony Alpha 7R V / Sony Alpha 1 / Sony FX3 Cinema Line / Sony Alpha 9 II (ILCE-9M2) / Sony Alpha 9 / Nikon D6 / Canon EOS R3 / Canon EOS R6 Mark II / Canon EOS R8 / Sony Alpha 7R IV / Canon EOS R5 / Sony Alpha 7S II / Sony Alpha 7S III / Sony Alpha 7R III / Canon EOS R6 / Nikon Z6 / Nikon Z6II / Sony Alpha 7R II / Nikon Z7 / Nikon Z7II / Canon EOS R / Canon EOS Ra (Astro) / Nikon Z5 / Sony Alpha 7C / Canon EOS RP / Sony Alpha 7S / Canon EOS R7 / Leica SL2-S / Canon EOS R10 / Canon EOS 1D X Mark III / Nikon Z50 / Nikon Z30 / Nikon Z fc / Nikon D850 / Canon EOS 1D X Mark II / Nikon D780 / Olympus OM-1 / Sony Alpha 7III / Olympus OM-D E-M1 Mark III /