505
Professional adapter solutions from LMscope ensure the highest possible image quality with maximum flexibility and versatility: a single microscope adapter fits a wide variety of different connections.
Our adapter solutions feature plan achromatic precision optics and can be used with a variety of different microscopes and digital cameras. Their modular construction facilitates maximum flexibility because the same adapter solution can be used on different microscopes. All LM DSLR universal adapters can be attached to either the photo tube or the eyepiece tube (C-mount) of the microscope.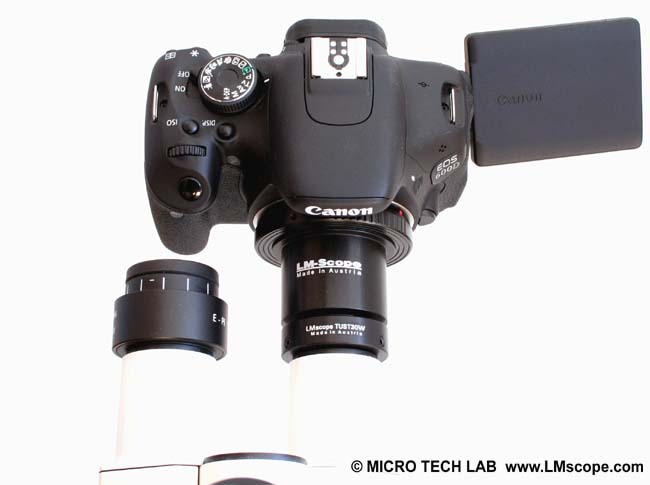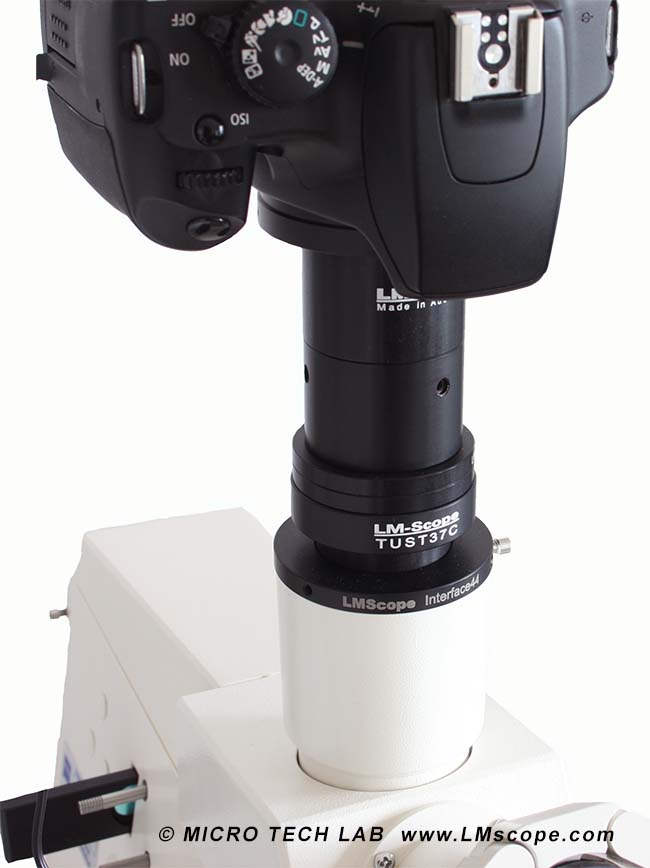 With our "Pro" range of wide-field adapters, the camera can capture the largest possible field of view without any peripheral darkening (vignetting). The "Pro" adapters are focusable, and they also enable an optical adjustment of the image viewed through the eyepiece with that of the camera image (parfocality). Thanks to their uncompromising quality standards and extraordinary flexibility, our products are used by renowned research institutes and companies all over the world (references).

Camera bayonet adapter: Changing the bayonet adapter makes it possible to switch to another camera brand at any time. A bayonet adapter is included in the scope of delivery of our adapter solution.
Adjustment modules for different sensor formats: Switching to another sensor format (from APS-C to full-frame, for example) can be accomplished easily and efficiently using auxiliary modules. This optical adjustment enables optimal utilisation of the sensor format used.
Adjustment modules for eyepiece tubes with different internal diameters – we will be happy to provide you with the modules that suit your needs.
Adjustment modules for different microscopes: LM adapter solutions with C-mount connection can be attached to the 1x C-mount port of a wide range of microscope brands. You can thus continue to use the LM adapter solution even if you switch to a newer microscope.
System diagram for adapter solutions with integrated intermediate optics for digital single-lens reflex cameras (DSLR) and mirrorless system cameras (DSLM) with interchangeable lens mount.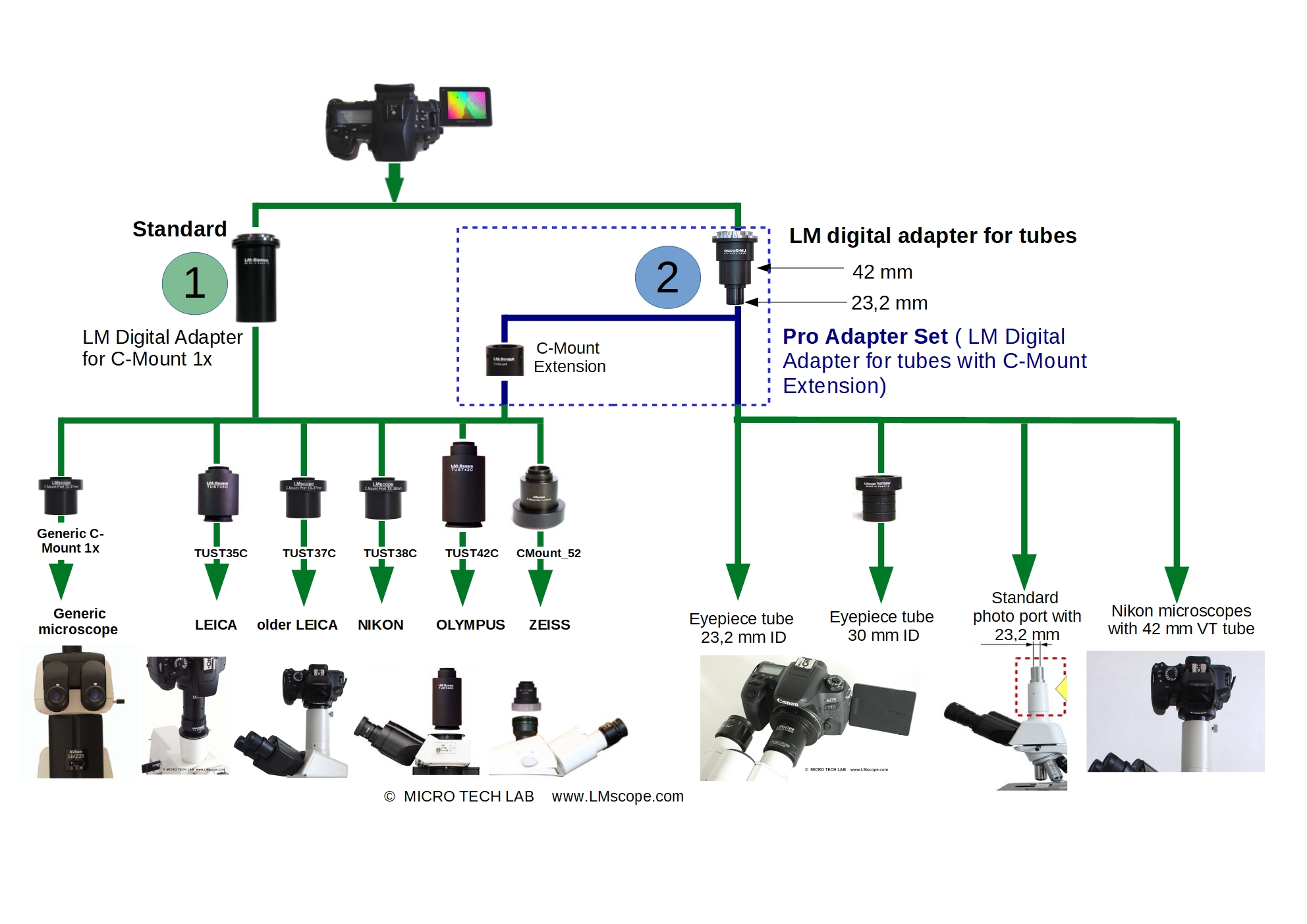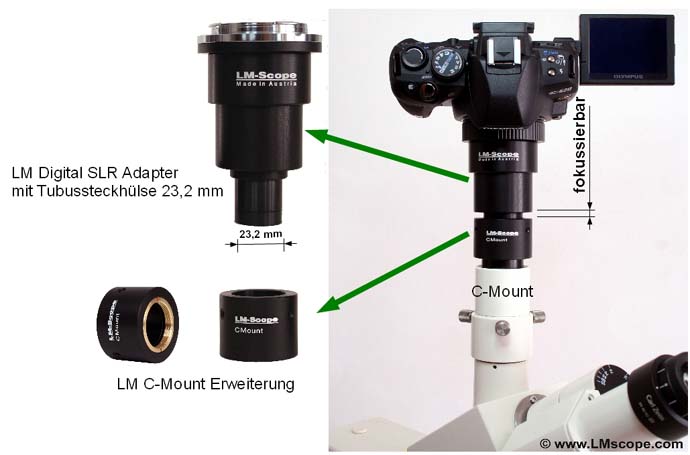 New LM Digital Adapter for:
Nikon Z9 / Nikon Z8 / Sony Alpha 7R V / Sony Alpha 1 / Sony FX3 Cinema Line / Sony Alpha 9 II (ILCE-9M2) / Sony Alpha 9 / Nikon D6 / Canon EOS R3 / Canon EOS R6 Mark II / Canon EOS R8 / Sony Alpha 7R IV / Canon EOS R5 / Sony Alpha 7S II / Sony Alpha 7S III / Sony Alpha 7R III / Canon EOS R6 / Nikon Z6 / Nikon Z6II / Sony Alpha 7R II / Nikon Z7 / Nikon Z7II / Canon EOS R / Canon EOS Ra (Astro) / Nikon Z5 / Sony Alpha 7C / Canon EOS RP / Sony Alpha 7S / Canon EOS R7 / Leica SL2-S / Canon EOS R10 / Canon EOS 1D X Mark III / Nikon Z50 / Nikon Z30 / Nikon Z fc / Nikon D850 / Canon EOS 1D X Mark II / Nikon D780 / Olympus OM-1 / Sony Alpha 7III / Olympus OM-D E-M1 Mark III / Canon EOS R100 / Sony Alpha 6700 / Nikon D5 / Sony Alpha 6600 / Fujifilm X-H2S / Fujifilm X-S10 / Fujifilm X-E4 / Fujifilm X-Pro3 / Olympus OM-D E-M1X / Sony Alpha 6400 /