469
LM microscope adapters: Leica's new, minimalist M10 camera ventures into the realm of photomicrography
The successor to the Leica M (Type 240) is called Leica M10 and was launched at the beginning of 2017. We have taken a closer look at the M10's performance and features to check out if it can hold up to its professional-grade competitors that are currently in the market.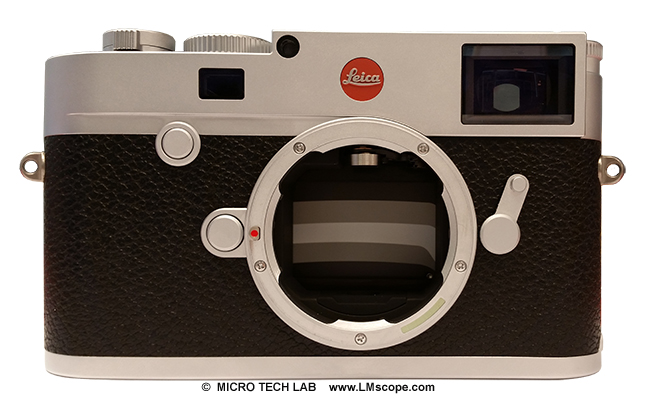 The Leica M10 is built in Germany and features a compact, full-frame camera system with a 24 MP full-frame CMOS sensor (24x36mm). With a price tag of around EUR 6,500 it is definitely at the high end of the price scale. The M10 combines ease of use with minimalist design and cutting-edge technology and comes with a host of new features and improvements over its predecessor. A huge plus for photomicrographers: the sensor does not employ a resolution-limiting low-pass filter. Likewise, because autofocusing is not important for microscope work, the fact that the camera doesn't have an autofocus function is not really a big deal. Like the other cameras from Leica's M series (M9, M-D, M8, M8.2, M9.2), the M10 can be attached to almost every microscope using our LM digital adapters. We offer adapter solutions for photo tubes, C-mount connections and eyepiece tubes with different internal diameters. The uncompromising optical quality of our LM DSLR adapters "made in Austria" enables maximum image quality. Attaching the camera to the microscope is an easy and quick process.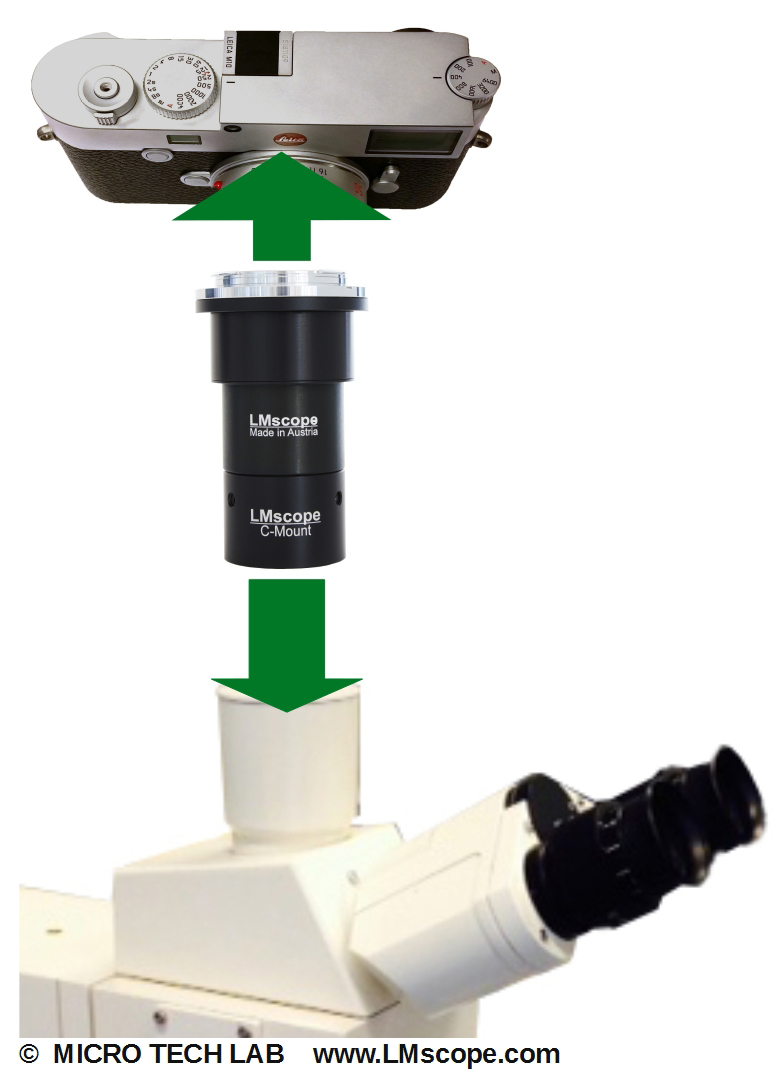 The Leica M10 shoots at five frames per second, resulting in 30 DNG files or 100 JPEGs when using continuous shooting.
The ISO range available is 100 to 50,000, and thanks to the camera's ISO speed dial, ISO can be set even when the camera is turned off. Exposure time can be set with the shutter speed dial, and shutter speed goes from 1/4,000 to 1/125 s. The bulb function can also be activated with the shutter speed dial.
The M10 also has WiFi capabilities – a first for a Leica M camera. With the corresponding app installed, the camera can be controlled remotely in Live View mode via tablet or smartphone. The display diagonal is 7.5 centimetres, but it is a fixed screen, with no tilt and swivel capabilities. Since it is very lightweight (660g), the M10 can be attached to any type of microscope.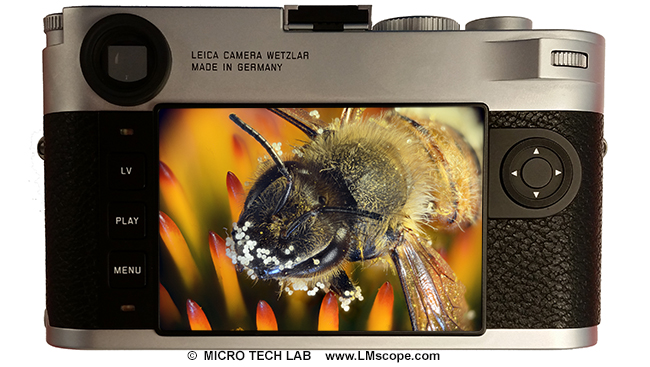 The camera also has a USB 2.0 interface. However, Leica's minimalist approach does not only have advantages, since stripping technology to bare bones also limits flexibility and versatility. The M10 doesn't shoot video of any sort, there is no HDMI-out for connecting to an external camera, and (to date) there is no support for tethered shooting through a remote capture software (such as Capture One)
Conclusion:
The Leica M10 is a high-quality camera with a minimalist design "made in Germany". It is an ideal all-round camera for those who want to use it, among other tasks, for taking pictures through a microscope, surgical microscope, macroscope or stereo microscope. However, due to the M10's lack of software compatibility, other cameras would be better suited for exclusive use on a microscope – for more on that subject, please see our camera ranking.
For EU (European Union) VAT (IVA, TVA) not included