596
LM macroscope 42x (28x, 21x and 7x): a modular professional extreme macro solution for sophisticated imaging techniques
The LM macroscope is optimised for high-resolution digital photography combined with modern mirrorless system cameras, hybrid cameras or SLR cameras with large sensors (full-frame, APS-C, 4/3 sensors). To unlock the full potential of these advanced sensors, we have developed a new optical system which offers the unique combination of a large field of view with high resolution. This means that the image quality is much better than that achieved with conventional stereo microscopes.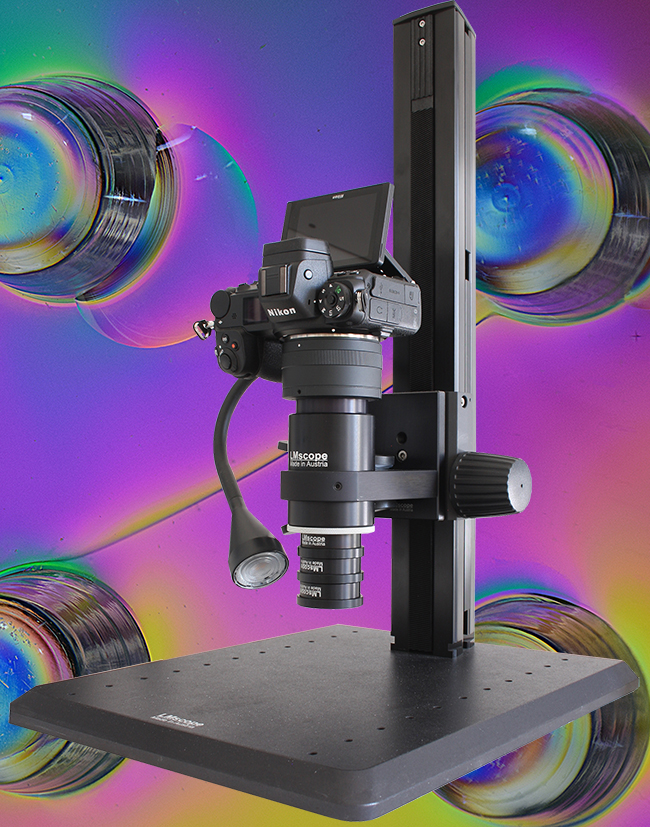 When we designed our LM macroscope, we aimed for maximum image quality and resolving power combined with a large field of view (FOV). Especially in situations where imaging is performed at low levels of magnification, the wide-field optical system achieves a better resolution than comparable microscopes. The central optical path and the high numerical aperture of the lenses make the LM macroscope ideally suited for modern imaging techniques, such as focus stacking, HDR, continuous shooting, automated computer-controlled image series and the use of AI technology in image processing. We intentionally did not employ any complex zoom optics, which improves image quality even further.
The LM macroscope is equipped with stackable lenses which can be individually combined to create three magnification combinations. Adding all three lens elements together results in the highest magnification: 28x. For applications requiring a greater magnification, we also offer a "50 mm module" as an accessory, which is inserted between the bayonet adapter and the main module and brings the maximum total magnification to 42x.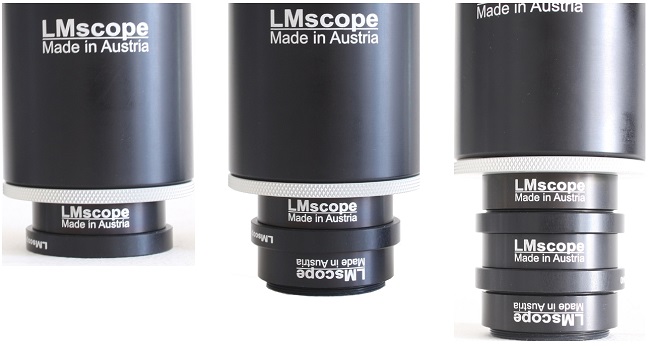 Our high-quality, hard-coated LM objective lenses have a high numerical aperture and a plan achromatic lens design. The lens diameter is 29 mm.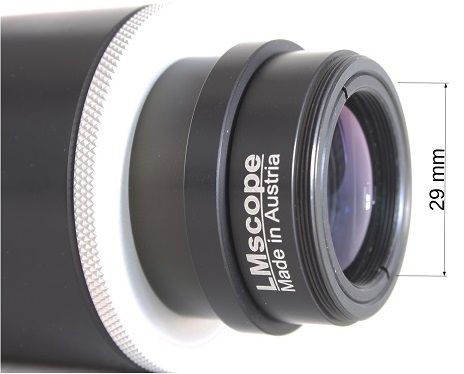 There are two positions on the lens module where optical filters, such as colour filters, grey filters, polarising filters, band-pass filters or fluorescence filters, can be inserted: behind the bayonet adapter and in front of the front lens.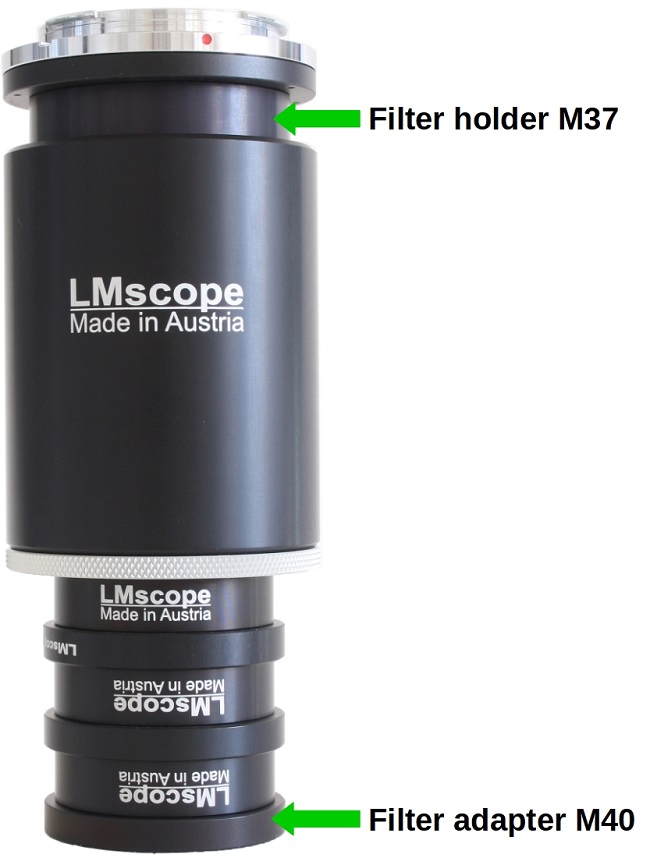 There is also a highly functional stand available for the LM macroscope, with an extra heavy base plate made of aluminium and a column equipped with a rack and pinion mechanism. Thanks to its size, it is spacious enough for additional accessories and the use of a motorised focusing rail. Its hefty weight ensures stable support and reduces vibrations during the image capture process. In addition, the base plate has several rows of mounting holes for attaching miscellaneous accessories.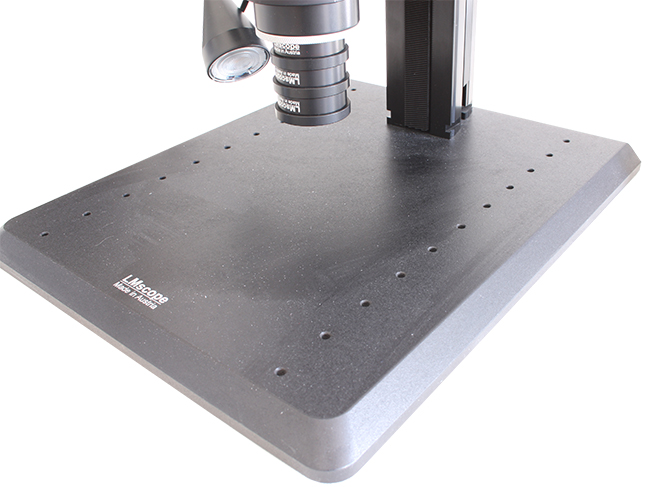 If focus stacking is employed to create images with high depth of field, we recommend using the Helicon software and a motorised focusing rail, for example the StackShot macro rail, which is very popular and for which a mounting plate is available for easy attachment and removal. We recommend the short version of the StackShot rail, bundled with the controller (STKS_100_BUNDLE). This tried and tested combination is easy to use, performs very well and offers great flexibility.
Example application: capturing dandelion seeds. Illumination is provided by two LED spots combined with an LED transmitted light table (Kaiser Slimlite Plano LED light box).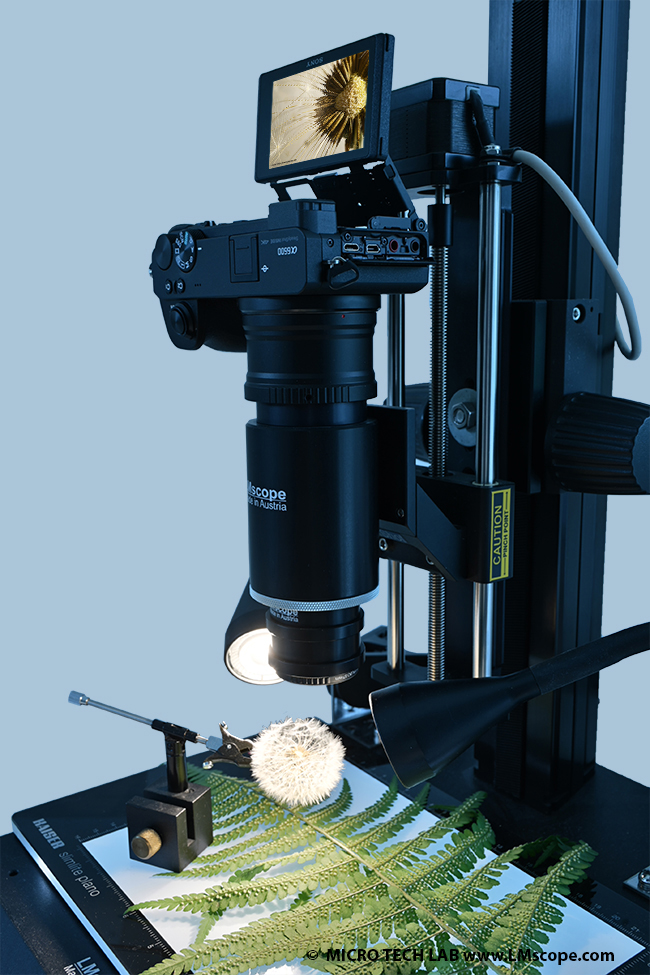 When using a motorised rail for focus stacking, the camera-lens unit is moved in very fine increments in order to create a series of images at different distances from your subject. This "z-stack" – a series of frames focused in different planes – is then processed with the imaging software to create one perfect composite image. This process is controlled almost fully automatically from the computer. One stack usually has up to 200 individual frames. Focus stacking is a powerful technique that allows us to achieve impressively sharp focus throughout the image, combined with ideal depth of field.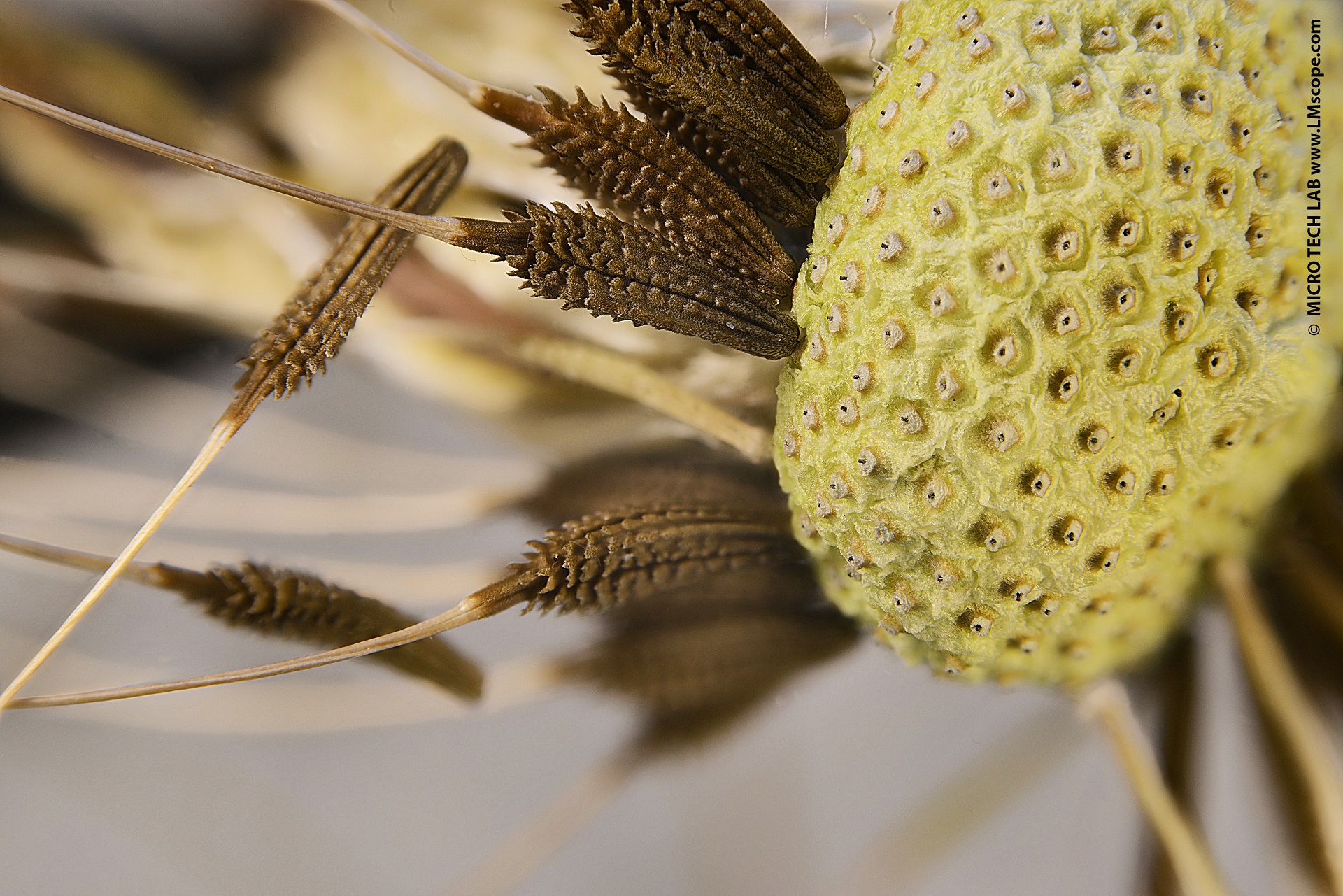 The motorised rail is attached directly to the macroscope stand using the mounting plate. The advantage of this mounting method is that the lens module can be changed very quickly and the magnification range can be increased with conventional macro lenses or photomicroscope modules. This is possible because the LM macroscope features a modular design and can thus be upgraded to a higher magnification range (approx. 20x to 400x microscope magnification) with our LM photomicroscope module, an accessory part with a sophisticated infinity-corrected optical system. Both products use the same stand and macro lenses, thereby covering a huge spectrum that ranges from macro up to micro imaging at higher magnifications.
Our LM macroscopes are developed and manufactured in Austria. They are primarily designed for professional use (research, industry, universities, hospitals, etc.). The objective lenses are also available without a stand. We also offer customised solutions – please do not hesitate to contact us for more information.
Take a moment to browse our web gallery, which features a wide range of high resolution images we created with our products.
21.06.2022
Ordering code

Product description

Price

Price

Available




LM_macroscope_28x_Lens_Module

LM Macrosope 28x lens module for APS-C and full-frame sensor consists of module 75mm and modular three-part lens; stand, illumination and camera not included



Data Sheet




LM_Makroskop_28x_XL

LM Macroscope 28x (21x and 7x): Set consists of LM DSLR Macroscope lens 28x (macroscope tube and lens moduls), LM macro stand 6, mounting plate for Stackshot rail, LED gooseneck spot and Camera Lens Mount Adapter. A Camera is not supplied with the set



Data Sheet0
Data Sheet1




LM_Makroskop_42x_XL

LM Macroscope 42x (28x,21x and 7x):: Set consists of LM DSLR Macroscope lens 28x, Modul 2x, LM macro stand 6, Modul 50mm,mounting plate for Stackshot rail, LED gooseneck spot and Camera Lens Mount Adapters . A Camera is not supplied with the set



Data Sheet0
Data Sheet1

For EU (European Union) VAT (IVA, TVA) not included