462
Example application: Photographic documentation of hygiene products such as toothbrushes
Everyone knows how important it is to clean one's teeth regularly. Most people also know that it is crucial to use a suitable toothbrush and to replace it at least every 3 months. But why?
With this example, we would like to present one possible use of our LM products: the photographic documentation and quality control of hygiene products such as toothbrushes.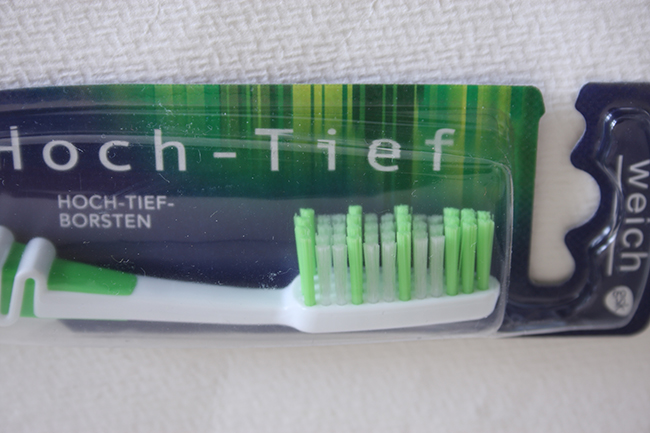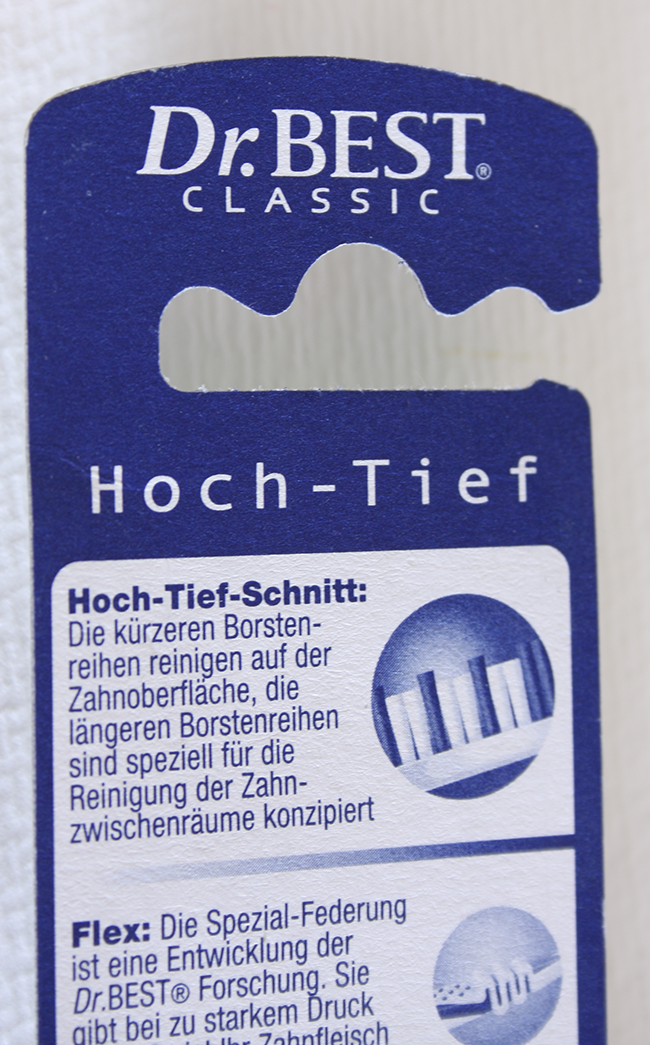 The image shows an adult toothbrush. It is a "Classic High Low" model from Dr. Best®.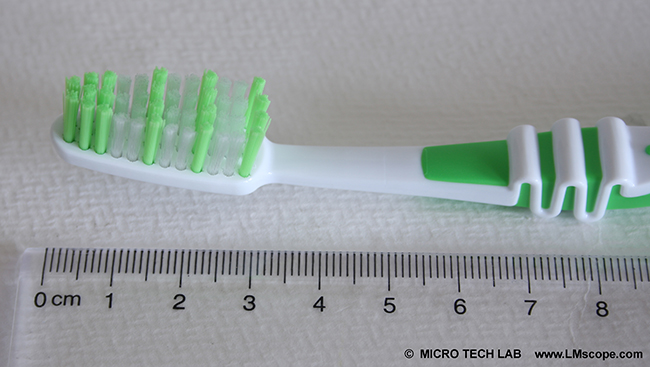 The brush is equipped with a spring element that protects gums and enamel by preventing too much pressure being applied to the teeth when brushing. This is intended to minimise the risk of injury and concomitant inflammation of the gums. Closer observation of the new toothbrush with our LM macroscope shows single fibres with rounded tips that protect the gums.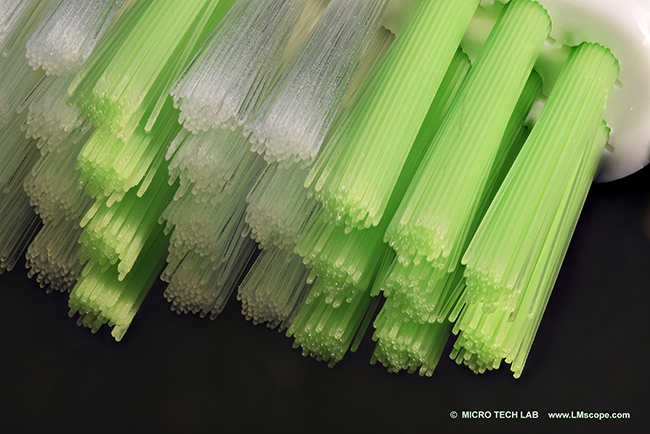 Obviously, the manufacturer does a great deal to promote disease prevention. However, this is often not the case when it comes to the user. We have compared the new toothbrush with a used one from the same product category.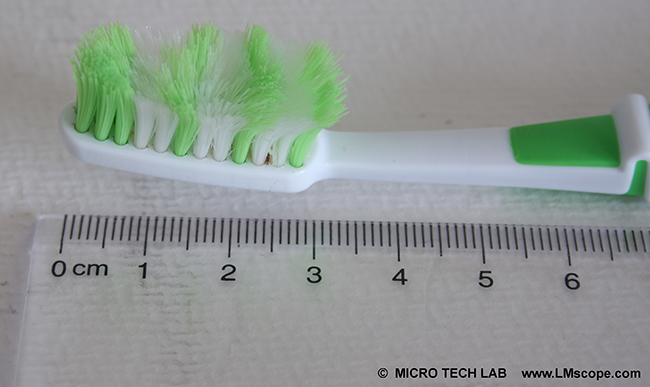 The signs of use are easy to see even in the regular photograph. But our macro image with around 10x microscope magnification shows all kinds of horrors: deformed fibres, changed fibre strength, dirt and damage to the bristles and brush head!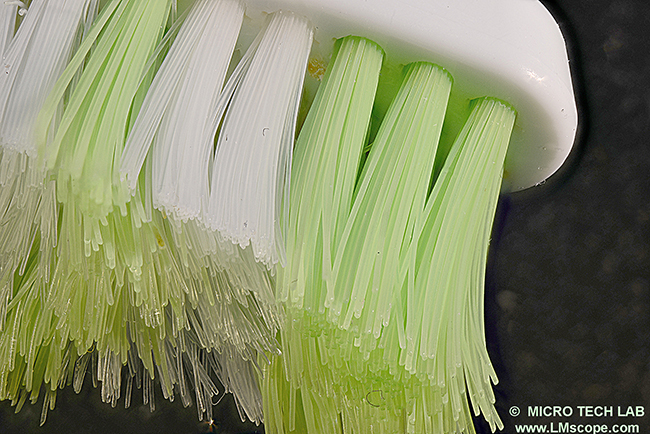 The consequences are that pathogens and germs can settle between the fibres and multiply, causing inflammation of the gums (gingivitis). Tooth enamel (which is often softened by acidic food) is eroded by the broken bristles – an entirely preventable effect.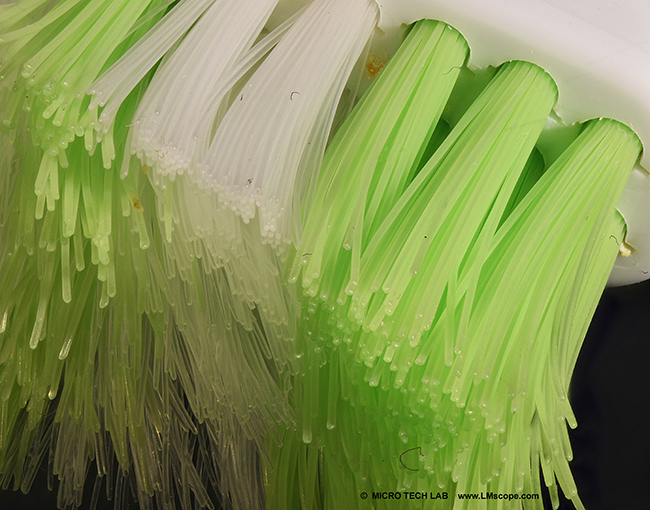 These fascinating images were taken with our LM macroscope, coupled with a Cognisys StackShot macro rail and a Nikon D810 DSLR. Thanks to the focus stacking technology, the image consists of 50 individual frames and is shown in almost three-dimensional quality. In fact, this is a quite demanding image, as the specimen features a high degree of plasticity that has to be reproduced by the image.
New LM Digital Adapter for:
Nikon Z9 / Sony Alpha 7R V / Sony Alpha 1 / Sony FX3 Cinema Line / Sony Alpha 9 II (ILCE-9M2) / Sony Alpha 9 / Nikon D6 / Canon EOS R3 / Canon EOS R6 Mark II / Canon EOS R8 / Sony Alpha 7R IV / Canon EOS R5 / Sony Alpha 7S II / Sony Alpha 7S III / Sony Alpha 7R III / Canon EOS R6 / Nikon Z6 / Nikon Z6II / Sony Alpha 7R II / Nikon Z7 / Nikon Z7II / Canon EOS R / Canon EOS Ra (Astro) / Nikon Z5 / Sony Alpha 7C / Canon EOS RP / Sony Alpha 7S / Canon EOS R7 / Leica SL2-S / Canon EOS R10 / Canon EOS 1D X Mark III / Nikon Z50 / Nikon Z30 / Nikon Z fc / Nikon D850 / Canon EOS 1D X Mark II / Nikon D780 / Olympus OM-1 / Sony Alpha 7III / Olympus OM-D E-M1 Mark III / Nikon D5 / Sony Alpha 6600 / Fujifilm X-H2S / Fujifilm X-S10 / Fujifilm X-E4 / Fujifilm X-Pro3 / Olympus OM-D E-M1X / Sony Alpha 6400 / Sony Alpha 6100 / Sony ZV-E10 / Canon EOS 1D X / Nikon D4s / Olympus OM-D E-M5 III / Canon EOS 90D / Canon EOS 5D Mark IV / Nikon D4 / Nikon D750 / Canon EOS 6D Mark II / Fujifilm X-T4 / Fujifilm X-T3 / Sony Alpha 6300 / Sony Alpha 6500 / Nikon D500 / Nikon D810 / Nikon D800 / Canon EOS M6 Mark II / Nikon D800E / Nikon Df / Panasonic Lumix DC-G9 / Nikon D610 / Nikon D600 / Canon EOS 250D / Canon EOS 850D / Rebel T8i / Canon EOS 6D / Sony Alpha 99 II (SLT-A99 II) / Canon EOS M200 / Canon EOS 5DS R ( without low-pass filter) / Olympus OM-D E-M1 Mark II / Canon EOS 80D / Canon EOS M50 Mark II / Canon EOS 5DS / Canon EOS M50 / Sony Alpha 77 II / Canon EOS 70D / Nikon D7200 / Pentax K-1 Mark II / Canon EOS 200D / Canon EOS 800D / Rebel T7i / Canon EOS 77D / Canon EOS 5D Mark III / Canon EOS 60D / Sony Alpha 7R / Sony Alpha 7 / Nikon DS-Qi2 (Microscope Camera) / Olympus OM-D E-M5 II / Nikon D3x / Olympus OM-D E-M1 / Pentax KP / Nikon D3S / Canon EOS 750D / Rebel T6i / Canon EOS 760D / Rebel T6s /