376
Focus stacking with our LM macroscopes and LM photo microscopes
Focus stacking is a method used to create images with enhanced depth of field. This image processing technique is commonly used in digital photomacrography or photomicrography to compensate for depth of field loss – a problem inherent to both areas of photography, since the depth of field shrinks due to the intense magnification required. For instance, while the depth of field at a microscope magnification of 100x is only a few µm, focus stacking overcomes this by taking multiple frames (image stacks) at different focus points. The individual frames are then blended to produce a single image with a very high depth of field and resolution.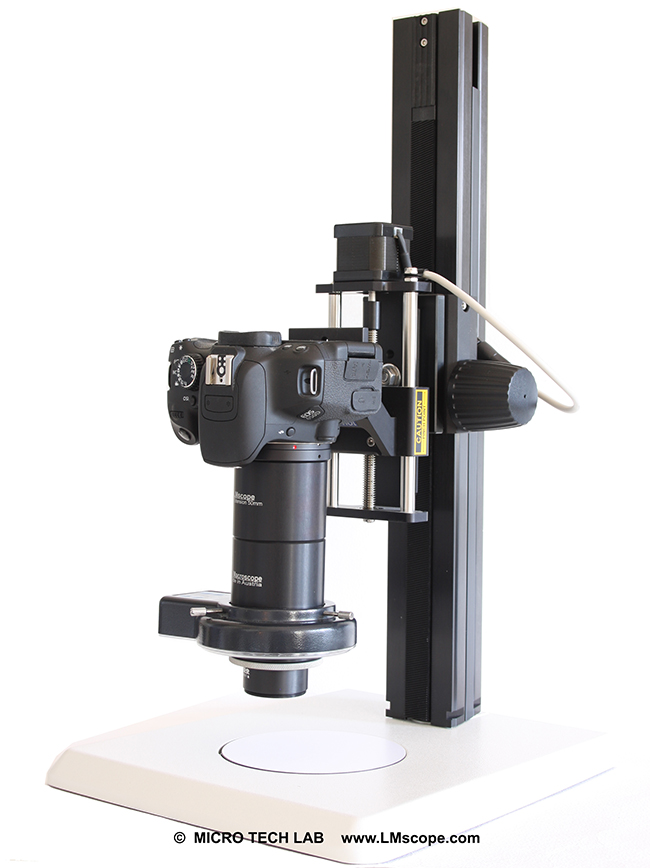 Our LM photography solutions (LM macroscopes and LM photo microscopes) are ideally suited for use with motorised focusing rails. Some of our most commonly used tools include the StackShot system from Cognisys and Helicon software. The LM lens unit is moved with the StackShot drive. The camera and the StackShot focusing rail are controlled remotely through the Helicon Remote software, which receives the Live View image from the camera via USB cable.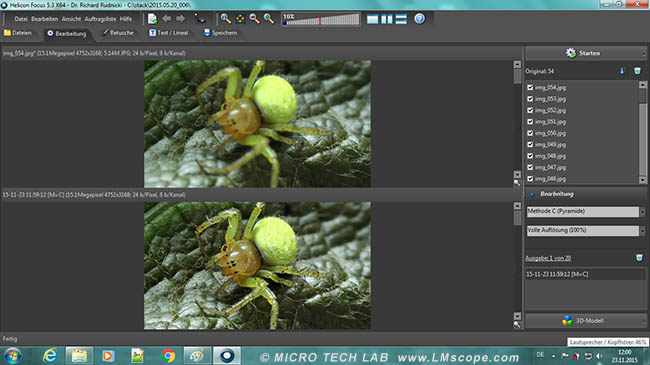 The software also supports remote selection of exposure brackets. Shooting begins simply by clicking the start button. Depending on the specimen and magnification selected, up to 100 frames or more are taken. The procedure can be monitored on the computer, and the frames captured are stored automatically on the PC.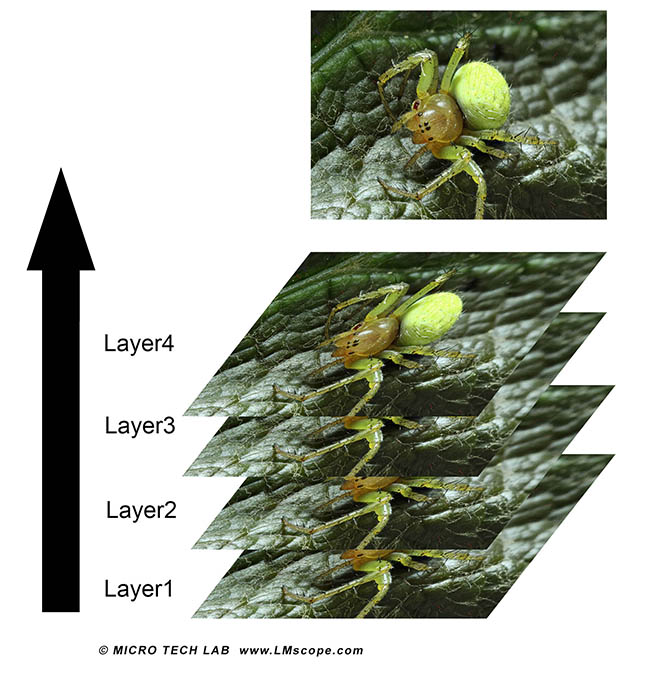 Once shooting is complete, the image stack is post-processed by selecting Helicon Focus in the menu to combine the individual frames into a fully focused image.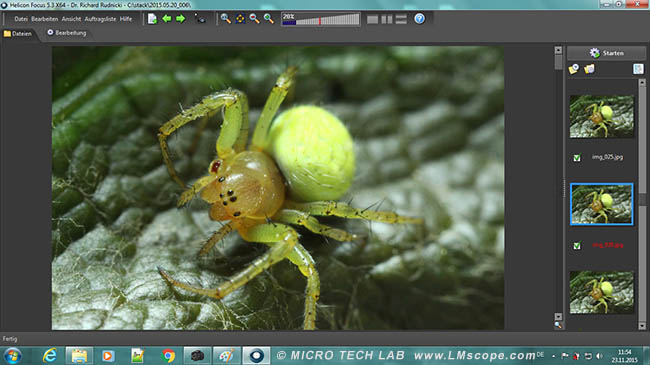 Depending on the number of frames and the processing speed of the computer, this consolidation process may take several minutes. The result is a summation of all frames. If desired, the data set can be viewed and rotated in 3D as well.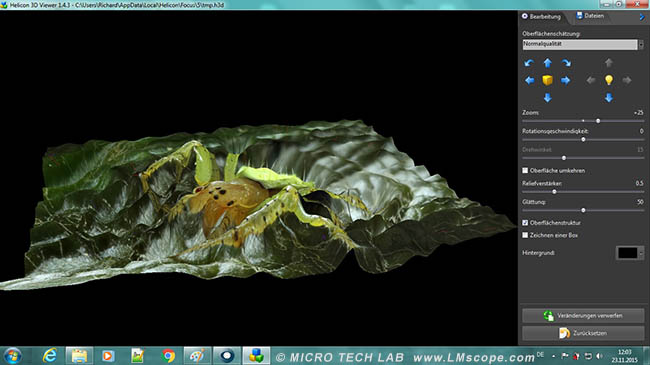 Basically, focus stacking can also be accomplished without a motorised drive, since image stacks can also be produced by steadily moving the Z-drive (height) and operating the camera's shutter release manually. The resultant data set can then be imported to the Helicon software for post-processing. This option is workable if focus stacking is needed only occasionally or if the image stack to be processed is particularly small and has very few individual frames. If you work frequently with focus stacking and/or large image stacks (more than 10 frames), the motorised option is definitely more effective.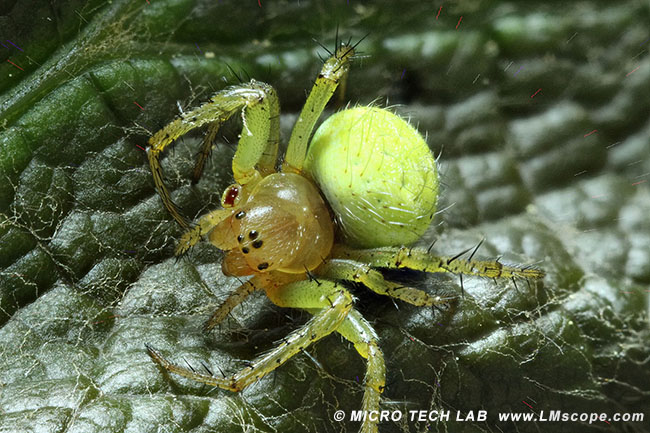 Using full-frame cameras (such as the Nikon D800, Nikon D810, Canon EOS 5 DS R, Canon EOS 5DS, etc.) with our LM macroscopes and LM photo microscopes along with the Cognisys focus stacking system and the Helicon software enables the production of detailed, superior quality images. The use of a motor-driven focusing rail and automated processing software also ensures an efficient workflow.
New LM Digital Adapter for:
Nikon Z9 / Nikon Z8 / Sony Alpha 7R V / Sony Alpha 1 / Sony FX3 Cinema Line / Sony Alpha 9 II (ILCE-9M2) / Sony Alpha 9 / Nikon D6 / Canon EOS R3 / Canon EOS R6 Mark II / Canon EOS R8 / Sony Alpha 7R IV / Canon EOS R5 / Sony Alpha 7S II / Sony Alpha 7S III / Sony Alpha 7R III / Canon EOS R6 / Nikon Z6 / Nikon Z6II / Sony Alpha 7R II / Nikon Z7 /