583
Nikon's DS-Ri2 high-resolution full-frame sensor microscope camera performs impressively on all microscopes!
Nikon manufactures powerful CMOS sensors for DSLR cameras, which – at long last – have been optimised for microscopy to develop a high-definition colour camera: the DS-Ri2. The DS-Ri2 is considerably more powerful than comparable C-mount cameras and can be controlled remotely with Nikon's NIS microscope imaging software. It has a Nikon F-mount bayonet lens mount, which is perfect for attaching the camera to a microscope with one of our adapter solutions.
As a decades-long leading camera manufacturer, Nikon develops its own high-quality image sensors for DSLR cameras and mirrorless system cameras. It is therefore only reasonable that Nikon decided to use this experience and technology in its microscopy products and make the powerful features of its state-of-the art sensors available to microscope users.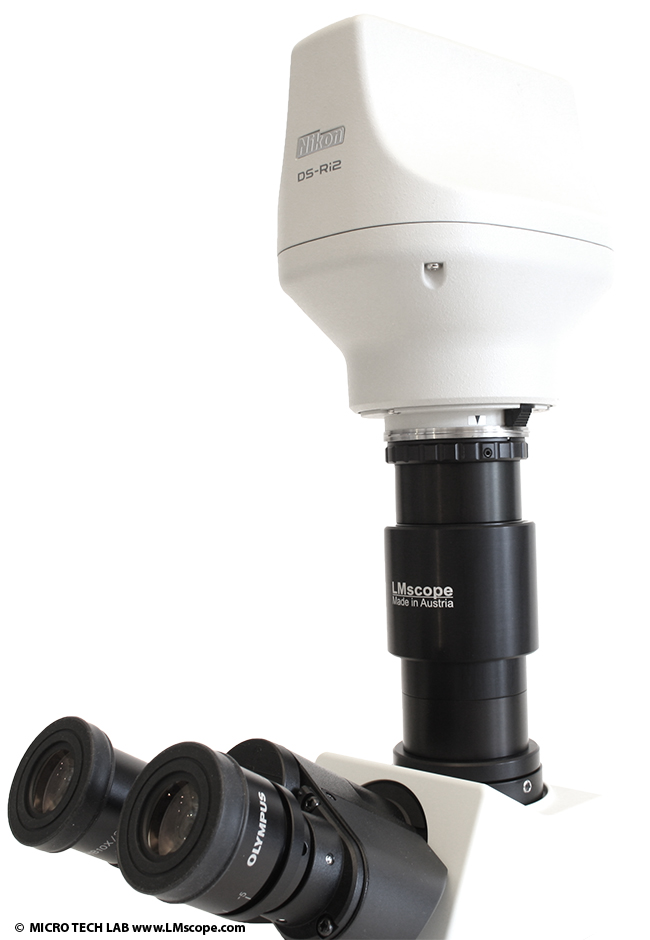 The big plus of the Nikon DS-Ri2 microscope camera is its integration with Nikon's powerful NIS imaging software suite in combination with motorised and coded Nikon microscopes. In this configuration, the camera can show off its strengths and justify the rather steep price tag of about € 10,000. However, this does not include the cost of the NIS software suite, which – depending on the package selected (each package has a different range of functions) – must be added to the camera price.
Nikon also offers an adapter solution with an optical factor of 2.5x for its microscopes. For users who want to use the camera with other specifications or microscope brands, LMscope offers individual, customised adapter solutions. We are usually able to offer several adapter solutions with different specifications for any given microscope-camera combination – ranging from a wide-field adapter to an adapter solution that increases the total magnification with factors up to 10x. Our focusable adapter solutions enable an optical alignment of the image observed through the eyepiece with the image the camera sees through the phototube. They also include the option of adding a selection of optical filters (e.g. polariser filter, gray filter, UV filter, etc.) and optical apertures for image optimisation. Due their modular design, LM adapters are highly versatile and can be adapted to individual requirements, thereby extending the microscope's range of applications.
Key specifications of the DS-Ri2:
Large CMOS sensor featuring DSLR technology

Full-frame sensor with 36.0 x 23.9 mm image size

High-resolution 16.25 megapixel images

Resolution of up to 4,908 x 3,264 pixels

Live display mode: 1,636 x 1,088 up to 45 fps; 4,908 x 3,264 up to 6 fps

ISO sensitivity: ISO 200 to ISO 12,800

Low-noise imaging

Lens mount: F-mount
Combined with one of our LM microscope adapters, Nikon's DS-Ri2 professional full-frame microscope camera can be used with a wide range of different microscopes, not just Nikon instruments. We offer adapter solutions for a wide variety of microscopes (laboratory microscopes, stereo microscopes). Our wide-field adapter solution, which is optimised for this sensor format, provides a large field of view without any vignetting.
We tested the DS-Ri2 with our LM macroscope, our photomicroscope and a standard laboratory microscope, using a polished iron meteorite as our specimen. We got a good overview with our LM macroscope – the image shows a 30 mm field of view: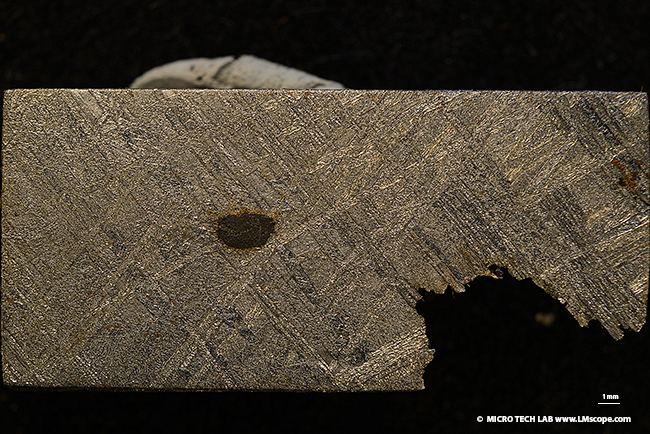 The next image was taken with our LM photomicroscope and the Nikon DS-Ri2.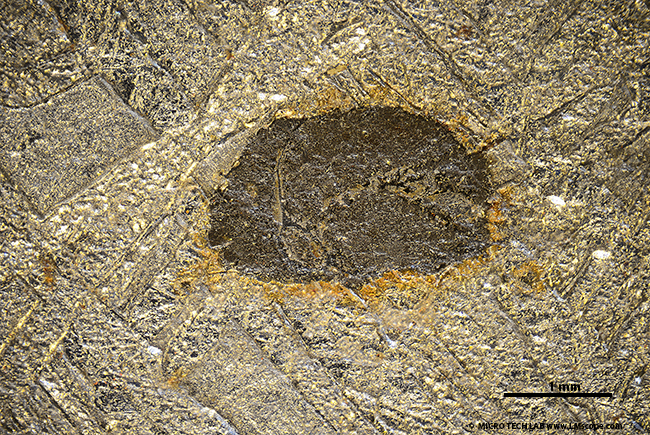 Some facts on the specimen: Widmanstätten structures are characteristic patterns that are mostly found in meteoritic material and become visible when iron meteorites are polished and treated with a solution of nitric acid in methanol.
Because the camera is relatively heavy (1,200 grams), we generally recommend attaching it to the phototube of the microscope, because the phototube is specifically designed to have cameras attached to it.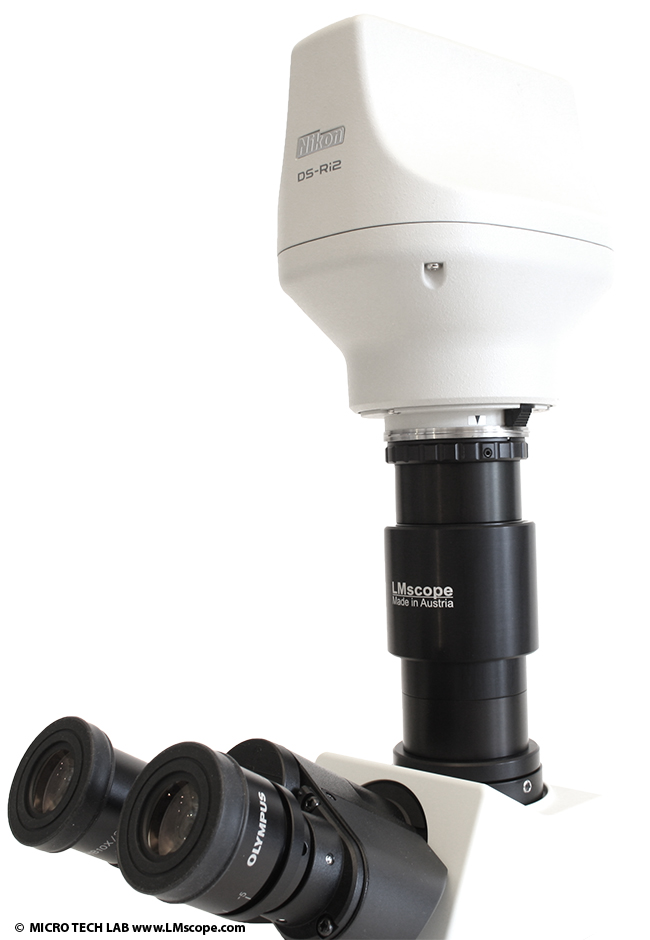 However, it is also possible to attach the camera to the eyepiece tube. We also offer adapter solutions for this connection option. To attach the camera to the microscope, one eyepiece needs to be removed.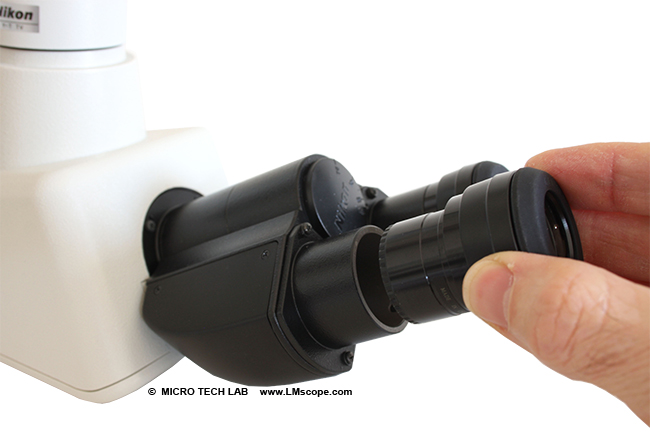 The image quality is as good as that achieved using the phototube solution. Because the camera is quite heavy, a setup with a firm independent camera support would be useful.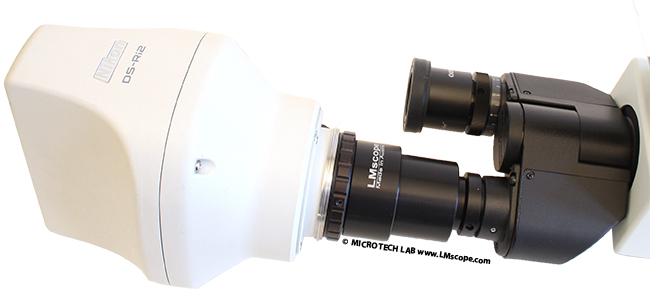 The Nikon DS-Ri2 a uses a large-format full-frame sensor, just like a DSLR camera, which markedly improves image quality compared to conventional C-mount cameras with small sensors. Resolution capability, dynamic range and ISO sensitivity are all excellent on the DS-Ri2.
The image below shows a comparison of the full-frame sensor (36 x 24 mm) of the DS-Ri2 and the standard 1/2" sensor commonly found in microscope cameras. The difference in sensor area is huge. Because the DS-Ri2 has a much larger sensor area, the single pixel area can also be larger, despite the higher sensor resolution, which provides enhanced dynamic range and higher light sensitivity.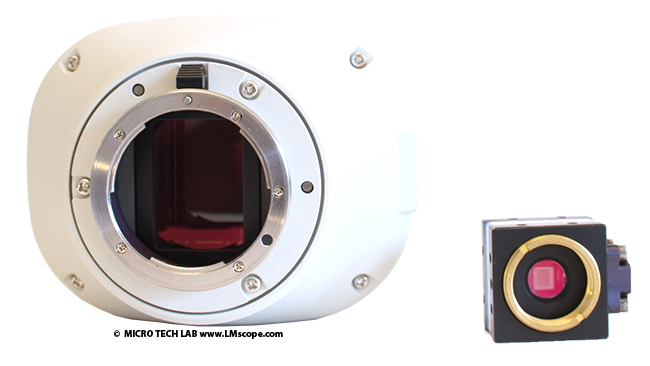 Below, we provide a comparison of the DS-Ri2 (released in 2012), which already has clocked up some years of service, and a Nikon Z7 mirrorless system camera from 2018. Although this comparison is not entirely fair, there is no other updated version of the Nikon microscope camera available that features the latest Nikon technology.

Both camera systems use the same sensor format: 36 x 24 mm. The Nikon Z7 has a Nikon sensor that is several years more modern and thus offers significantly more power reserves. The biggest difference is, however, that the DS-Ri2 microscope camera does not have a focal plane shutter for exposure control. In our opinion, this is a disadvantage because the camera cannot capture moving objects as sharply as the Z7. The focal plane shutter protects the sensor from additional light, and the image signals are read out without any more exposure taking place. Current DSLRs and mirrorless system cameras support both modes: electronic shutter and focal plane mechanical shutter.
The image below shows the top of the camera with the power supply and data transfer (USB) ports: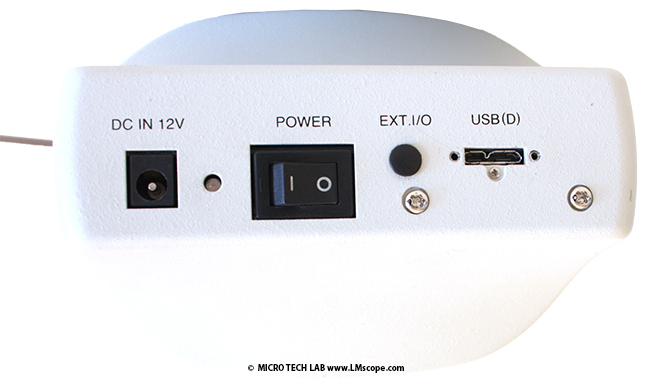 The camera can be tethered to a computer using a USB3 cable for fast data transfers. Nikon's powerful NIS microscope imaging software allows comfortable control of the camera from the computer while looking at the live image on the monitor. The software offers an extensive range of functions, such as image editing, image optimisation, object measurement and much more. When used with motorised Nikon microscopes, the NIS software also enables automated focus stacking. The well-designed architecture of software and hardware is the DS-Ri2's main strength, which – understandably – comes at a price.
Below are some screenshots that show what the powerful NIS microscope software is capable of: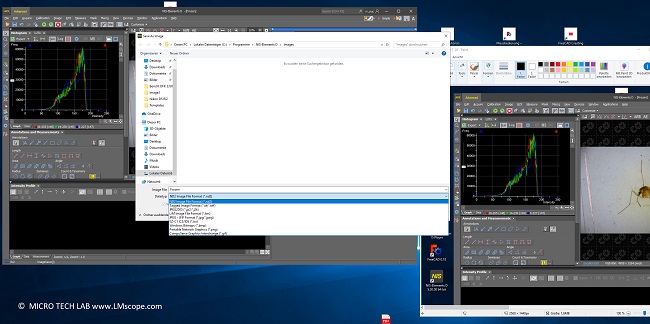 After installing the software, you select which camera you want to use. This allows the software to access the camera directly.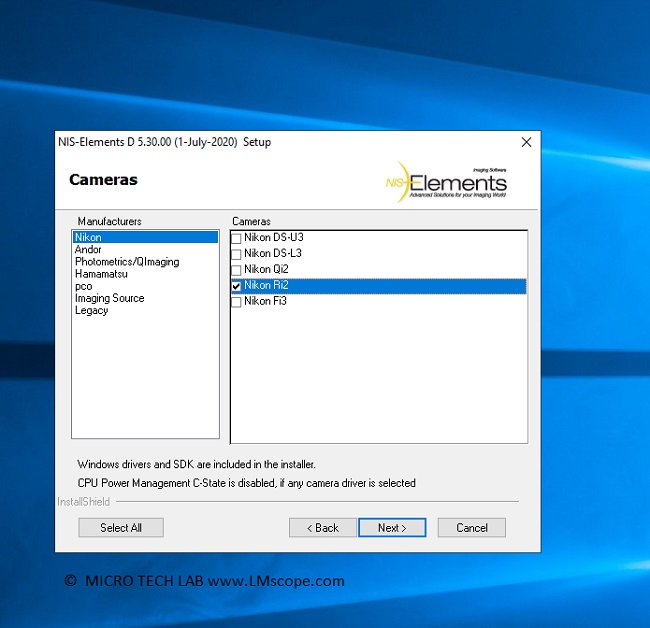 Then you select the zoom factor you need in order to display a large image section in the Live View window. For this specific sensor format, 2.5x is ideal.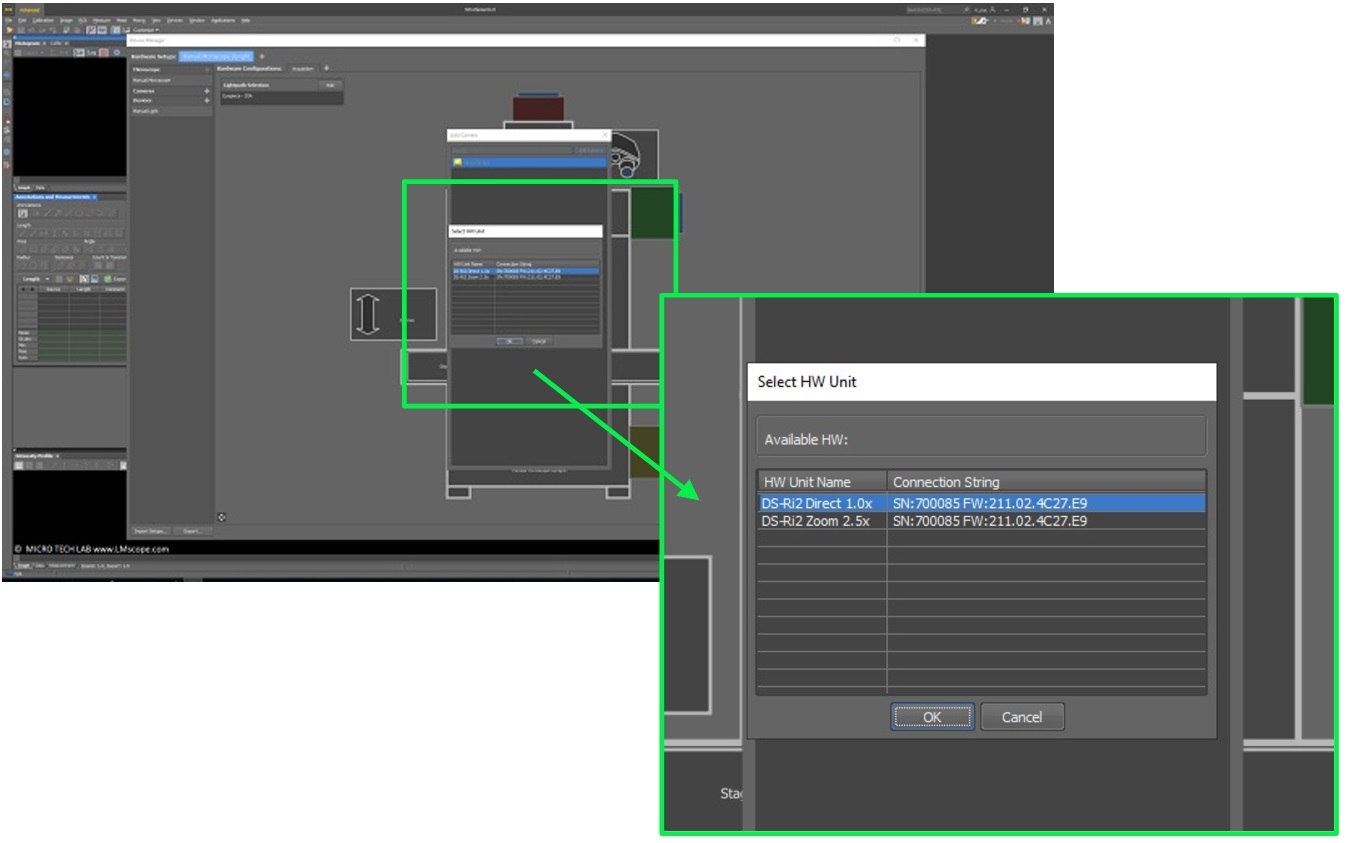 The software also includes a wide range of measurements tools, which is particularly useful for microscopy applications.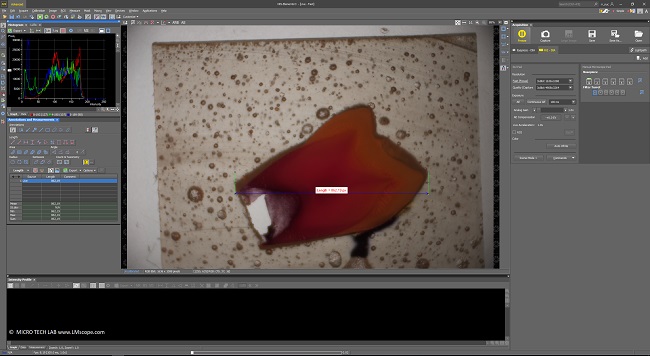 It is also possible to activate on-screen measurement grids.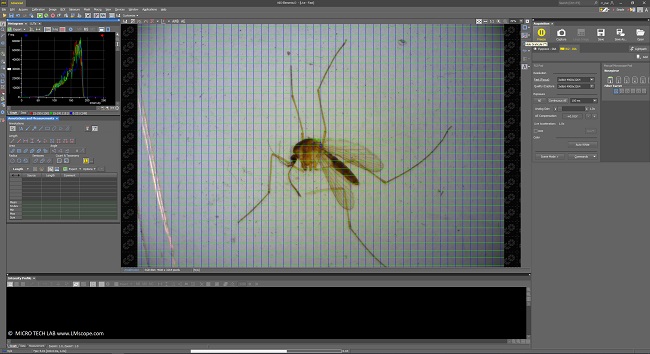 Below is a brief overview of the most important menu functions: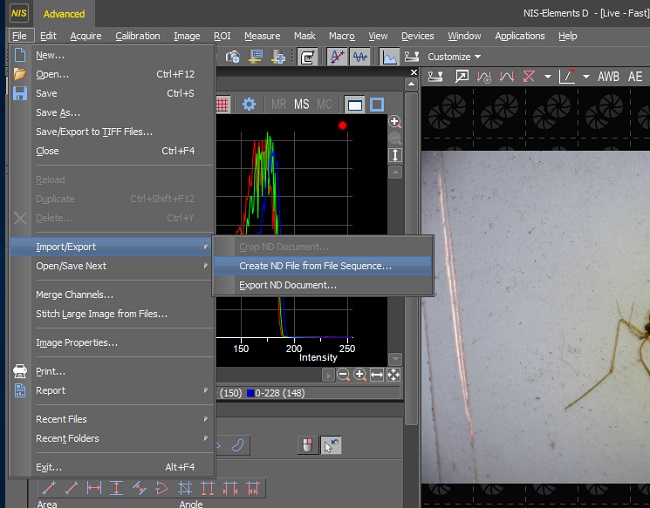 The "File" menu tab includes a submenu called "Import/Export".
The second menu tab, "Edit", contains the following commands: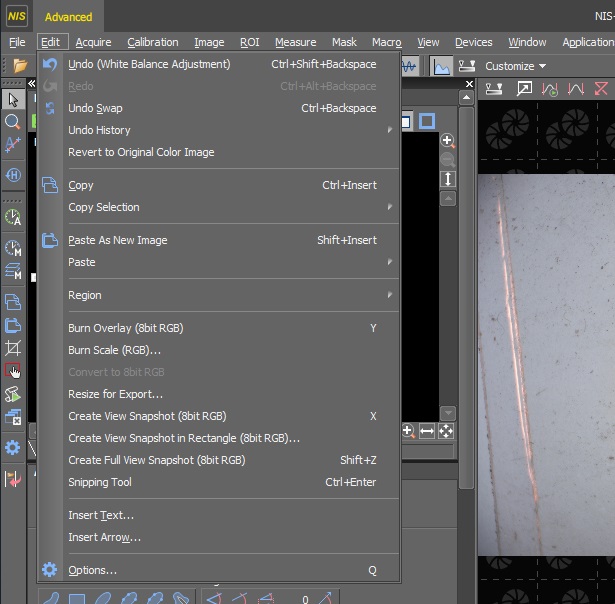 The "Calibration" menu tab: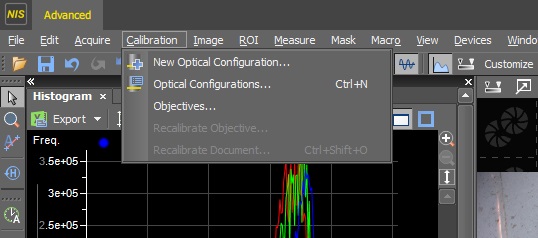 The "Image" menu tab: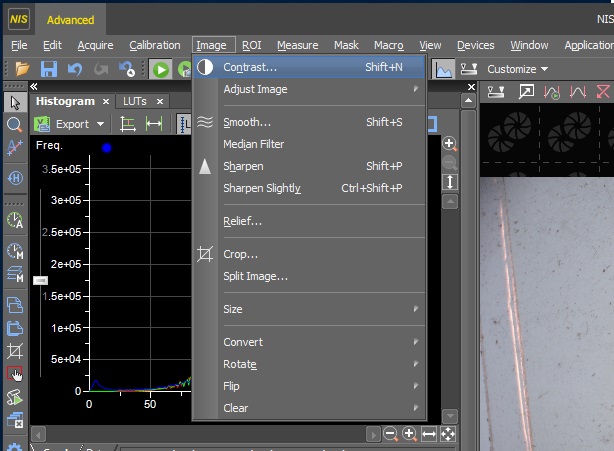 The "Measure" menu tab contains various measurement tools (length, angle, etc.):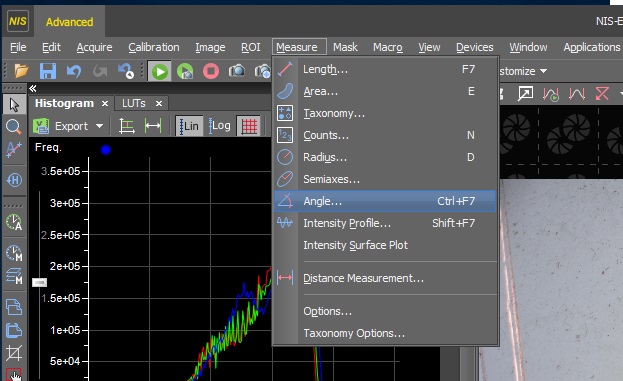 The "Mask" menu tab: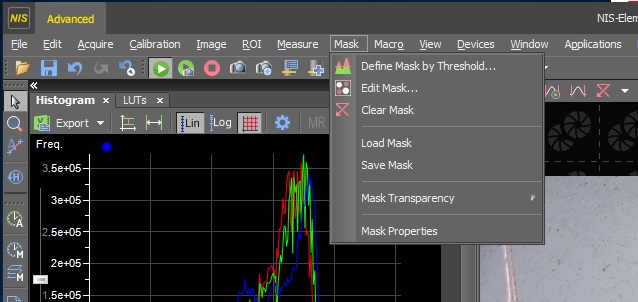 The "View" menu tab: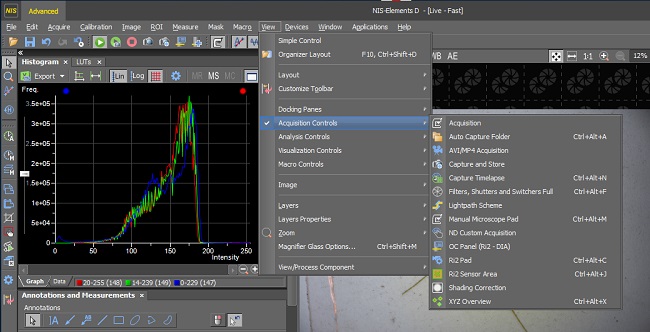 What we miss in the NIS software is an import function that allows users to transfer images directly from current DSLR cameras (which isn't even supported for Nikon's own camera models!). It is, however, possible to import individual photos saved in a folder, which means that you can run the Nikon camera control software (e.g. Camera Control 2) parallel to the NIS imaging software and thus increase your work speed.
The DS-Ri2 vs. DSLRs and mirrorless system cameras
As mentioned previously, the DS-Ri2 really performs very well when combined with motorised Nikon microscopes and Nikon's NIS microscope imaging software. The fact that the camera is convenient to use and offers a high level of automation for many different processes are definite strengths of the Nikon system, as is a network of qualified sales partners that deliver quality product support. All of this – understandably – comes at a price. DSLRs and mirrorless system cameras are produced by the millions for the mass market and are subject to a very fast innovation cycle: improved camera technology comes to the market about every 2–3 years. Due to the large number of cameras produced, prices can be kept low while still using the most advanced camera technology, which is why these cameras feature a wide dynamic range, high light sensitivity and a large number of pixels. Depending on the application, users can choose their desired model from a variety of different brands. As a rule, camera manufacturer also offer basic software options for controlling the camera remotely from a PC, Mac, tablet or smartphone, which is very convenient for many applications. For additional functions such as image optimisation, measurement tools, automation software and focus stacking software, powerful and affordable alternatives are available that enable professional use of the camera.
Conclusion: Nikon's DS-Ri2 microscope camera is a powerful instrument featuring a large-format sensor and advanced optical capabilities. When used with Nikon's NIS microscope imaging software, it is able to perform a wide range of functions. In addition, it offers sufficient capacities even for demanding tasks. It remains to be seen whether Nikon will decide to update the DS-Ri2, which has been on the market since 2012, in the foreseeable future, and upgrade it to the most advanced sensor technology as is found in Nikon's Z series cameras.
For more information about choosing a camera that is right for you, please see our current camera recommendations and our camera ranking. We are also happy to provide tailored advice.
26.05.2021