592
LM wide-field photomicroscope: a versatile modular digital solution for professional photography, offering a wide range of magnification options from 8x to 960x
The LM wide-field photomicroscope is a modular, open system for digital photography techniques such as motorised focus stacking, HDR, continuous shooting, computer-controlled image series and the use of AI technology in image processing.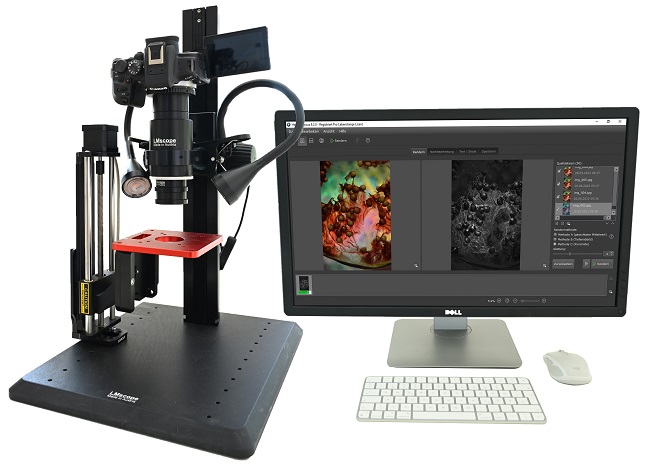 Shown in the image: example application of a LM wide-field photomicroscope with motorised StackShot focusing rail and Helicon software
The LM photomicroscope is primarily intended for use with modern digital cameras and imaging techniques. Its high-quality infinity-corrected optical system has been specifically developed for the most recent camera sensors, allowing users to unlock the full potential of these cameras. With a central optical path and large-diameter high-resolution lenses, the LM photomicroscope provides excellent image quality and resolving power. Thanks to their strong light gathering capability, the lenses are also an optimal fit for fluorescence microscopy.
To accommodate the widest possible range of applications, we are offering three different photomicroscope modules with varying levels of magnification. Currently, LM tube modules with factors of 16x, 8x and 4x are available. The choice of which module delivers the best results depends on the specific application and camera sensor. Compared to normal microscopes with high-quality 10x wide-field eyepieces, the 8x (ultra-widefield) and 4x (ultra-widefield) modules provide a significantly larger field of view with the same level of detail resolution. For example, when using a full-frame sensor camera and a 4x tube module, the object field of view is displayed at 250% in the image.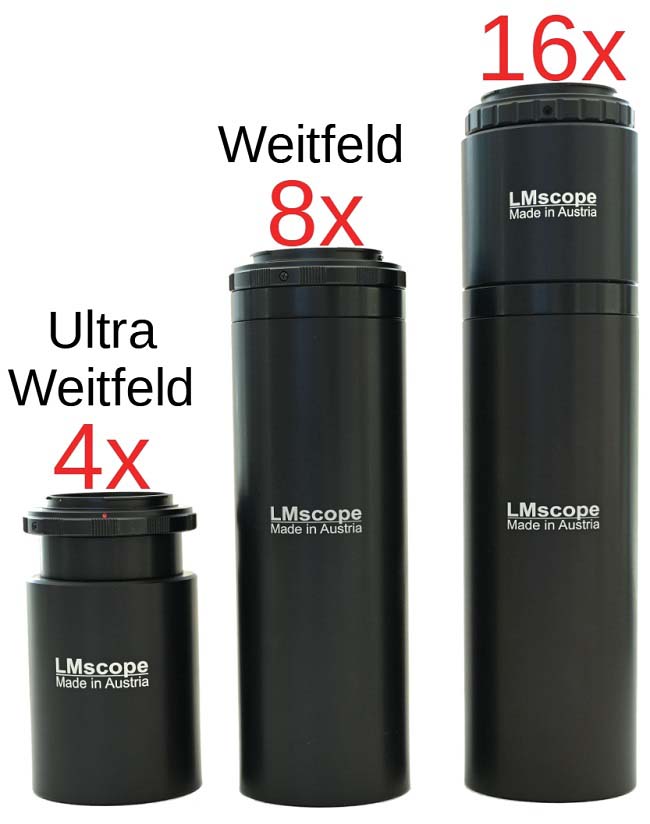 Like all LM devices, the photomicroscope has been developed in Austria and is manufactured using state-of-the-art technology. It is primarily designed for professional use (research, industry, universities, hospitals, etc.).
The LM photomicroscope is a hybrid that combines the features of a macroscope with those of a standard laboratory microscope with infinity optics. This means that both special macro lenses (2.5x / 5x / 8x) and standard microscope lenses (4x to 60x) can be used on a single device.
High-resolution LM macro lenses: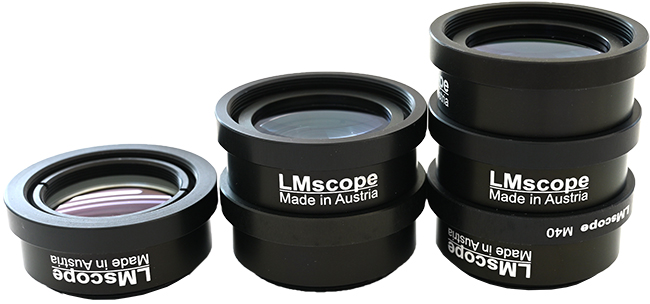 Standard microscope lenses with RMS thread:
The modular design of the photomicroscope and its wide range of accessory modules offers tremendous flexibility and covers a wide range of applications and magnifications. It features a high-quality stand with pinion alignment and a sturdy base plate with several mounting holes. The stand is factory-ready for installation of the motorised StackShot focusing rail. The application of focus stacking can yield substantial improvements in both image quality and depth of field. By combining the LM photomicroscope, a motorised StackShot focusing rail and the Helicon software, a batch of more than 100 individual images can be stacked automatically and merged into one perfect shot with a single click. The LM photomicroscope offers a very good price-performance ratio. Thanks to its open modular system, is also compatible with components from a wide range of other manufacturers.
Example application: LM wide-field photomicroscope, motorised StackShot focusing rail, trinocular head, LM SLR microscope adapter, motorised specimen stage, manual 5-fold filter changer and Canon EOS R10 camera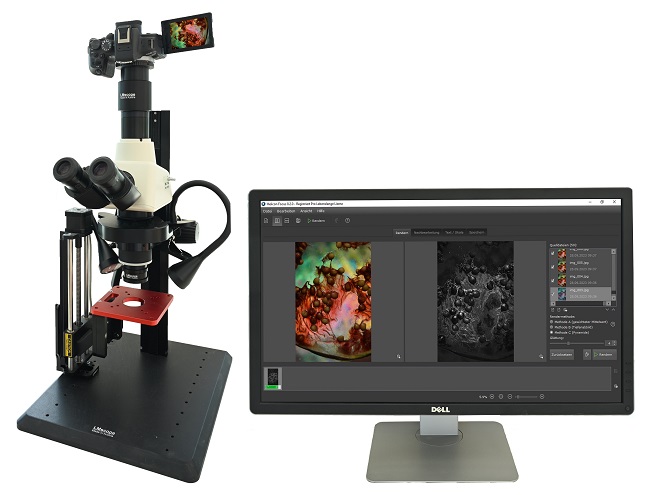 LM photomicroscope modules offer the option of adding optical filters, such as polarisation filters, grey filters, UV filters, IR filters, colour filters or fluorescence filters. Our modules come with one or more filter holders with an M37 thread as standard.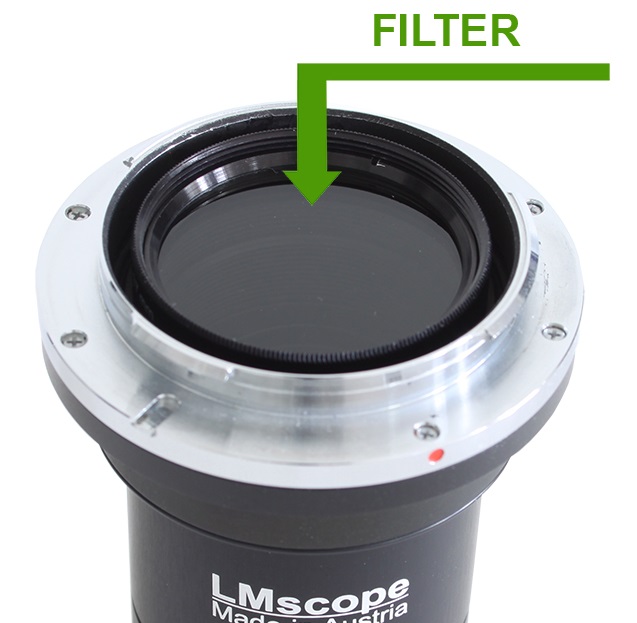 An LM photomicroscope version with a built-in manual 5x filter changer is also available as an option.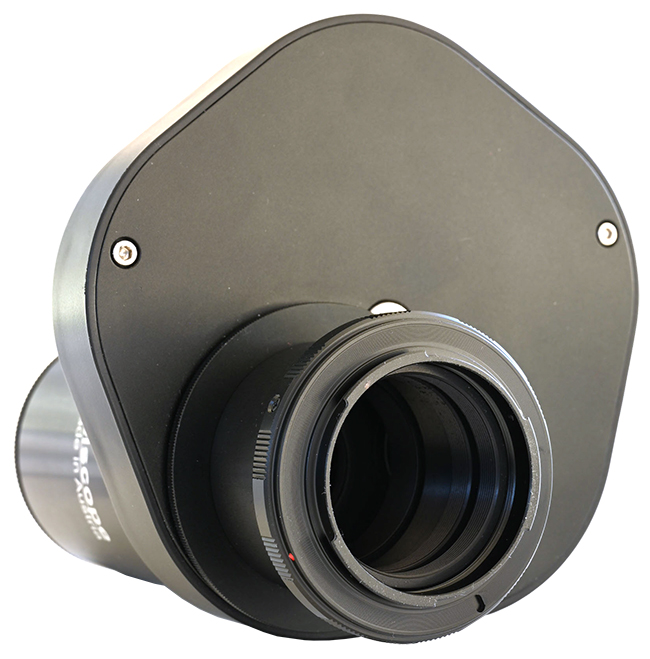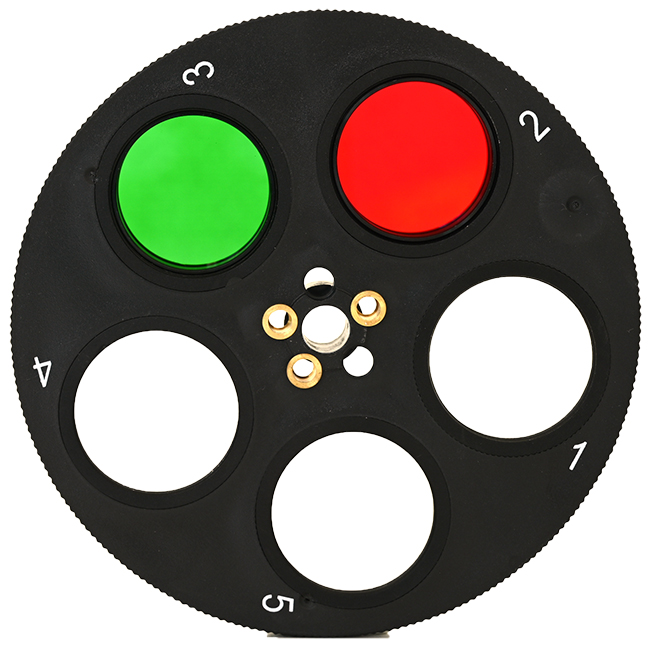 For optimal performance, we recommend using modern digital SLR cameras or mirrorless system cameras with the LM photomicroscope. Thanks to their large, high-quality sensors and state-of-the-art features, these cameras are particularly powerful and versatile. The LM photomicroscope can be used with a wide range of different cameras. Available camera bayonet adapters
For C-mount cameras, we offer a special version with a shorter focal length.
A complete list of all available sets, modules and accessory parts can be found on this overview page. We are also happy to provide customised combinations and special designs upon request.
For applications that require even larger object fields of view, the LM macroscope is the ideal addition, because it is designed for lower magnifications. Both the LM photomicroscope and the LM macroscope feature the same stands, and thanks to their modular design, the two devices can also be combined.
24.10.2023