570
Mounting options on the stand: LM macroscopes and photo microscopes
We offer three different versions for mounting cameras and LM macroscopes / photomicroscopes, which have advantages and disadvantages depending on the requirements. These are briefly described here:
1.) Standard: stand option with massive lens mount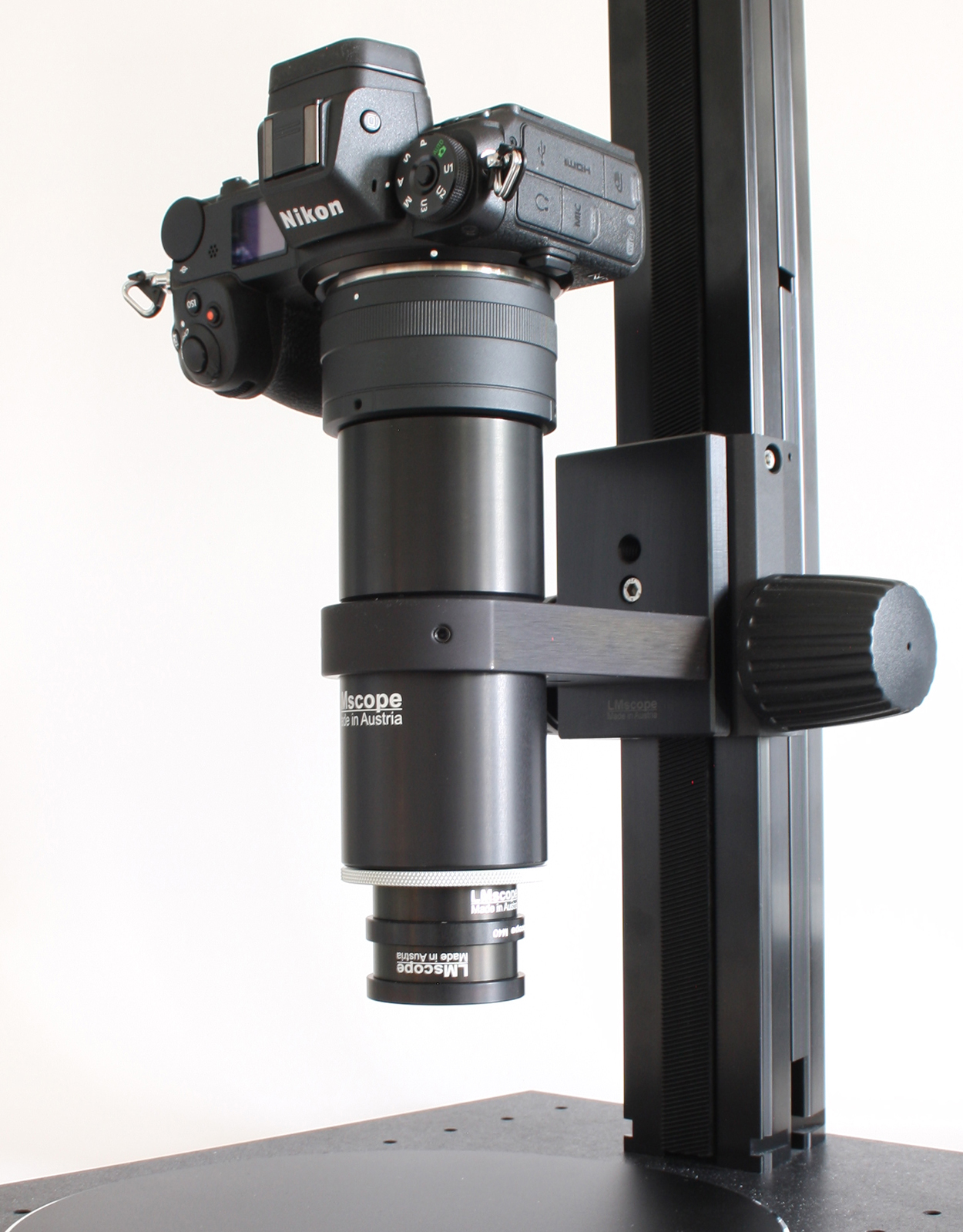 Our macroscopes and photomicroscopes are delivered as standard in this configuration. Due to the massive construction, the lens is very tight, can be guided precisely and delivers the best possible image quality. We recommend this configuration at a microscope magnification of 50x and more.
Disadvantage: Due to the fixed mechanical coupling, changing the tube modules takes a little longer if you want to vary the magnificaiton.
2.) Option with quick release plate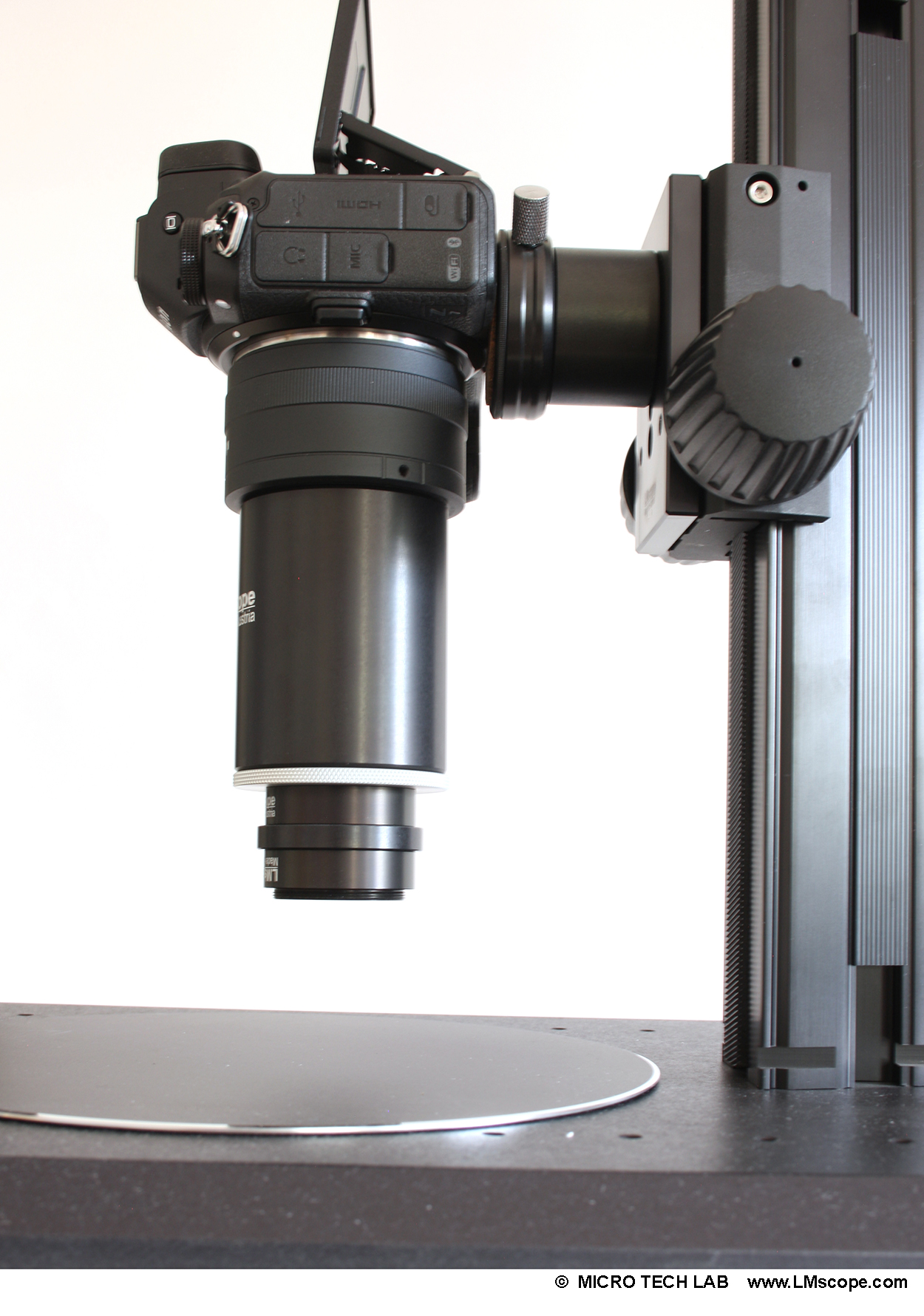 With this type of installation, the stand is screwed to the tripod thread of the camera body using a quick-release plate. Thanks to the rotable quick release plate, the camera housing can be rotated in both directions.
Advantage: The camera can be changed very quickly and the lenses can also be changed quickly without tools. Various other lenses, such as macro lenses, can also be used.
Possible disadvantage: In this variant, the camera and lens is not tied to the stand very tightly. This results in a slight movement of the individual parts. There is also the risk, that the camera is not positioned entirely axially, so we recommend to check vertical installation with a mini spirit level (included in delivery of the macroscope).
To avoid blurring we strongly recommend to use a remote control or, even better, to control the camera from your computer.
3.) Option with motorised Stackshot rail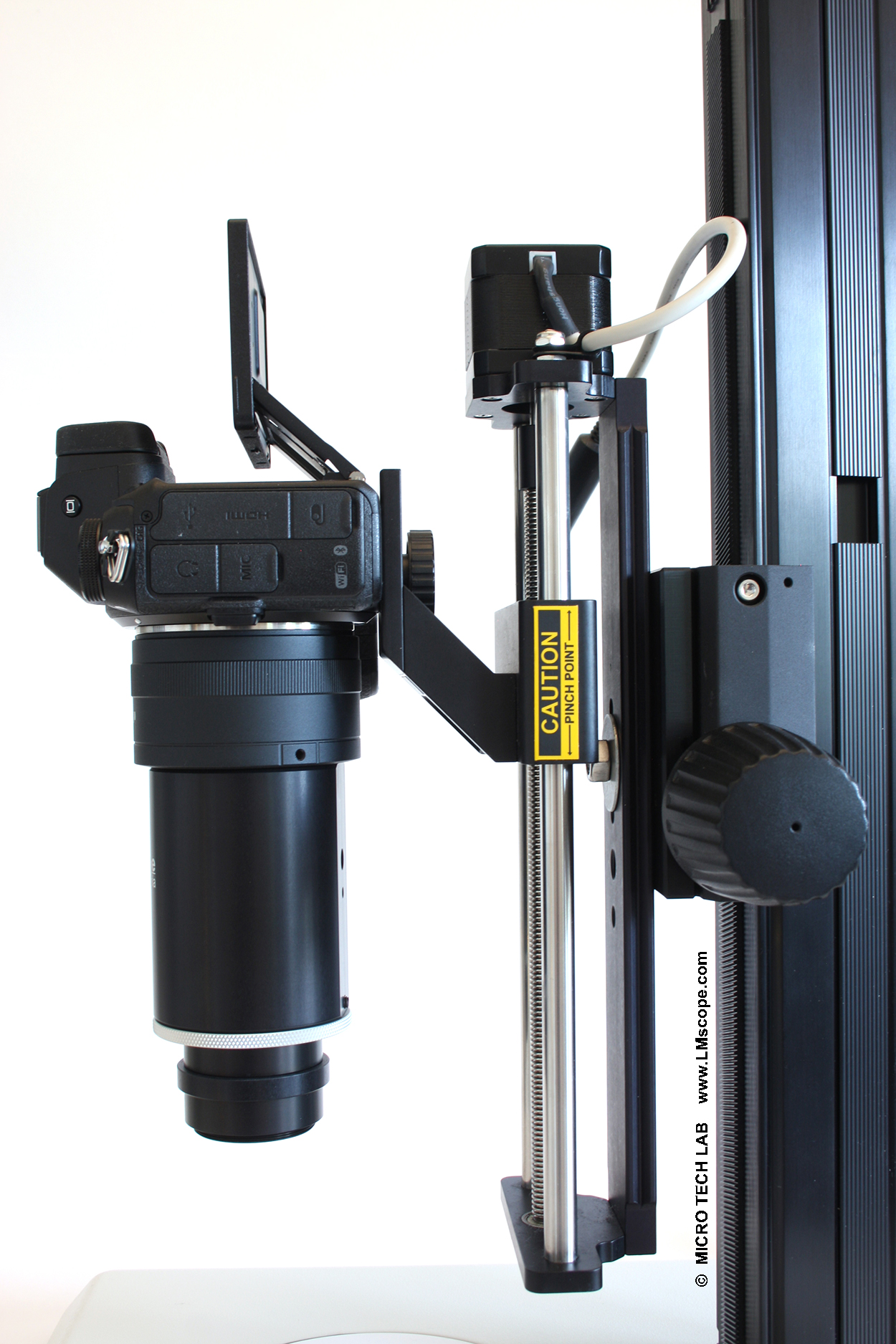 With a special mounting plate from LMscope, the motorised rail from Stackshot can be easily mounted on the stand. The motorized rail makes it easy to make a large image stack for the use of focus stacking technology. In this variant, the Stackshot rail is connected via the stand thread of the camera. It is advantagous, because the lens can be changed very easily and quickly. This means that the magnification can also be easily varied.
This connection is not as thight as our standard version, so we recommend to control the camera completely from the computer. The use of focus stacking technology results in a very high image quality and depth of field. This variant is often used in professional applications.
We recommend the stand version with the quick release plate for our LM macroscopes, if there is not Stackshot rail available. The standard version is ideal for the photo microscope for higher magnification.
09.02.2021