620
The Sony Alpha 7S III on the microscope: our LM adapter solutions turn this low-light specialist into a great companion for macro and micro photography
At first glance, one might question the need for a mirrorless system camera with only 12 megapixels. But when it comes to specific tasks, this camera truly shines and delivers exceptional performance.
The long-awaited Sony Alpha 7S III comes quite some time after its legendary predecessor, the Alpha 7S II. Since Sony hasn't made that many changes, we can't help but wonder if the price jump from about EUR 3,000 (Alpha 7S II) to more than EUR 3,800 is justified.
Compact and lightweight at just 699 grams (battery included), the Alpha 7S III boasts a high-quality, splash-proof body. When combined with our LM adapter solutions with built-in precision optics, it seamlessly fits almost any microscope. Attaching the camera is a breeze – either the phototube or the eyepiece tube of the microscope can be used.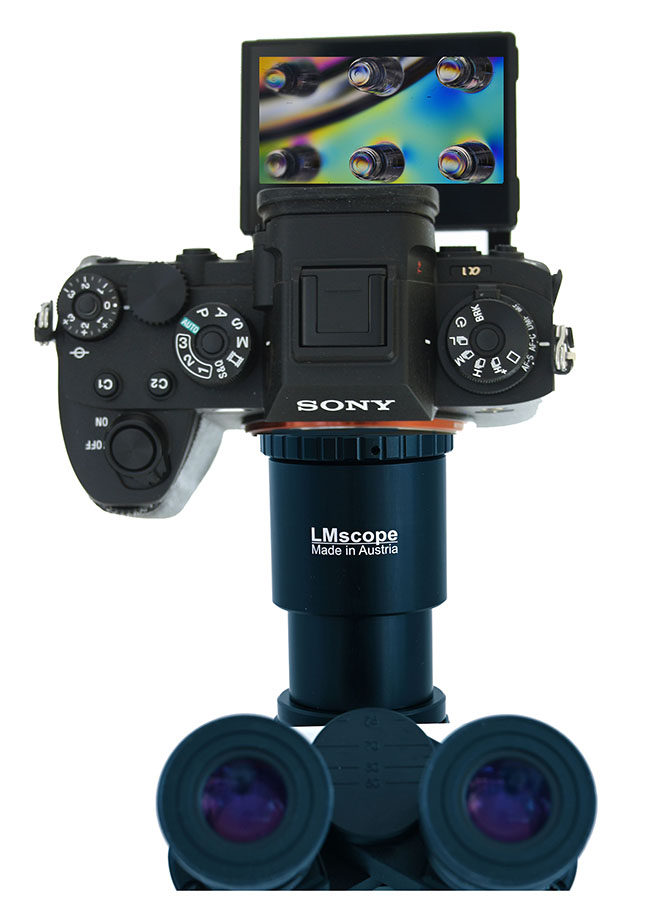 Symbol photo
The Alpha 7S III has an EXMOR-R CMOS full-frame sensor with a resolution of only 12 megapixels, which results in a comparatively large single pixel area. With its back-illuminated sensor, the camera excels in low-light conditions: the larger the pixels, the better the signal-to-noise ratio in low light. The Alpha 7S III offers an outstanding ISO range of up to ISO 409,600, which makes it a great fit for fluorescence imaging.
Speed was obviously another priority for Sony's developers. The new BIONZ-XR image processor has superfast processing capabilities, allowing for 5x slow motion and time-lapse recording when shooting 4K at a frame rate of 120p. If moving down to Full HD resolution, an effective 240p frame rate is available for even greater motion control (up to 10x slow motion). Because the shutter speed needs to be longer when shooting at 120p, the sensor sensitivity becomes increasingly important when images are captured at such high frame rates. The large pixel area is again a crucial factor. With 12 stops of dynamic range, the 7S III delivers the best 4K quality in Sony's entire Alpha series.
As with the Sony Alpha 7S II, recording time is no longer limited, thanks to a new cooling system that allows a much longer 4K recording time. As long as the camera has enough battery life and memory card capacity, it can record for over an hour at 4K/60p or 30 minutes at 4K/120p without any issues. The Alpha 7S III has two slots for memory cards.
In continuous shooting mode, the camera can handle a continuous burst of over 1,000 uncompressed RAWs at 10fps. And just like with the Alpha 7S II, users can continuously shoot without the mechanical shutter: the silent electronic shutter ensures totally vibration-free shooting. According to Sony, the rolling shutter effect in 4K footage has been significantly reduced compared to the 7S II.
We also noted the improved flexibility of the touch display. While the previous display could only be tilted up and down, the new generation features a sideways swing-out screen. This also has obvious ergonomic benefits when working at the microscope because you don't have to get up after each shot to look at the results.
We recommend controlling the camera remotely in Live View via USB (USB 3.2 type C) on your computer. Sony offers its proprietary Imaging Edge software for this purpose, and the camera can also be controlled with the Capture One software. The USB port can be used for charging or for keeping the camera on a continuous power supply. However, if you want to use the camera for an extended period of time, we recommend using an AC adapter (for the Sony battery NP-FZ100) to free up the USB port. AC adapters don't cost much and can be purchased on the internet (here, for example).
The Alpha 7S III has an HDMI (type A) port that supports 16-bit RAW output at 60p, which can be used to send images to an external monitor, for example during presentations.
Conclusion: The Alpha 7S III is a video specialist designed for 4K low-light requirements. Its ultra-high sensitivity makes it an excellent choice for fluorescence microscopy. However, if your goal is to capture high-quality images and videos in normal light conditions, the resolution of only 12 MP might not meet your needs. In that case, we recommend exploring our camera recommendations and our camera ranking.
05.10.2022
Photography:
Fitting the microscope to digital single-lens reflex (DSLR), mirrorless interchangeable-lens cameras (MILC ), digital single-lens mirrorless (DSLM) or C-mount cameras is easy with our LM digital SLR adapters, which feature a plan achromatic optical system. Our products make it possible to capture top-quality microscope images. To help you select the adapter that is right for your camera, we have set up an online configurator on our website. You can also email us – ideally with attached photographs of your microscope.
Modern DSLR and single-lens mirrorless (DSLM) offer the latest technology and are generally very well suited for microscopy applications. Most of them can be controlled remotely via PC/Mac. Because of their high sales volumes, they offer an excellent price/performance ratio compared to special-purpose microscope cameras.
Features of top DSLR and single-lens mirrorless cameras (DSLM):
- Large, powerful full-frame sensors (36 x 24 mm)
- Sensor resolution of 61 megapixels or 240 megapixels with Pixel Shift technology
- High light sensitivity (ISO 400,000+)
- Extensive dynamic range (up to 15 aperture stops/f-stops)
- Short exposure times (1/8000 second) up to 1/32,000 seconds using the digital shutter
- 4K Ultra HD or 8K Ultra HD video function
- Live video capture on external monitors in ultra HD quality
In most cases, these cameras are significantly more powerful than microscope cameras with smaller sensors (1/2" or 2/3"). On our website you will find our current camera recommendations and a camera ranking which is specifically tailored to microscopy applications.