395
Development and realisation of customised adapter solutions
All LMscope adapters are manufactured by hand in Austria. Development, production, support and sales are combined in a single location. This uniquely centralised approach means that we can offer our customers the best possible product for every individual application.
We maintain an inventory of adapter solutions that can match most types of cameras to conventional microscopes. If a standard configuration is not suitable, we are also able to develop customised solutions for special requirements. Our state-of-the-art manufacturing equipment enables us to handle complex product designs quickly and efficiently.
Example: Conversion of an older microscope without photo tube for professional photomicrography applications. The binocular head was removed to accommodate a camera adapter solution. The specimens can be viewed on the camera display or an external monitor. The camera is controlled remotely from the PC workstation using a software application. This solution, which enables the production of a large number of high-quality images easily and with very little effort, is ideal for a wide range of applications such as materials testing, long-term observation, progress monitoring, etc.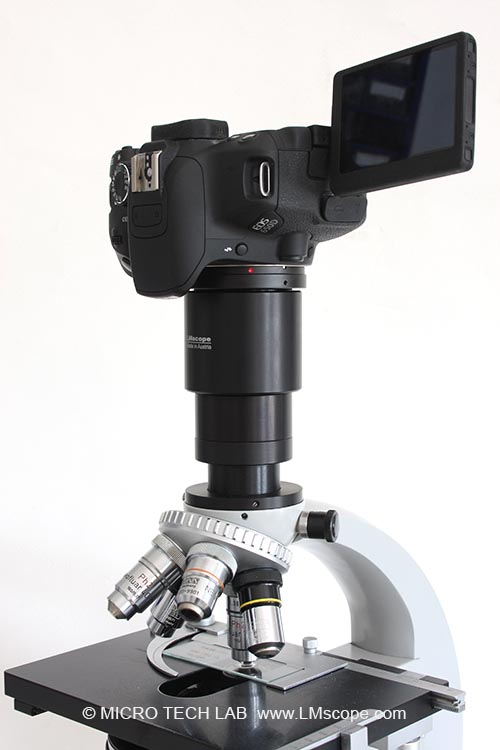 We also manufacture special photo macroscopes (magnifications up to 40x) and photo microscopes (magnifications up to 500x) for a wide variety of cameras and sensor formats. All of these instruments can accommodate specific customer requirements regarding magnification and/or field of view.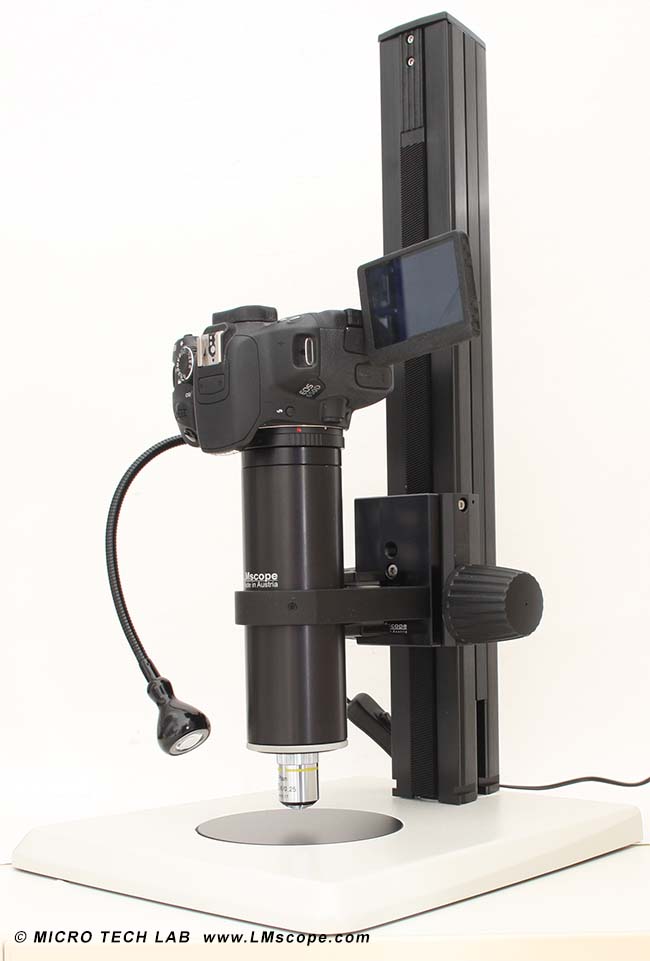 Please contact us if you are interested in a customised adapter solution.
22.06.2016
New LM Digital Adapter for:
Nikon Z9 / Nikon Z8 / Sony Alpha 7R V / Sony Alpha 1 / Sony FX3 Cinema Line / Sony Alpha 9 II (ILCE-9M2) / Sony Alpha 9 / Nikon D6 / Canon EOS R3 / Canon EOS R6 Mark II / Canon EOS R8 / Sony Alpha 7R IV / Canon EOS R5 / Sony Alpha 7S II / Sony Alpha 7S III / Sony Alpha 7R III / Canon EOS R6 / Nikon Z6 / Nikon Z6II / Sony Alpha 7R II / Nikon Z7 /