580
Compact special adapter solution for connecting interchangeable lens mount digital cameras to current Olympus laboratory and stereo microscopes
With its professional Direct Image microscope adapter, LMScope has created a premium, customised solution for using large-sensor cameras (such as SLR or mirrorless system cameras, microscope cameras or high-speed cameras) with all modern Olympus microscopes.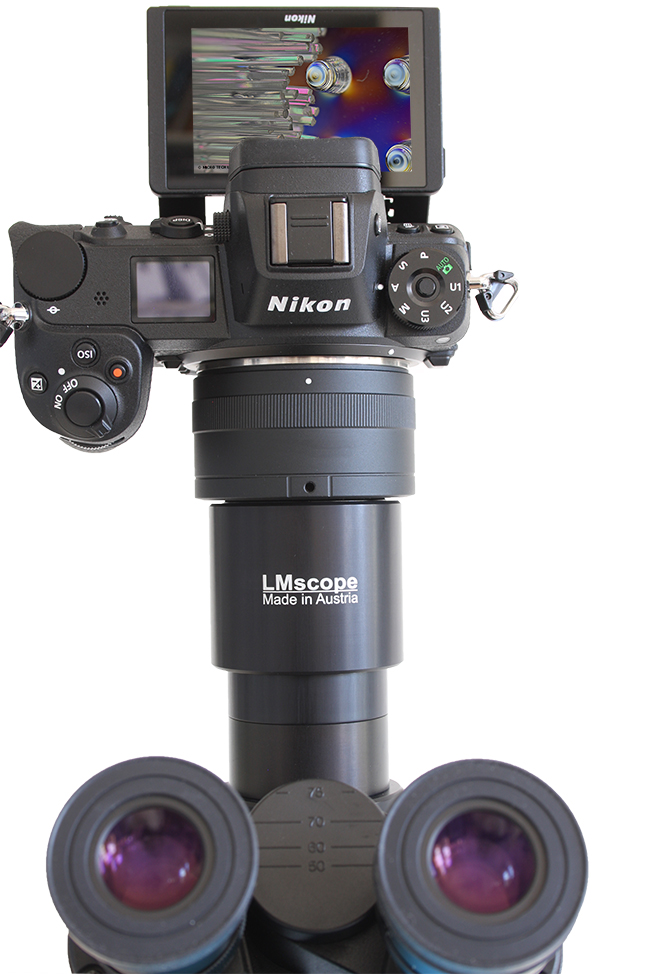 The LM Direct Image Adapter DD2XZ42 is a custom design developed by LMScope for Olympus microscopes that have a phototube with an inner diameter of 42 mm. Like all our products, the adapter is equipped with plan achromatic precision optics and offers optical excellence and maximum light intensity thanks to the large lens diameter.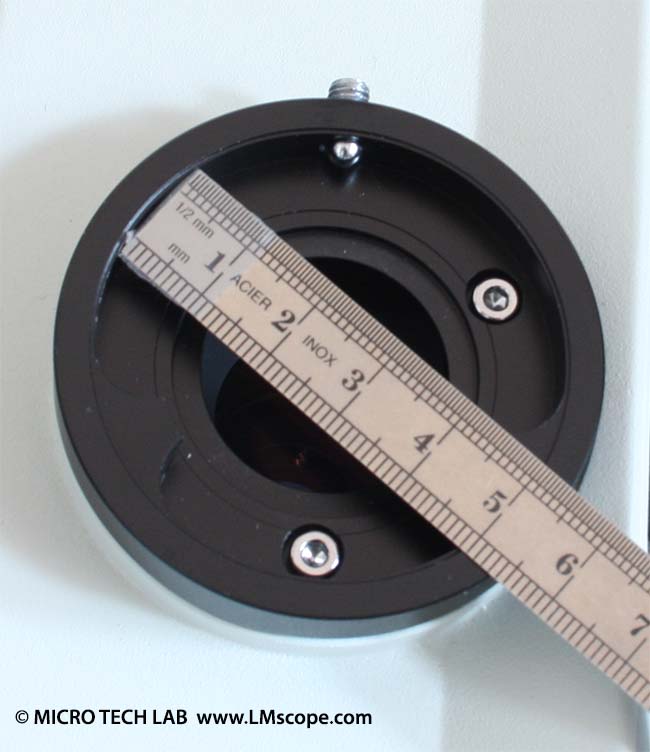 Attaching the adapter solution to the basic phototube is an easy task that requires only one accessory product. The adapter is manufactured in Austria and features a compact, short design and a solid build quality at a weight of about 420 g.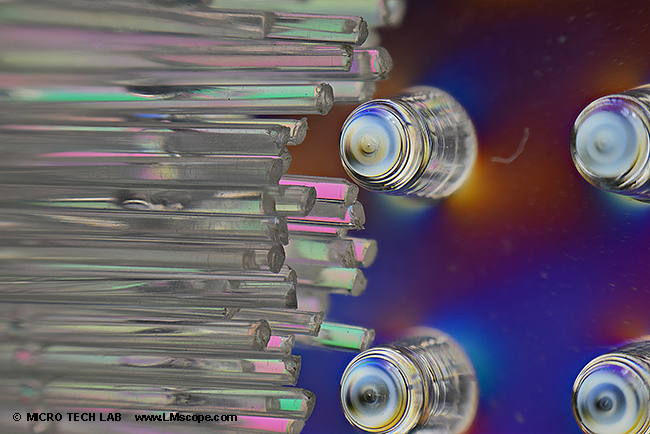 Digital single reflex cameras (DSLRs) and mirrorless system cameras (DSLMs) are very well suited for use on a microscope and deliver high-quality images at an excellent price-to-performance ratio. Cameras with smaller sensors (C-mount cameras) just can't deliver the same level of dynamic range and field of view (FOV). The LM Direct Image Adapter DD2XZ42 works with all common sensor formats and camera brands. We recommend sensor formats ranging from full-frame (36 mm x 24 mm) to APS-C and Micro Four Thirds (MFT/µFT, 17.3 mm x 13 mm). Thanks to its modular design, switching to another camera brand is very easy – the only thing that needs to be changed out is the bayonet adapter.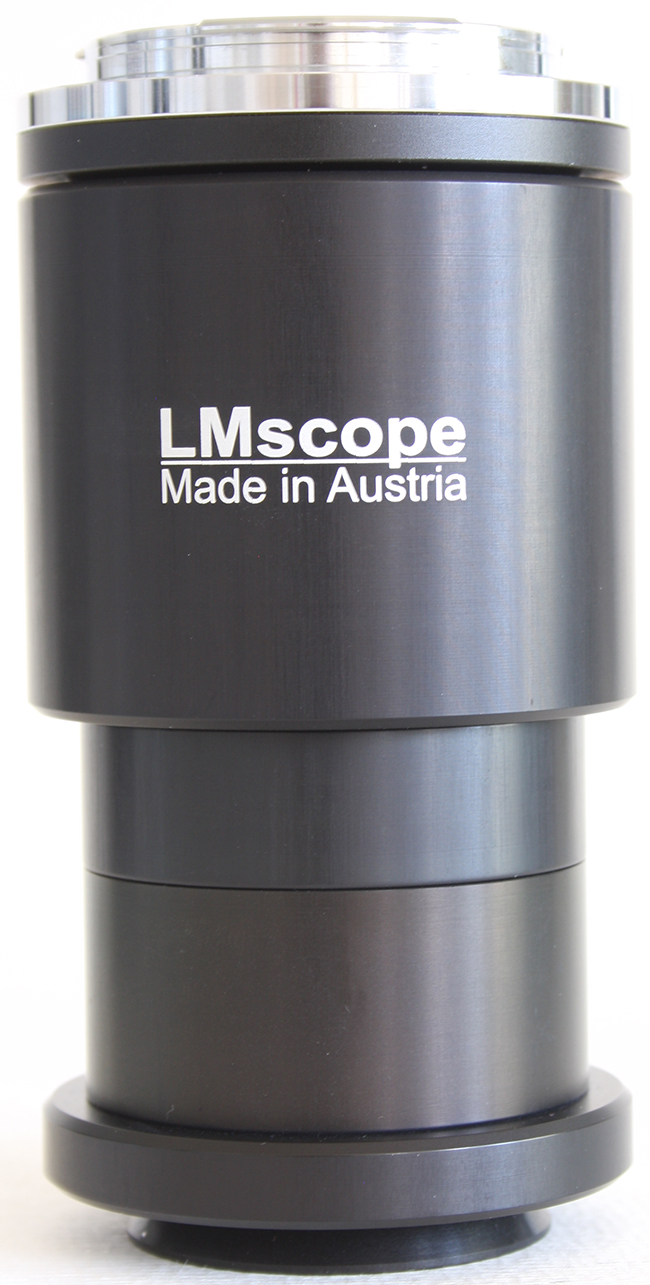 With a full-frame camera, the largest possible field of view (100%) can be obtained, while the field of view is slightly smaller (70%) with an APS-C sensor camera.
Comparison of FOV size: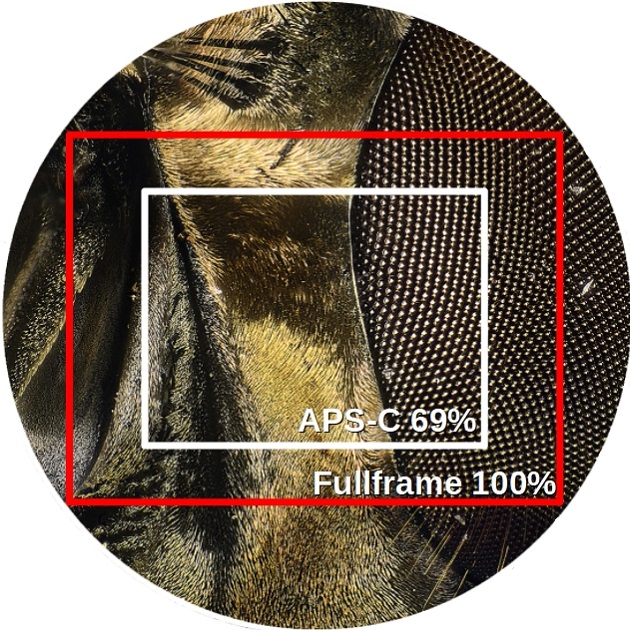 Full-frame vs. APS-C format
Optional: Another plus of the LM Direct Image Adapter DD2XZ42 is that is accommodates a selection of optical filters (e.g. circular polariser filter, UV filter, IR filter, gray filter, etc.). The adapter unit has a filter holder with a 37 mm internal thread, which has the advantage that even basic microscopes can be employed for special imaging applications. The adapter length remains unchanged.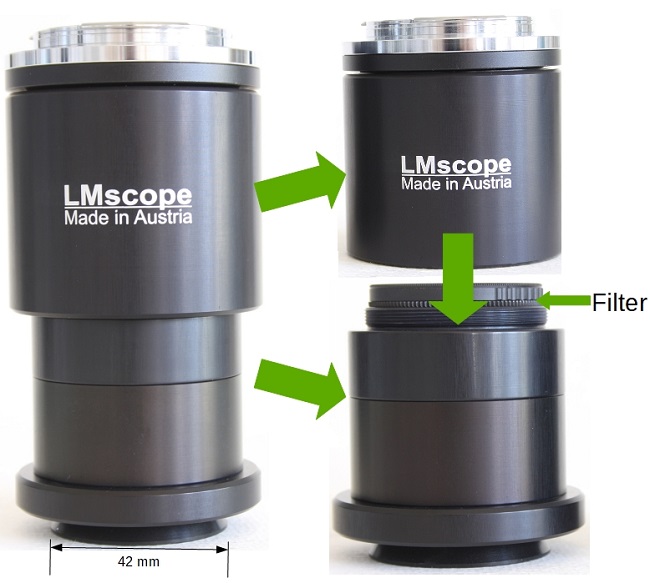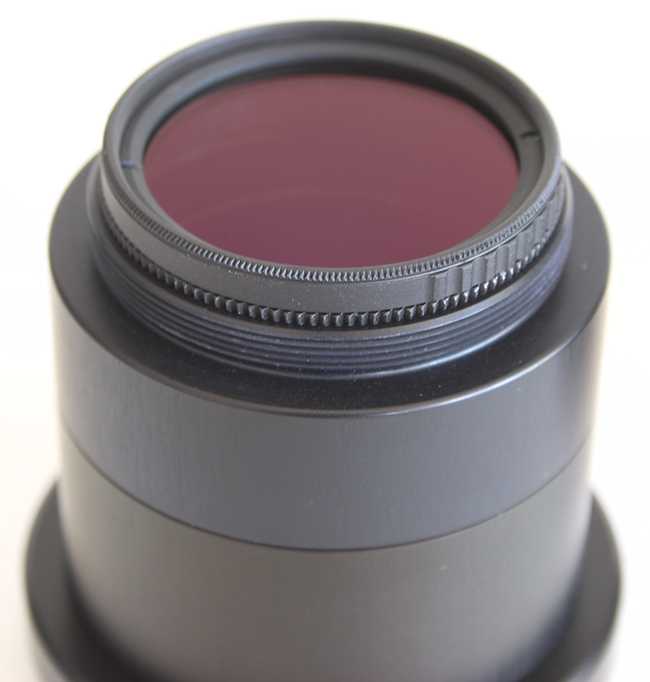 As an alternative to this special solution, we also offer our modular LM digital "Pro" adapter with standardised C-mount connection or eyepiece tube connection (23.2 mm/30 mm). This "conventional" LM digital adapter facilitates maximum flexibility because it allows switching to other microscope models. In addition, the advantage of the LM digital adapter over the customised LM Direct Image adapter solution is that, in addition to the greater flexibility, it is also focusable and thus allows precise adjustment of the field of view (FOV) and the level of magnification.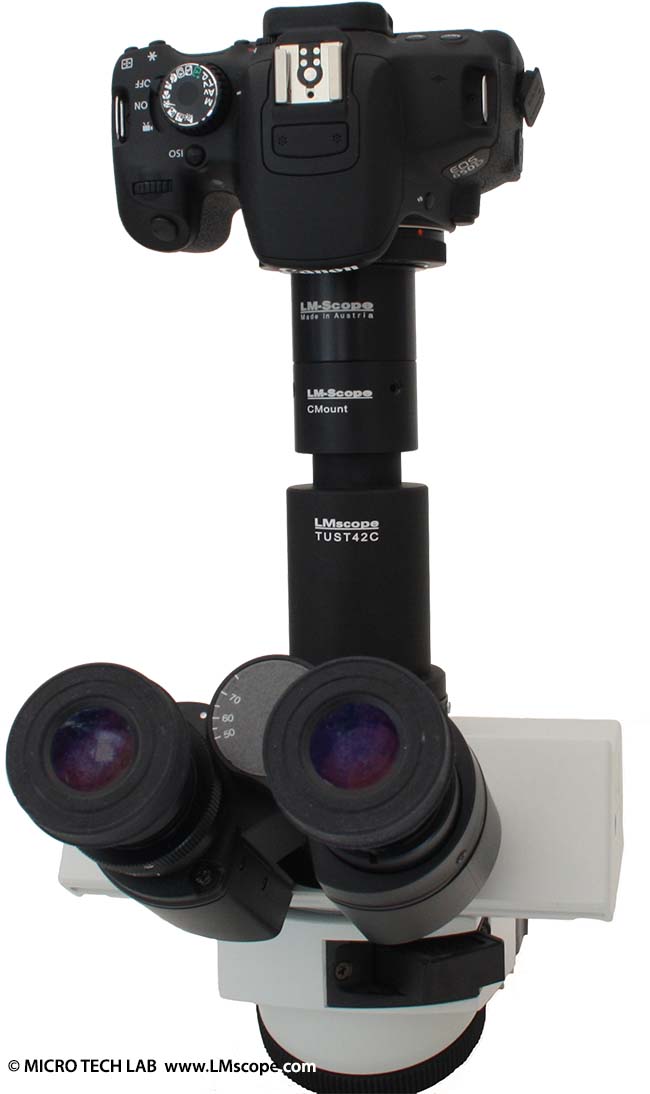 Focusable LM universal adapter solution with c-mount adapter 1x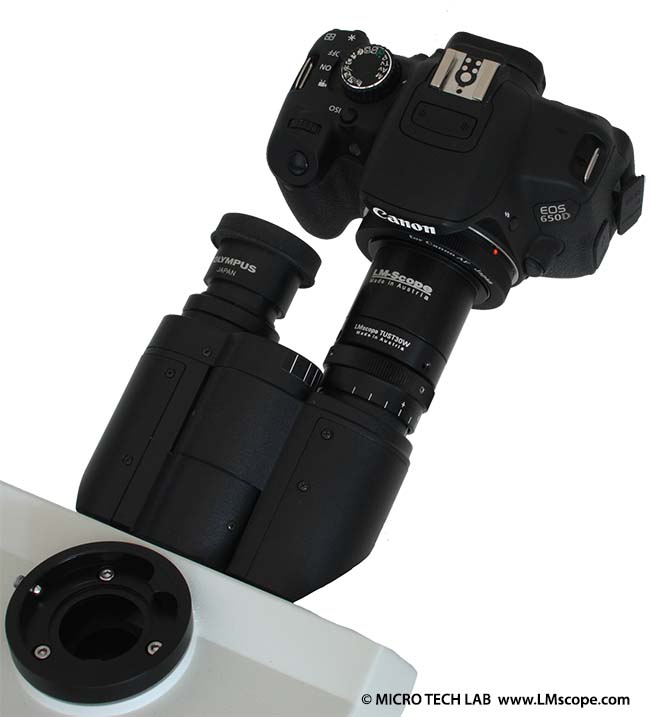 LM Eyepiece solution
Advantages of LM "Pro" series digital adapters:
Maximum image quality

Flexibility: can be used on almost every conventional microscope

Focusable: perfect adjustment of parfocality is very easy to achieve

Optional use on eyepiece tube or phototube

FOV (field of view) / level of magnification according to customer's requirements

Option of additional apertures for image optimisation (depth of field, resolution capacity)
Advantages of LM Direct Image adapter:
High image quality

Compact, low-profile design

Attractive price
This special adapter is compatible (among others) with the following Olympus microscopes:
AX70

​CKX31, CKX41

​CX 21, CX40, ​CX41

​BX 40, BX41, ​BX45, BX50, ​BX51, ​BX52, BX 61

​FV1000

​IX50 / IX70

​IX51 / IX71 / IX81

​SZX2, ​SZX7, ​SZX9, ​SZX10, ​SZX12, ​SZX16
29.03.2021
Photography:
Fitting the microscope to digital single-lens reflex (DSLR), mirrorless interchangeable-lens cameras (MILC ), digital single-lens mirrorless (DSLM) or C-mount cameras is easy with our LM digital SLR adapters, which feature a plan achromatic optical system. Our products make it possible to capture top-quality microscope images. To help you select the adapter that is right for your camera, we have set up an online configurator on our website. You can also email us – ideally with attached photographs of your microscope.
Modern DSLR and single-lens mirrorless (DSLM) offer the latest technology and are generally very well suited for microscopy applications. Most of them can be controlled remotely via PC/Mac. Because of their high sales volumes, they offer an excellent price/performance ratio compared to special-purpose microscope cameras.
Features of top DSLR and single-lens mirrorless cameras (DSLM):
- Large, powerful full-frame sensors (36 x 24 mm)
- Sensor resolution of 61 megapixels or 240 megapixels with Pixel Shift technology
- High light sensitivity (ISO 400,000+)
- Extensive dynamic range (up to 15 aperture stops/f-stops)
- Short exposure times (1/8000 second) up to 1/32,000 seconds using the digital shutter
- 4K Ultra HD or 8K Ultra HD video function
- Live video capture on external monitors in ultra HD quality
In most cases, these cameras are significantly more powerful than microscope cameras with smaller sensors (1/2" or 2/3"). On our website you will find our current camera recommendations and a camera ranking which is specifically tailored to microscopy applications.