372
Controlling cameras remotely via PC or Mac
Software programs used to remotely control DSLR and system cameras yield a significant boost in camera performance. Particularly in photomicrographic applications, these programs enable users to capitalise on all of the camera's strengths. They make it possible to achieve excellent image quality without motion blurs, and operating the camera's controls via the computer monitor is both convenient and efficient. Since many camera manufacturers offer remote control software, their cameras are generally better suited for microscopy applications.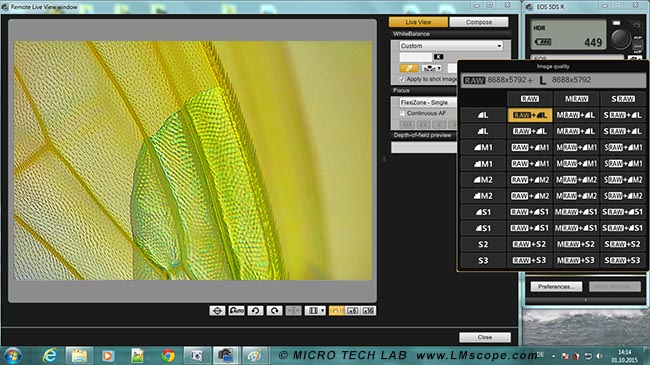 The connection between computer and camera is usually made via USB cable, wireless LAN interface or wireless LAN adapter. This enables all of the camera's functions and most of its control settings (for features such as Live View, exposure, white balancing and shutter release) to be accessed and controlled remotely from the user's PC workstation. As the images can be transferred directly to the PC's hard drive and stored there, a camera-based memory card is often no longer needed.
Some manufacturers also offer apps for controlling cameras remotely via iPad/tablet or smartphone. However, the range of capabilities provided by such tools does not even come close to that of software programs designed specifically for PCs or Macs. For your convenience, test reports on the key software programs currently available on the market are provided on our website.
At present, remote control software is available for the following camera brands:
Canon
included free of charge with the camera
Nikon
priced at around € 140.00
Olympus
available free of charge
Sony
available free of charge, but unfortunately without Live View display
Panasonic
available free of charge
Not tied to any particular brand
13.01.2015
New LM Digital Adapter for:
/ / /