343
Long awaited – the Olympus Capture software
Olympus has finally followed the lead of its competitors Canon and Nikon by developing a software application for controlling Olympus cameras via PC or Mac! For studio and laboratory use in particular, the ability to navigate cameras remotely via PC is a very handy feature that has become nearly indispensable when working with cameras.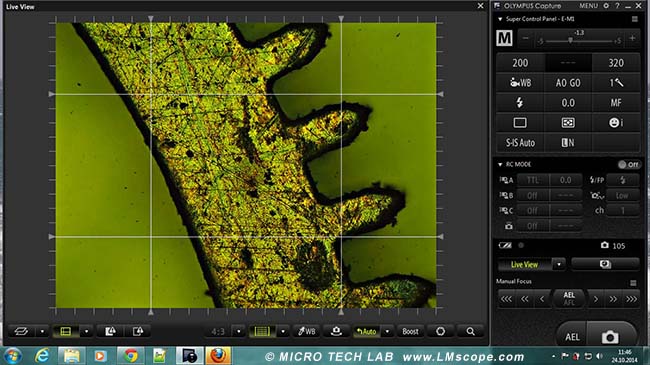 With the brand-new Olympus Capture software (available on the market only since September 2014), the OM-D E-M1 Olympus camera can be controlled easily and conveniently via PC or Mac. The software is very powerful and offers a large number of functions and settings, making it a match for its competitors from Nikon and Canon. It can be downloaded for free from the Olympus website.
The use of a tethering software has many advantages when the camera is used in a laboratory or studio setting – it simply needs to be mounted to the microscope and can then be comfortably operated from the user's workspace via PC or Mac. The images and settings can be checked and controlled onscreen. This enables the user to assess the images straight away and retake them if necessary, without having to wait for a series of images to be completed. As a result, the workflow is significantly enhanced. The finished images can be saved directly to the preferred folder on the hard drive.
Setting up the connection between camera and software: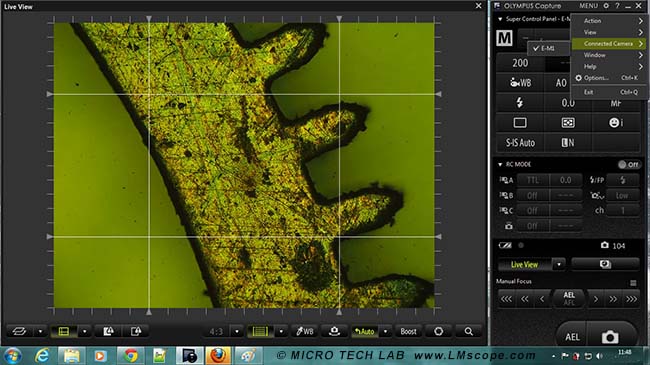 The Live View image is displayed in high resolution (max. 1,280 x 960). This is ideal for selecting the optimal focal plane.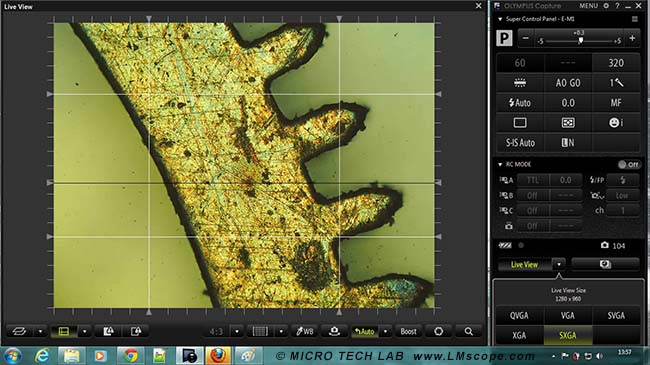 Setting ISO sensitivity: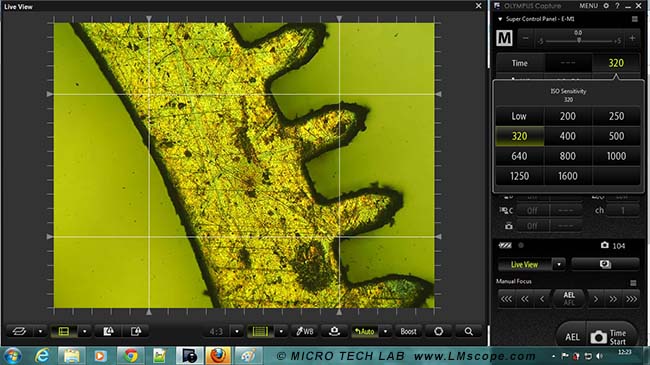 Selecting shutter speed: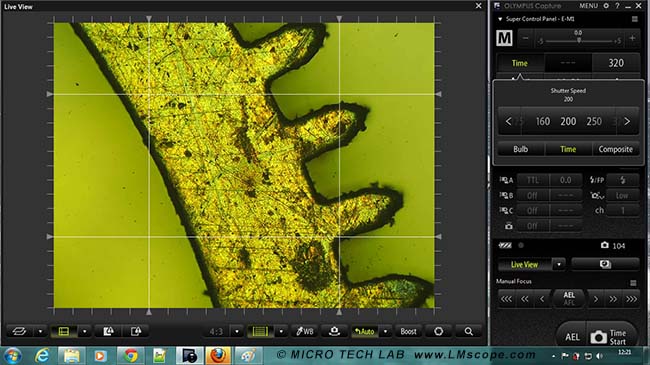 Adjusting the lighting options: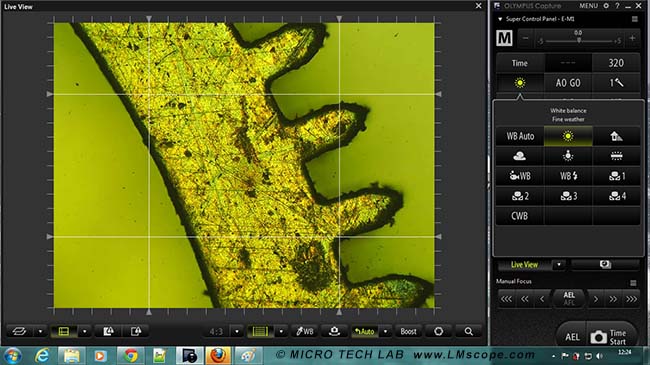 Programmable interval shooting is also possible: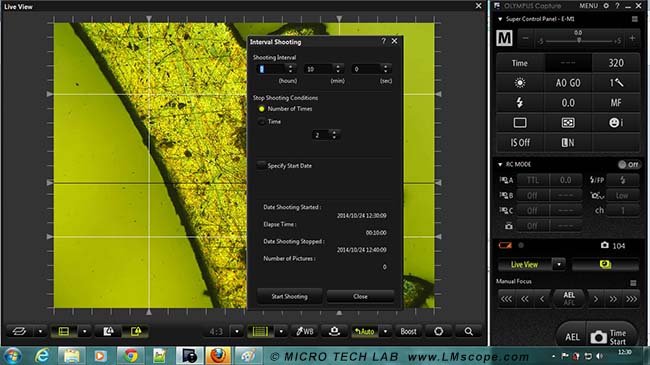 Images can also be superimposed in Live View mode.
The aperture ratio can be displayed: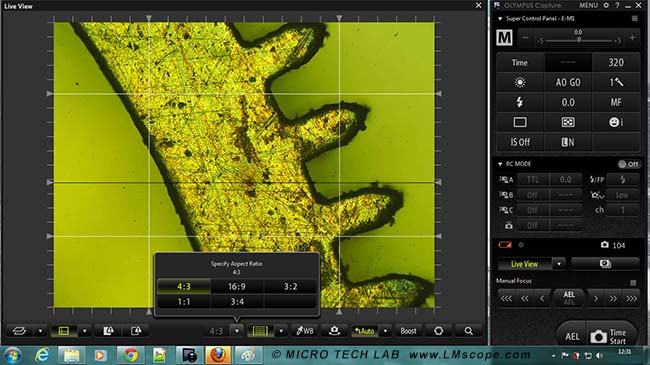 The auto rotate feature is also easy to use: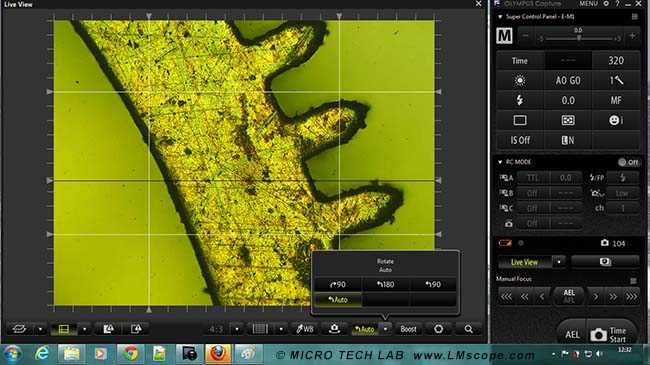 The ability to automatically save images to the PC in the preferred directory and format is another handy feature: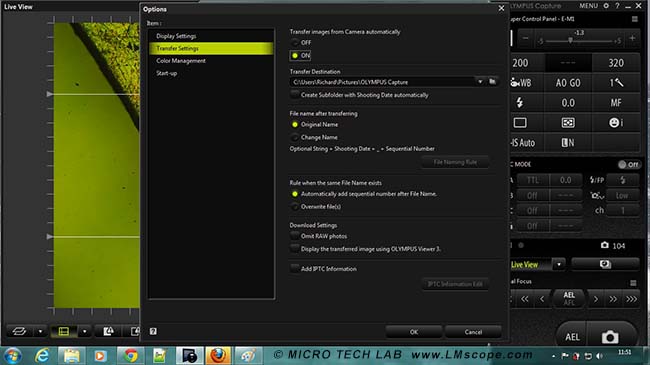 Setting the colour space: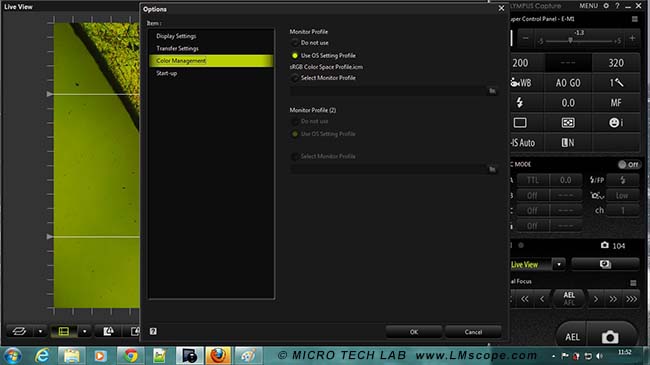 Conclusion:
The Olympus Capture software is very powerful. It runs fast and stable and broadens the range of possible applications of the OM-D E-M1 Olympus camera in multiple ways. Using the software in laboratory and studio settings is highly convenient and thus makes remotely controllable Olympus cameras once again a very attractive choice for microscopy. The fact that the software can be downloaded free of charge from the Olympus website is another plus. Compared to the Olympus software for tablets, it is significantly more powerful.
14.04.2015
New LM Digital Adapter for:
Olympus OM-D E-M1 Mark III / Olympus OM-D E-M1X / Olympus OM-D E-M5 III / Olympus OM-D E-M1 Mark II / Olympus OM-D E-M5 II / Olympus OM-D E-M1 / Olympus E-5 / Olympus E-3 / Olympus E-30 / Olympus E-620 / Olympus Pen E-PL7 / Olympus OM-D E-M5 / Olympus Pen E-PL5 / Olympus OM-D E-M10 / Olympus Pen E-PM2 / Olympus E-330 / Olympus E-520 / Olympus E-420 / Olympus E-450 / Olympus E-510 / Olympus E-410 / Olympus Pen E-PL8 / Olympus Pen E-PL6 / Olympus Pen E-PL3 / Olympus Pen E-PM1 / Olympus Pen E-P1 / Olympus Pen E-P2 / Olympus E-600 / Olympus Pen E-PL1 / Olympus Pen E-PL2 / Olympus E-400 / Olympus SP-610UZ / Olympus C-7070 Wide Zoom / Olympus SZ-20 / Olympus SZ-30MR / Olympus C-5060 Wide Zoom / Olympus FE-47 / Olympus FE-4040 / Olympus FE-5035 / Olympus mju-5010 /