300
Canon EOS remote app: operating EOS cameras by remote control via iPad and smartphone
Smartphones and iPads have long been more than just toys for tech-savvy teenagers. Instead, they are now increasingly being used by their parents for "serious" purposes. We tested the Canon EOS remote control application on the iPad3 (iOS 6) and on a smartphone.
If you have a Canon camera with integrated WLAN (WIFI), the camera can be controlled via smartphone or tablet with the help of this app. The iPad and smartphones now offer very good alternatives to controlling the camera conventionally by computer, as they not only feature excellent performance, have good screens and adequate battery lives, but also keep the pesky tangle of cables out of the way. For our tests we used the iPad3, since it is particularly interesting for photographic applications thanks to its high resolution retina display.
Unfortunately, we were unable to find the app in the App Store, even when using the search function with Canon Remote and Canon, although the app is available for free there. However, we were able to use an external link to the Google search engine where we quickly found what we were looking for. Once located, the app is already as good as installed – it really only takes a few seconds.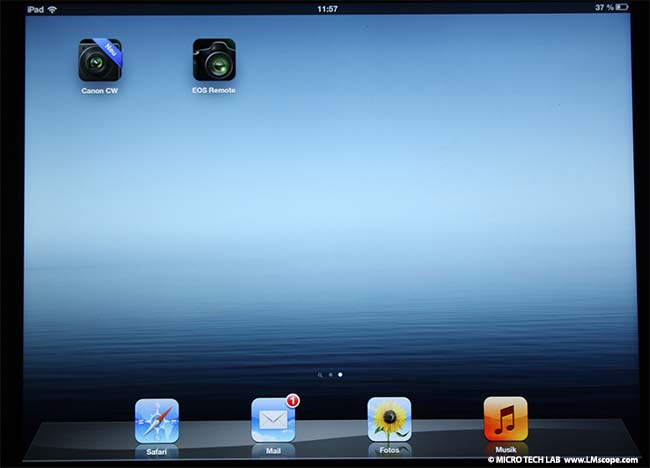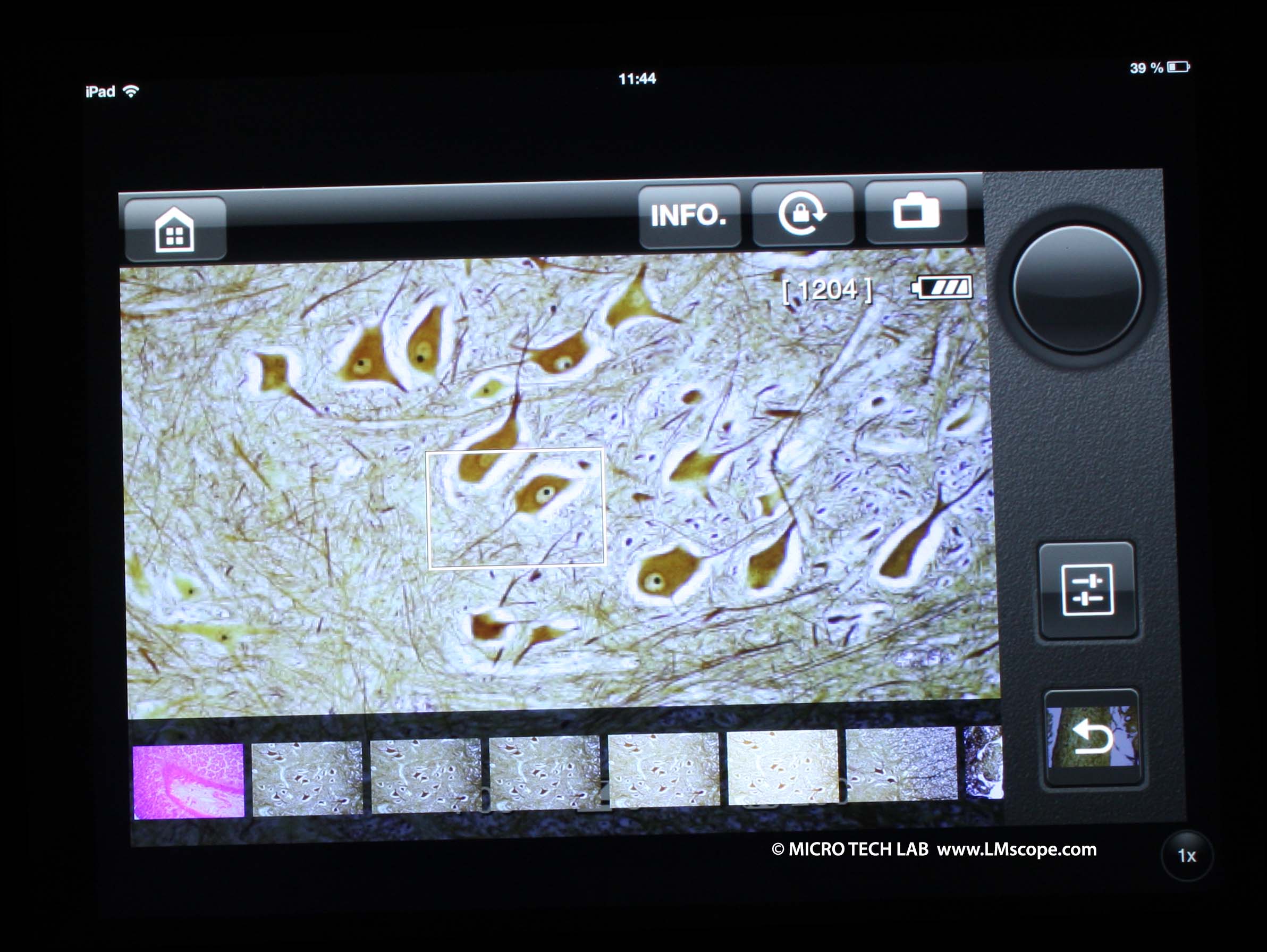 For our test, we used the Canon EOS 6D on the Zeiss Axioskop microscope.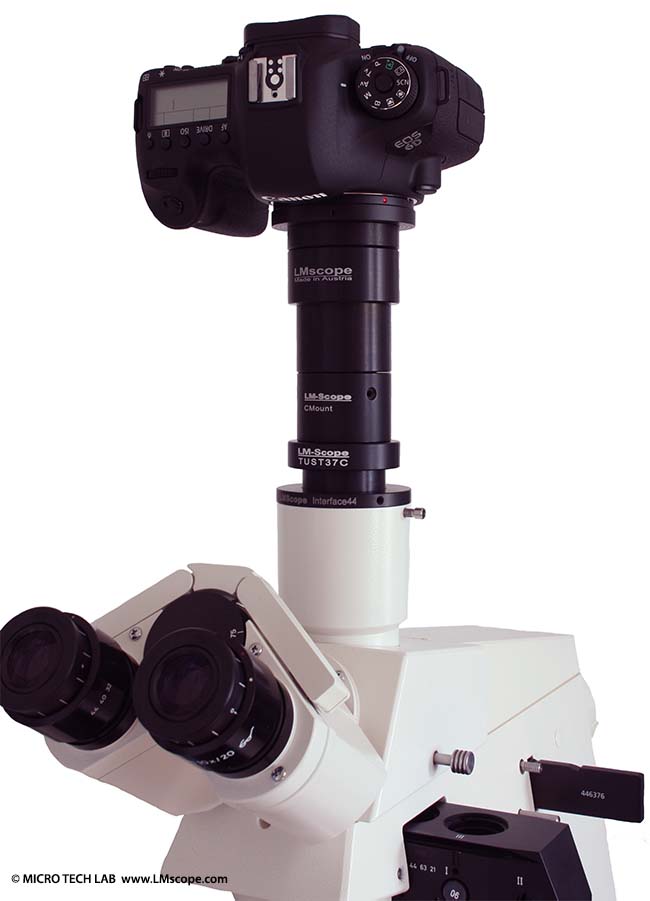 The WIFI needs to be activated in the camera menu.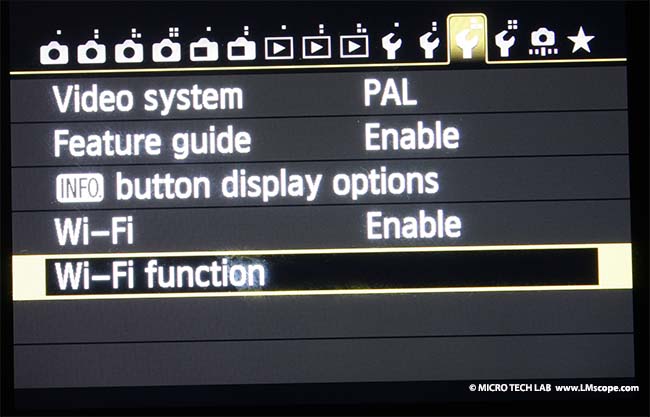 Then select "connect to smartphone" in the WIFI function.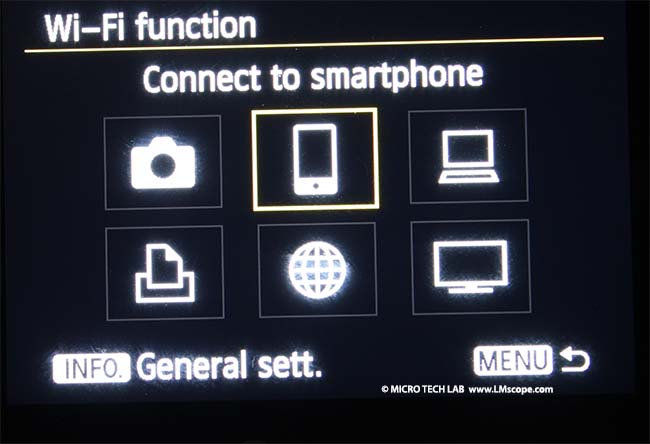 Now it is possible to set up the connection. Be sure to make a note of the security code.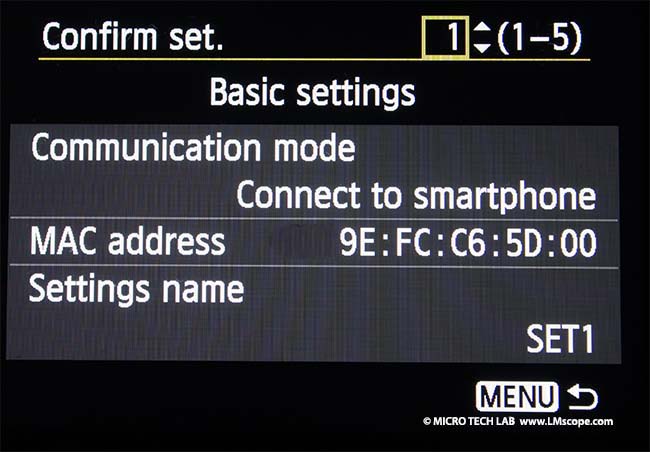 We selected a direct connection from the iPad to the camera (communication via a local WIFI network).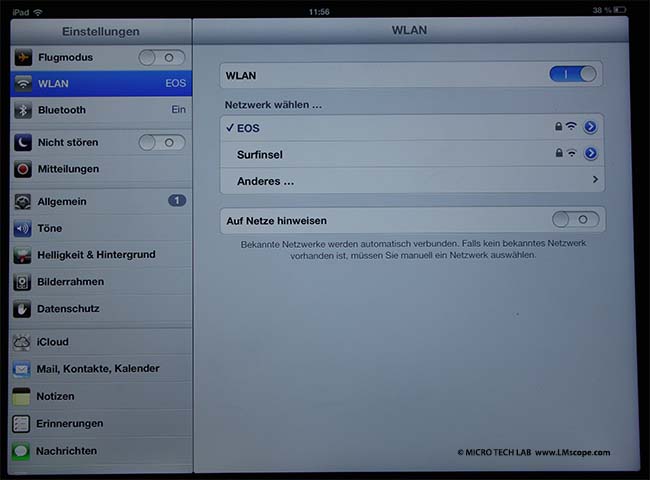 Next you need to search for the camera on the iPad and set up the connection here, too. To do this, you will also need the camera's security code used previously. Once done, the app starts and the connection is made to the Canon EOS 6D camera.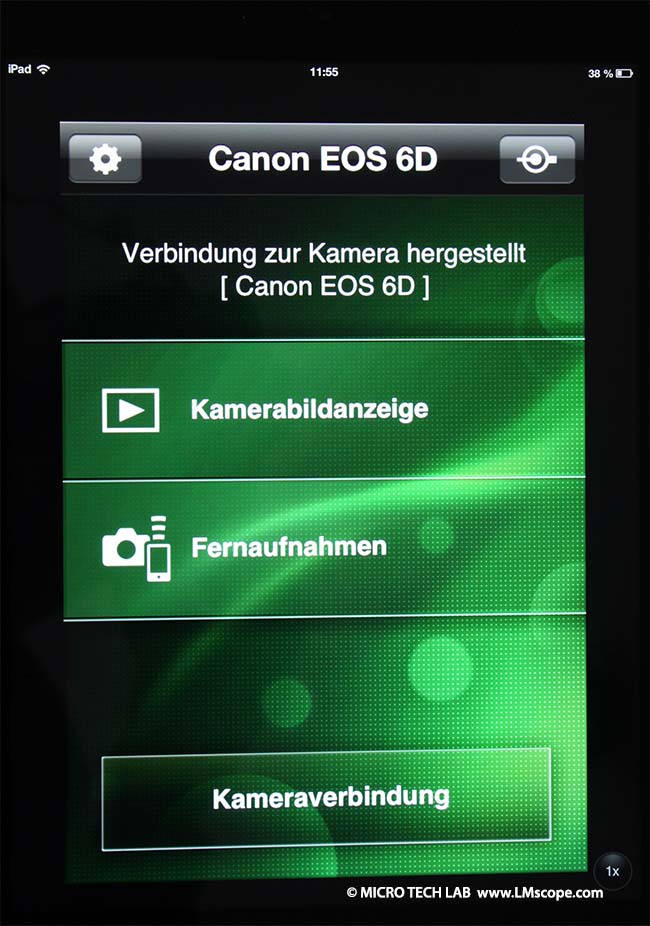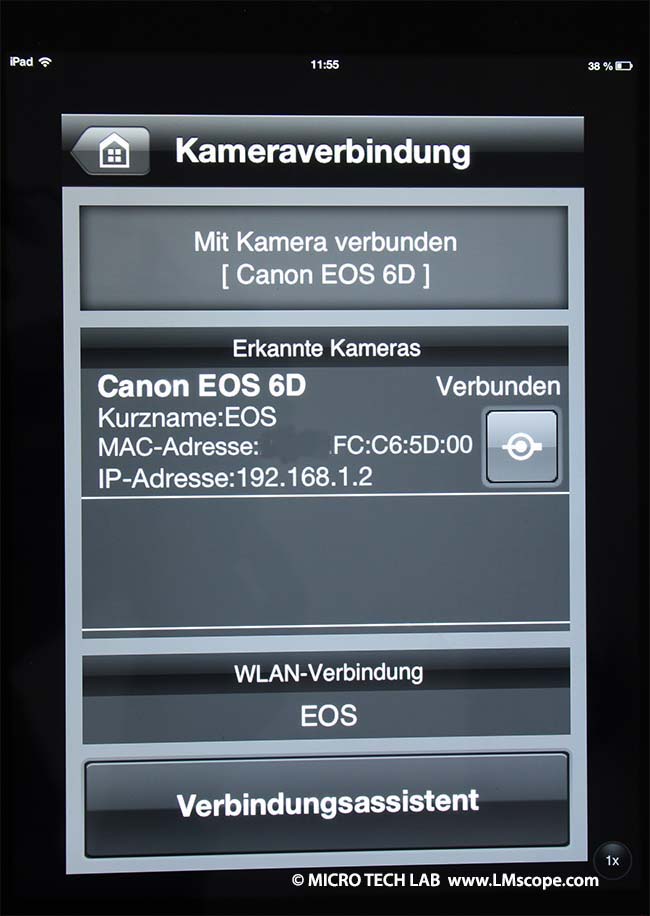 The main aim in photomicrography is to follow the Live View image on the iPad and bring it into focus using the magnification function.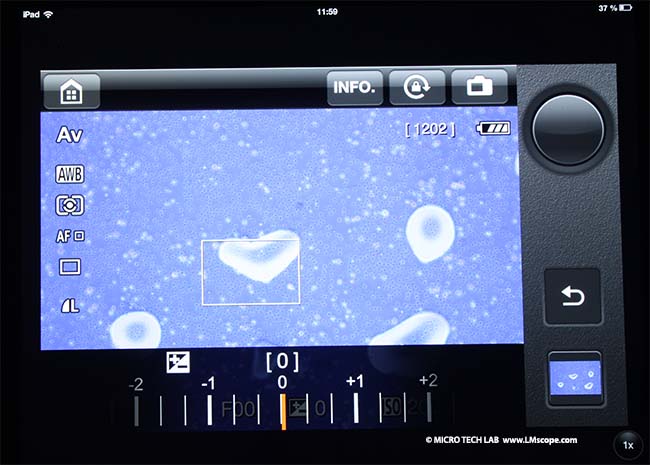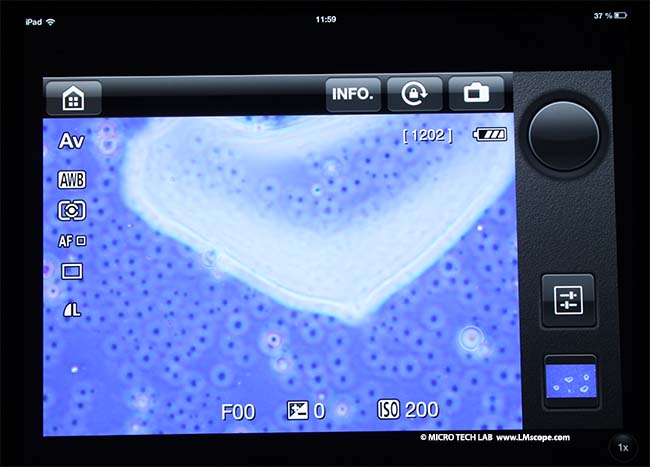 In addition, we would also like to set the ISO values: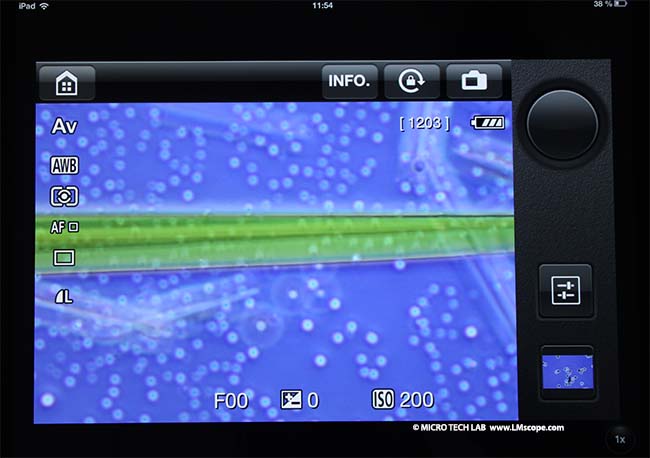 and adjust the brightness and, of course, it should be possible to trigger the release via the tablet.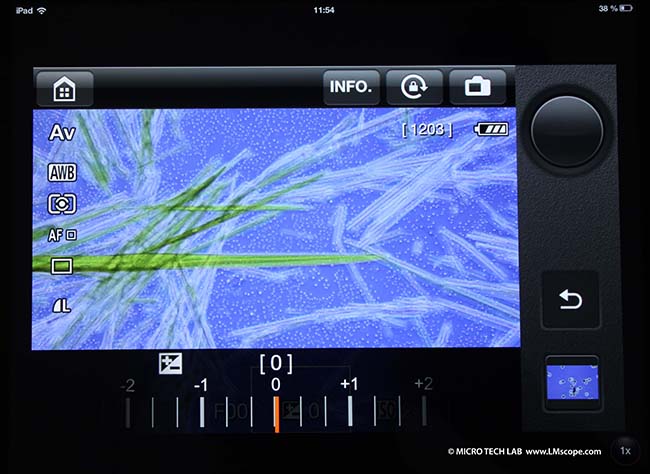 We managed to do all of this without difficulty using our iPad.
Conclusion:
The use of the iPad or a smartphone is, without doubt, a practical option for photomicrography, especially since the application itself is a snap to use. The only disadvantage (at present anyway) is that the app is designed for a much lower screen resolution than offered by the retina display. However, we are sure that this will change in future, given the great improvement between each generation of displays and apps.
25.09.2013