360
Taking microscopic images with Sony Remonte Control software
Within the last few years Sony cameras have improved their performance and therefore gained additional market shares. So presenting a Sony remote control software was only a matter of time. Some time ago Sony provided an appropriate software, but withdrew this product after a few years from the market. Most other camera producers (Canon, Nikon, Olympus) provide a remote control software. Computer programs for controlling cameras via the PC or MAC are of key importance in microscopy.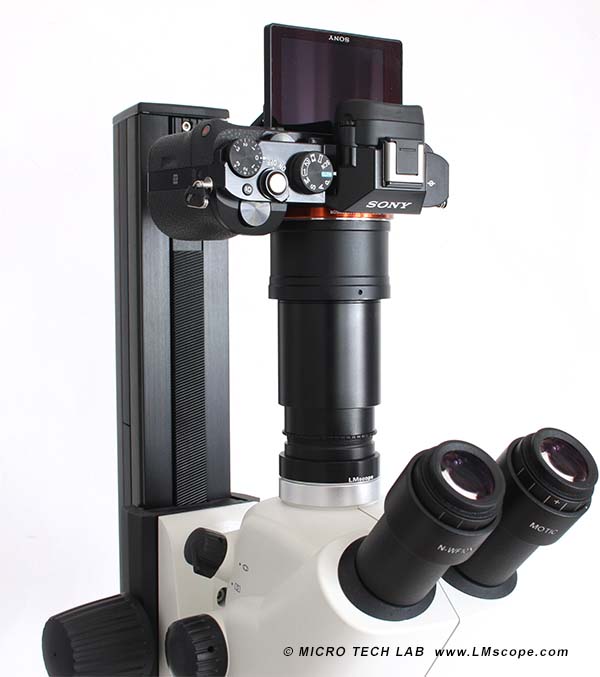 The use of a tethering software has many advantages when the camera is used in a laboratory or studio setting - it simply needs to be mounted to the microscope and can then be comfortably operated from the user's workspace via PC or Mac. The images and settings can be checked and controlled onscreen. This enables the user to asses the image straight away and retake them if necessary, without having to wait for a series of images to be completed. Another big plus of tethering software is that the photographs are immediately available on the computer's hard drive in full resolution and can be looked at in the viewer. As a result, the workflow is significantly enhanced. The camera itself should not be touched, in order to avoid shaking.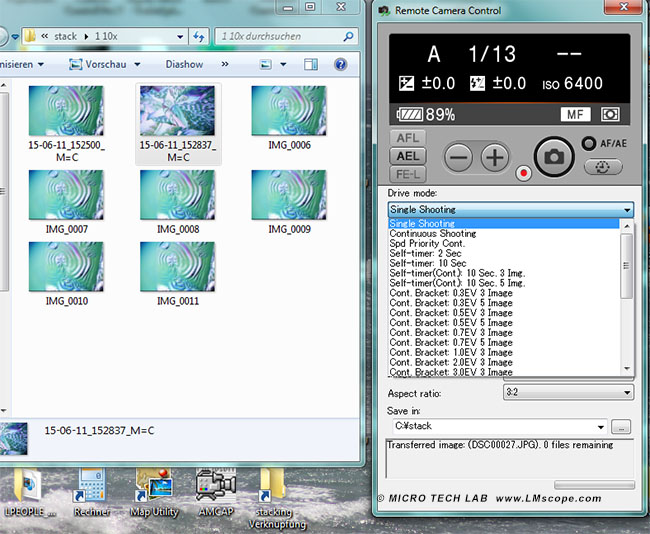 The following camerasystems are supported (update July 2015):
ILCE-5000
ILCE-5100
ILCE-6000
ILCE-7
ILCE-7M2
ILCE-7R
ILCE-7RM2
ILCE-7S
SLT-A58
SLT-A99/A99V
Unfortunately Sony Remote Camera Control V.3,5 doesn't provide a tethering sofware with Live View display. There is no possibility to display Live View image on the PC. That's a pity as this is a standard tool with the other manufacturer's (Nikon, Canon, Olympus) software. Particularly for laboratory applications, upgrading the software to include these features would make it much easier to use Sony cameras.
22.09.2015
New LM Digital Adapter for:
Sony Alpha 1 / Sony FX3 Cinema Line / Sony Alpha 9 II (ILCE-9M2) / Sony Alpha 9 / Sony Alpha 7R IV / Sony Alpha 7S II / Sony Alpha 7S III / Sony Alpha 7R III / Sony Alpha 7R II / Sony Alpha 7C / Sony Alpha 7S / Sony Alpha 7III / Sony Alpha 6700 / Sony Alpha 6600 / Sony Alpha 6400 / Sony Alpha 6100 / Sony ZV-E10 / Sony Alpha 6300 / Sony Alpha 6500 / Sony Alpha 99 II (SLT-A99 II) / Sony Alpha 77 II / Sony Alpha 7R / Sony Alpha 7 / Sony Alpha 68 / Sony Alpha 99 (SLT-A99) / Sony Alpha 7II / Sony Alpha 6000 / Sony Alpha 77V / Sony Alpha 580 / Sony Alpha 5100 / Sony Alpha 5000 / Sony Alpha 55 / Sony Alpha 33 / Sony Alpha 35 / Sony NEX-7 / Sony NEX-6 / Sony Alpha 57 / Sony Alpha 37 / Sony NEX-5N / Sony NEX-C3 /