558
An action camera for microscopy? The GoPro Hero7 Black delivers excellent 4K video quality when used with a microscope
Why are action cameras great photomicrography cameras? The answer is simple: action cameras offer powerful features for relatively little money and in some respects are years ahead of professional microscope cameras. Because lots of manufacturers are vying for users to buy their action cameras, product development is very innovative and new models hit the market almost every year. For this reason, each new release features the latest in sensor technology and usually adds several new functions. The Hero 7 Black offers 4K HD video capture, super slow motion, 12-megapixel photos and a suite of new features like Hypersmooth digital image stabilisation, easy touchscreen operation, voice control and live HD streaming.
Back-Bone (www.back-bone.ca), a company at the forefront of developing modified action camera equipment, offers a modified GoPro Hero 7 Black where the lens is replaced with an interchangeable lens mount that accepts C-mount lenses. By using one of our LM microscope adapters to secure it to the microscope, you can now use the powerful features of the Hero 7 Black for high-quality video documentation. By choosing this modified version, photomicrographers can now, at long last, benefit from the vast experience of GoPro, the market leader in action cameras. Before, using the Hero 7 to capture microscopic images was virtually impossible because the camera's native ultra-wide fisheye lens was not suitable for microscope photography.
The GoPro Hero 7 Black has a comfortably big 12 MP sensor for still photos, and it shoots 4K video at up to 60 frames per second and slow-motion recordings at 240 fps with a slightly lower Full HD resolution.
The sensor (size: 1/2.3 inch, dimensions: 6.17 mm x 4.63 mm) is exceptionally sensitive and ensures excellent image quality even in poor lighting conditions. The internal algorithm for white balancing works great and produces natural-looking colours. As an outdoor camera, the GoPro Hero 7 Black is equipped with a powerful digital image stabilisation technology called "Hypersmooth", which produces wonderfully smooth footage even in tough conditions.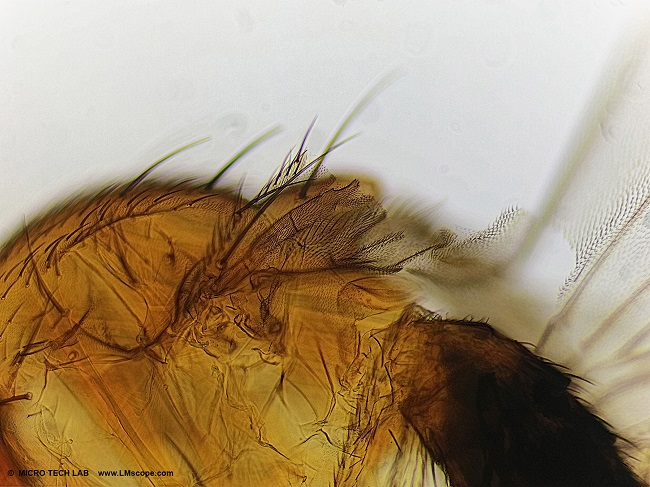 In our sample application, we used an LM microscope adapter to attach the modified GoPro Hero 7 (H7PRO – MODIFIED HERO7 BLACK) to a modern Zeiss microscope with a phototube (C-mount connection). Because the H7PRO has a high-quality, standard C-mount lens mount made of metal, it can be screwed to the microscope for a solid mechanical connection. For the 1/2.3 inch sensor size, we recommend an optical factor of 0.5x because this gives a large field of view without vignetting. Our LM adapter solution with integrated precision optics performs the optical adjustment between microscope and camera. This way, you get the best possible image quality with sharp focus, vibrant colours and high-contrast details. Thanks to its modular design, the LM adapter also offers the possibility to focus the image and enables an optical alignment of the image observed through the eyepiece with the image the camera sees through the phototube.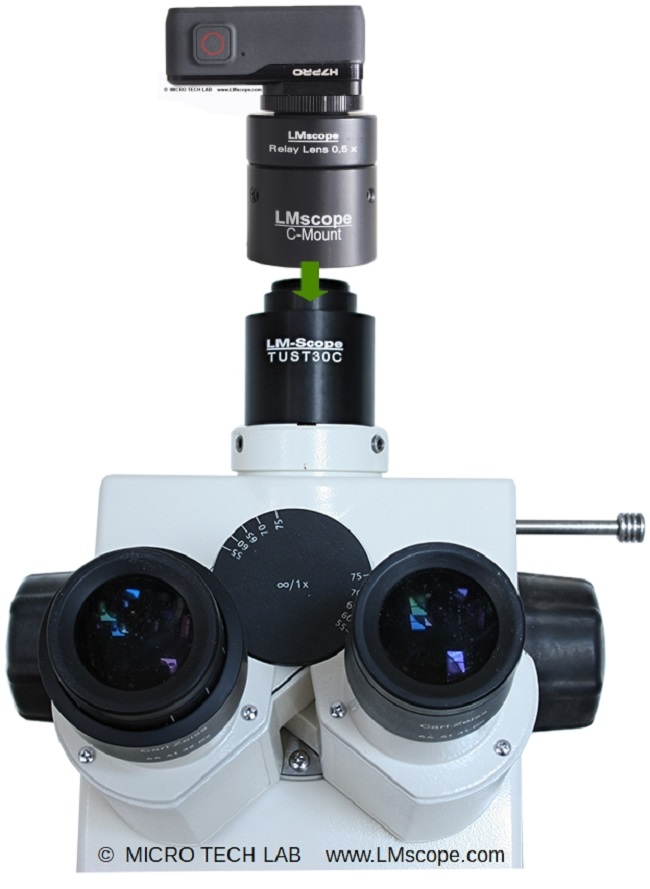 The H7PRO has a standard C/CS-mount connection which provides a high level of versatility for microscope and macroscope imaging and also permits the use of a wide range of (special) lenses. Back-Bone has equipped the camera with a high-quality aluminium housing and a tripod mounting bracket, so you can attach it to different tripods. The IR filter can be removed, if required.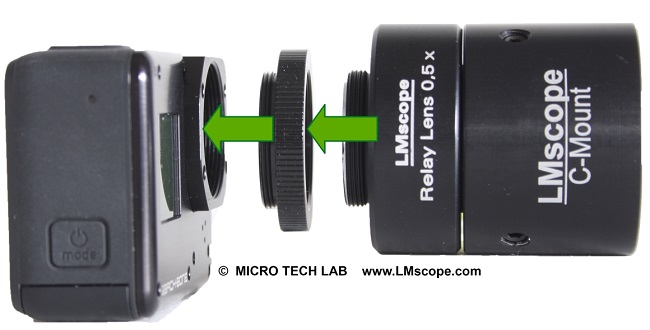 In our next sample application, we attached the H7PRO to the phototube (23.2 mm inside diameter) of our microscope using the LM 23.2 mm eyepiece adapter solution. In this case, the camera works as a simple microscope eyepiece camera which can be used for a variety of purposes. The optical factor of the microscope adapter is also 0.5x (same as before) because this delivers the best imaging results.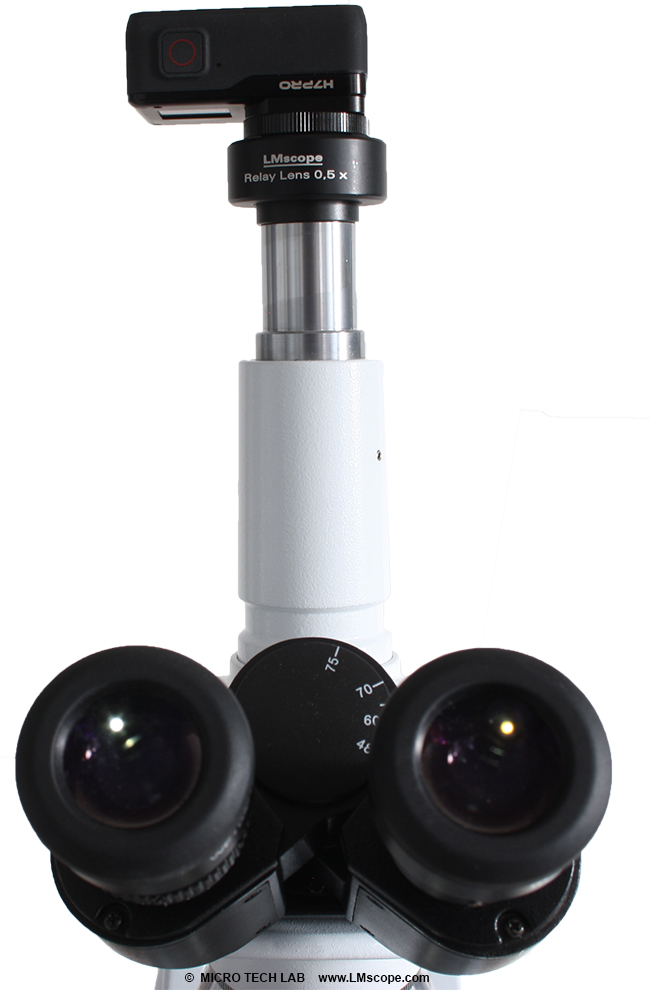 Since the H7PRO is used as an 4K eyepiece camera in this setup, connecting it to the microscope is very easy: simply remove the eyepiece and plug the camera, together with the LM digital adapter, into the tube where the eyepiece was – you're now ready to capture images and videos. The diameter of our LM adapter is 23.2 mm in the basic version. We also offer an adapter sleeve for wider (30 mm) stereo microscope tubes or laboratory microscopes.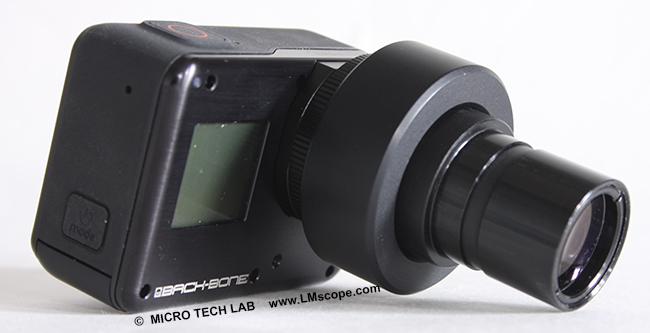 The back of the camera features a high-resolution touchscreen with Live View for controlling the camera remotely. Despite the small screen size, navigating menus and changing settings is easy, and the screen is bright and sharp enough to see even fine details of your shots. When shooting photos, the camera applies HDR, local tone mapping and noise reduction. The time warp mode for time lapse videos is another useful feature of the camera, as is its live streaming feature, which allows live streaming in 720p to mobile devices over a Wi-Fi network.
There are different settings for shooting video with the Hero 7 Black. To get the best quality video possible, you'll want to shoot in 4K mode.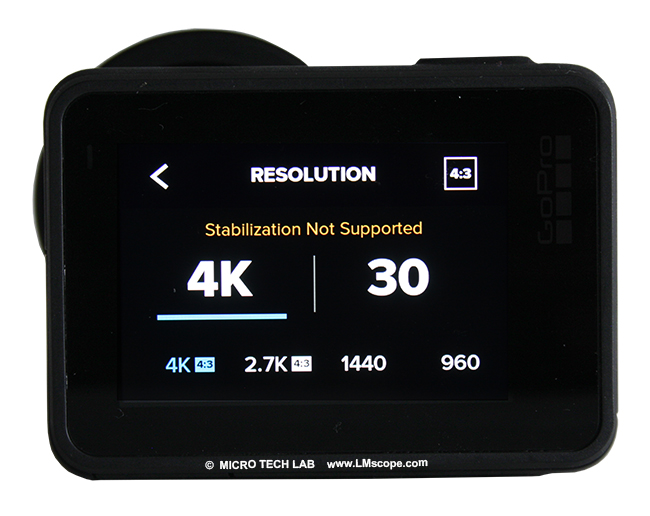 At normal HD resolution (720p), the camera can capture a maximum of 240 fps, which is very useful for getting extremely smooth slow motion footage that makes even the smallest details of fast processes visible, for example in microscope video recordings of fast-moving aquatic organisms or insects.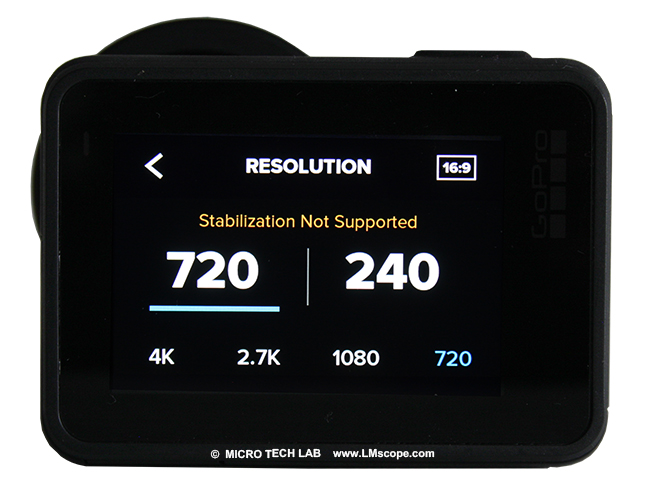 The Hero 7 Black has an extremely compact body with a width of 63 mm and a height of 45 mm. To connect it to peripherals and devices, you get a USB type-C port and a micro HDMI port.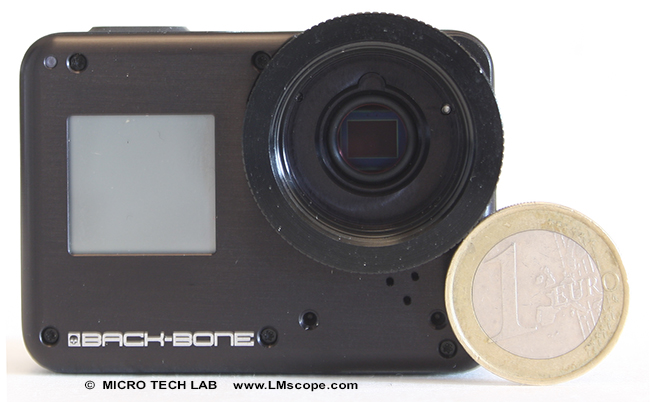 Minimum microSD card specifications are Class 10 or UHS-I with capacities of up to 256 GB.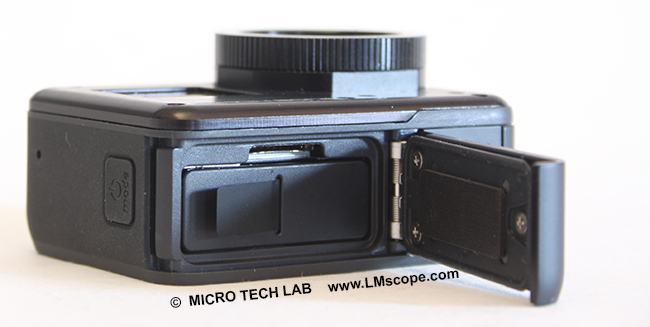 Conclusion: We really liked how the H7PRO, the modified version of GoPro's Hero7 Black action camera made by Back-Bone (www.back-bone.ca), performed in our tests. The camera is super small and super compact, and thanks to its interchangeable C-mount lens mount that is capable of accepting a wide variety of lenses, its great features can be applied to areas other than action and sports. With our LM microscope adapters, the H7PRO can be attached to almost any microscope. We offer a wide range of adapters to suit different needs and budgets. For around EUR 700 (including the Back-Bone camera modification) you get a solid camera with a high-quality sensor that even outmatches some cameras specifically designed for microscopy applications. The successor model with C-mount lens mount – the H8PRO MODIFIED – is also advertised on the Back-Bone website. For about EUR 800, you get the added performance and features of the GoPro Hero8 Black.
If you need a camera for continuous 4K capture, we recommend that you also take a look at the current system (DSLM) cameras from Sony, Nikon and Canon. Because of their larger body size and sensor format, these cameras have several advantages when they are used in a stationary setting. More information can be found in our current camera recommendations and our camera ranking.
At this point, we would like to extend special thanks to SeeSense Ltd, the camera store who kindly provided the camera we used in our test.
05.03.2020