590
The Sony Alpha 6600 on the microscope – transform this mid-range camera into a high-quality microscope camera in a few easy steps
The high quality of our LM adapter solutions enables Sony's Alpha 6600 mirrorless system camera to perform at its fullest potential when used to take pictures through a microscope. The Sony Imaging Edge software makes imaging easy and delivers professional results.
Sony markets the Alpha 6600 as the flagship of its mid-range lineup, but at around EUR 1,300 (as of June 2021), it carries a heftier price tag than comparable competitor models. We were curious to find out why that is.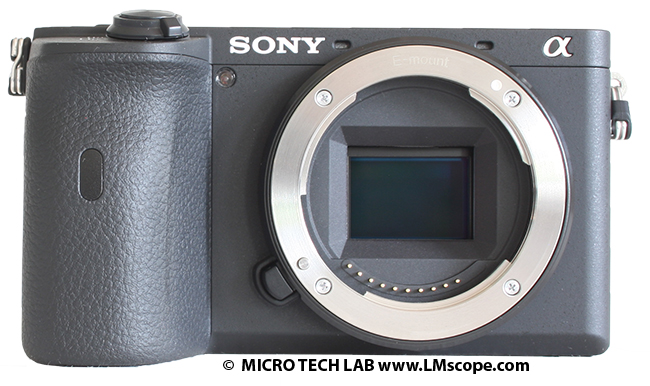 Below are the key tech specs of the Alpha 6600:
CMOS sensor with 25 million pixels, APS-C 23.6 x 15.8 mm

Up to 11 fps shooting in highest resolution

Sensitivity range from ISO 50 to ISO 102,400
Movie recording frame size (pixels) and frame rate: 3,840 x 2,160 (4K UHD); 30p

articulating 3.0'' TFT LCD display

Micro-HDMI output connector (type D) to transfer the live view image to an external monitor

Micro USB for data transfer, charging function and continuous power

Wi-Fi (wireless LAN), Bluetooth, NFC

Weight: 503 g (body only)
Sony's Alpha 6600 is a compact mirrorless camera that packs lots of power in a small package. Its robust APS-C CMOS sensor provides a wide dynamic range and excellent light sensitivity. Apart from its predecessor model, the Alpha 6500, it is the only APS-C camera that has a sensor-shift image stabilisation system to compensate for camera shake. These capabilities certainly pay off when working on the microscope, since at high microscope magnifications (> 100x), even the most subtle vibrations can have negative impacts on image quality. The maximum shutter speed is 1/4,000 second – a requirement for capturing clean, sharp images of moving objects in life science imaging. Completely silent shooting using an electronic shutter is also available.
The sensor on the Alpha 6600 is exceptionally light sensitive – ISO can easily be adjusted up or down and extends all the way to 102,400. ISO performance like this is usually only found on full-frame cameras, such as the Alpha 7R II. The APS-C cameras of competitor brands all have significantly lower ISO values – 51,200 in most cases. Low-light imaging techniques (such as fluorescence microscopy) benefit from higher ISO settings. However, to capture images at high light sensitivities with the Alpha 6600, ISO must be set manually (but this is something that needs to be done on virtually any camera).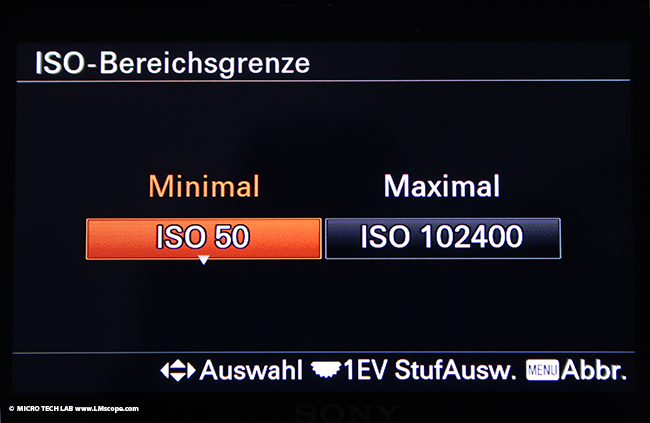 The Alpha 6600 can capture both high-quality still images and 4K video, and via its HDMI port, you can easily export the camera's Live View feed to an external monitor for presentations or to check the image.
The Alpha 6600 has a tilting touchscreen display, which makes it easier to work when seated and the camera is not tethered to a computer, because the screen can be tilted to an angle that allows viewing of the Live View image without having to get into awkward positions. The touch function of the screen also makes it easy to control the camera's most common features.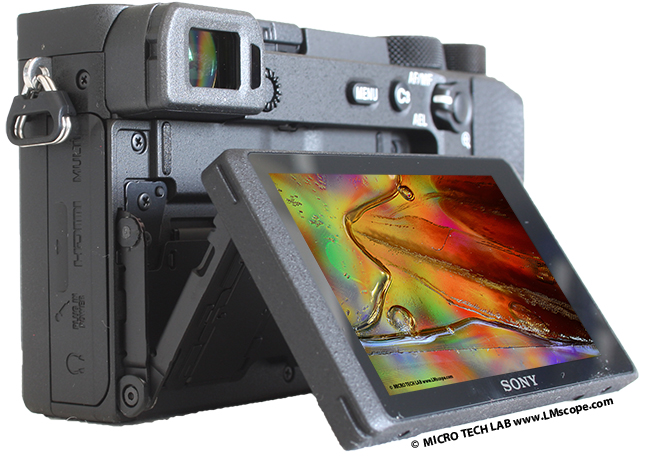 For our test shots, we used our LM direct adapter to attach the Alpha 6600 to the phototube of a basic Motic SMZ-171 stereo microscope. For its price range, this microscope delivers solid performance, as can be seen in the image below, which shows a closed dandelion flower.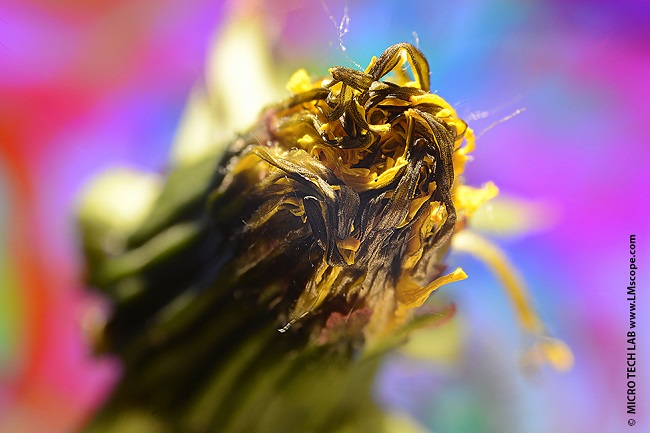 The adapter solution features a compact, short design. It can be used for cameras with APS-C sensors, but also for M43 and full-frame sensor formats.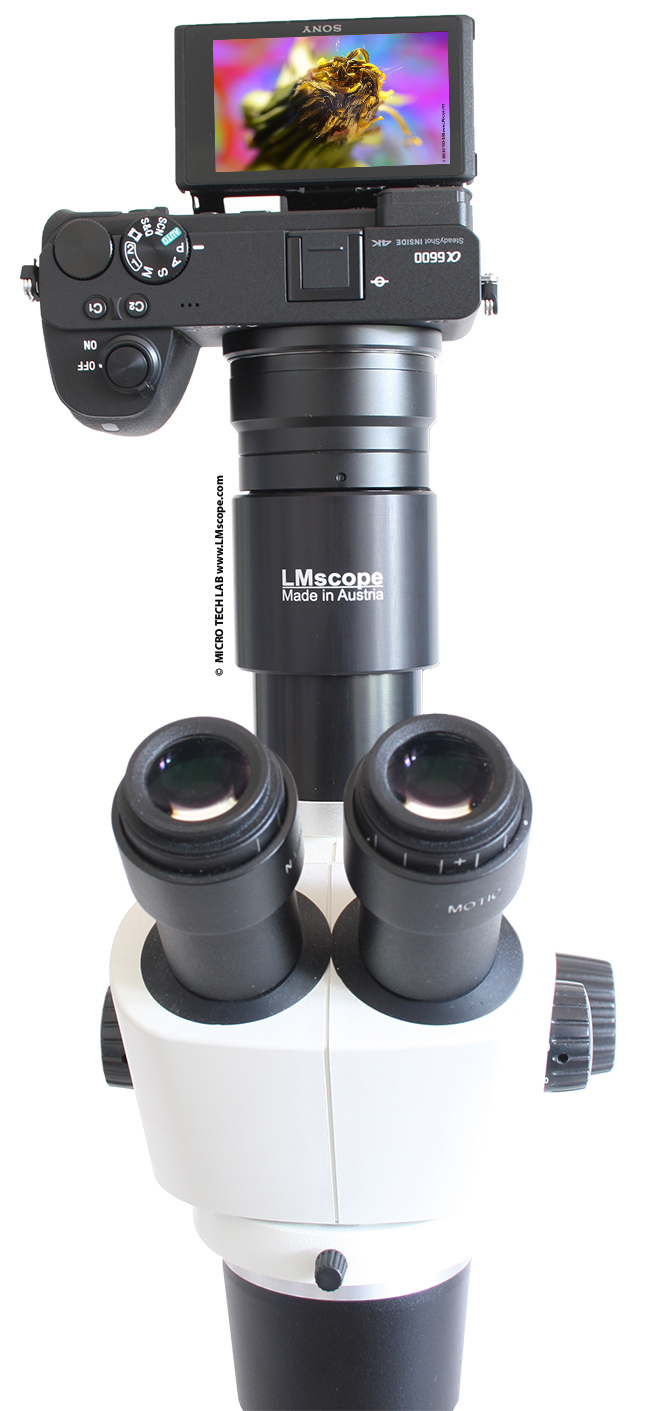 For routine tasks in a laboratory or studio setting, we recommend controlling the camera remotely from the computer via USB cable. The tethering and editing software offered by Sony is called Imaging Edge. A detailed description of its functions and operation is available on our website. The USB port of the Alpha 6600 can also be used for continuous operation without battery and for charging the battery pack.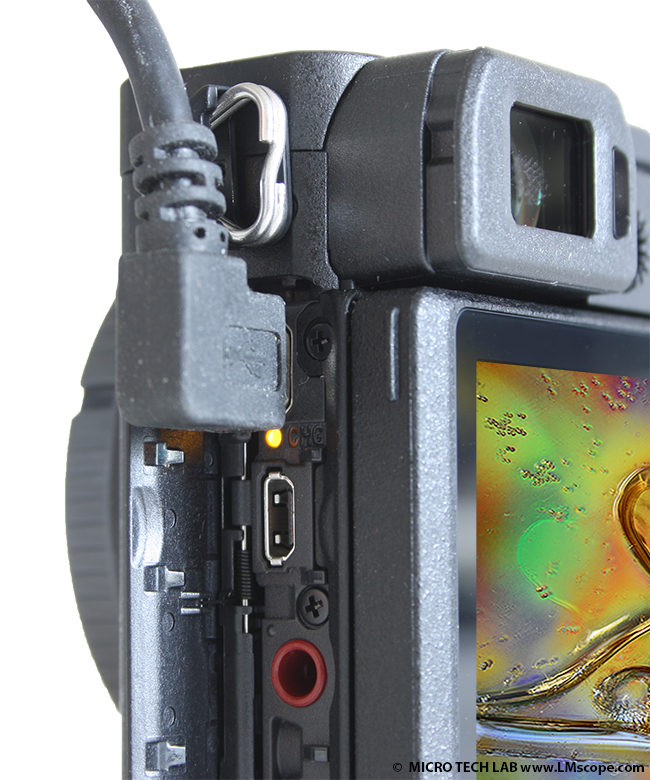 In-camera USB charging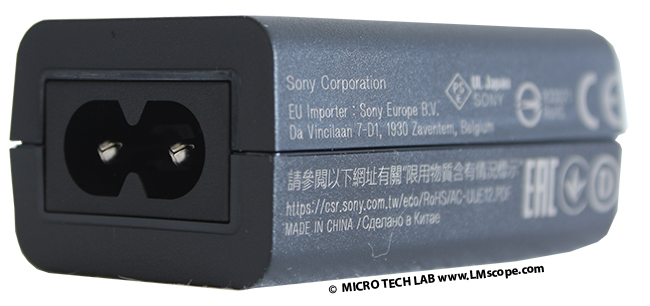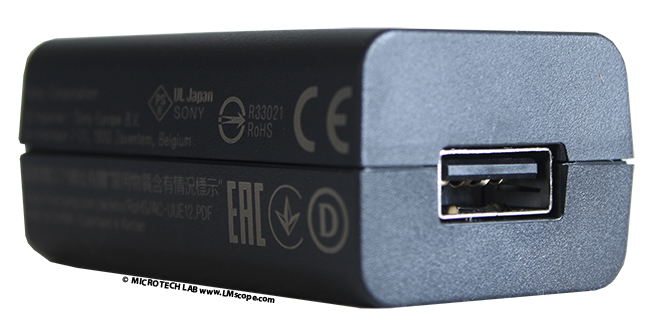 The power supply can be used for USB charging and continuous operation instead of a battery pack.
Conclusion: The Alpha 6600 has a high-quality APS-C sensor and scores points with high light sensitivity and a wide dynamic range. Important features such as high-resolution 4K video, a compact body, the option to charge from the USB port and the matching Sony software to control the camera remotely from a PC or Mac make for better workflow efficiency. With our LM adapter solutions, the Alpha 6600 can used with almost any microscope – either attached to the phototube or to the eyepiece tube.
For more information about choosing a camera that is right for you, please see our current camera recommendations and our camera ranking. We are also happy to provide tailored advice.

27.07.2021
New LM Digital Adapter for:
Sony Alpha 7R V / Sony Alpha 1 / Sony FX3 Cinema Line / Sony Alpha 9 II (ILCE-9M2) / Sony Alpha 9 / Sony Alpha 7R IV / Sony Alpha 7S II / Sony Alpha 7S III / Sony Alpha 7R III / Sony Alpha 7R II / Sony Alpha 7C / Sony Alpha 7S / Sony Alpha 7III / Sony Alpha 6700 / Sony Alpha 6600 / Sony Alpha 6400 / Sony Alpha 6100 / Sony ZV-E10 / Sony Alpha 6300 / Sony Alpha 6500 / Sony Alpha 99 II (SLT-A99 II) / Sony Alpha 77 II / Sony Alpha 7R / Sony Alpha 7 / Sony Alpha 68 / Sony Alpha 99 (SLT-A99) / Sony Alpha 7II / Sony Alpha 6000 / Sony Alpha 77V / Sony Alpha 580 / Sony Alpha 5100 / Sony Alpha 5000 / Sony Alpha 55 / Sony Alpha 33 / Sony Alpha 35 / Sony NEX-7 / Sony NEX-6 / Sony Alpha 57 / Sony Alpha 37 / Sony NEX-5N / Sony NEX-C3 / Sony NEX-F3 / Sony NEX-5 / Sony NEX-3 / Sony Alpha 65V / Sony Alpha 700 / Sony Alpha 850 / Sony Alpha 900 / Sony NEX VG10 / Sony Alpha 3000 / Sony Alpha 450 / Sony Alpha 560 / Sony DSC-HX9V / Sony DSC-HX100V / Sony DSC-WX7 / Sony DSC-WX10 / Sony DSC-H70 / Sony DSC-HX7V / Sony DSC-TX10 / Sony DSC-TX100V / Sony HDR-CX700 / Sony DSC-HX7V / Sony DSC-W570 / Sony DSC-J10 / Sony DSC-T110 / Sony Alpha 380 / Sony Alpha 550 / Sony Alpha 500 / Sony Cyber-shot DSC-H55 / Sony Cyber-shot DSC-W320 / Sony Cyber-shot DSC-W350 /