328
Microscopy and photography with the Motic SMZ-171 microscope and our tried and tested LM digital adapters
We are always on the lookout for favourably priced microscopes that are also suitable for creating high-quality photographic documentation. During our research, we came across the Motic SMZ-171 microscope, which we examined in detail.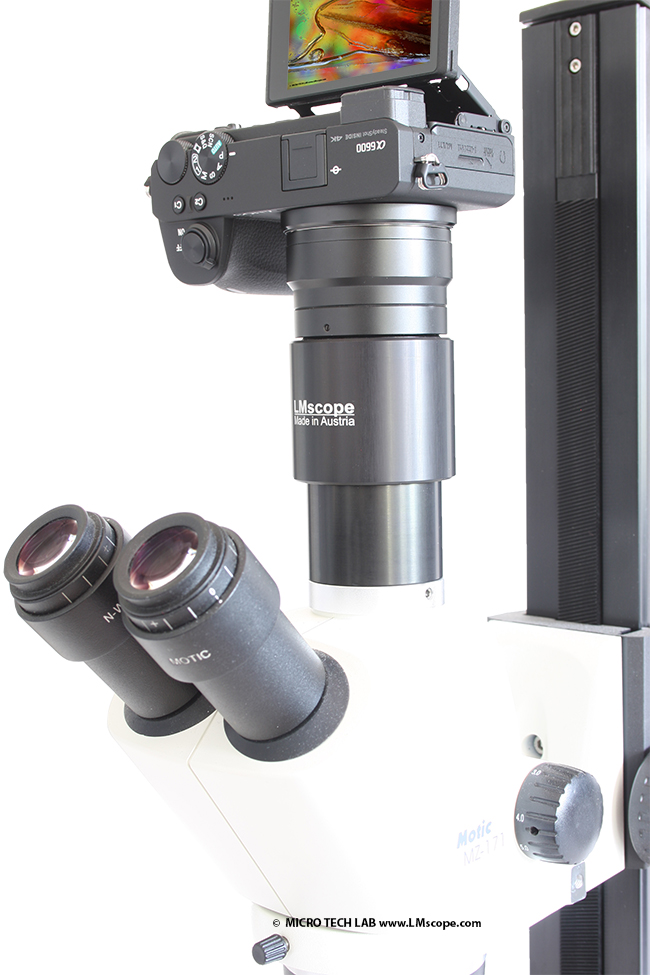 The Motic SMZ-171 is a very well built stereo microscope that features a Greenough optical system. This type of construction conveys a three-dimensional effect for the viewer when looking through the eyepiece, which is achieved when the human brain compiles the information it receives from the two optical paths and the angular offset into a single image. When taking photographs, however, the camera can only use one optical path, and therefore the three-dimensionality cannot be reproduced in the images.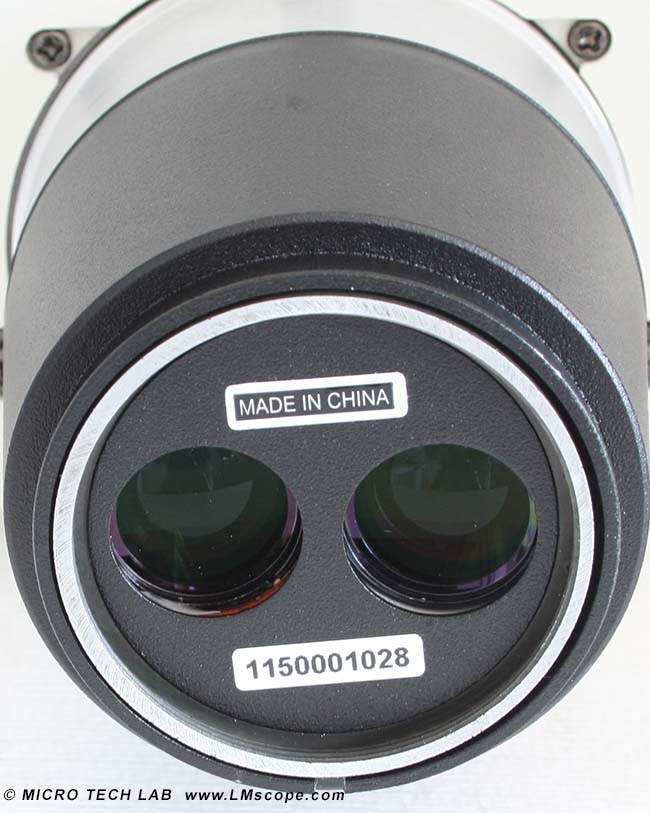 The Motic SMZ-171 covers a magnification range from 7.5x to 50x and is at a comparable level of performance with the Nikon SMZ745 or the Olympus SZ61. The zoom adjustment dial for setting the magnification has a 5-position click-stop mechanism. This enables an infinitely variable zoom with defined positions and facilitates the precise reproduction of magnifications. This mechanism is very convenient, especially for measuring tasks.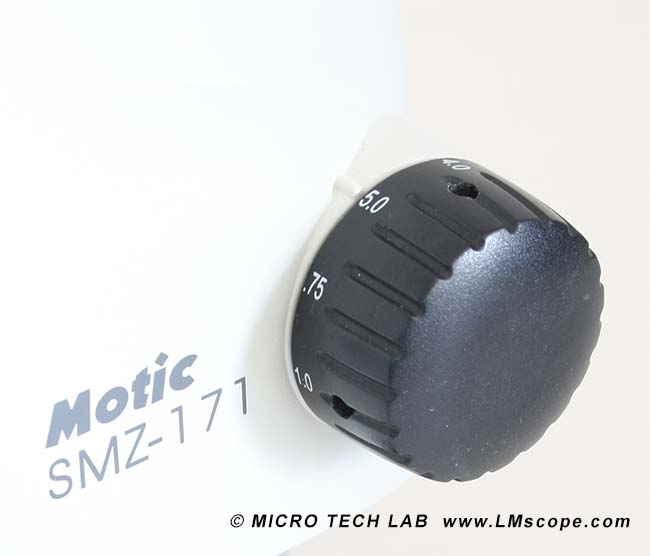 The instrument we tested has a lever for operating the beam splitter. If the microscope is set to photo tube (bottom symbol), the left optical path is diverted to the photo tube.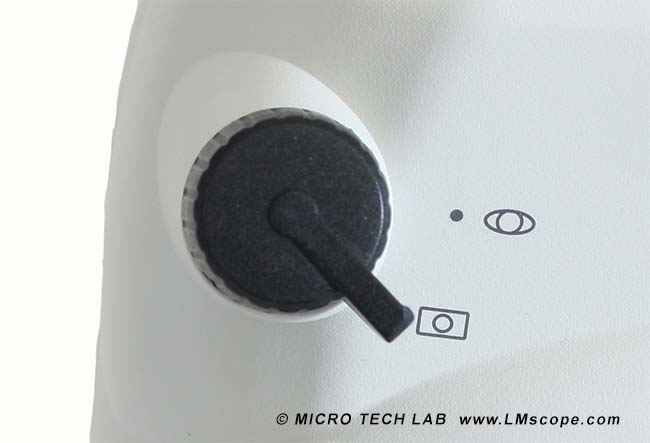 The Motic SMZ-171 offers good optical quality and has a flat image field with hardly visible image flaws in the available magnification range. This is of considerable importance for its use in photomicrography. Many image aberrations only become visible when photography is used.
If you plan to take photographs through the Motic SMZ-171, it is advisable to use a photo tube. Our LM Tuning Adapter with plan achromatic optics is ideal for working with the latest cameras and fits into the photo tube with inner diameter of 38mm.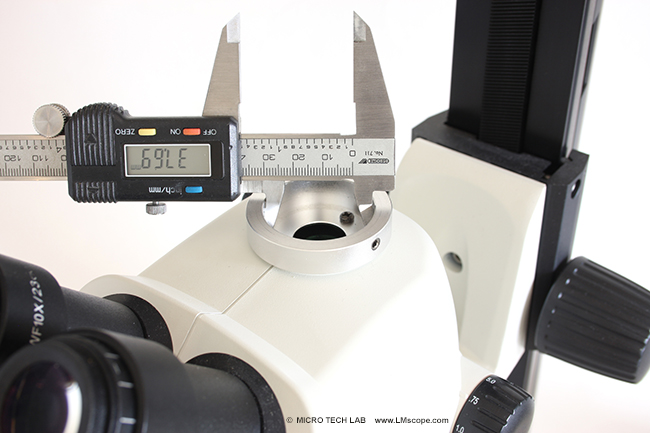 If there is a Motic C-Mount adapter with optical factor 1x, it is also possible to be used, the quality of the photos is not so good. The adapter is the basis for our LM digital adapters with standardized c-mount port. If no C-mount adapter is included in delivery of the microscope, we of course also offer the matching C-mount adapter 1x. This means that our classic wide-field adapter variant can now also be fit on the SMZ-171!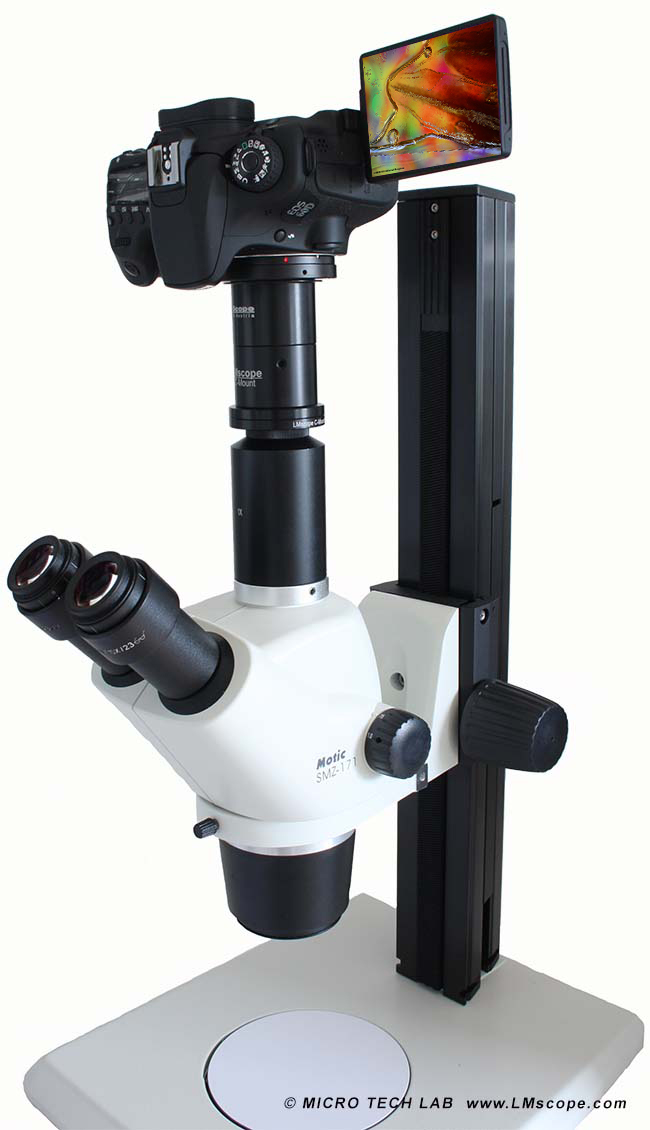 Adapter solution with motic c-mount 1x adapter (on photo port) and our LM digital adapter solution
A very special highlight of these adapter solutions is that our LM C-mount 1x adapter can be equipped with various optical filters (polarization filters, gray filters, UV filters, IR filters, etc.). A filter holder is integrated into the adapter for this purpose. This does not change the height of the adapter solution.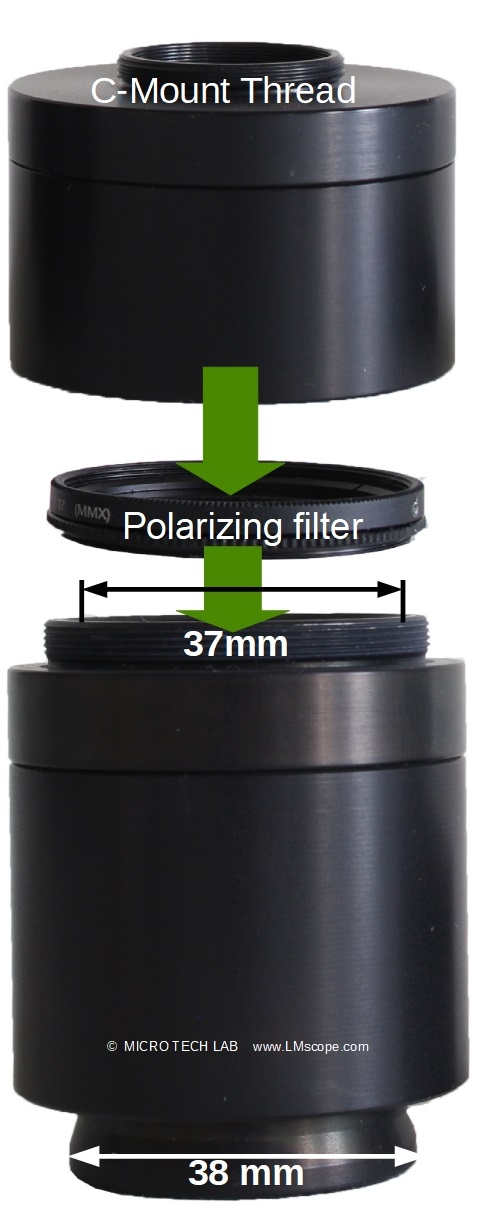 This means that these inexpensive microscopes can also be used for special applications. Here, for example a pistil photographed with a polarizing filter.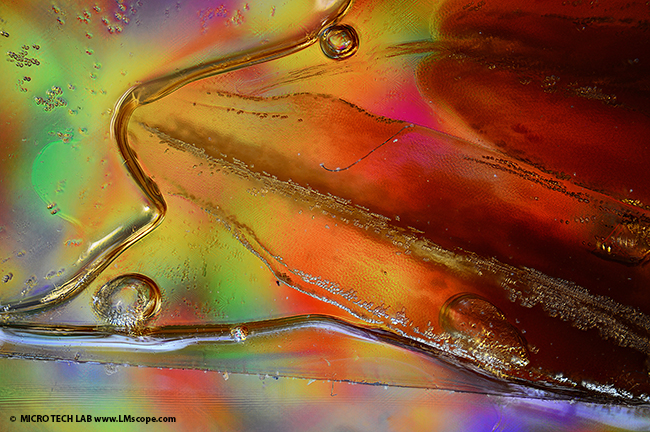 As an alternative to the modular wide field solution, we also offer a compact "Direct" adapter solution. It has been specially developed for the Motic SMZ171 and impresses with its compact shape. It can be used to operate cameras with M43, APS-C and full-frame sensors.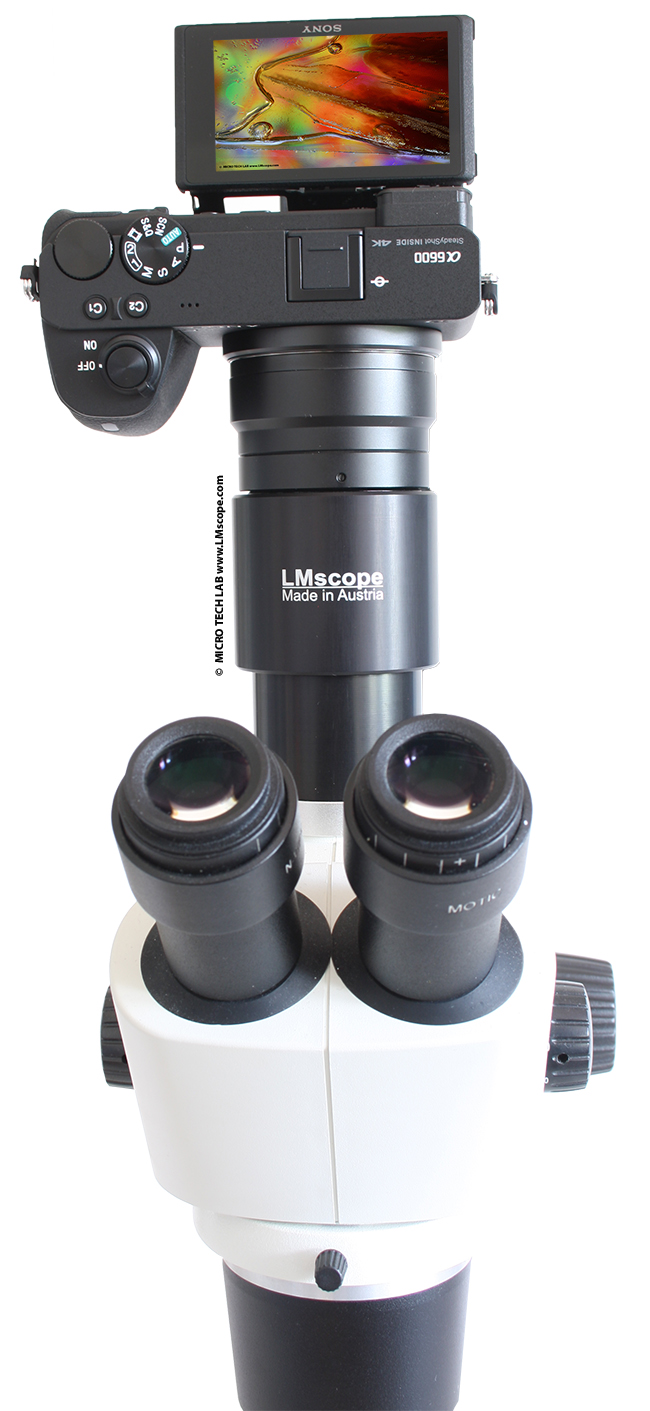 If there is no photo tube, we also offer LM digital adapter solutions which are designed for connection via the eyepiece. The microscope has wide-field eyepieces (30 mm external diameter) with dioptric correction (10x23 mm/diop. +/- 5°). This standard eyepiece dimension is not a customary feature, especially with instruments in the lower price category. In the entry-level segment, eyepiece dimensions are often very atypical. Because it has standard dimensions, the microscope is also compatible with other brands.
The optical quality of this adapter option equals that of the photo tube method. Working via photo tube is more ergonomic.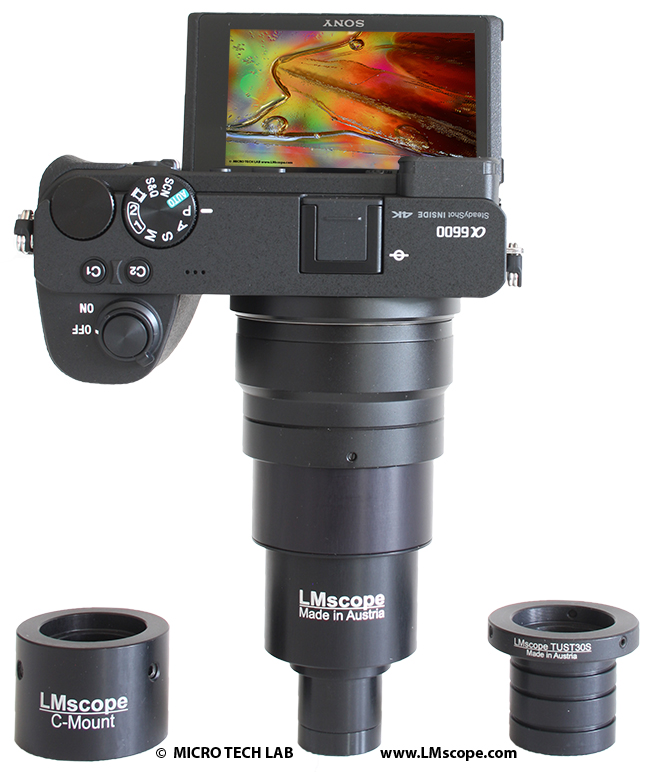 Picture above: Adapter variants for photo tube (left) and eyepiece tube (right)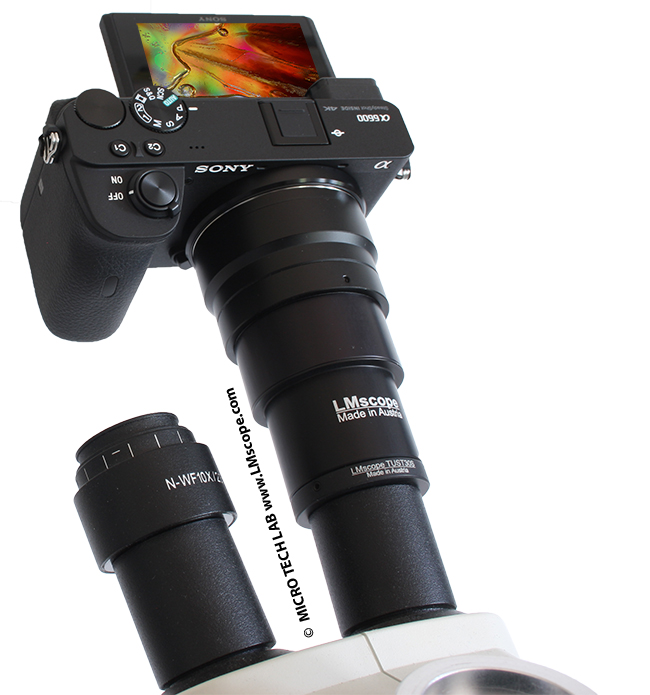 When mounting on the eyepiece tube, one eyepiece is removed and the adapter-camera unit is placed at its place.
Modern digital SLR and system cameras are very well suited to microscopy applications and offer many advantages in comparison with C-mount cameras specifically designed for microscopy. They come with a multitude of advantages, which are described below. We have put together a guide to help you choose the camera that is best suited for your needs.
Of course, connecting a C-mount camera to the microscope for specialised applications is also a snap with our LM digital adapters.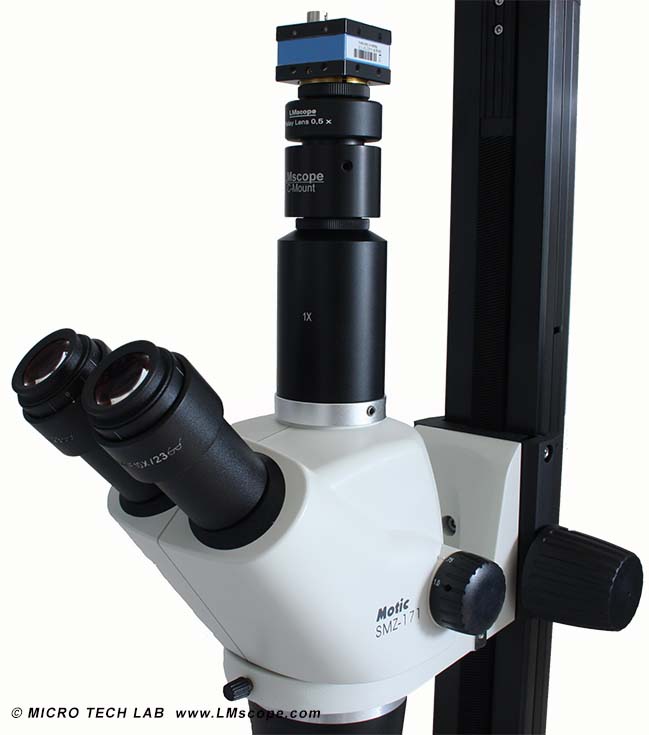 Conclusion:
The Motic SMZ-171 features an excellent price/performance ratio (price currently approx. € 1,000). It is very well built and delivers good optical quality. The 30 mm wide-field eyepieces are also a positive feature. With the current digital SLR and system camera models and our LM digital adapters, the Motic SMZ-171 is very well suited for creating photographic work.
Photography:
Fitting the microscope to digital single-lens reflex (DSLR), mirrorless interchangeable-lens cameras (MILC ), digital single-lens mirrorless (DSLM) or C-mount cameras is easy with our LM digital SLR adapters, which feature a plan achromatic optical system. Our products make it possible to capture top-quality microscope images. To help you select the adapter that is right for your camera, we have set up an online configurator on our website. You can also email us – ideally with attached photographs of your microscope.
Modern DSLR and single-lens mirrorless (DSLM) offer the latest technology and are generally very well suited for microscopy applications. Most of them can be controlled remotely via PC/Mac. Because of their high sales volumes, they offer an excellent price/performance ratio compared to special-purpose microscope cameras.
Features of top DSLR and single-lens mirrorless cameras (DSLM):
- Large, powerful full-frame sensors (36 x 24 mm)
- Sensor resolution of 61 megapixels or 240 megapixels with Pixel Shift technology
- High light sensitivity (ISO 400,000+)
- Extensive dynamic range (up to 15 aperture stops/f-stops)
- Short exposure times (1/8000 second) up to 1/32,000 seconds using the digital shutter
- 4K Ultra HD or 8K Ultra HD video function
- Live video capture on external monitors in ultra HD quality
In most cases, these cameras are significantly more powerful than microscope cameras with smaller sensors (1/2" or 2/3"). On our website you will find our current camera recommendations and a camera ranking which is specifically tailored to microscopy applications.

Ordering code

Product description

Price

Price

Available




DD2XMO38

LM Digital SLR Adapter with special hard anti-reflection coating, plan achromatic optics for Motic phototubes with an inner diameter of 38 mm, inclusive Camera Lens Mount Adapter



Operating Instructions0
Data Sheet1

For EU (European Union) VAT (IVA, TVA) not included
New LM Digital Adapter for:
Nikon Z9 / Sony Alpha 7R V / Sony Alpha 1 / Sony FX3 Cinema Line / Sony Alpha 9 II (ILCE-9M2) / Sony Alpha 9 / Nikon D6 / Canon EOS R3 / Canon EOS R6 Mark II / Canon EOS R8 / Sony Alpha 7R IV / Canon EOS R5 / Sony Alpha 7S II / Sony Alpha 7S III / Sony Alpha 7R III / Canon EOS R6 / Nikon Z6 / Nikon Z6II / Sony Alpha 7R II / Nikon Z7 / Nikon Z7II / Canon EOS R / Canon EOS Ra (Astro) / Nikon Z5 / Sony Alpha 7C / Canon EOS RP / Sony Alpha 7S / Canon EOS R7 / Leica SL2-S / Canon EOS R10 / Canon EOS 1D X Mark III / Nikon Z50 / Nikon Z30 / Nikon Z fc / Nikon D850 / Canon EOS 1D X Mark II / Nikon D780 / Olympus OM-1 / Sony Alpha 7III / Olympus OM-D E-M1 Mark III / Nikon D5 / Sony Alpha 6600 / Fujifilm X-H2S / Fujifilm X-S10 / Fujifilm X-E4 / Fujifilm X-Pro3 / Olympus OM-D E-M1X / Sony Alpha 6400 / Sony Alpha 6100 / Sony ZV-E10 / Canon EOS 1D X /