279
How well suited are the Nikon SMZ745 and SMZ745T stereomicroscopes for photomicroscopy?
We were very impressed by the photomicroscopy possibilities offered by the Nikon SMZ1500, and so we wanted to take a closer look at its little brothers, the Nikon SMZ745 and SMZ745T. In terms of price, the two options differ greatly, and for this reason we were curious to see whether or not this would also have an impact on the photographic results.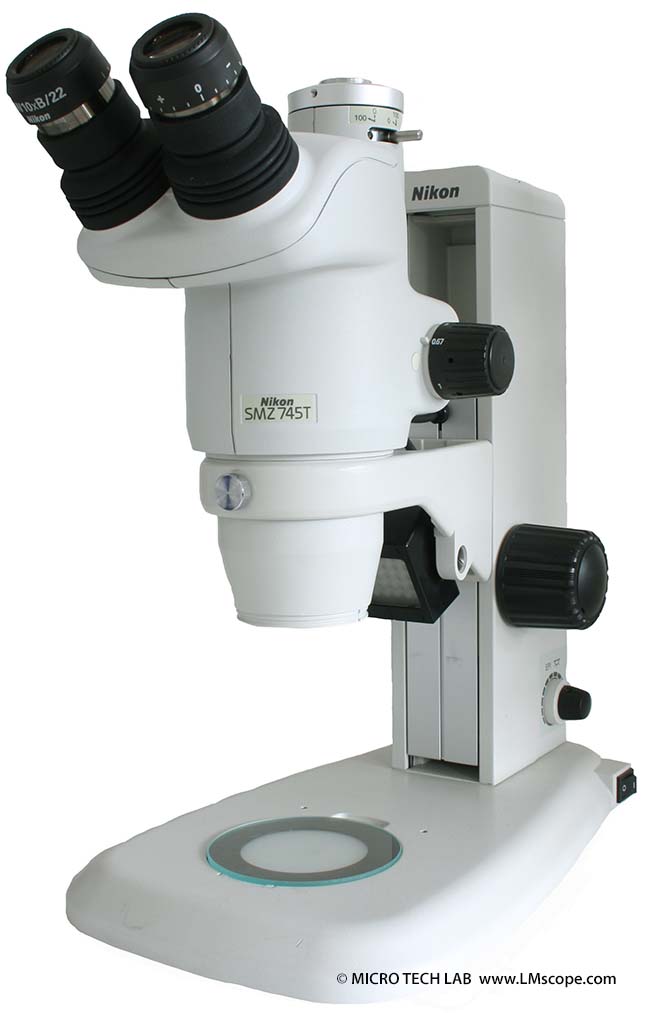 The Nikon SMZ745 is a well-made, very light (6.7 kg) stereomicroscope which, as an option, is also available with a C-mount phototube (SMZ745T). It features a long working distance (at a magnification of 7.5x the distance is a little over 100 mm) so there is sufficient room for illumination. The optical quality is very good; even at maximum zoom, only slight chromatic aberrations are visible (colour fringing).
It would be nice if, like the SMZ1500, the microscope had an aperture control (aperture diaphragm) for each optical path so that the depth of field could be increased. When special lighting configurations are used (such as strong LED lighting, a flash or side lighting, etc.) this function offers greater flexibility.
We attached different cameras to the microscope in order to assess the optical quality. The SMZ745T comes with a C-mount port (exterior thread 25.4 mm) with an integrated reduction lens (factor 0.55x).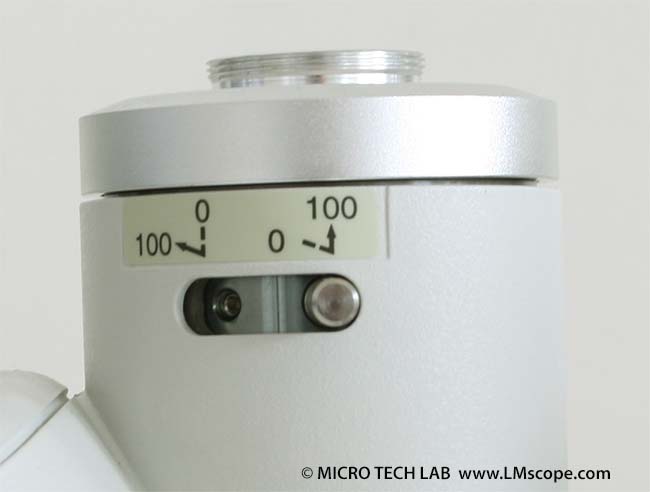 This is ideal for using C-mount cameras with 2/3" or 1/2" sensors.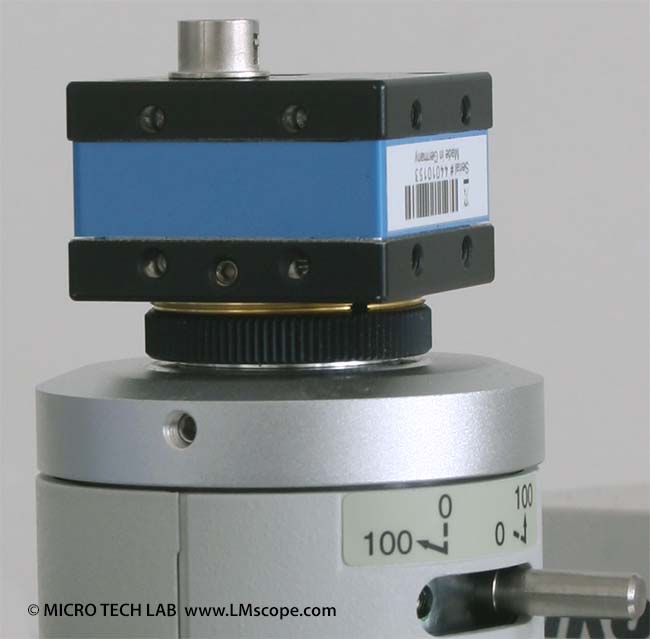 The optical quality is good at low zoom levels and then decreases continuously. The SMZ745 does not stand up in direct comparison with its big brother, the SMZ1500. The differences are too great, including in terms of price.
For working with cameras (including DSLRs and system cameras) with large sensors (>1"), this camera port (factor 0.55x) is not very well suited. The built-in lens reduces the size of the image field by 45%, which is a very good fit for cameras with small sensors (C-mount cameras with up to 0.5"; 8x6 mm), but with larger sensors the results leave much to be desired. We tested a variety of LM DSLR adapters (with magnification lenses) on this camera port, but unfortunately never achieved the image quality we were aiming for. The image was always only sharp in the centre, while towards the edges it became increasingly blurred. That's why we designed our new LM adapter solution, which eliminates the limitations of the built-in c-mount reduction optics and makes it possible to use large-sensor cameras (such as DSLRs with full-frame sensors or mirrorless system cameras) for taking pictures through a microscope and still achieve excellent image quality. More information about this adapter solution here!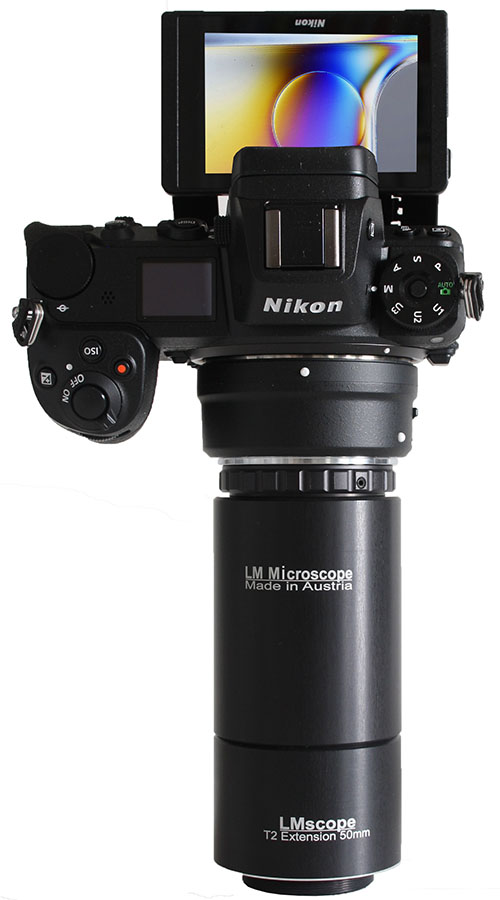 A good alternative is to use the eyepiece tube. We used a Canon EOS 60D. Adapting the camera to the eyepiece tube was very simple. First, we removed the microscope eyepiece and fitted the TUST30S tube adapter in its place. Then we attached the DSLRCT LM digital adapter to the assembly.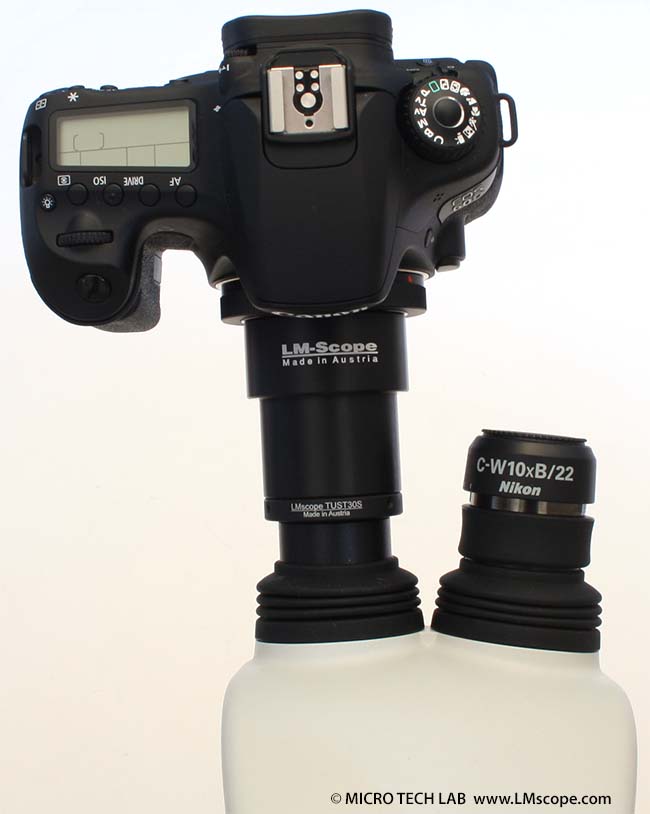 The image quality was excellent, with both the centre of the image and the edges being sharp. This method makes it possible to use any choice of camera (full-frame or APS-C sensor).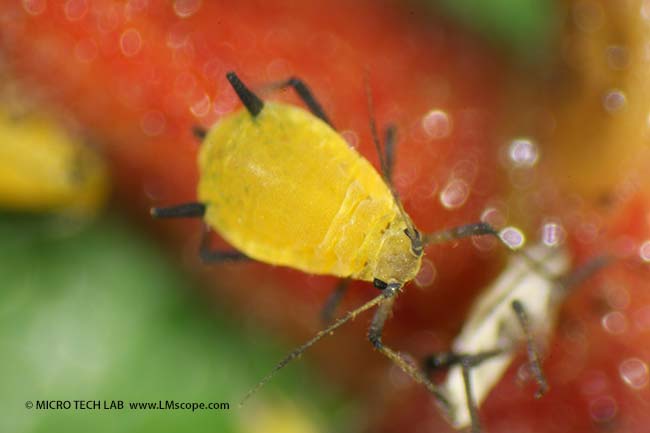 Conclusion:
The Nikon SMZ745 and SMZ745T are very good entry-level stereomicroscopes with long working distance and large zoom range. Due to the non-removable C-mount port with a 0.55x lens, the microscope offers only limited suitability for photographic documentation, as the choice of cameras is very restricted. Our new LM special adapter solution is able to eliminate this limitation. However, the more expensive models in the SMZ range (such as the 800/1000/1500) are significantly more flexible in this respect and offer better performance, especially at greater magnifications (>40).
15.01.2013 Update:31.05.2019
Photography:
Fitting the microscope to digital single-lens reflex (DSLR), mirrorless interchangeable-lens cameras (MILC ), digital single-lens mirrorless (DSLM) or C-mount cameras is easy with our LM digital SLR adapters, which feature a plan achromatic optical system. Our products make it possible to capture top-quality microscope images. To help you select the adapter that is right for your camera, we have set up an online configurator on our website. You can also email us – ideally with attached photographs of your microscope.
Modern DSLR and single-lens mirrorless (DSLM) offer the latest technology and are generally very well suited for microscopy applications. Most of them can be controlled remotely via PC/Mac. Because of their high sales volumes, they offer an excellent price/performance ratio compared to special-purpose microscope cameras.
Features of top DSLR and single-lens mirrorless cameras (DSLM):
- Large, powerful full-frame sensors (36 x 24 mm)
- Sensor resolution of 61 megapixels or 240 megapixels with Pixel Shift technology
- High light sensitivity (ISO 400,000+)
- Extensive dynamic range (up to 15 aperture stops/f-stops)
- Short exposure times (1/8000 second) up to 1/32,000 seconds using the digital shutter
- 4K Ultra HD or 8K Ultra HD video function
- Live video capture on external monitors in ultra HD quality
In most cases, these cameras are significantly more powerful than microscope cameras with smaller sensors (1/2" or 2/3"). On our website you will find our current camera recommendations and a camera ranking which is specifically tailored to microscopy applications.

New LM Digital Adapter for:
Nikon Z9 / Nikon Z8 / Sony Alpha 7R V / Sony Alpha 1 / Sony FX3 Cinema Line / Sony Alpha 9 II (ILCE-9M2) / Sony Alpha 9 / Nikon D6 / Canon EOS R3 / Canon EOS R6 Mark II / Canon EOS R8 / Sony Alpha 7R IV / Canon EOS R5 / Sony Alpha 7S II / Sony Alpha 7S III / Sony Alpha 7R III / Canon EOS R6 / Nikon Z6 / Nikon Z6II / Sony Alpha 7R II / Nikon Z7 / Nikon Z7II / Canon EOS R / Canon EOS Ra (Astro) / Nikon Z5 / Sony Alpha 7C / Canon EOS RP / Sony Alpha 7S / Canon EOS R7 / Leica SL2-S / Canon EOS R10 /