559
Finally – our LM microscope adapters can now be attached DIRECTLY to the current Nikon Z-mount system cameras
Nikon Z-series: Nikon's new generation of interchangeable lens mount mirrorless cameras impresses with high optical quality and state-of-the-art camera technology. Two sensor formats are available: FX (full-frame) and DX (APS-C). Nikon Z-cameras are very well suited for microscopy. With our LM microscope adapters featuring built-in optics, they can be stably attached to almost any microscope in a few easy steps. To allow for a professional workflow, we recommend controlling the camera remotely from the computer using Nikon's "Camera Control Pro2" software. Alternatively, the camera can also be controlled remotely via the Live View image from a mobile device (tablet or smartphone).
Shown in the image: Nikon Z7 with LM digital adapter for the full-frame camera version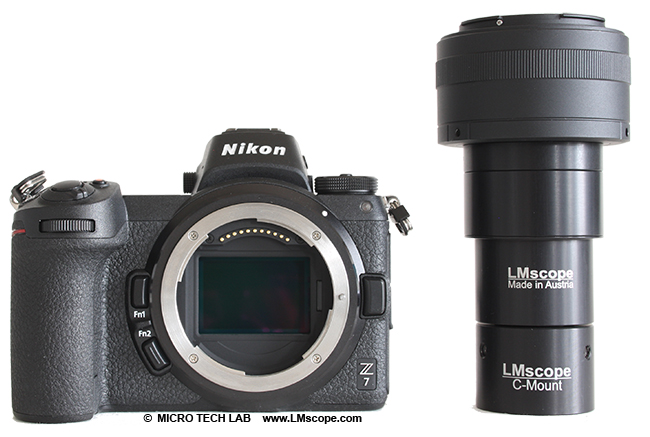 Previously, the relatively pricey NIKON FTZ adapter was needed as a connector for our adapter solutions.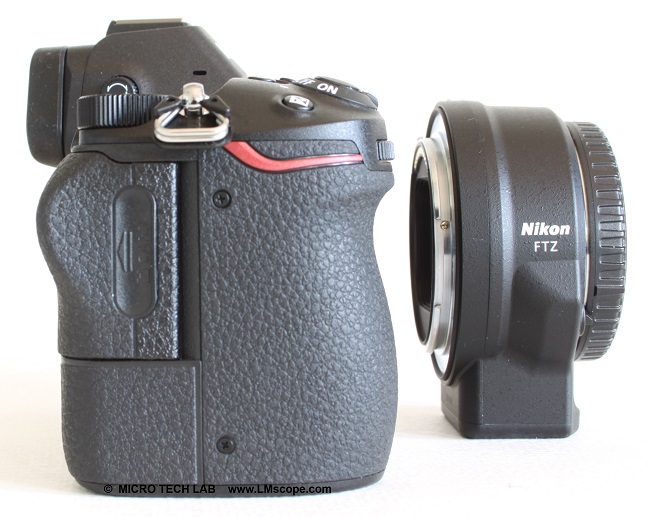 Thanks to our continuous development efforts, we are now able to offer our microscope adapter solution, which is available for a wide range of different microscopes, with a matching LM Nikon Z-mount connection, which makes attaching the camera to the microscope both easier and more affordable. The LM microscope adapter now offers an even better mechanical connection and is optimally suited to attach Nikon Z series cameras to your microscope. The image below shows a camera plus adapter solution attached to a Zeiss Stemi 305 Trino stereo microscope.
Example application: Nikon Z50 with DX sensor and LM microscope adapter: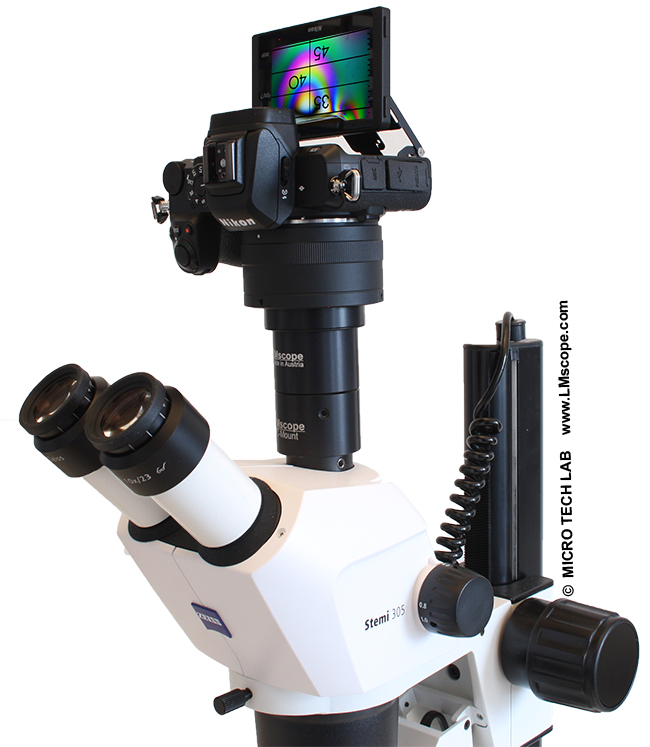 At this time, we offer adapter solutions for all current Nikon Z-mount system cameras. The Nikon Z6, Z7 and Z50 models, which are great fits for microscopy, are currently compatible (as of March 2020).
Example application 1: The Nikon Z50 is attached to the C-mount connection of the microscope using an LM microscope adapter with integrated precision optics: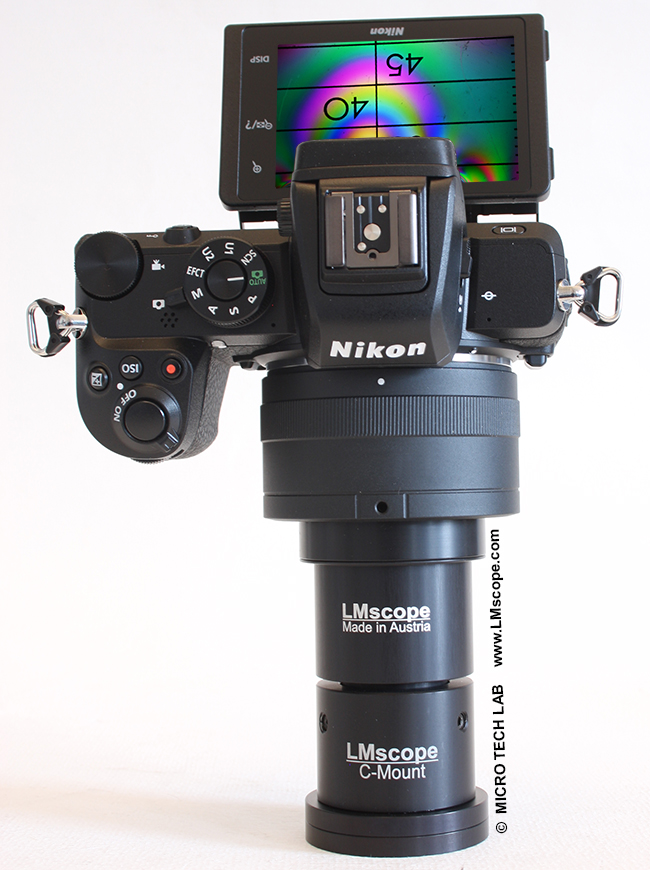 Example application 2: The Nikon Z50 is attached to the eyepiece tube (inner diameter: 23.2 or 30 mm) of the microscope using an LM microscope adapter with integrated precision optics: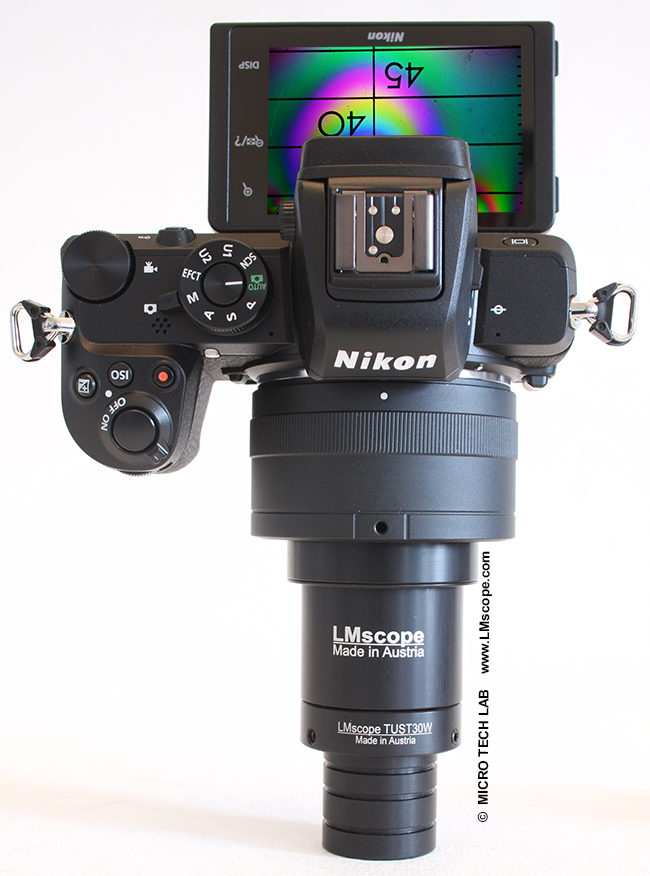 LM microscope adapters of the "Pro" line for DSLR or mirrorless system cameras can be fitted with an additional filter holder which permits attachment of optical filters to the adapter.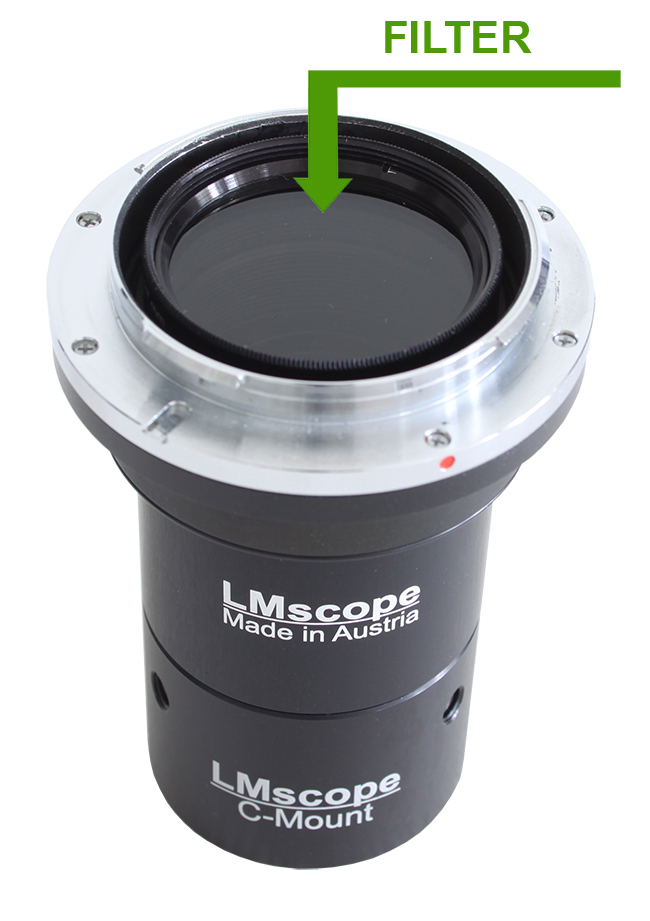 Demo photo: piece of Tesa adhesive tape, image taken with a polarisation filter