448
We tested for you: How does the new Canon EOS M5 system camera perform with a microscope?
With its new EOS M5 system camera, Canon has extended and improved the offerings available in the mirrorless system camera market segment. Naturally, we were curious to find out how the EOS M5 stood up to testing compared to other EOS models!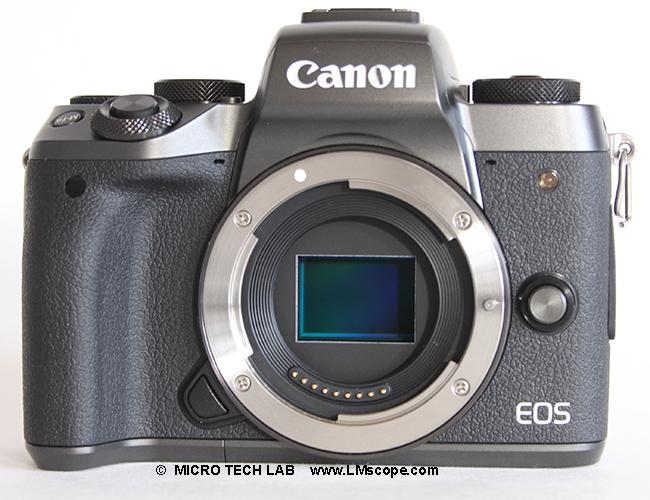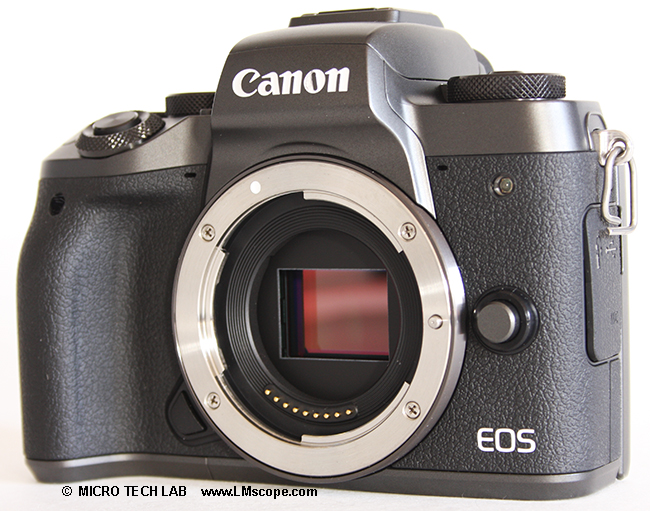 With an introductory price of about EUR 1,100 (camera body only), Canon falls into the mid-range price group with this camera. The large APS-C CMOS sensor boasts 24 megapixels and employs dual pixel sensor technology. The camera body is well-built and – as there is no mirror to take up extra space – features a compact design. With our LM microscope adapters, the camera can be attached to a wide range of microscopes simply and easily. We offer solutions for microscopes with photo ports as well as adapters for use with eyepiece tubes. Both solutions provide the same high level of optical quality because all of our adapters are equipped with a plan-achromatic optical system.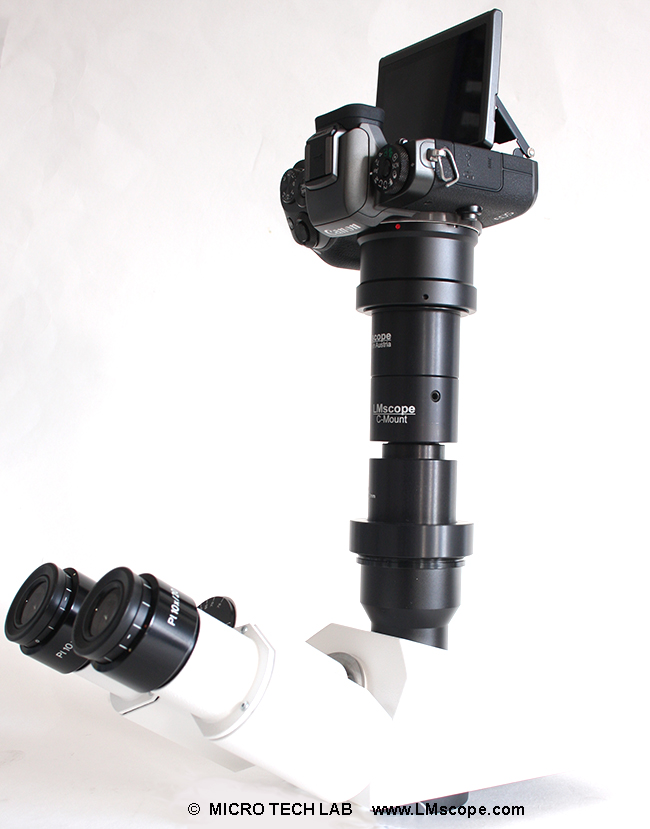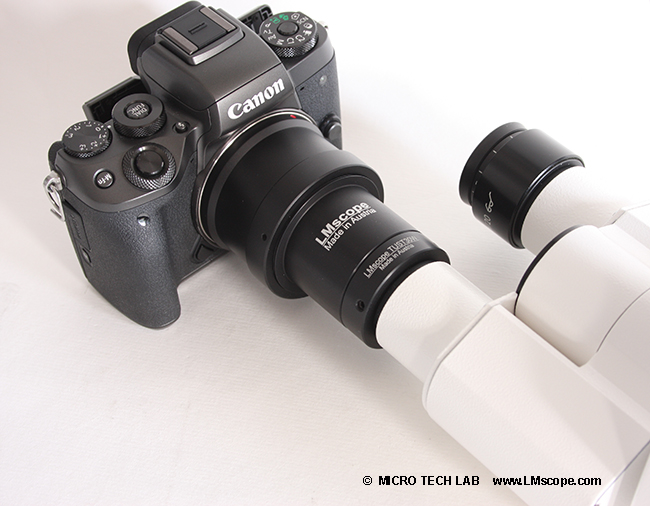 Thanks to its advanced sensor technology, the EOS M5 delivers good-quality microscope images. The sensitivity range (ISO) runs to a maximum of 25,600.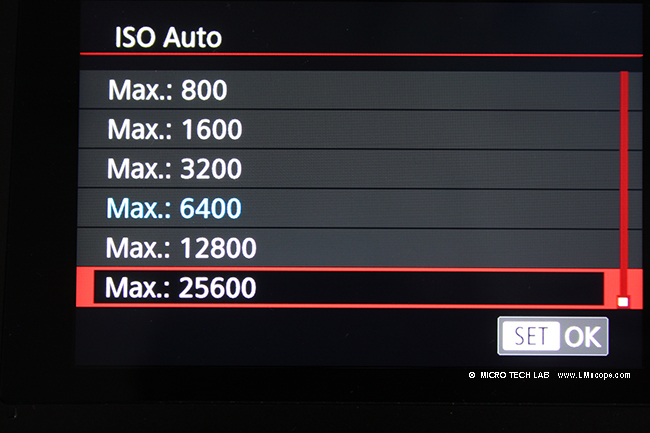 The maximum frame rate is 9 fps. Full HD video recording is supported at a maximum frame rate of 60 fps.
The 8cm tilt-type LCD monitor, which offers a resolution of 1.62 million dots, is another of the camera's much-appreciated features. From a video perspective, the EOS M5 also includes an HDMI port to export the Live View feed to an external monitor or projector.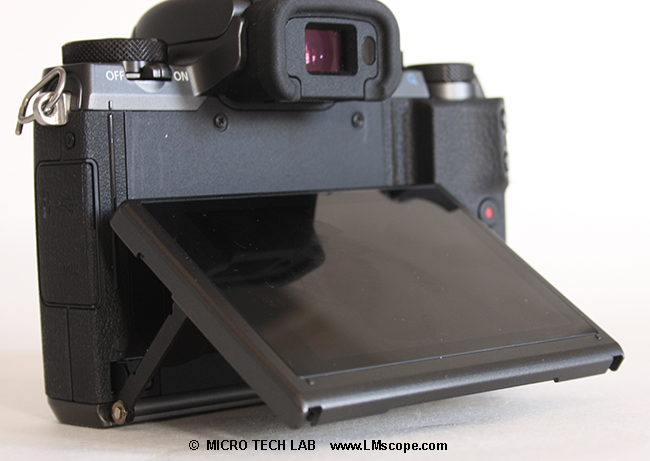 Now to the downside of the Canon EOS M5: Like its predecessor (the Canon EOS M3), the EOS M5 does not support the Canon Utility software, which means that the camera cannot be remotely configured and controlled via PC/Mac. However, particularly when it comes to photomicrography, this software is a big help for amateur and professional photographers.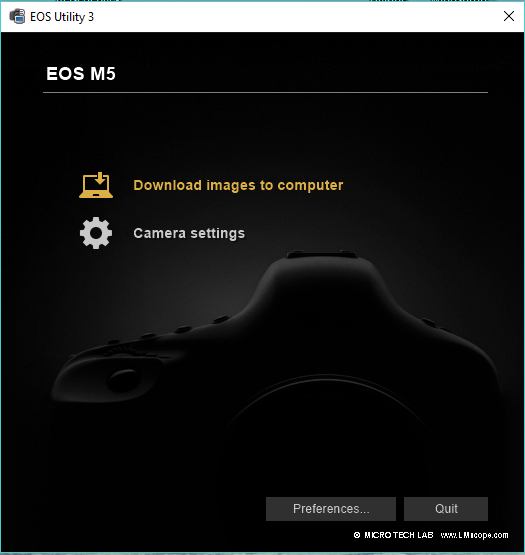 Unfortunately not supported: Canon EOS Utility 3 software
Since the camera has built-in Wi-Fi, we were hoping to at least be able to control it from a tablet or smartphone using Canon's CameraConnect app.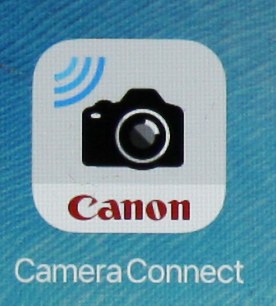 We were able to set up the connection without a problem.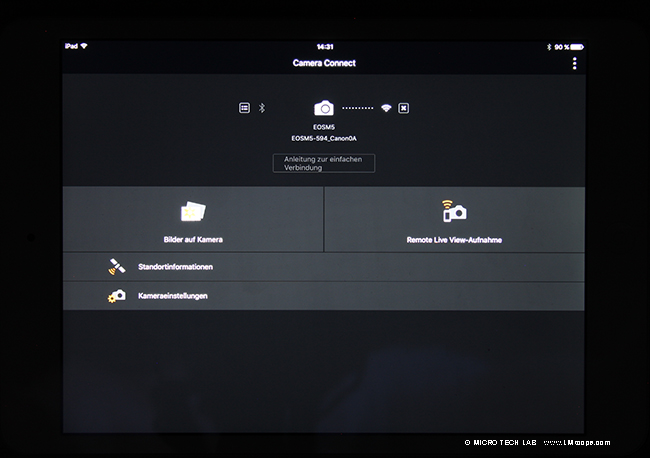 However, upon clicking the "Remote Live View Shooting" icon, the camera failed to respond.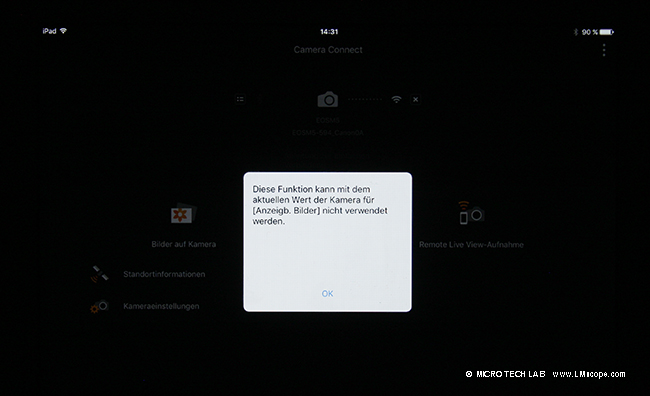 We determined that it was only possible to download or share photos in social media platforms; remote Live View, unfortunately, did not work.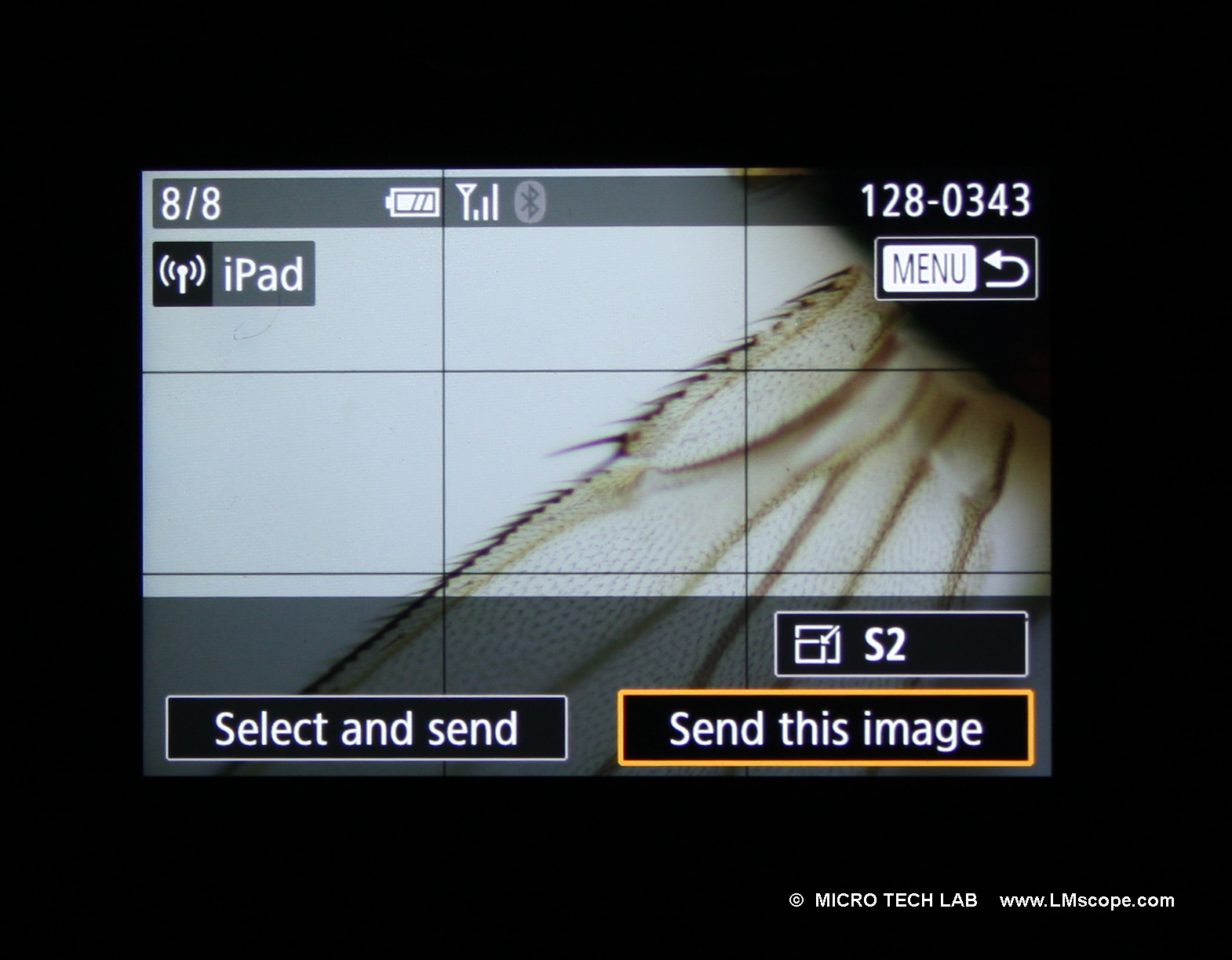 When we did some testing without remote camera control next, we immediately ran into another major issue: the shutter release lock when using analogue lenses or adapter solutions for microscopes or macroscopes.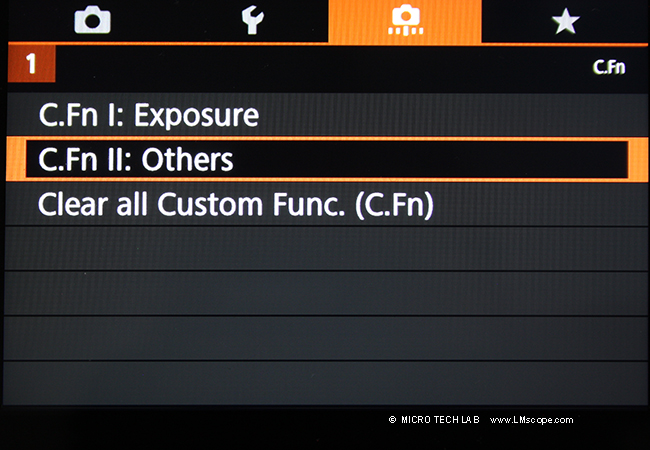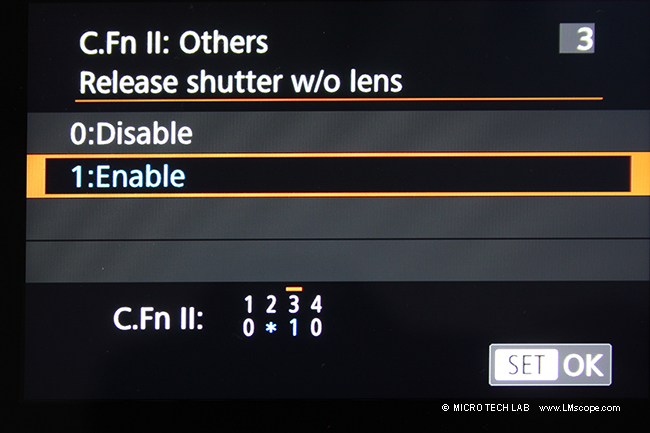 By default (i.e. at factory settings), the camera demands a CPU lens to take a photograph/record a video. Never, during all of our testing of Canon EOS DSLR cameras, have we had to deal with such an unnecessary feature. After a time-consuming search through the manual, we finally found the answer in the menu … there was a way to disable the shutter release lock – at last, we could take photographs through the microscope!
Conclusion:
The Canon EOS M5 is a first-rate camera that features a compact design, an excellent sensor, and a tilt-angle LCD screen. When used with our LM digital adapters, it produces high-quality photomicrographic images. Unfortunately, the non-functional Canon Utility software significantly impaired the workflow, and remote control via smartphone app did not work in our tests either. For these reasons, the Canon EOS M5 is only marginally suitable for photomicrography and photomacrography applications. If you are looking to buy a new camera, we recommend that you consider the similarly priced Canon EOS DSLR 80D.
New LM Digital Adapter for:
Canon EOS R3 / Canon EOS R6 Mark II / Canon EOS R8 / Canon EOS R5 / Canon EOS R6 / Canon EOS R / Canon EOS Ra (Astro) / Canon EOS RP / Canon EOS R7 / Canon EOS R10 / Canon EOS 1D X Mark III / Canon EOS 1D X Mark II / Canon EOS R100 / Canon EOS 1D X / Canon EOS 90D / Canon EOS 5D Mark IV / Canon EOS 6D Mark II / Canon EOS M6 Mark II / Canon EOS 250D / Canon EOS 850D / Rebel T8i / Canon EOS 6D / Canon EOS M200 / Canon EOS 5DS R ( without low-pass filter) / Canon EOS 80D / Canon EOS M50 Mark II / Canon EOS 5DS / Canon EOS M50 / Canon EOS 70D / Canon EOS 200D / Canon EOS 800D / Rebel T7i / Canon EOS 77D / Canon EOS 5D Mark III / Canon EOS 60D / Canon EOS 750D / Rebel T6i / Canon EOS 760D / Rebel T6s / Canon EOS 5D Mark II / Canon EOS 1D Mark IV / Canon EOS 7D Mark II / Canon EOS 600D / Rebel T3i / Canon EOS 650D / Rebel T4i / Canon EOS 700D / Rebel T5i / Canon EOS 2000D / Rebel T7 / Canon EOS 7D / Canon EOS 550D / Rebel T2i / Kiss X4 Digital / Canon EOS 1300D / EOS Rebel T6 / Canon EOS 4000D / Canon EOS 100D / Canon EOS 50D / Canon EOS 1200D / EOS Rebel T5 / EOS Kiss X70 / Canon EOS 1100D / Rebel T3 / Canon EOS 1D Mark III /