446
LM microscope adapters: We're impressed by the performance of Canon's professional-grade EOS 5D Mark IV camera at the microscope!
With its EOS 5D Mark IV, the successor model to the EOS 5D Mark III, Canon has managed to release a great update which, thanks to state-of-the-art sensor technology, delivers a significant boost in performance.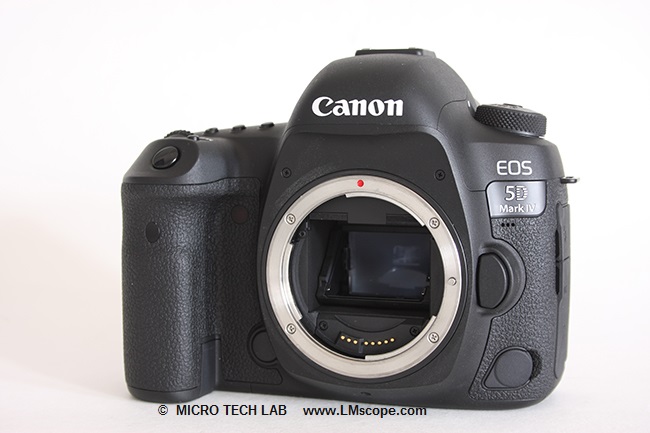 The new sensor on the EOS 5D Mark IV is even more light-sensitive than its predecessor. It boasts a stunning 30 megapixels and uses Canon's CMOS Dual Pixel technology.
Given its introductory price of around EUR 3,550, the EOS 5D Mark IV is intended mainly for professional users. The camera's weatherproof magnesium alloy body sports dimensions of 151 x 116 x 76 mm and weighs in at a solid 950 grams (operationally ready).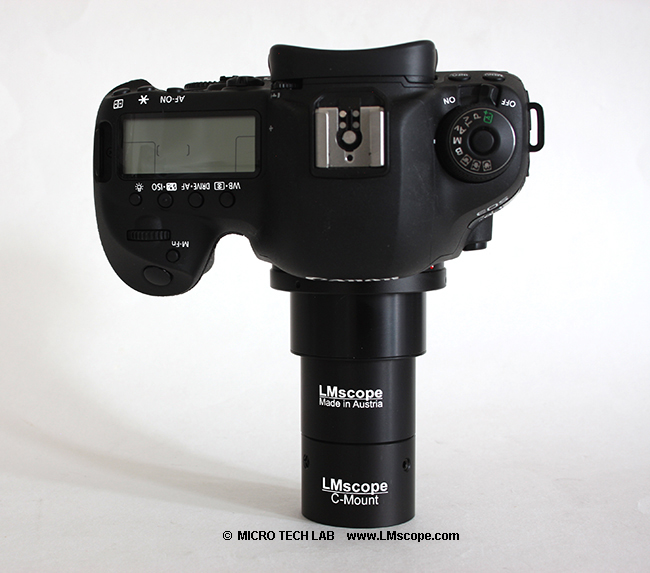 The image above shows the Canon EOS 5D Mark IV with an LM DSLR adapter attached (featuring an integrated plan achromatic optical system and C-mount connection). Assuming all components have been coordinated optimally, users can expect the best possible image quality and – thanks to the wide-angle optical system – the largest possible field of view.
As a result of the updates, ISO sensitivity is now expandable to 102,400 (in manual mode). This represents a significant consideration in microscopy, since only a small amount of light reaches the camera sensor in some microscopy applications (such as fluorescence microscopy).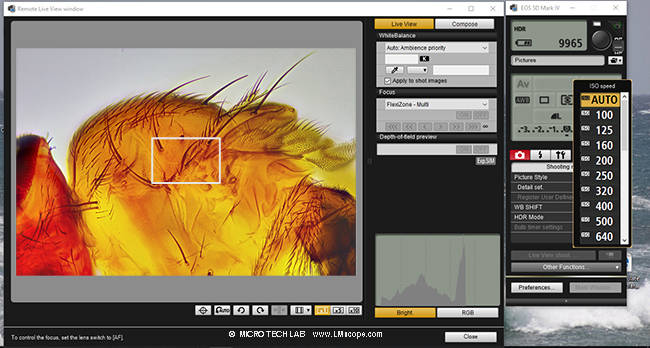 Image above: fruit fly, 100x magnification
Image below: fruit fly, 400x magnification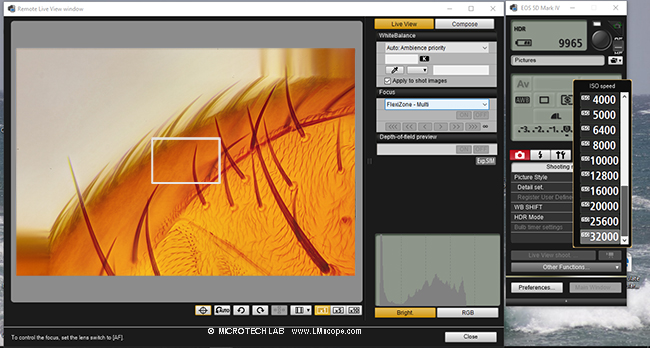 During testing, we noticed immediately that the Live View image is significantly brighter when illumination is poor, which definitely aids focusing.
The signal-to-noise ratio has also been markedly improved. Our temperature test showed that after 30 minutes of Live View operation, the sensor temperature of the EOS 5D Mark IV was 10 degrees cooler than Canon's earlier EOS 5D Mark III. This improves operating efficiency enormously, because image noise increases with each additional degree of temperature.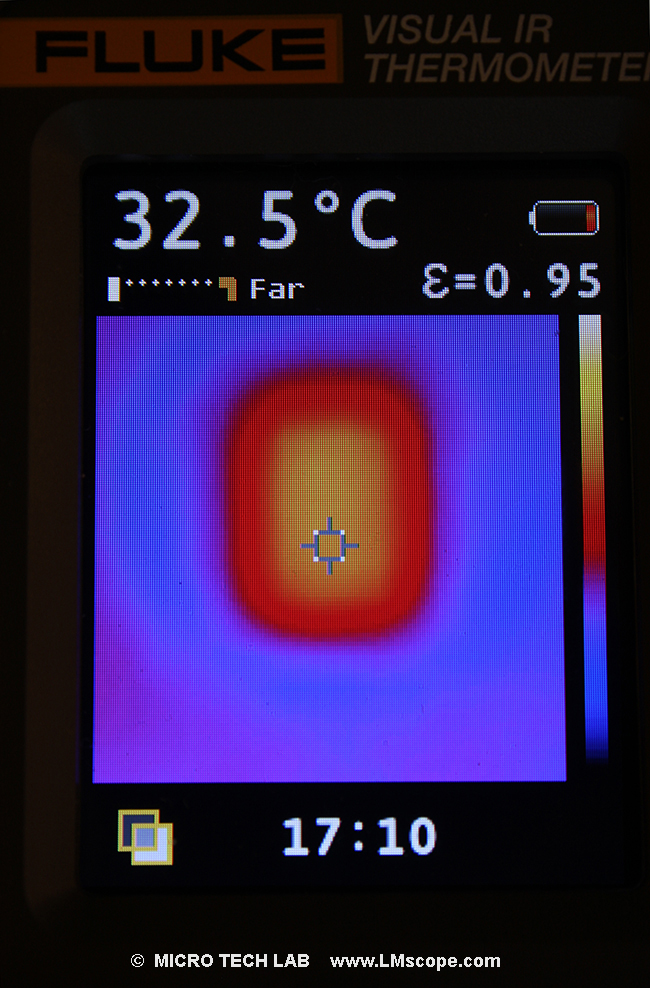 As with all modern Canon EOS models, the EOS 5D Mark IV comes with a free version of the EOS Utility software, which enables users to control the camera remotely from a PC/Mac while looking at the Live View image on the monitor.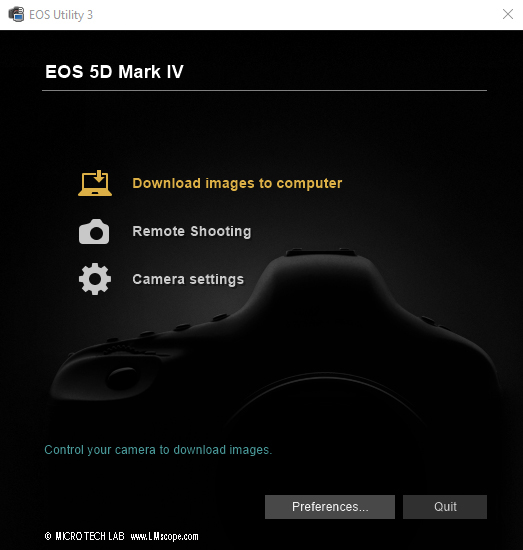 This is an important feature when it comes to using the camera on a microscope, especially since the screen neither tilts nor flips. The large 3.2'' (8.1 cm) TFT LCD display boasts an impressive 1.6 million dots as well as touchscreen functionality, a particularly handy new feature, as it simplifies camera control dramatically.
Notably, the camera also features GPS and Wi-Fi connectivity. Its built-in Wi-Fi module allows the camera to connect to a smartphone or tablet, which means that users can shoot remotely and transfer images for live display on the device's screen.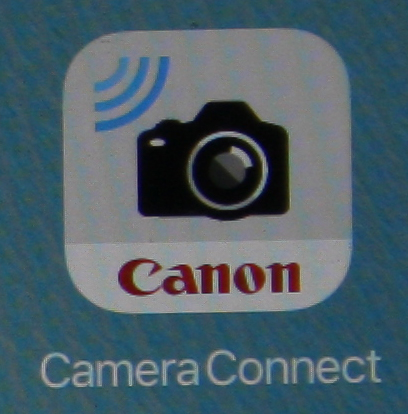 The Canon Camera Connect app is required to establish a connection via wireless LAN.
During our test, we controlled the camera remotely from an iPad (IOS), which had the benefit of eliminating the risk of mechanical vibration associated with manual shutter release.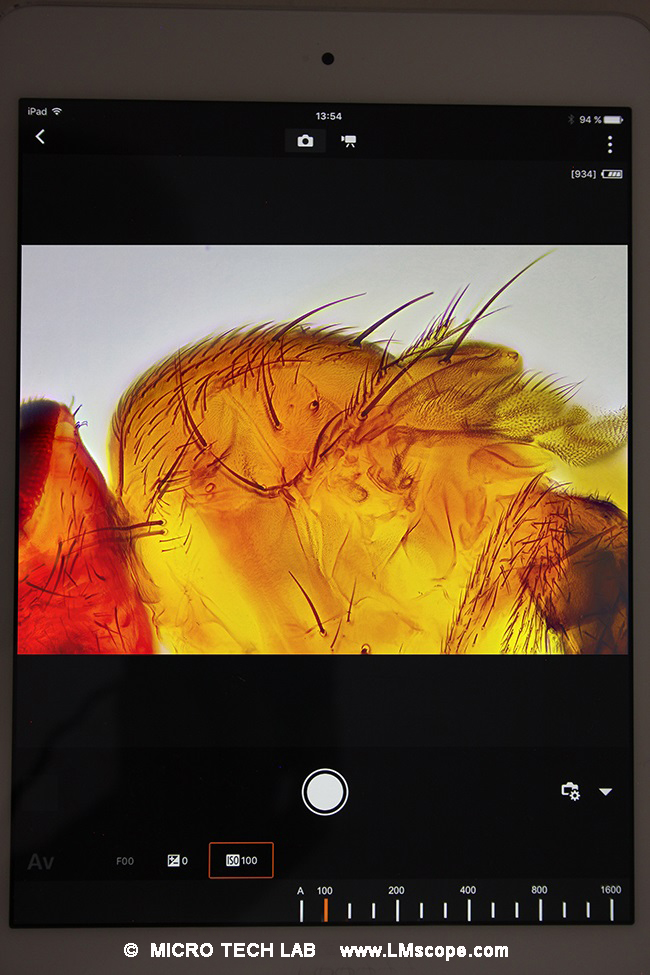 Because we offer adapter solutions for a wide variety of microscopes that have various connections, attaching the Canon EOS 5D Mark IV to the microscope was simple.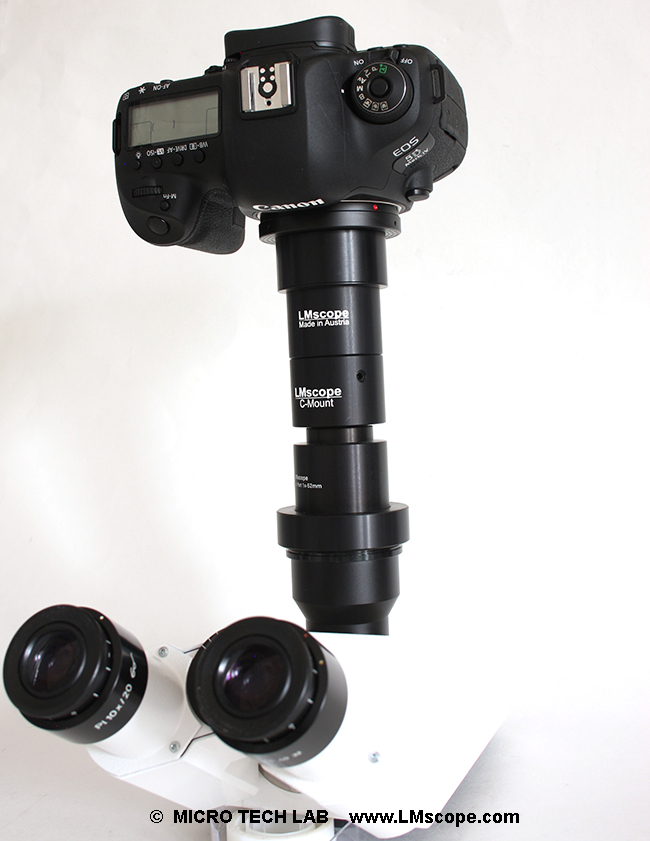 The Mark IV is also the first camera in the 5D-series to offer Ultra HD (4K) shooting (at a maximum of 4096 x 2160 resolution) in a 17:9 ratio, and it does so at a user-selectable choice of 30, 25 or 24 frames per second. In HD format, 120 frames per second are possible. The maximum movie length is just a little less than 30 minutes.
White balance is easy to adjust using the eyedropper symbol in the Canon EOS Utility software. Just click on the white background to set a white balance. The Magnify button toggles between 1x, 5x and 10x, which allows users to check for precise focus.
The camera's built-in HDR mode is another fantastic feature that merges multiple exposures into a single, well-exposed image.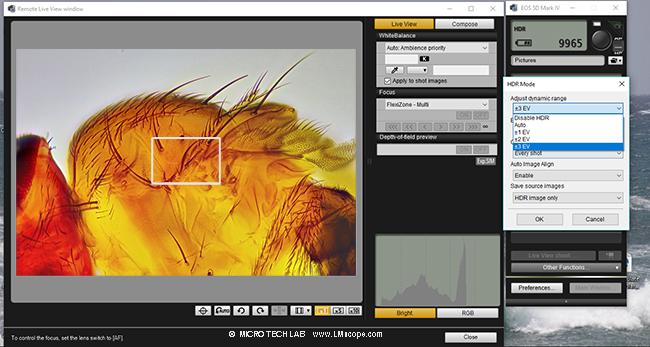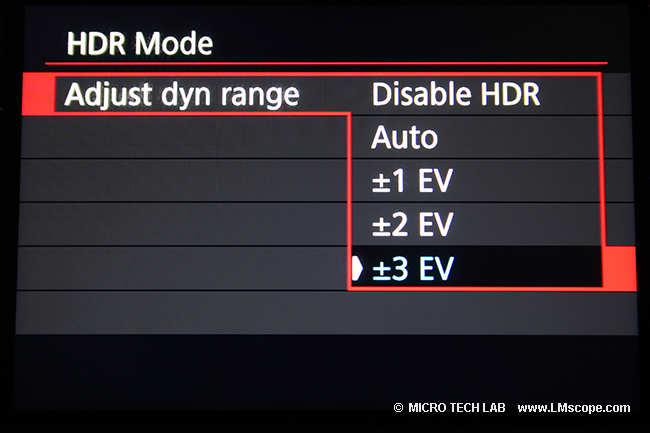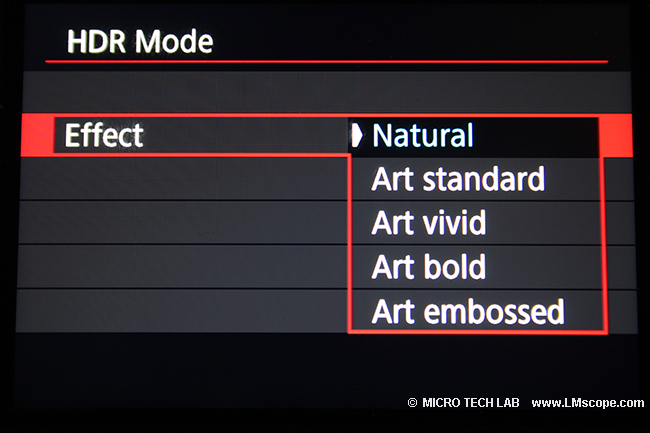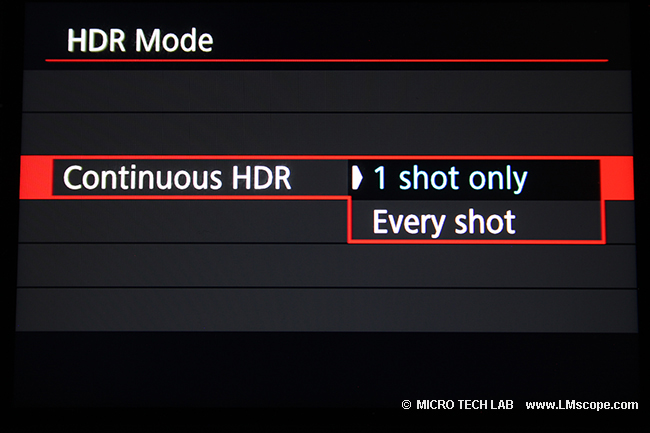 The images can be saved directly to the PC.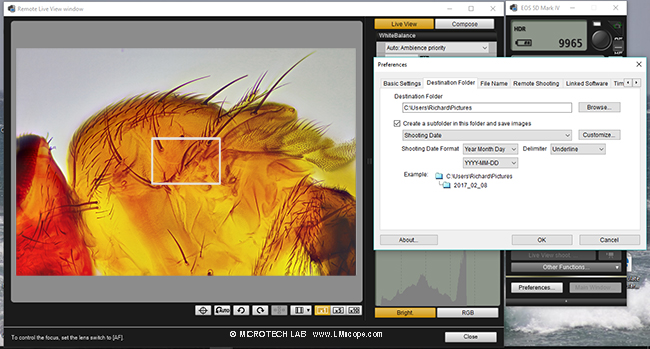 The camera sports an extremely quiet, vibration-dampened shutter, which makes it possible to set exposure times between 1/8000 and 30 seconds. Of course, it is very easy to set exposure times of more than 30 seconds using the bulb mode (represented by a B on the selector dial). Captured images can be processed immediately using the Canon Utility software. And like its predecessor, Canon's 5D Mark IV features the Silent LV Shoot mode.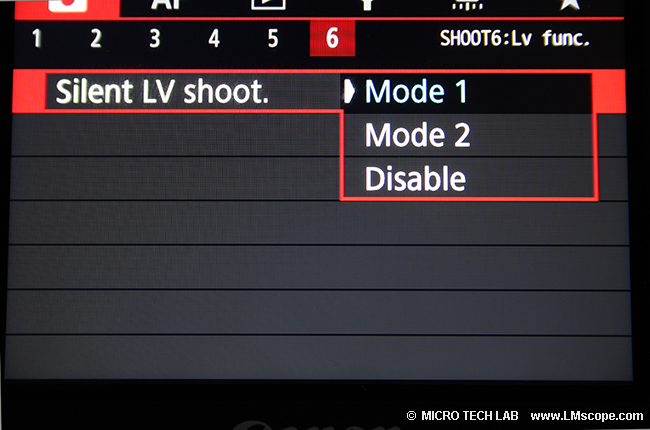 A common concern among photomicrographers is the possibility that the mirror could affect image quality negatively. However, since the Live View mode is typically used to capture images, the mirror is always folded up so it cannot shake or vibrate; thus, the mirror does not degrade image quality. Users who choose not to work in the Live View mode can employ the mirror lockup feature.
The camera's video features also include an HDMI port (digital video interface for monitor control or video recordings) to export the Live View feed to an external monitor or projector in full HD quality. Especially important for professionals giving presentations and/or engaging in discussions that include the use of Live View images is that the power saving mode can be disabled completely on the 5D Mark IV. This means no more worries about the camera automatically shutting down in mid-presentation.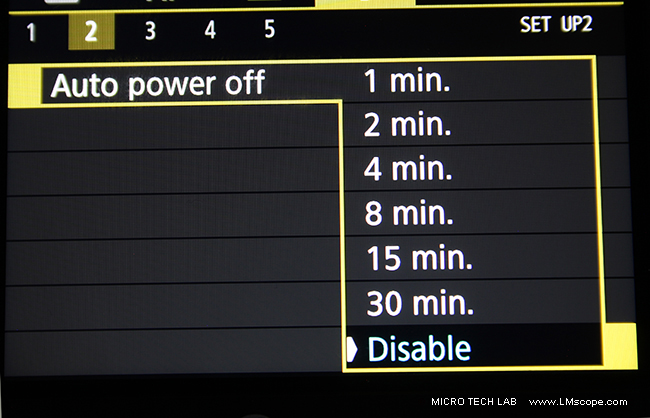 The frame rate for continuous shooting is 7 frames per second at maximum resolution.
In summary, the Canon 5D Mark IV provides:
A powerful 30 MP sensor with CMOS Dual Pixel technology

High ISO sensitivity expandable to 102,400

4K video function

Live View capability with remote control via PC/Mac

Smartphone/tablet app for remote control/playback of the Live View image

Exposure times between 1/8000 and 30 seconds

HDR mode

HDMI in full HD
Conclusion: Canon's 5D Mark IV is a top performer that builds on the powerful legacy of the 5D series to offer an amazing boost in quality over its predecessor model. The camera's vast range of features and upgraded technology make it an excellent and highly recommended choice for microscopy and macroscopy applications. Those looking to spend a bit less should consider the 5D Mark IV's little sister, Canon's EOS 80D, which has also scored very highly in our test.
New LM Digital Adapter for:
Sony Alpha 7R V / Sony Alpha 1 / Sony FX3 Cinema Line / Sony Alpha 9 II (ILCE-9M2) / Sony Alpha 9 / Sony Alpha 7R IV / Sony Alpha 7S II / Sony Alpha 7S III / Sony Alpha 7R III / Sony Alpha 7R II / Sony Alpha 7C / Sony Alpha 7S / Sony Alpha 7III / Sony Alpha 6700 / Sony Alpha 6600 / Sony Alpha 6400 / Sony Alpha 6100 / Sony ZV-E10 / Sony Alpha 6300 / Sony Alpha 6500 / Sony Alpha 99 II (SLT-A99 II) / Sony Alpha 77 II / Sony Alpha 7R / Sony Alpha 7 / Sony Alpha 68 / Sony Alpha 99 (SLT-A99) / Sony Alpha 7II / Sony Alpha 6000 / Sony Alpha 77V / Sony Alpha 580 / Sony Alpha 5100 /