604
Sony Alpha 1 plus LM adapter on the microscope
The Alpha 1, Sony's flagship full-frame mirrorless camera, turns in a superlative performance across the board
Its state-of-the-art camera technology makes the Sony Alpha 1 a great fit for microscope photography and a solid alternative to commercially available microscope C-mount cameras. If either the still or video quality produced by normal C-mount cameras is not quite good enough for you, or if superior image quality is a top priority, then the Sony Alpha 1 will be sure to hit the spot. With our LM digital adapters, the Alpha 1 can be attached to virtually any microscope – either via the phototube or the eyepiece tube of the microscope (which effectively turns it into an eyepiece camera).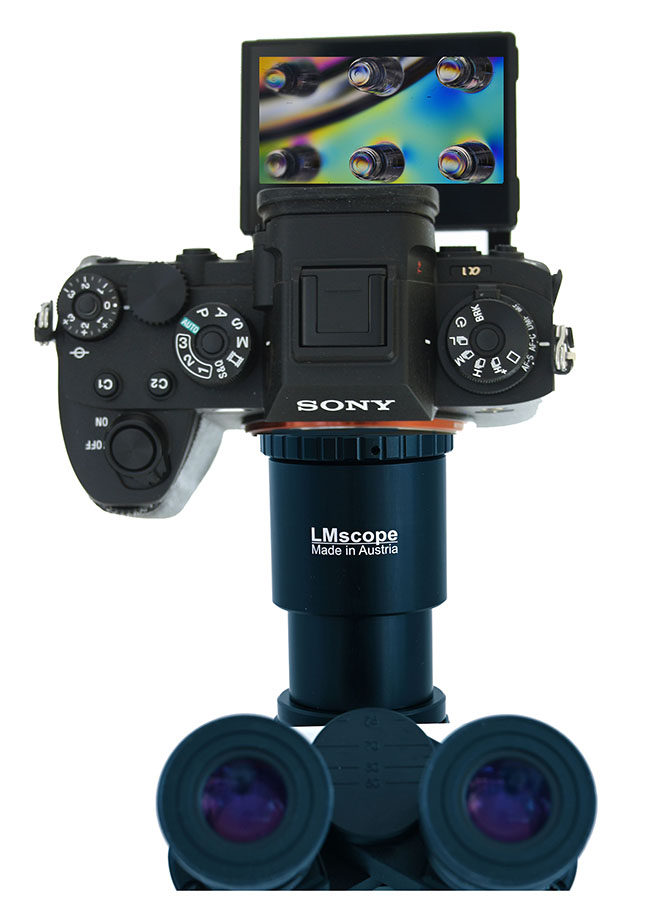 With a super-powerful 50 MP sensor that records 8K video, the Sony Alpha 1 is undeniably the best all-round camera on the market right now. Besides an abundance of still features, it also has a full complement of video capabilities which make it a truly stunning camera in every respect – with a price tag to match. Thanks to its pioneering camera technology, the Alpha 1 is also a great fit for fluorescence microscopy.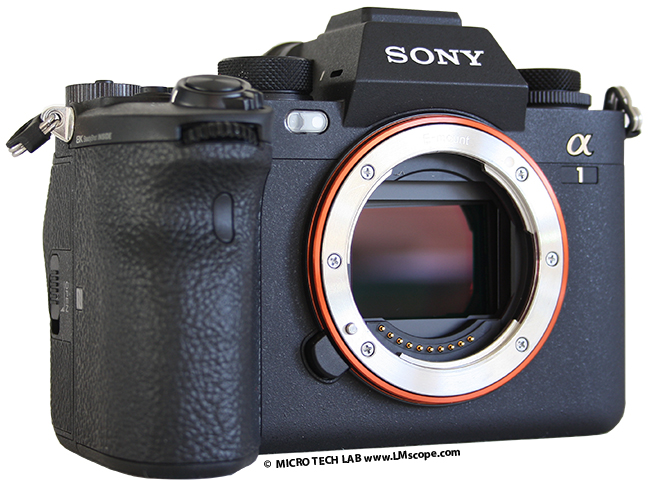 Key specifications of the Sony Alpha 1:
50 MP Exmor RS CMOS full-frame sensor (36 mm x 24 mm)

High ISO sensitivity (up to ISO 102,400 in manual mode)

Continuous shooting at up to 30 fps

Ultra HD 8K (30p)

Slow-motion: 4x in Ultra HD 4K/120p video mode

Mechanical shutter: shutter speeds of up to 1/8,000 second

Digital shutter: shutter speeds of up to 1/32,000 second for silent, vibration-free shooting

200 MP pixel shift multi shooting mode

5-axis image stabilisation with sensor shift technology

USB-C connector for stationary power supply or battery charging

5 GHz Wi-Fi® for high-speed data transfer, NFC, Bluetooth connectivity

LAN interface

Remote Camera Tool

Imaging Edge Mobile app

Capture One (for Sony)

Imaging Edge Remote, Viewer and Edit for desktop

The Sony Alpha 1 has a stacked, back-illuminated, 50 MP full-frame (36 mm x 24 mm) EXMOR® RS CMOS sensor with integrated memory. The Alpha 1 is built using a magnesium alloy chassis that is both light (740 grams) and rigid. Like all system cameras, it has a very small and compact body design.
The large full-frame sensor on the Alpha 1 is capable of capturing an impressive dynamic range of up to 14.5 stops, so that even the most subtle nuances in colour are fully retained. The CMOS full-frame image sensor is very sensitive: sensitivity ranges from ISO 100 to 32,000 in automatic mode, and from ISO 50 to 102,400 in manual mode. This makes the Alpha 1 a great fit for fluorescence microscopy.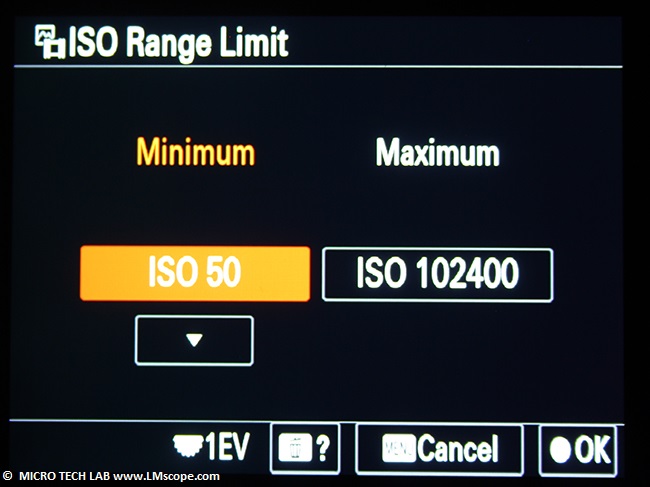 To achieve the camera's full dynamic range, we recommend using low ISO settings whenever possible.
The incredibly fast BIONZ X™ processor enables continuous shooting speeds of up to 30 fps with the electronic shutter at full resolution (in JPEG or compressed RAW recording format). If you want uncompressed RAW images, the maximum rate is 20 fps. The camera's continuous shooting mode is truly top-class: the fastest mechanical shutter speed is 1/8,000, and switching to the electronic shutter allows the Alpha 1 to operate at shutter speeds up to 1/32,000 in complete silence and without any vibration. Having the option to choose between the electronic and mechanical shutter optimises the shooting process and therefore enables superior image quality. Both options – mechanical and electronic shutter – have their pluses and minuses. Especially if you need to capture fast processes or moving objects without blurring, it is best to use the mechanical shutter.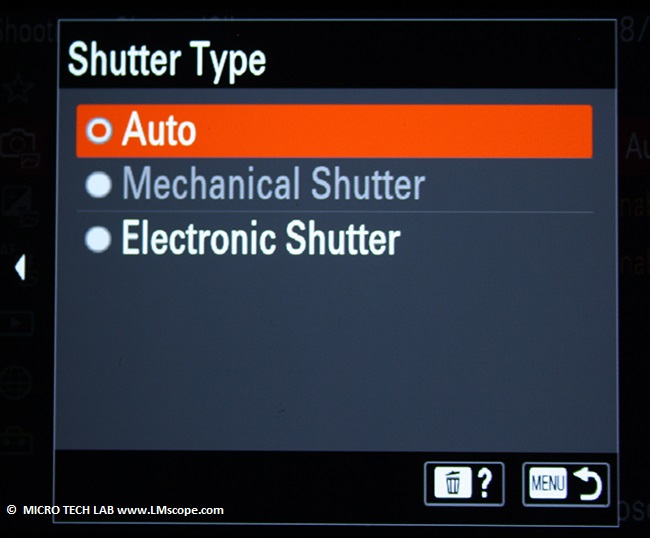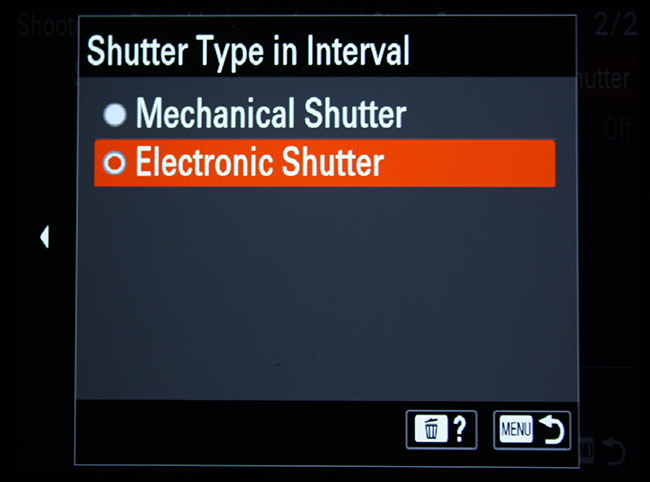 For our camera tests, we used our in-house LM macroscopes, because they are specifically optimised for the sensor format and camera type of the Sony Alpha 1. Our LM macroscopes and photomicroscopes have a centric optical path and are therefore ideally suited for high-resolution photography. Fixed focal length microscope lenses are imaging lens assemblies designed with a single angular field of view. They deliver high image quality – and thus better results – because they are designed for optimal performance at a single specified focal length. A short working distance also increases optical resolution (numerical aperture, NA). The camera body attaches to the microscope via the bayonet mount, using our LM adapter solution to create a stable connection.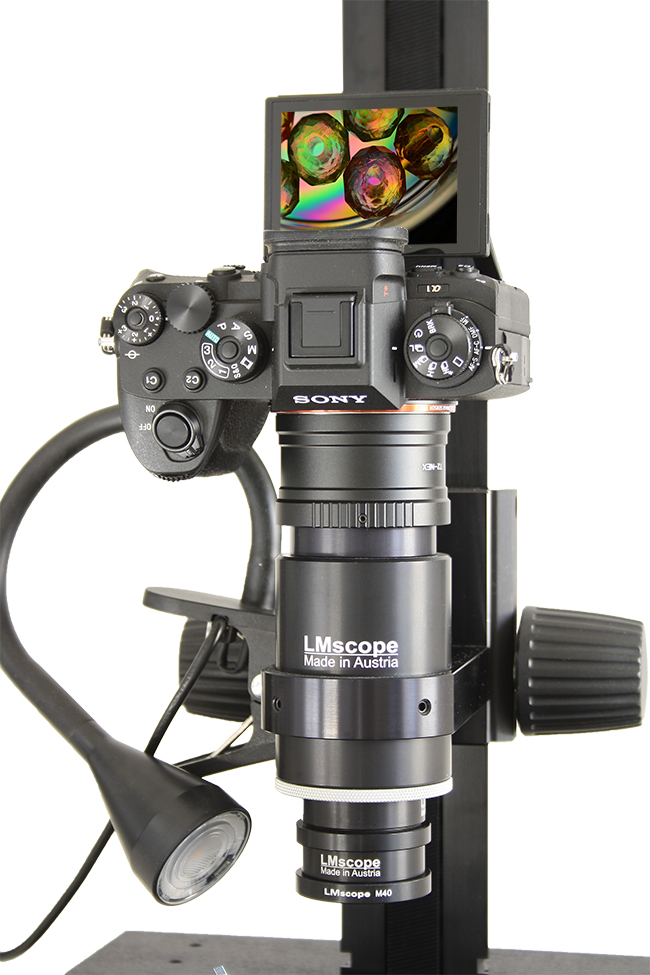 With our LM DSLR adapters, which are equipped with an integrated plan-achromatic optical system, the Sony Alpha 1 can be attached to virtually any microscope quickly and easily, thereby transforming it into a microscope camera within just a few seconds.
We have designed our adapter solutions for professional use. Their modular design facilitates maximum flexibility and the best possible image quality.
LM adapter highlights:
Equipped with precision optical system
Wide-field optics for a maximum field of view without peripheral darkening
Modular build for more flexibility: a single adapter can be used with multiple instruments
Focusable adapter solutions enable an optical alignment of the image observed through the eyepiece with that of the phototube
Integration option: additional optical filters can be integrated into the adapter

Extensive range of accessories

Production and distribution located in Austria
​With conventional microscopes, we recommend attaching the camera to the phototube (provided the microscope has one). Our high-quality wide-field adapter solutions have been specifically developed for a range of different microscope brands.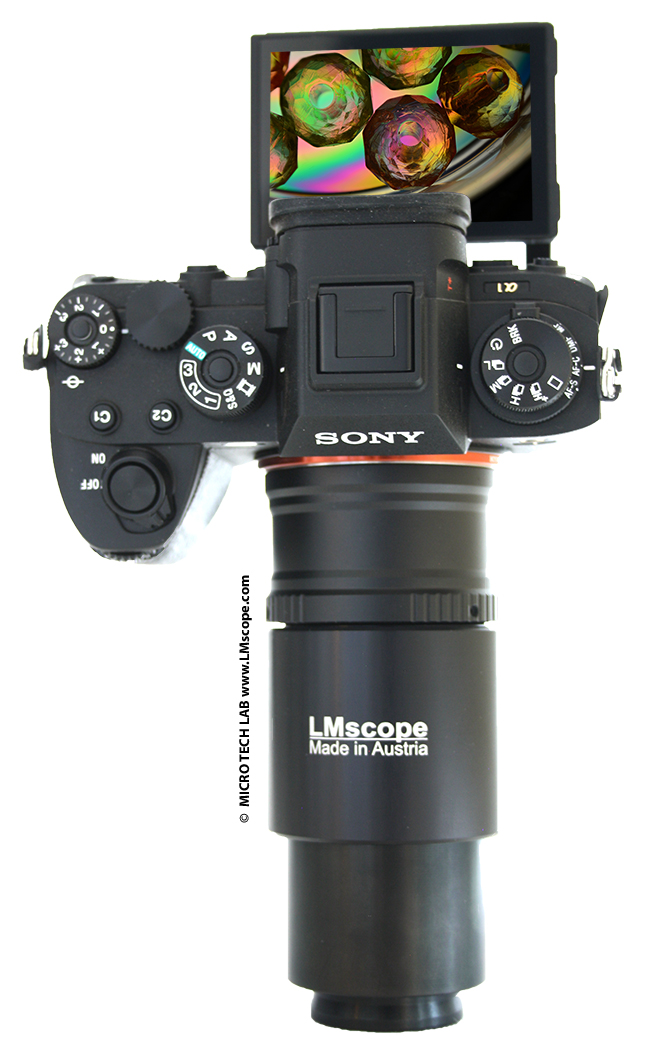 If the microscope doesn't have a phototube, connection via the eyepiece tube is also possible. Here, the mirrorless system camera takes the role of a high-end eyepiece camera. Our adapters have a durable, robust design, allowing them to withstand the rigors of assembly and operation. The image quality is as good as that achieved using the phototube solution.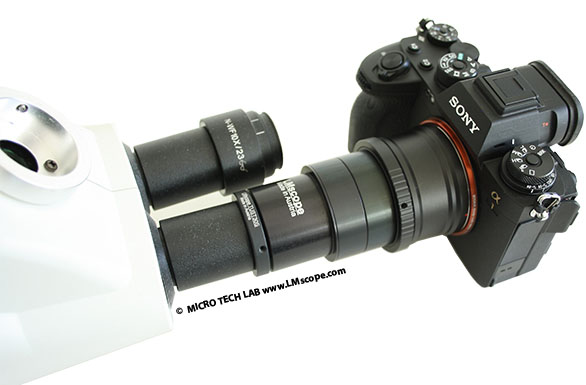 Because our adapter systems have a modular build, an eyepiece adapter solution can also be converted for use on the phototube of the microscope – all that's required is one extra accessory part (a C-mount extension).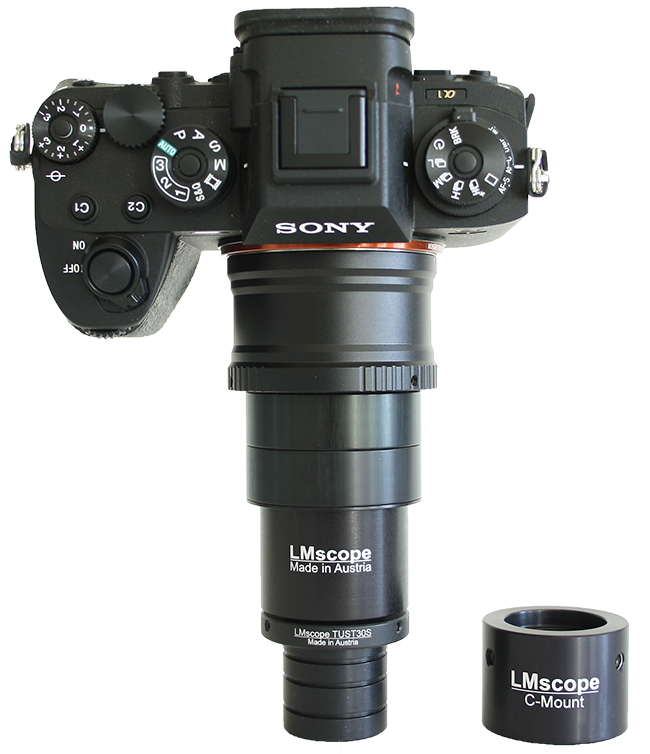 Our LM microscope adapters are screwed directly onto the camera body. To use the camera with a non-CPU lens, the Release w/o Lens setting must be enabled in the camera menu.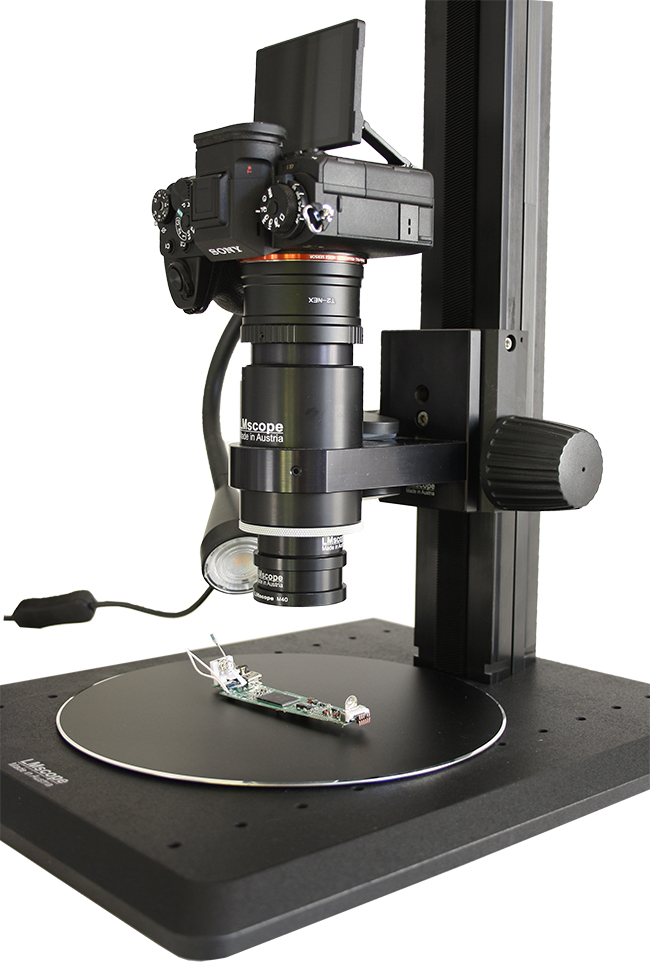 Both professional photographers and aspiring enthusiasts often use focus stacking to create stunning images. Focus stacking is a digital image processing technique designed to achieve a deep depth of field and high-resolution images by blending (or stacking) several images together: with a motorised focusing rail, the camera automatically takes a series of images, gradually changing the focus distance between them. These images are then merged into one composite image with sharp focus throughout.
It is not uncommon that over a hundred individual frames are used to create one perfect composite image. In our tests, we used the popular StackShot focusing rail combined with the Helicon focus stacking software.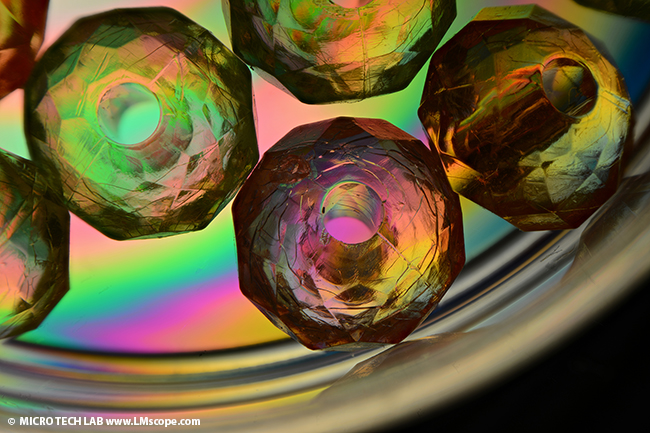 Sony's dedicated video recording camera models used to belong to the 7S series – this now changes with the Alpha 1, which offers, among other features, extremely strong video capabilities: the Alpha 1 is the first camera able to record externally in RAW while in 8K mode at up to 30 fps. In 4K mode, it allows recording at up to 120 frames per second (amounting to up to 4x slow motion). Full-HD (1920 x 1080) footage can be recorded at up to 240 fps, giving 10x slow motion playback. These features are particularly useful when capturing microscope images of microorganisms, cell cultures or insects. The camera can also output image data in RAW format over its HDMI port.
Digital single reflex and mirrorless system cameras that can shoot video for longer than 30 minutes are still far and few between, because they are subject to higher taxes. However, Sony has started to remove the recording limit of 29 minutes and 59 seconds in its newer models. An important prerequisite for longer shoots is, of course, that the camera doesn't overheat – an issue that affects many models in the lower-priced segments, such as the Alpha 7C. The Alpha 1, however, is capable of even more than 30 minutes of continuous 8K capture, because it features a passive cooling heat sink that draws heat away from the sensitive components (sensor and processor).
A major challenge in recording 8K video is that it requires a huge amount of data. Professional video cameras, such as those from RED, shoot uncompressed footage that is stored on a large hard drive – the data recorded by the Alpha 1, however, needs to be compressed (video codec XAVC HS 8K / 400 Mpbs/200 Mpbs).
200 MP pixel shift multi shooting mode: In this mode, the camera shoots multiple uncompressed RAW images while shifting the image sensor one pixel at a time. These images are then combined into one high-resolution image using Sony's Imaging Edge Desktop software. In most cases, the camera is connected to the computer via USB cable, and the live image can be viewed conveniently from the computer screen. Once the shutter is released, the camera captures four images in succession, which are then processed on the computer and merged into an ultra-high-definition 200 MP image. Interestingly, when we tested this mode on several brand-name microscopes (Zeiss, Nikon, Olympus, …) at the lower magnification range (> 30x), we did not get any significant increase in detail or resolution, so in our opinion, the 50 MP sensor resolution is more than adequate.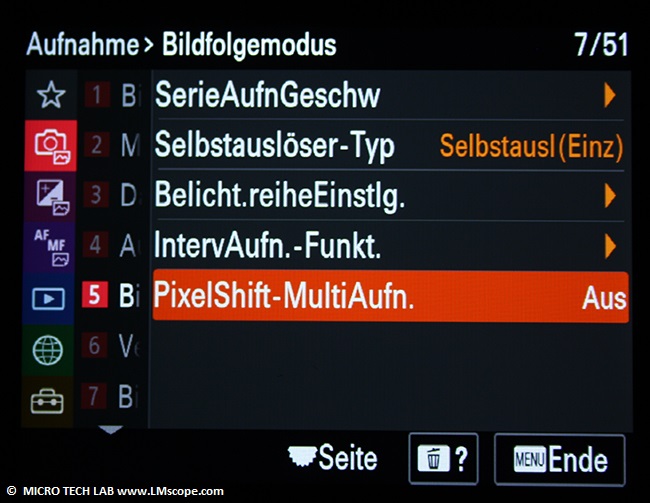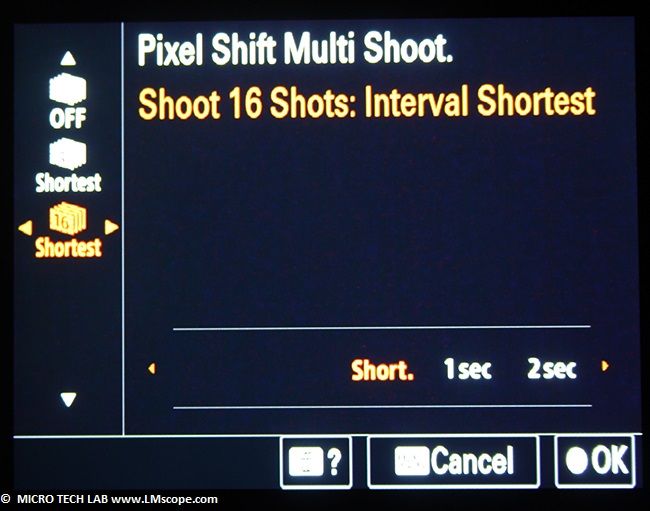 The Alpha 1 has a standard Sony E-mount system, which has been used in mirrorless system cameras for many years – both in cameras with smaller APS-C sensors and in full-frame cameras.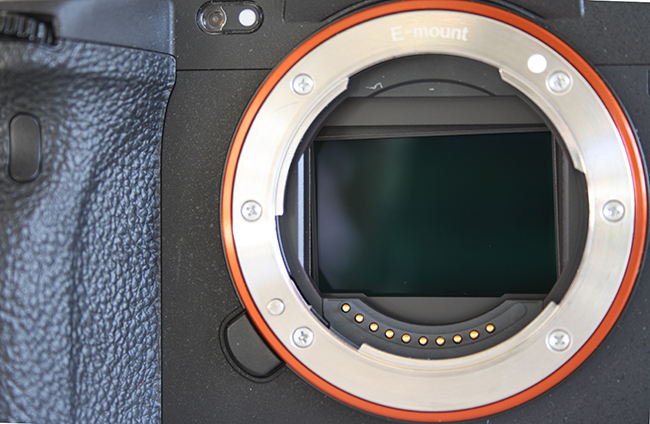 The TFT screen of the Alpha 1 with a size of 7.5 cm (3 inches) is touch-enabled and tilts upward and downward, but doesn't swivel. This notwithstanding, the screen is still sufficiently adjustable for attaching the camera to the microscope.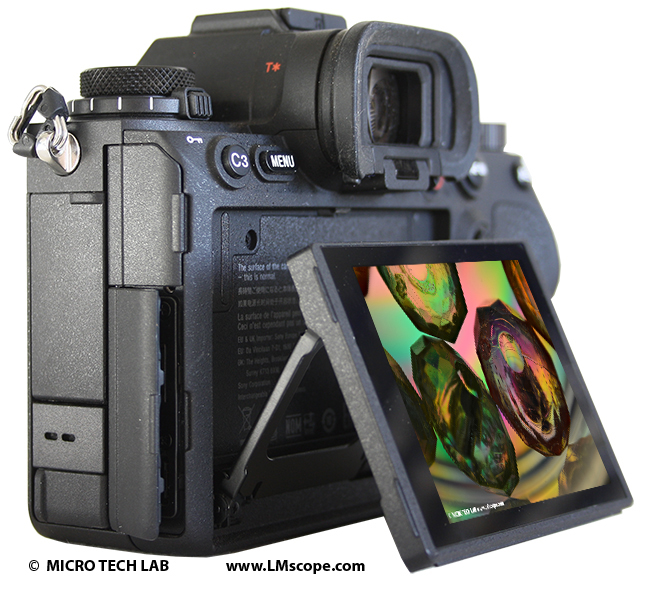 We generally recommend controlling the camera remotely from the PC/Mac or tablet/smartphone. The PC Remote function can be enabled in the camera menu: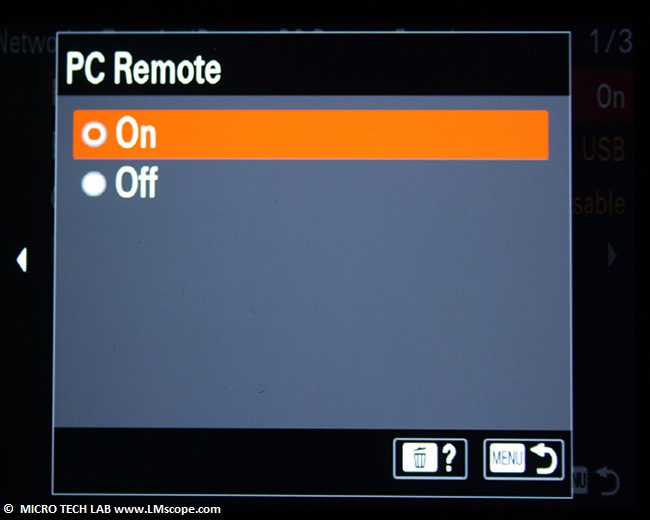 The Alpha 1 comes with an NP-FZ100 rechargeable lithium-ion battery with a capacity of 2,280 mAh at 7.2 V. As a general rule, we recommend supplying continuous power to the camera when it is attached to a microscope in a lab or studio, in order to prevent the camera from suddenly turning off. This power can either be provided via a USB cable with a wall plug or via a battery adapter (NPA-MQZ1K) connected to an external power source.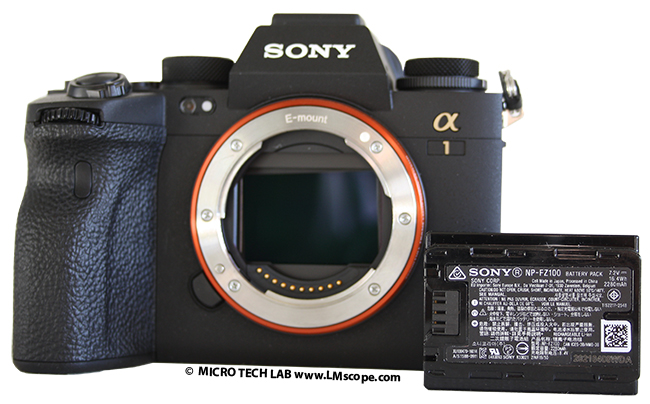 When using the external power supply or USB charging while operating the camera, it is advisable to disable the auto power save mode to ensure smooth, uninterrupted work.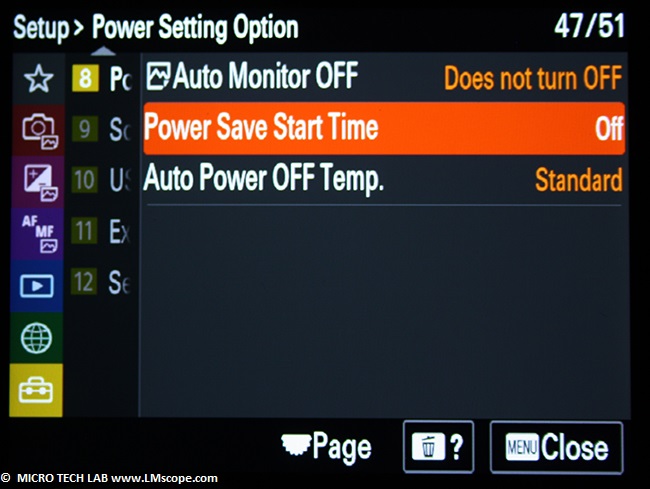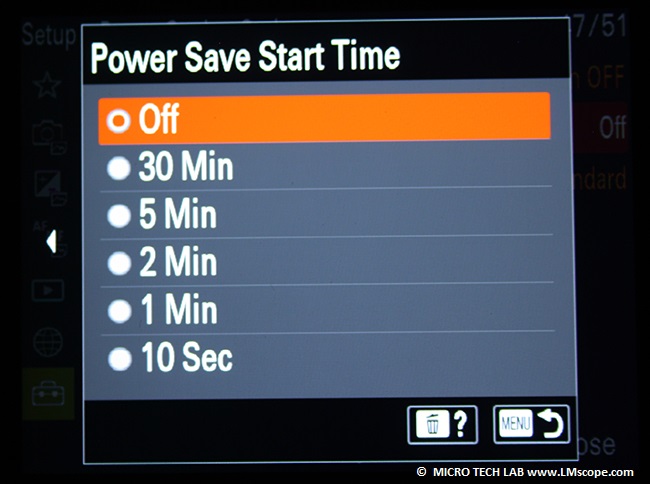 The Sony Alpha 1 offers plenty of connectivity options. A USB Type-C 3.2 Gen 1 port supports fast data transfer and allows the camera to be charged or powered while in operation. The USB connection functions can be selected in the menu: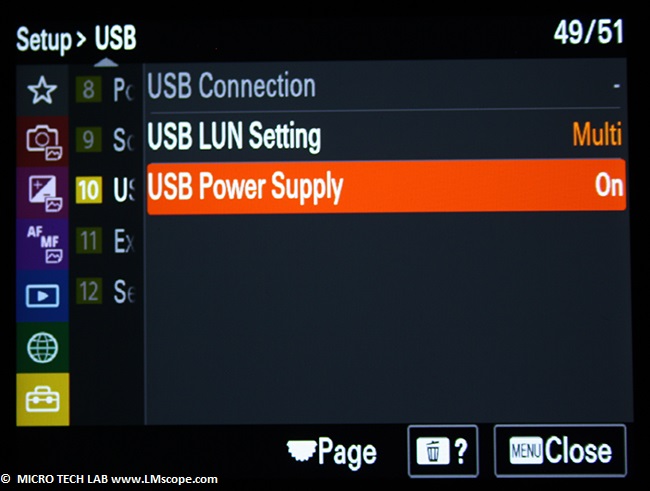 The Alpha 1 also has a micro USB port (which can be used to attach a tethered shutter release) and a full-size HDMI® A port to connect the camera to a large, high-resolution 4K monitor.
The desired output resolution can be selected in the menu: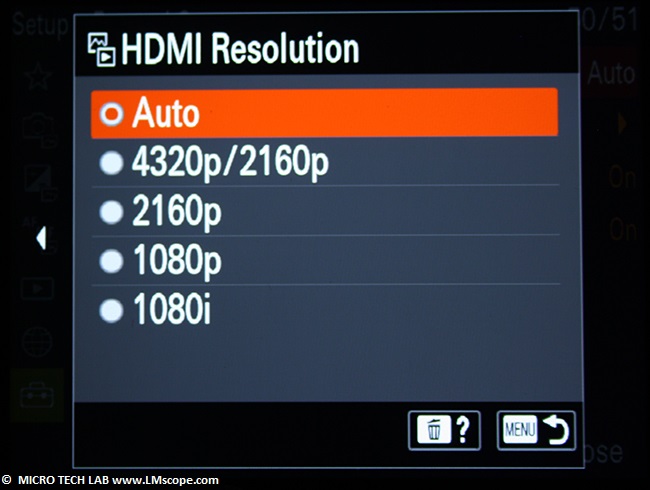 The Alpha 1 has a LAN port, which enables communication with the PC or an FTP server.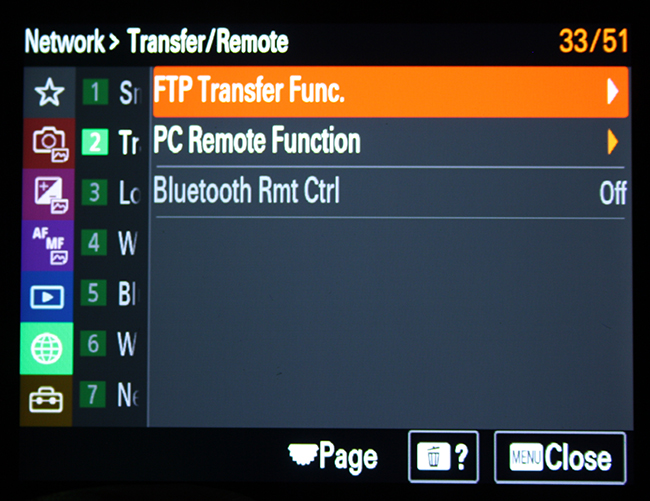 This port (1000BASE-T, RJ-45) is particularly useful for high-speed gigabit data communication when the camera is connected to a local area network, because this allows large image files to be transferred to an FTP server. The camera's upgraded network functionality is particularly important in the professional field, for example when several cameras need to be integrated into the network environment of a studio or lab. With the LAN port, multiple cameras can be connected and combined.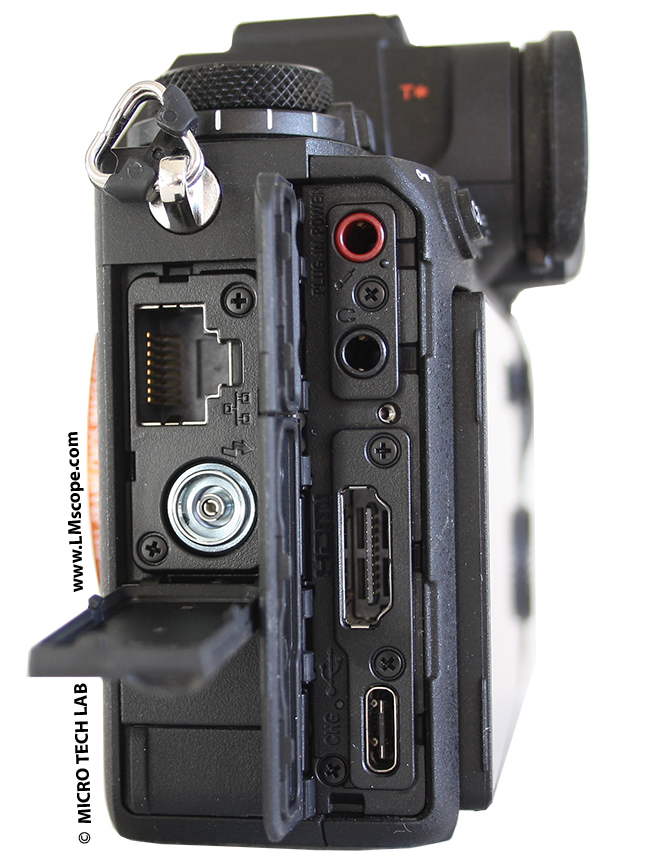 Wireless connectivity options include NFC, Bluetooth 5.0 and 5 GHz Wi-Fi® for high-speed data transfer. The ability to connect the camera and computer via 5 GHz Wi-Fi® provides the speed needed to transfer image data to the computer in high speed while shooting images remotely from a PC/Mac. This frequency range is new and therefore rarely used, which translates into higher data transfer speeds. However, to use the GHz band, the Wi-Fi communication module used must also be compatible with this frequency.
The camera has dual media slots that are both compatible with UHS-I and UHS-II SD cards.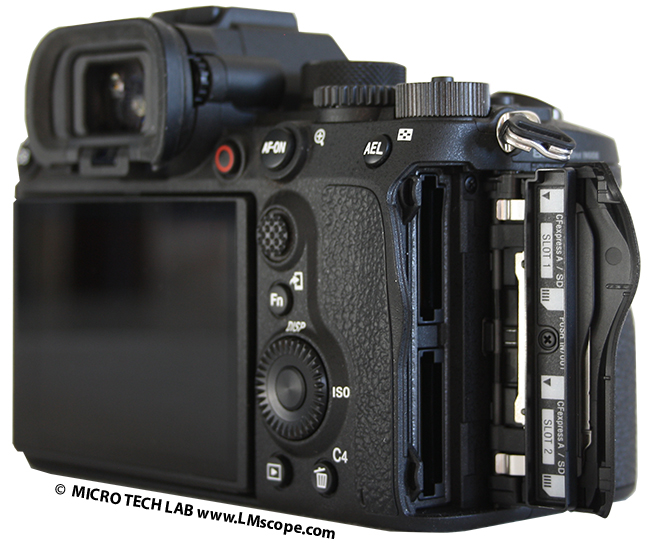 Demo photo: blossom in polarised light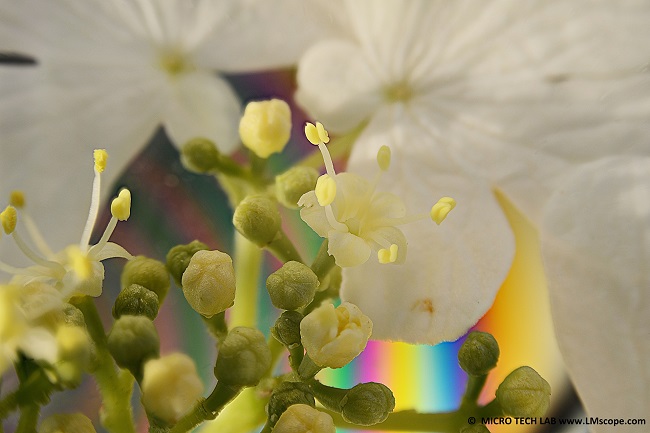 Sony's Imaging Edge desktop application includes the Remote, Viewer, and Edit functions of the Imaging Edge software suite and helps to enhance the quality and efficiency of photographic imaging. The software enables remote camera control, remote shooting and access to important settings. The captured images are stored directly on the computer's hard drive and can then be edited. The software also increases workflow efficiency and eliminates the camera shake you would get from adjusting your settings and pushing the shutter manually. Click here for a detailed test report on this software. Alternatively, the Alpha 1 can be controlled with the Capture One software for Sony (read more here). It is also compatible with the iMovie and Final Cut Pro X video editing programs.
CONCLUSION: As the most technologically advanced camera to date, the Sony Alpha 1 is a flagship in the truest sense and is several years ahead of almost every conventional microscope C-mount camera or industrial C-mount camera available on the market. The hefty price of around € 6,500 is justified by the camera's unrivalled features and performance, and we wholeheartedly endorse it for use with a microscope. If your camera budget is not quite big enough for the Sony Alpha 1, its cheaper sister models (the Alpha 7C full-frame camera or the Alpha 6600, which has a smaller 24 MP APS-C sensor) are also viable alternatives.
07.06.20222