565
Tested on the microscope: RIBCAGE RX0 – the modified premium ultra-compact digital camera Sony DSC-RX0
Generally, compact cameras with a fixed lens are poorly suited for use on a microscope, because the lens cannot be removed and is not compatible with the optical path of a microscope. This causes a significant loss in image quality, manifested by blurriness and significant peripheral darkening (vignetting).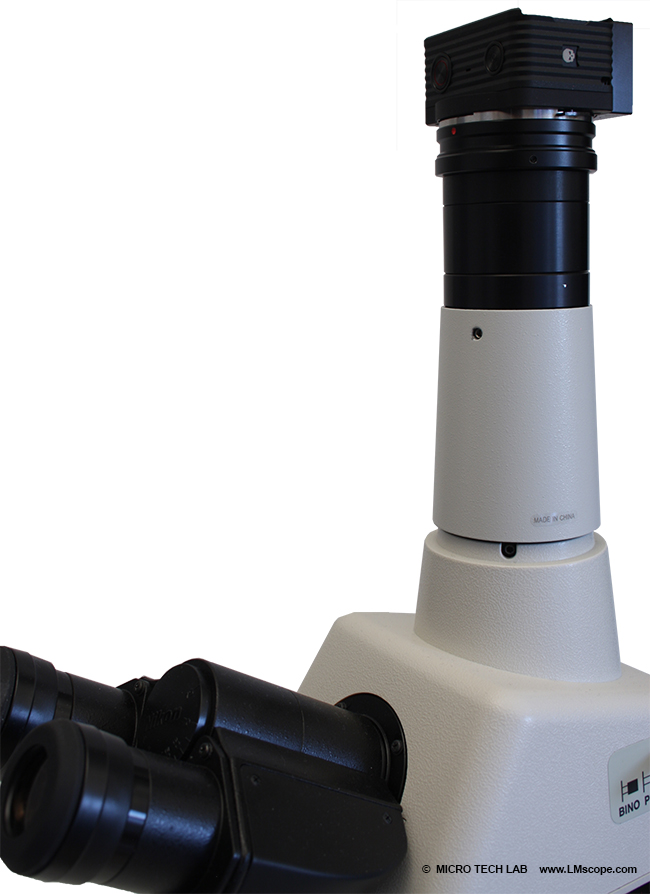 Back-Bone, a provider of specialist camera solutions, creates professional modifications for cameras. The camera – in our case a Sony DSC-RX0 – is placed into a premium machined aluminium housing and equipped with a Micro Four Thirds (MFT) or C-mount interchangeable lens mount. This modification makes the camera a strong contender for scientific microscope imaging applications. The custom aluminium housing improves cooling, which further boosts image quality.
Key specs and features:
Sony Exmor RS CMOS sensor with 15.3 megapixels (sensor size 13.2 mm x 8.8 mm)

​MFT & C-mount

Removable IR cut filter for infrared photography

4K video mode

Ultra-slow motion up to 1,000 fps

HDMI video out for uncompressed external recording or visualisation on a high-resolution 4K monitor

Integrated lithium battery or USB power supply

Wi-Fi camera control (Android / iOS)
In our camera test, we attached the RIBCAGE RX0 to a number of different microscopes using an LM microscope adapter and the camera's MFT mount. Here is our test report: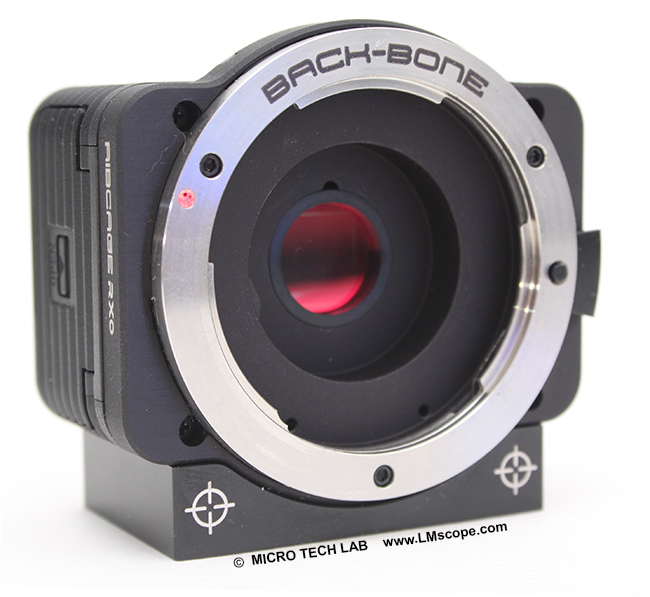 The MFT bayonet connection for attaching the camera to microscope adapters or different lenses can be seen very well in the image above. Only this mount configuration enables flexible use of the camera. Sony has equipped the DSC-RX0 with a small, but powerful sensor. The image quality is surprisingly good, but cannot keep up with that delivered by the mirrorless system cameras from Sony's Alpha series. These DSLRs and DSLMs use either APS-C or full-frame sensors, which are much larger. Because a larger sensor results in a bigger pixel size, these camera systems have a better dynamic range and higher light sensitivity. Especially in photo mode, the differences in performance become obvious – the RIBCAGE RX0 is clearly an action specialist with a very compact build.
The RX0 is one of the very few cameras where the IR cut filter can be removed, which makes it particularly interesting for custom imaging applications. Without this filter, infrared light (IR light with a wavelength ranging between 700 and 1000 nm) can reach the camera sensor. Normally, human eyes can view light with a wavelength ranging between 320 nm and 800 nm. By removing the IR cut filter, the camera can capture footage in the wavelength that is invisible to the human eye. This specific photography technique is called infrared photography. Because infrared is reflected and absorbed differently than visible light, different details become visible in the image. In this regard, the RX0 is different from many other camera systems, which usually have fixed IR cut filters: if you want to specialise in IR imaging (for measurement setups or similar applications), it could be an exciting, inexpensive alternative to expensive IR cameras. If used with a microscope, the RX0 creates additional flexibility to utilise the full spectral sensitivity of the image sensor.
For our test, we attached the camera to various microscopes using an LM microscope adapter. With the Micro Four Thirds interchangeable lens mount, the camera-adapter combination is firmly attached to the microscope. Our LMscope adapter solutions feature integrated plan achromatic precision optics, which enables the camera to capture the largest possible field of view with sharp focus all the way to the edges. The image below shows the adapter solution for a phototube with C-mount connection: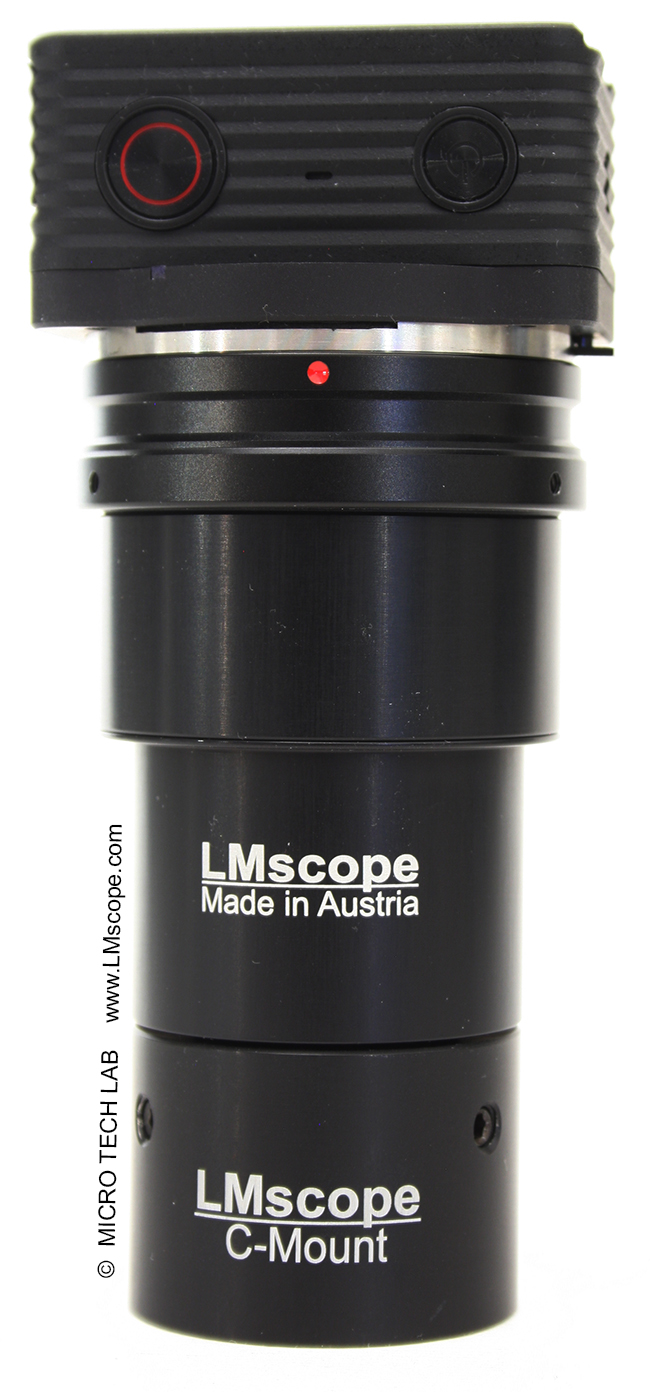 If the microscope doesn't have a phototube, we also offer an adapter solution that works on eyepiece tubes and is very easy to use. This solution also delivers excellent image quality. As a rule, eyepiece tubes have an inside diameter of 23.2 mm; in modern microscopes, is usually 30 mm. Thanks to its modular design, the LMscope adapter solution also offers the possibility to focus the image.
Image below: LM microscope adapter with 30 mm tube connection and attached camera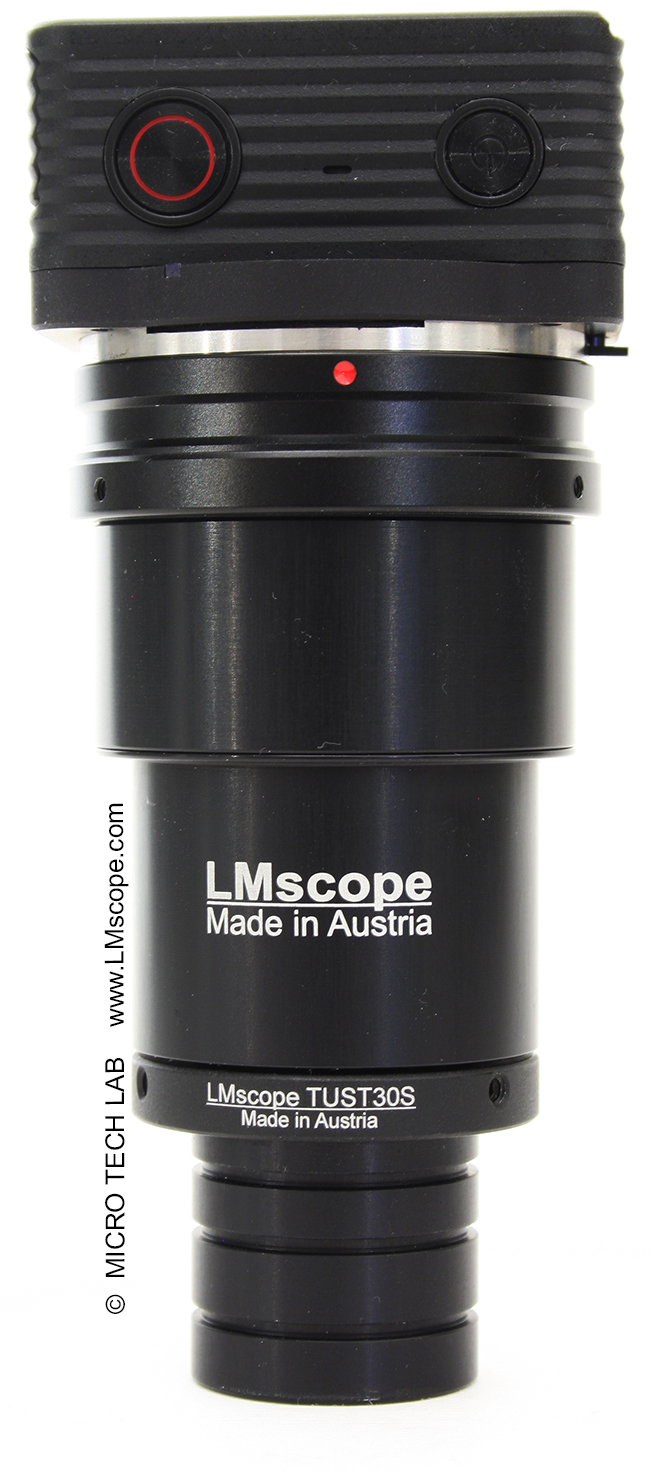 To attach the camera to the microscope, one eyepiece is removed and the camera, together with the adapter unit, is inserted into the tube where the eyepiece was. The image quality is as good as that achieved using the phototube solution. Another advantage of the eyepiece adapter solution is that it can be used with several microscopes. The small and compact Sony camera is ideally suited for this connection method.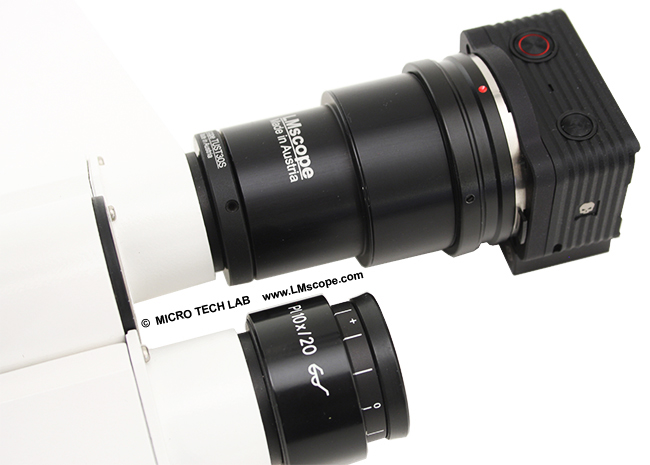 The camera's large, high-quality 1-inch Exmor RS CMOS sensor (1 inch / 13.2 mm x 8.8 mm) has an aspect ratio of 3:2 and delivers an effective 15.3 MP (unfortunately it only uses around 75% of the sensor surface area). It provides a good dynamic range over 10 aperture stops (manufacturer's specs). Light sensitivity runs from ISO 200 to 25,600, with noise increasing significantly at higher ISO settings. The sensor has been specially developed by Sony. The camera's high-speed video mode can record at super slow-motion rates up to 1,000 frames per second.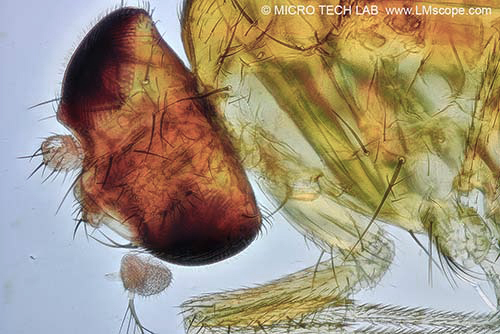 For still photos, the RX0 can shoot as fast as 16 fps, which is quite passable. The fully digital shutter enables shutter speeds as fast as 1/32,000 per second, meaning that even fast moving objects can be captured with relatively sharp focus. However, DSLR and DSLM cameras also have a mechanical shutter to control exposure time. In these camera types, the shutter exposes the whole sensor all at once and then completely blocks it after the exposure is finished. The image signals are read out after the shot has been taken, which means that no more exposure takes place. This makes it possible to shoot high-speed moving objects in sharp focus. The RX 10 also doesn't feature a moving image sensor for image stabilisation, as is usually found in Sony's Alpha range of cameras.
The screen is average quality, but very small (1.5'', which corresponds to 3.6 cm diagonal). Other cameras, by comparison, feature a larger screen with better contrast.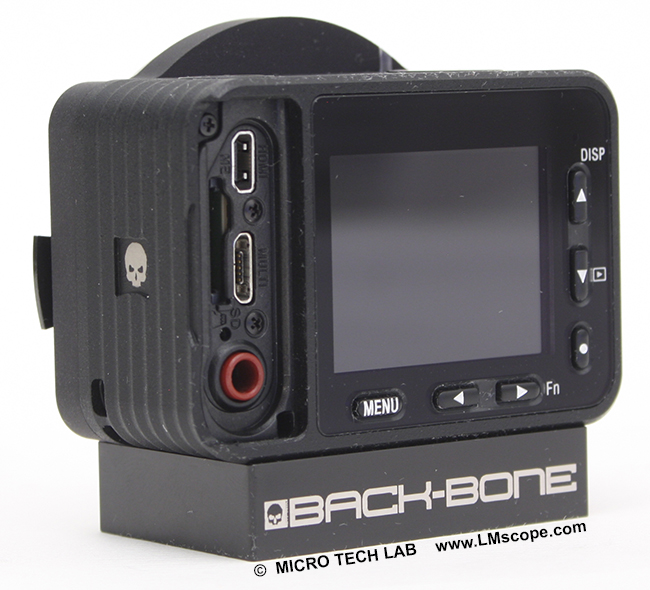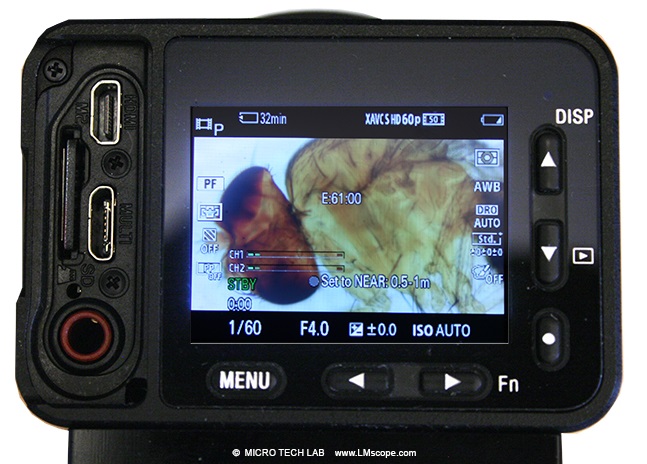 It isn't a touch screen, and grouped around the screen (right hand side and bottom) are the menu and navigation buttons that provide access to the camera options. The menu system is the same as that usually found on Sony cameras, but there are no special buttons to access specific settings directly. We therefore recommend connecting the camera to a tablet via Wi-Fi or USB. This also makes viewing and adjusting the camera settings much easier than on the tiny camera screen. Once connected to an external device, the camera can be controlled remotely with the free Imaging Edge Mobile app. Imaging Edge Mobile is the successor to PlayMemories Mobile – updating PlayMemories will activate the Imaging Edge Mobile app. Imaging Edge Mobile is a useful tool that can be used to transfer images (in jpg format) and videos (in MP4 format) to a tablet or smartphone, adjust camera settings and display the live image of the camera. It also enables remote shooting, which is a big benefit because operating the camera's shutter release remotely prevents camera shake.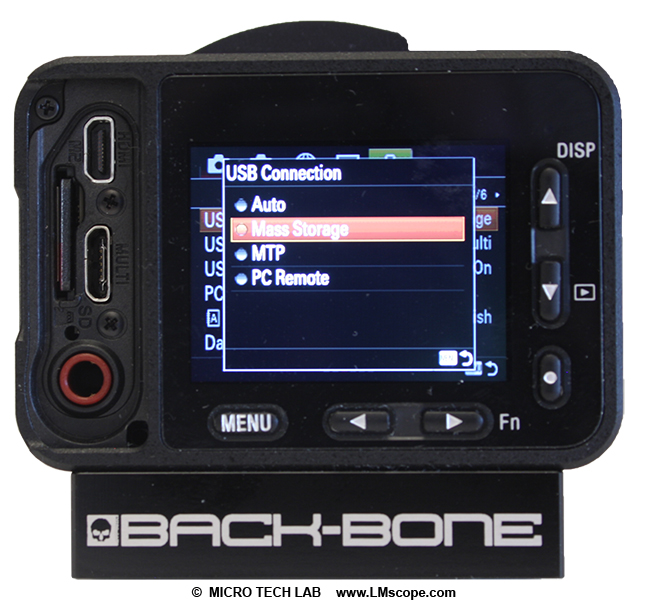 The camera menu contains options for different settings. For example, the power saving mode can be set to 30 minutes. This prevents the camera from shutting down at inappropriate times, for example in the middle of a presentation. However, the power saving mode cannot be disabled completely.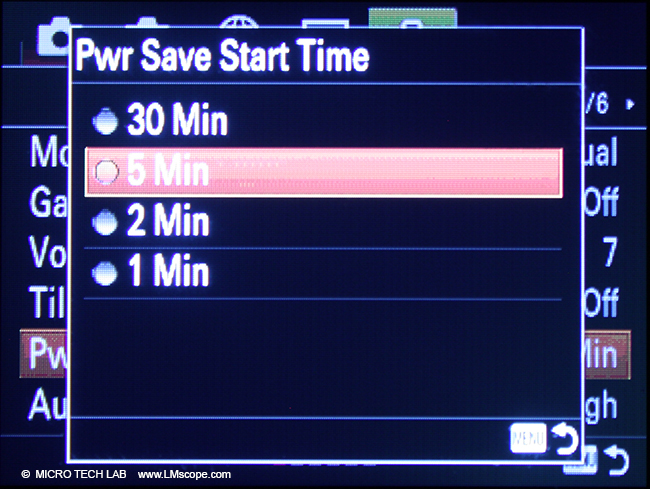 The video quality settings can also be adjusted in the menu, as is shown in the image below: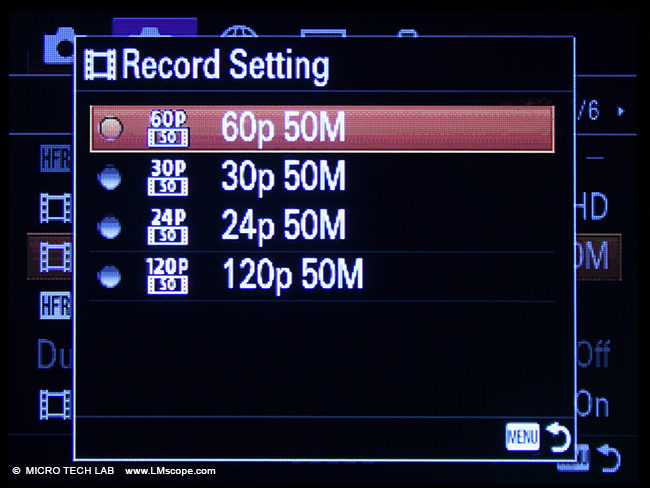 The ports are located on the rear of the camera, left of the screen. A small cover, which comes off completely when the ports are accessed, protects them from dirt and moisture. The camera has a micro USB port for connecting it to a PC/Mac and for charging, and a 4K8 Clean HDMI® output to send the 4K signal to an external monitor. Internally, the camera only stores video recordings in Full HD.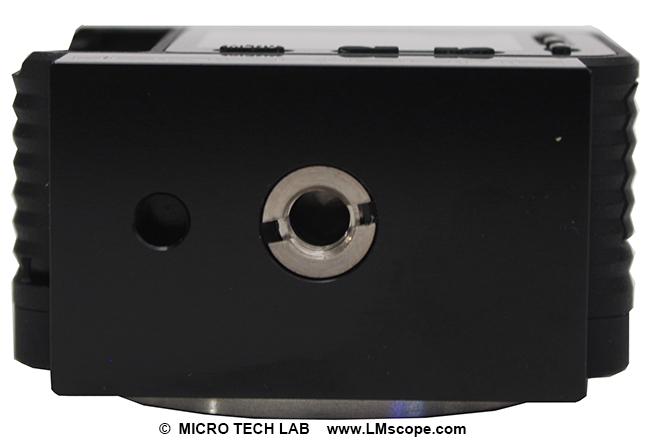 On the underside of the camera is a standard 1/4-20 & 3/8-16 thread for attaching it to a tripod or other mount. The battery compartment is located on the side of the camera.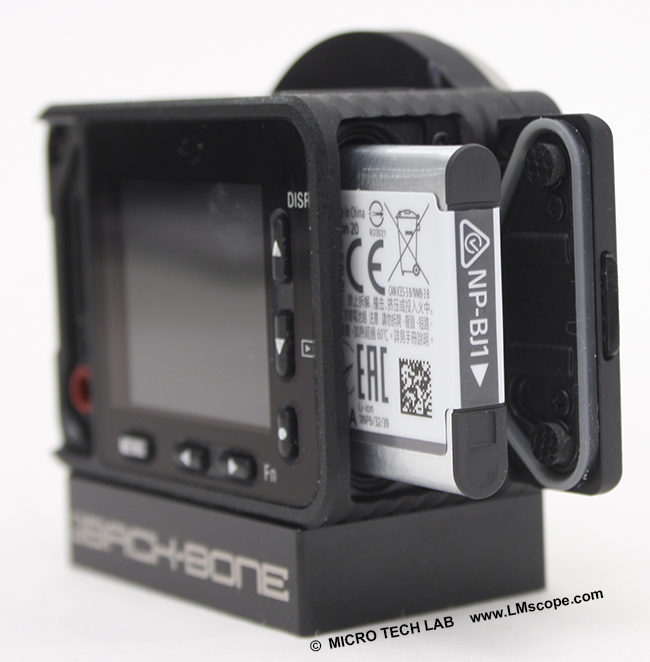 The aluminium housing is equipped with additional cooling fins, which improves cooling for extended shooting, because image quality is temperature dependent: the warmer your sensor, the more noise and dark current will accumulate.
Conclusion: The RX0 is a small, powerful 4K video camera for professional use. The main areas of application are infrared photography, superb slow motion footage and 4K video recording. With our LM adapter solutions, it can be attached to a variety of different microscopes in a few easy and uncomplicated steps. The RX0 is an excellent choice for video work, but as an all-rounder for stills and video, we'd rather recommend conventional SLR or system cameras, as these can be used more universally. For more information, please see our current camera recommendations and our camera ranking.
22.05.2020