605
The Sony Alpha 7C: a full-frame mirrorless system camera with excellent image quality for scientific microscope applications.
The "C" in the Sony Alpha 7C stands for "Compact" – the small, lightweight camera body currently has a price tag of around EUR 2,000 and is positioned as an entry-level camera in the full-frame segment of Sony's product range.
To find out whether it measures up to its much more expensive sister cameras when it comes to microscopy applications, we tested the Alpha 7C with our LM adapter solutions and our LM macroscope.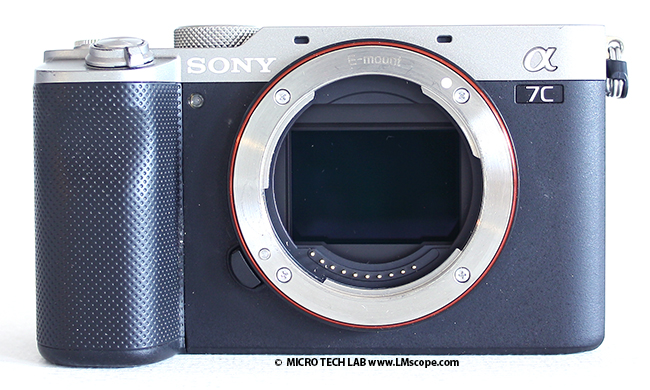 Key specifications of the Alpha 7C:
24.2 MP Exmor R CMOS full-frame image sensor

Electronic sensor shift image stabilisation system

Continuous shooting at up to 10 fps
Electronic shutter speeds of up to 1/8000 second
USB-C 3.2 connector for stationary power supply or battery charging
4K video with 6K oversampling
Wi-Fi at 2.4 and 5 GHz for high-speed data transfer
Remote Camera Tool, Imaging Edge Mobile app, Imaging Edge Remote, Viewer and Edit for desktop

Capture One for Sony

Webcam feature (USB video class), USB-C live streaming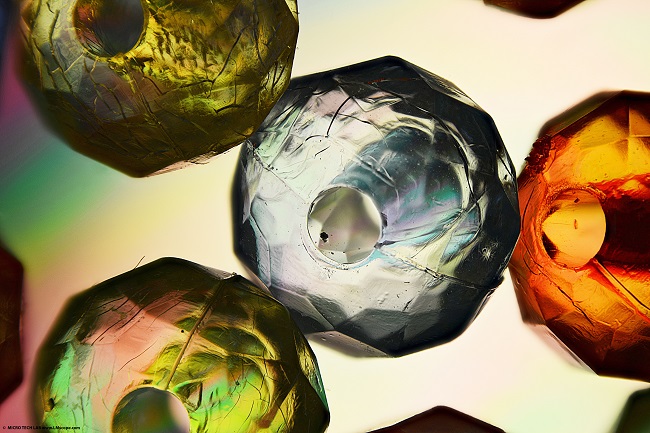 Demo photo: Plastic beads under the LM macroscope using polarisation imaging, photographed with the Sony Alpha 7C
Our tests always start out with a description of the outside appearance and build quality. The Alpha 7C, which weighs a mere 509 grams, is housed in a magnesium alloy body with plastic panels. It is very similar to the Sony Alpha 6600, which, however, has a smaller APS-C sensor. Overall, the build quality of the Alpha 7C is not quite as substantial as that of the more expensive full-frame cameras in the Alpha series.

Size comparison: The image above shows the Sony Alpha 7C in the centre between the pro models Alpha 7R IV and Alpha 9.
The Sony Alpha 7C has a back-illuminated, full-frame CMOS sensor with 24 megapixels. Its large pixel size provides an excellent dynamic range which is at the top end of current leading-edge cameras.
The Alpha 7C's optical 5-axis image stabilisation unit compensates for camera shake and motion blur. Particularly for routine laboratory tasks, when working under time pressure, this is an enormous benefit, as even the smallest vibrations have a detrimental effect on image quality. We generally recommend avoiding any movement or vibration during the image capture process. The most effective method to do this is to control the camera remotely from the computer. This not only makes for better image quality, but also improves workflow efficiency.
The sensor on the Alpha 7C is light sensitive and delivers low-noise results: ISO can be extended manually to up to 204,800; in automatic mode, the ISO range runs from ISO 100 to 51,200.
This makes the camera a good fit for low-light microscopy applications and fluorescence microscopy. However, if you're looking for a low-light or video powerhouse, we recommend Sony's Alpha 7S III. This model has an image sensor with only 12 megapixels, which results in a larger single pixel area, meaning that more photons can be read and processed during the same period of time – which is a huge advantage in this area of application. According to Sony, the Alpha 7S III also has a staggering extended ISO of 409,000 max.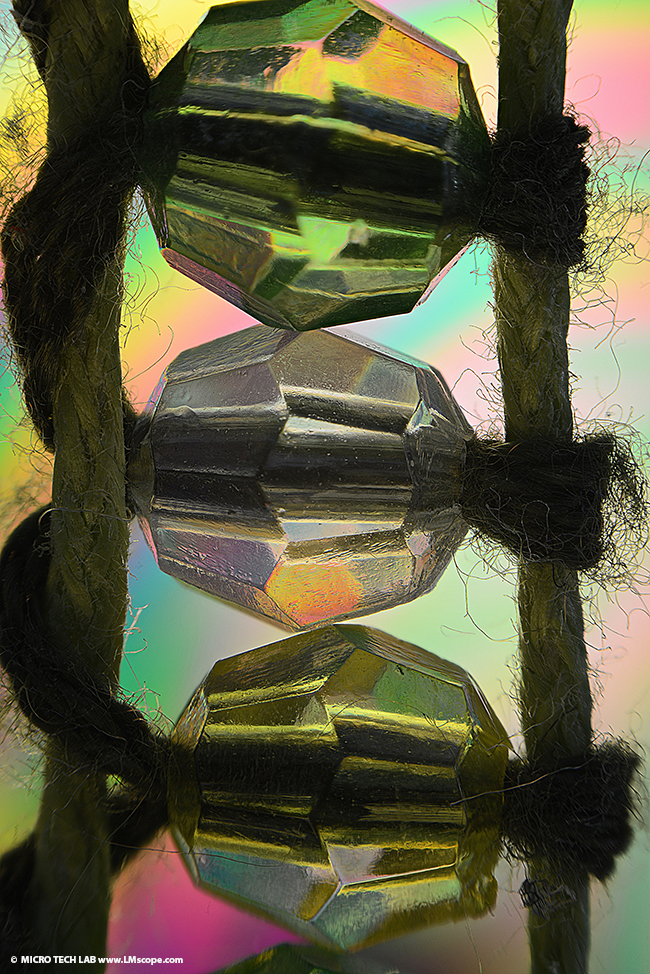 With our LM adapter solutions, attaching the camera to a microscope or macroscope is a quick and simple procedure. The adapter is connected to the standard Sony E-mount. Thanks to their modular design, our products can be used on a wide range of different microscopes – both on the eyepiece tube and on the phototube.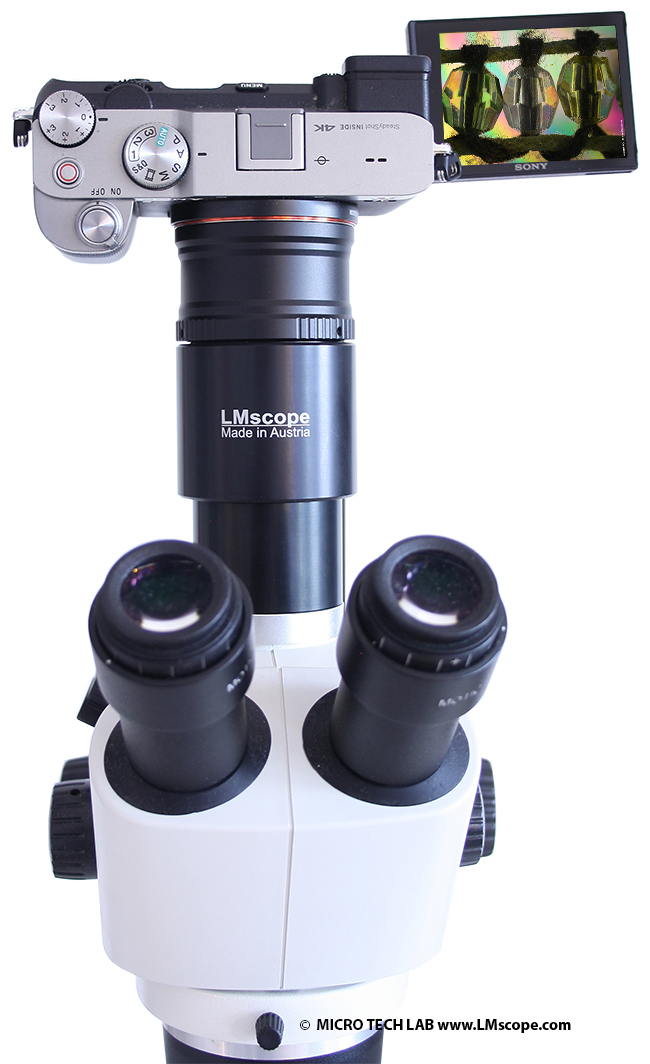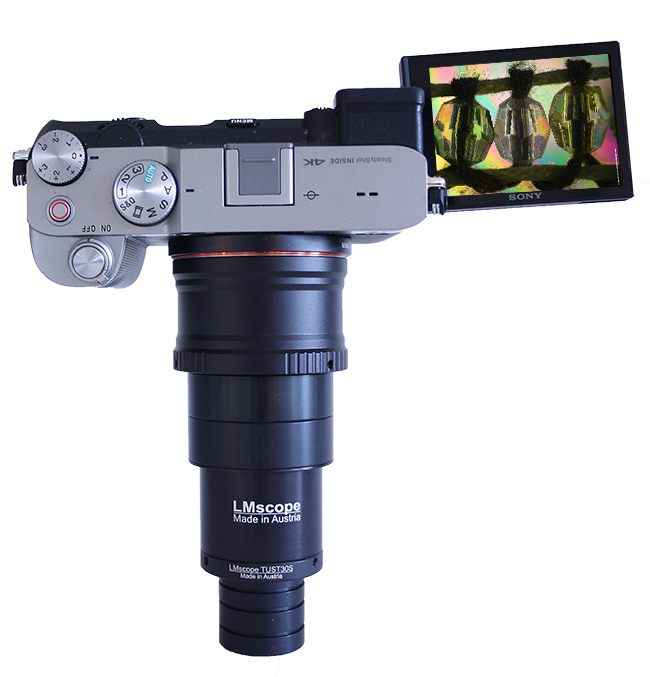 The adapter shown here is used to connect the camera to the eyepiece tube of the microscope. Our products are equipped with a plan achromatic optical system which facilitates the best possible image quality and the largest possible field of view.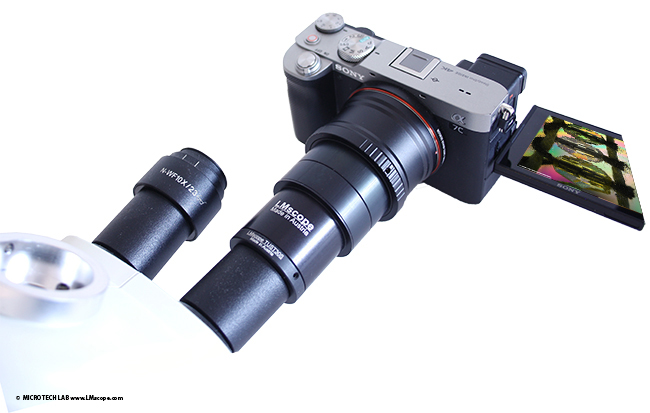 Sony Alpha 7C: Connecting the camera to the eyepiece tube: The low weight and the compact design of the camera are especially advantageous for use on the eyepiece tube, as this facilitates working with smaller, lighter microscopes without putting too much weight on the eyepiece tube.
For high-quality macro images, we can offer our LM macroscope/photomicroscope whose modular design opens up a wide range of magnification combinations for the photographer. To get even more image quality and depth of field, we recommend focus stacking: multiple images are taken at different focus distances and then merged, using a software program, to create one perfect composite image. Unfortunately, at the time of this review, the popular Helicon Remote tethering software (compatibility list) does not support the Alpha 7C.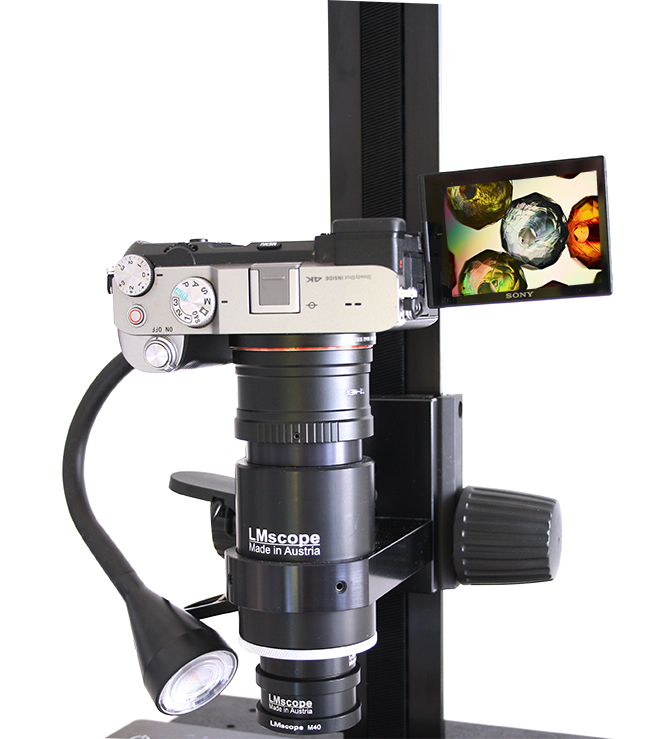 Using the camera screen is very useful when working on the microscope. The Alpha 7C has a 3 inch LCD TFT screen with 921,600 pixels. It is fully articulating and thus provides much more flexibility than the screens of the Alpha 7C's sister models, which usually "only" tilt.
The screen does have touch capabilities, but the touchscreen cannot be used to navigate the menu – instead, you need to use the camera buttons which, due to the compact design, are rather small.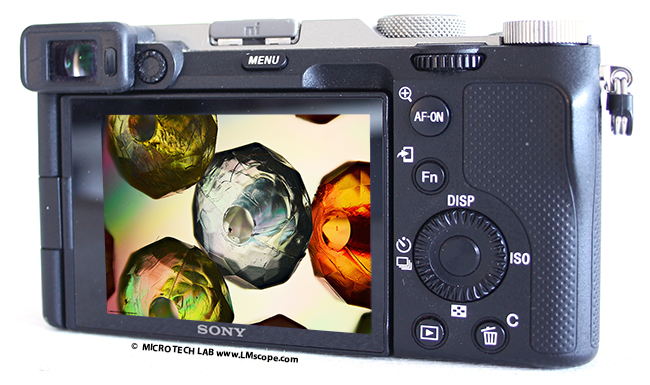 For this reason, we recommend controlling the camera remotely vie PC/Mac or app. Sony offers several remote camera control options:
Imaging Edge Mobile app for tablet and mobile phone

Capture One for Sony

Imaging Edge Remote, Viewer and Edit for desktop
The image below shows the settings and live view window of the Imaging Edge Remote desktop application. Click here for a detailed description of this software.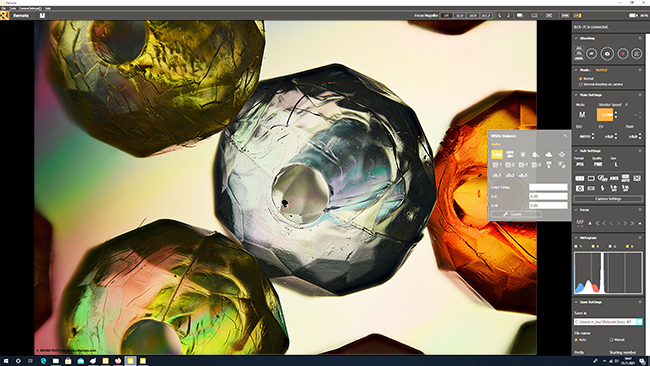 The connection for remote capture (tethered shooting) can either be wired (using a USB cable) or wireless via Wi-Fi/WLAN (2.4 and 5 GHz). The integrated magnification function is a very useful feature, because you can zoom in on the live image to pinpoint focus on a single element of the subject. The shutter can be released by mouse click, which minimises the risk of motion blur caused by pushing the on-camera shutter release. The images can be stored directly on the computer's hard drive.
The Alpha 7C has a USB-C 3.2 port, which can be used for camera control and to recharge the battery while the camera is turned off or for power delivery while it is powered on, which enables continuous operation for several hours, for example when the camera is used for presentations or longer shooting sessions. A positive detail we noticed is that, despite its diminutive size, the Alpha 7C is equipped with a large 100-series lithium-ion battery.
A micro HDMI port, which can also be used to connect the camera to a 4K monitor, and a single SD card slot, which even supports the faster UHS-II compliant memory cards, are located on the left side of the camera. The Alpha 7C also supports Bluetooth.
Another important aspect, especially in microscopy, is the ability to precisely control the exposure time. The Alpha 7C's mechanical focal-plane shutter allows optimal control of the exposure time, making it possible to capture objects at shutter speeds between 1/4000 and 30 seconds. With the noiseless electronic shutter, it is capable of achieving even faster shutter speeds of up to 1/8000s. According to Sony, the Alpha 7C features continuous shooting at 9-10 frames per second, which is very decent considering the camera's relatively moderate price tag of around EUR 2,000.
Video sequences can be recorded in 4K at 30 fps and in Full HD at 60 fps with 6K oversampling – meaning that the camera uses the full sensor width to collect 6K of data, which is then scaled down to 4K. Utilising that extra data improves the quality of the footage. High-speed recording is supported at up to 120 frames per second – sufficient for high-quality slow-motion shots, as well as time-lapse and high-speed recording. The dynamic range in video mode easily matches that of the Alpha 7III.
Due to tariff regulations, importing cameras able to shoot video for longer than 30 minutes used to be very expensive. For this reason, the maximum clip length was often limited to 29 minutes and 59 seconds. The Alpha 7C does not have this recording limitation – as long as it has enough battery life and memory card capacity and it doesn't heat up too much, it can record a video clip of even up to 80 minutes.
So what makes the Alpha 7C different from its much higher priced sister models? Below, we take a brief look at the key differences:
The Sony A7C is a compact, affordable all-rounder that is suitable for both photography and video recording. With a 24 megapixel image sensor, the size of a single pixel is large enough to capture a sufficient amount of light even in low-light environments. Sony's low-light aces, such as the 7S III, have a much lower pixel count, but exceptional light sensitivity and a higher ISO range. In terms of video recording, Sony's Alpha 1 pro camera offers the highest 8K video resolution and a continuous shooting rate of up to 30 fps at full resolution. At 1/32000 to 30 seconds with the digital shutter, the A1 also offers a much better shutter speed range. If the focus is primarily on macro photography or observation at low magnification levels with stereo microscopes (up to 30x), cameras with a higher sensor resolution of 50 MP and above are a better choice. Here, Sony offers a number of specialised cameras, such as the A7RIII, the A7R IV or the A1. For routine tasks in a laboratory or studio setting, a wired network connection (LAN) is very important. Sony's A1 or A9II, for example, have a LAN terminal on the camera body.
Another difference between the Alpha 7C and the much more expensive professional cameras (A1, A7R4, A7R3) is that the A7C doesn't have pixel shift multi shooting. In this mode, the camera shoots multiple uncompressed RAW images while shifting the image sensor one pixel at a time. These images are then combined into one high-resolution image using Sony's Imaging Edge Desktop software. The camera is controlled remotely from the computer, and the individual shots are immediately transferred to the PC or Mac. This feature is particularly interesting for laboratory and studio work. We tried it out on the A1 with various macro lenses and on our microscopes, but, unfortunately, were not able to get a noticeable increase in resolution.
Conclusion: We really liked how the Sony Alpha 7C performed in our tests. It is compact and has a high-quality full-frame sensor, which provides excellent images at an affordable price. It offers a range of technical features and can be used as an all-rounder for photography and 4K video work with high-quality microscopes. With our LM microscope adapters, the Sony Alpha 7C can be attached to almost any microscope.
06.04.2022
New LM Digital Adapter for:
Sony Alpha 7R V / Sony Alpha 1 / Sony FX3 Cinema Line / Sony Alpha 9 II (ILCE-9M2) / Sony Alpha 9 / Sony Alpha 7R IV / Sony Alpha 7S II / Sony Alpha 7S III / Sony Alpha 7R III / Sony Alpha 7R II / Sony Alpha 7C / Sony Alpha 7S / Sony Alpha 7III / Sony Alpha 6700 / Sony Alpha 6600 / Sony Alpha 6400 / Sony Alpha 6100 / Sony ZV-E10 / Sony Alpha 6300 / Sony Alpha 6500 / Sony Alpha 99 II (SLT-A99 II) / Sony Alpha 77 II / Sony Alpha 7R / Sony Alpha 7 / Sony Alpha 68 / Sony Alpha 99 (SLT-A99) / Sony Alpha 7II / Sony Alpha 6000 / Sony Alpha 77V / Sony Alpha 580 / Sony Alpha 5100 / Sony Alpha 5000 / Sony Alpha 55 / Sony Alpha 33 / Sony Alpha 35 / Sony NEX-7 / Sony NEX-6 / Sony Alpha 57 / Sony Alpha 37 / Sony NEX-5N / Sony NEX-C3 /