466
Sony Alpha 9 – a camera that has everything you need!
A professional full-frame camera like the Sony Alpha 9 should really offer something to meet our needs – so we were very excited about the initial information!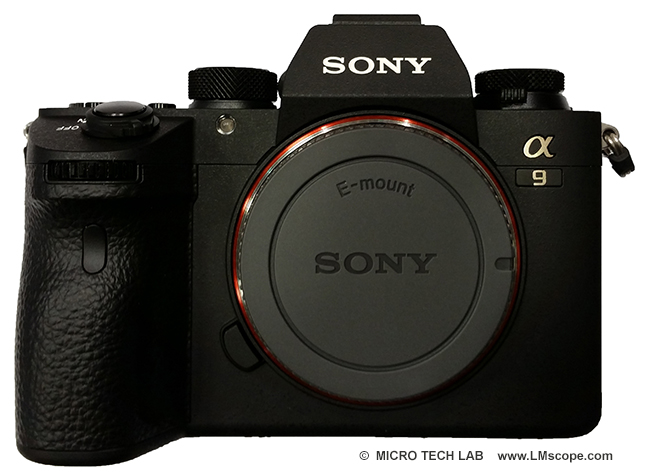 The Sony Alpha 9 is currently the fastest mirrorless full-frame camera on the market (status: August 2017). The 24 megapixel CMOS sensor, which is based on a stacked structure, enables an unbelievable continuous shooting rate of 20 frames per second at full resolution. The camera also features in-body 5-axis image stabilisation.
The small, compact Alpha 9 is built with a magnesium alloy body and weighs just 670 grams, which makes it ideal for partnering with a microscope. Attaching the Alpha 9 to a microscope is a quick and easy procedure with our LM DSLR adapters, which are equipped with a plan-achromatic precision optical system. Almost all microscopes can be connected to the Alpha 9 in this way – both via the photo tube and via an eyepiece tube! Without a doubt, the most comfortable way of working is to attach the camera to the photo tube (see image).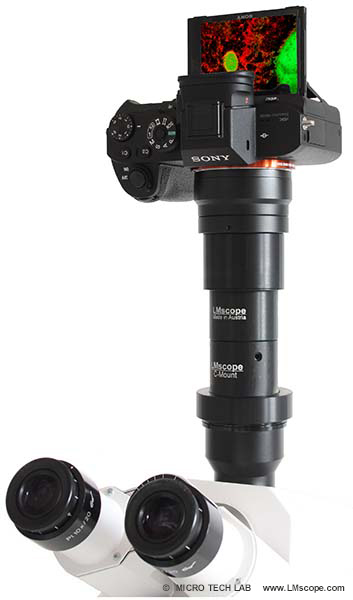 The Sony Alpha 9 has a tilting 3.0" TFT LCD monitor with touchscreen interface. Several of the operating buttons are customisable.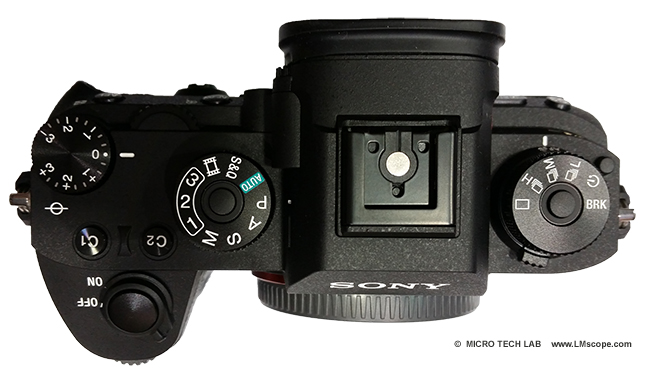 The sensor has a light sensitivity of ISO 51,200, thus placing it in the mid-range. In comparison to this, other Sony cameras are a lot more light-sensitive (such as the Sony Alpha 7R II with up to ISO 102,400 or the Sony Alpha 7S II with up to ISO 409,600).
The Alpha 9 can record video in Ultra HD 4K resolution (3,840 x 2,160), which means four times more pixels than regular Full HD. At this high resolution, even more microscopic details can be captured on video, at a rate of 30 frames per second. In Full HD resolution, the frame rate is 120 fps – an enormous advantage when documenting very fast processes under the microscope. High-quality slow motion video can also be recorded in Full HD.
The camera's connectivity options are also very good: USB, Bluetooth, WiFi and LAN connections are available:
USB: Control/tethering via USB3 is very simple thanks to the new Capture One software. Particularly in professional environments, the use of Live View images on the PC/Mac is very important. With Capture Pro, it is possible to both focus and optimise the image, and also to trigger the camera shutter. This enhances the workflow, plus the quality of the images is better, since vibrations due to manual shutter release can be avoided. Images are saved directly to the hard drive, which means that large data volumes are no longer a problem. The USB3 connection performs better than the wireless connection. Conveniently, the USB port can also be used to power the camera, meaning that it is no longer necessary to have an external power supply.
Wireless connection (WiFi): It is possible to control the camera in Live View mode via this connection using what is certainly a very convenient app for a tablet or smartphone.
LAN: While a LAN connection may be something of a rarity, it is definitely very useful in the professional field, as images can be stored directly on an FTP server.
Conclusion:
With its speed, the Sony Alpha 9 is very well suited for use on a microscope – especially when dealing with fast processes. The camera is priced at around € 5,000 and up.