529
The Sony Alpha 7 III – a great full-frame camera for photomicrography when used with one of our high-end LM microscope adapters
Sony's Alpha series comprises a wide variety of top-rated cameras, including the "silent" Alpha 7 III, which has taken over many features of the Alpha 7R III.
The Alpha 7 III has a standard Sony E-mount lens mount and can thus be attached to a microscope or macroscope in just a few easy steps with one of our LM adapter solutions. Thanks to the flexible, modular design of our products, we can offer solutions that fit most microscope connections and make microscope work easier and more convenient.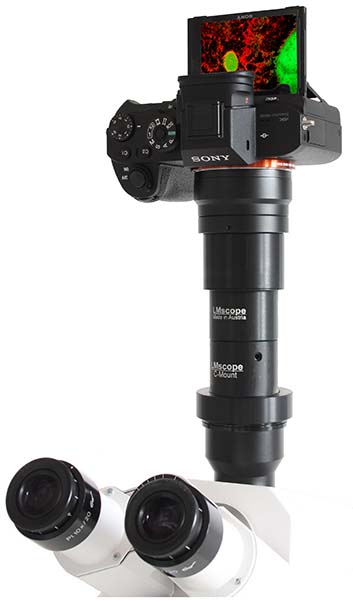 Sony's Alpha 7 III is a small, handy mirrorless camera that packs lots of power in a small package. It is equipped with a backside-illuminated 24 MP CMOS image sensor which can capture full-resolution images with exceptional detail and depth. Its sensor shift image stabilisation system provides compensation for movement and minimises the effects of camera shake. This is a real plus for microscope photography, because at high microscope magnifications, even the most subtle vibrations can have a disastrous effect on image quality.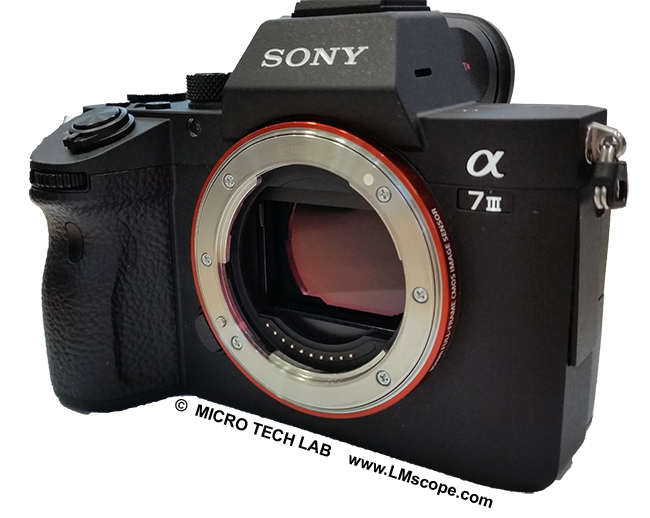 The key features of the Sony Alpha 7 III at a glance:
24 MP CMOS full-frame sensor with sensor shift image stabilisation

Continuous shooting at up to 10 fps

ISO sensitivity: ISO 100 to 51,200 (expandable to 204,800)

4K UHD video recording

Full HD video with up to 120 fps for slow motion recording

USB-C port for data transfer and power input

Live View tethering with Live View feed

Digital shutter speed control
The most apparent trait of system cameras like the Alpha 7 III is that they don't have a mirror or prism for diverting the light from the lens into a viewfinder. This has the advantage that the camera body can be kept very small. Therefore, mirrorless cameras are an excellent choice for mobile use. With a weight of about 650 grams, the Alpha 7 III is quite a bit heavier than Alpha 7R, for example, but still a lightweight compared to DSLRs.
The sensor offers a wide sensitivity range of ISO 50 to 204,800, along with a dynamic range of up to 15 stops, which enables premier detail and quality for a wide variety of applications. This dynamic range is comparable with that of the Sony 7R II.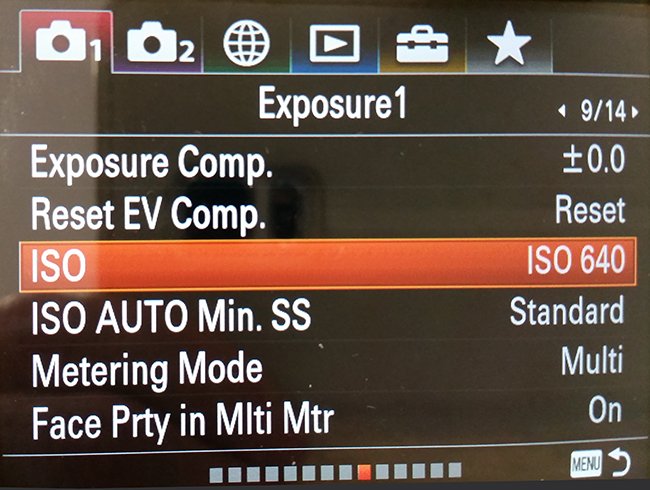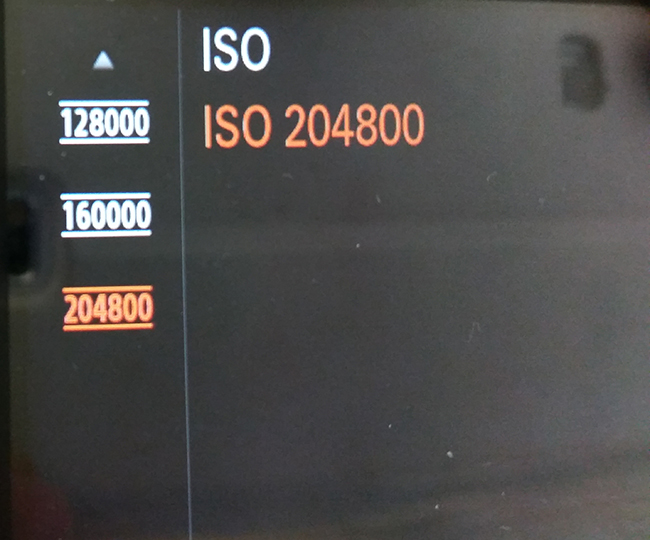 The camera's high ISO sensitivity offers many benefits for microscopy applications, because in many microscopic imaging methods (e.g. fluorescence applications, marked antibodies or self-illuminating specimen slides), only a small amount of light reaches the camera sensor. Longer exposure times (1/8000 to 30 seconds; Bulb setting) also compensate for the lack of available light.
The 3-inch (7.5 cm) LCD monitor has an impressive 921,600-dot resolution screen and can be tilted up and down.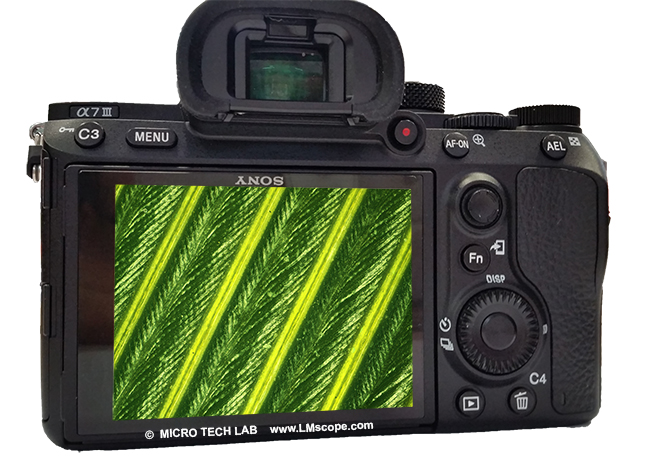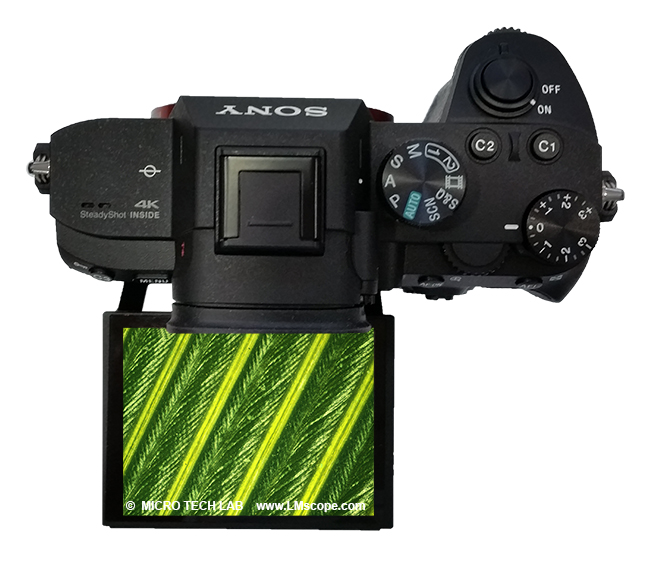 This makes working with a microscope easier – also when the camera is mounted on the phototube. Attaching the Sony Alpha 7 III to a microscope is an easy task with our LM digital adapters. We recommend attaching the camera to the phototube of the microscope. For microscopes without phototube, we also offer LM digital adapter solutions that work on eyepiece tubes (30 mm or 23.2 mm internal diameter).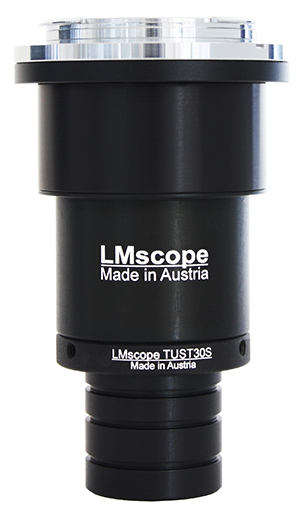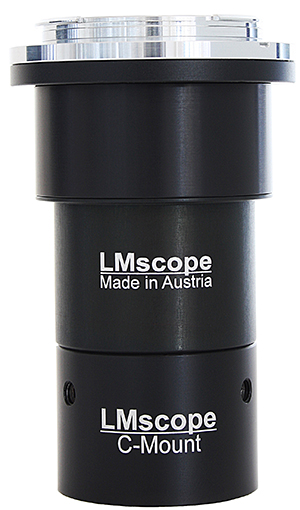 Image: Adapter solutions for eyepiece tube and C-mount phototube
The Alpha 7 III offers continuous shooting with up to 10 fps and up to 8 fps in Live View mode. Thanks to its electronic shutter, it can also capture silent bursts of up to 10 fps at maximum resolution.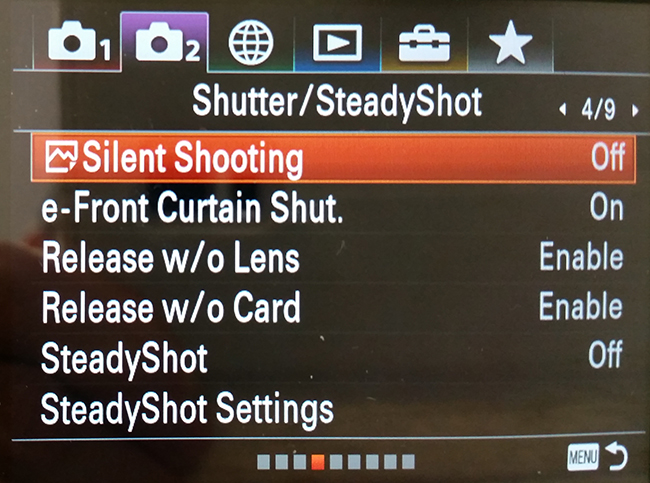 Like its sister models, the Alpha 7 III features 4K Ultra HD resolution (3,840 x 2,160 pixel) video recording capabilities.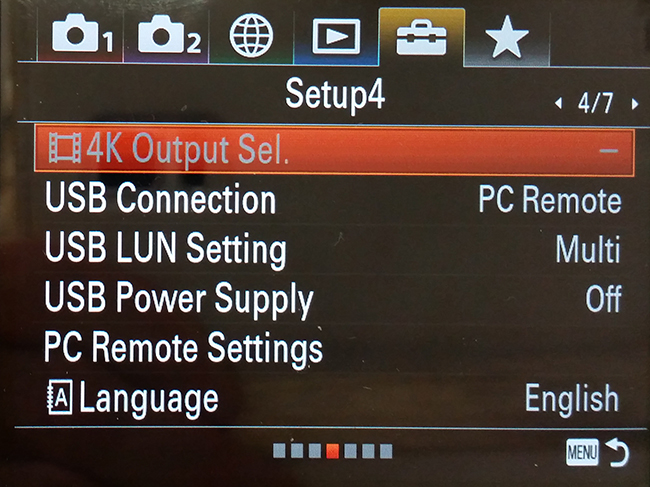 In Full HD, it can even film up to 120 fps, which allows for 4x and 5x slow-motion recording. Live View videos and images can be displayed on an external 4K monitor via HDMI port. The recording limit is 29 minutes.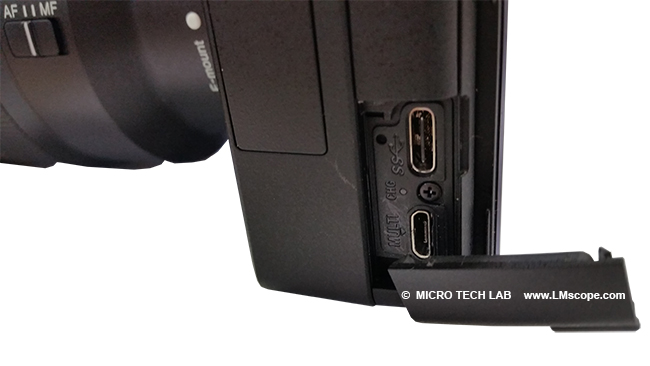 Remote camera control from a PC/Mac has become something of a standard in the photography world, especially when it comes to microscope images. For Sony cameras, we recommend Capture One for Sony, a special version of the classical Capture One software, but specifically for Sony cameras. As an alternative, Sony's new Imaging Edge software suite can also be used to access and control the camera remotely when it is connected to a computer (tethering).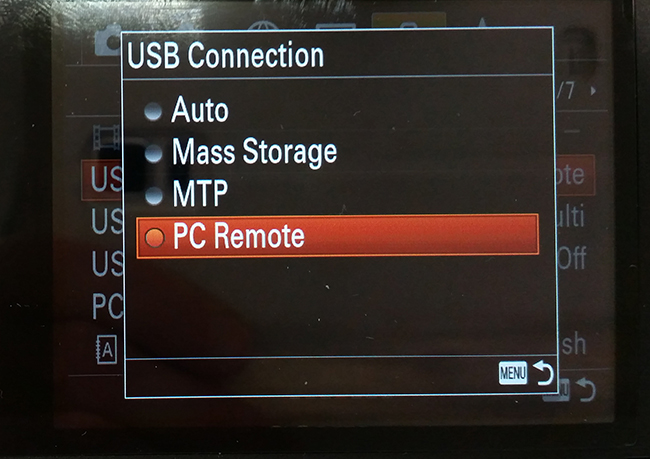 The Live View image can be conveniently viewed on the monitor of a PC/Mac, which significantly improves the workflow. Sony also added a USB 3.1 Gen 1 port for high-speed data transfer to the Alpha 7R III.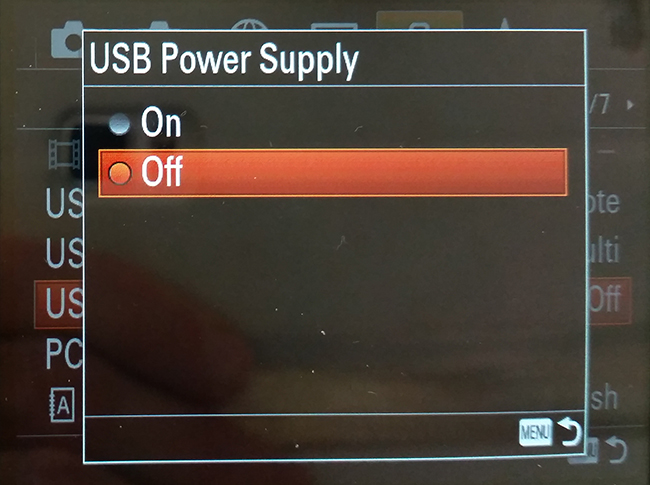 The camera's built-in Wi-Fi enables remote control from a tablet or smartphone. Sony's PlayMemories Mobile app is an easy-to-use application that makes camera use more convenient. Releasing the shutter remotely minimises the impact of camera shake, which is essential for high-quality images. We did an in-depth field test of the app with the Sony Alpha 6500.
At this point, we would like to extend special thanks to Opernfoto Hausleitner Graz, the camera store who kindly provided the camera we used in our test.
CONCLUSION: The Sony Alpha 7R III is a highly capable camera and excellently suited for microscopy applications. Priced at around EUR 1,900 (body only) as of May 2019, it also offers a good price/performance ratio. We recommend operating the camera remotely using a software or app, which also offers the advantage of being able to adjust many camera settings from the computer or smart device. This not only boosts workflow efficiency but also brings benefits in terms of ergonomic working conditions. More information about cameras can be found in our current camera recommendations and our camera ranking.
24.05.2019
New LM Digital Adapter for:
Sony Alpha 7R V / Sony Alpha 1 / Sony FX3 Cinema Line / Sony Alpha 9 II (ILCE-9M2) / Sony Alpha 9 / Sony Alpha 7R IV / Sony Alpha 7S II / Sony Alpha 7S III / Sony Alpha 7R III / Sony Alpha 7R II / Sony Alpha 7C / Sony Alpha 7S / Sony Alpha 7III / Sony Alpha 6700 / Sony Alpha 6600 / Sony Alpha 6400 / Sony Alpha 6100 / Sony ZV-E10 / Sony Alpha 6300 / Sony Alpha 6500 / Sony Alpha 99 II (SLT-A99 II) / Sony Alpha 77 II / Sony Alpha 7R / Sony Alpha 7 / Sony Alpha 68 / Sony Alpha 99 (SLT-A99) / Sony Alpha 7II / Sony Alpha 6000 / Sony Alpha 77V / Sony Alpha 580 / Sony Alpha 5100 /