543
The new Sony Alpha 7R IV, Sony's highest resolution full-frame system camera ever, on the microscope
"R" stands for resolution, and the new Sony Alpha 7R IV pushes that spec further than ever before for the Alpha series: with a whopping 61-megapixel sensor, it resoundingly outperforms the competition (Nikon Z7: 45.7 MP and Canon EOS 5DS: 50.6 MP). Its impressive dynamic range and high ISO performance likewise place the Alpha 7R IV in the top ranks of full-frame mirrorless cameras.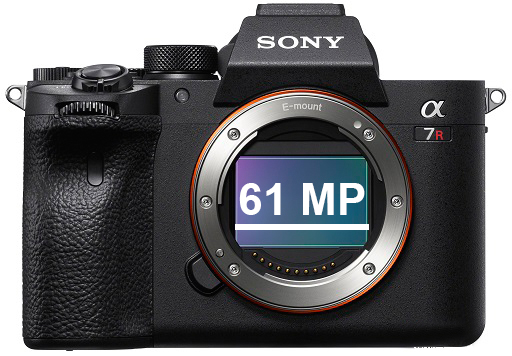 These immense capabilities also bring benefits for scientific microscope imaging applications. Especially in situations where imaging is performed at low levels of magnification (up to 50x), the Alpha 7R IV scores points, because its high resolving power produces more image detail than other cameras. Owners of high-quality stereomicroscopes, macroscopes, surgical microscopes (such as the Zeiss OPMI), macro lenses or extreme macro lenses will also be very happy with the new Alpha 7R IV. All of these devices have a highly sophisticated optical system and a bulky, heavy stand. In a laboratory or studio setting, users will therefore be able to take full advantage of the amazing features of this professional-level camera. And if you add focus stacking (with a motorised focusing rail) to your toolkit, you will get some truly rewarding results. Focus stacking is an image processing technique that combines multiple images (up to 100 individual frames), taken at different focus distances, into a "stack" of images. This stack is then processed with a software tool (such as Helicon Focus and Remote) and merged into one perfect composite image.
Thanks to the Alpha 7R IV's large sensor it is also possible to crop your image to use only a specific area – if you crop to APS-C format, this leaves you a still-respectable resolution of 26.2 MP.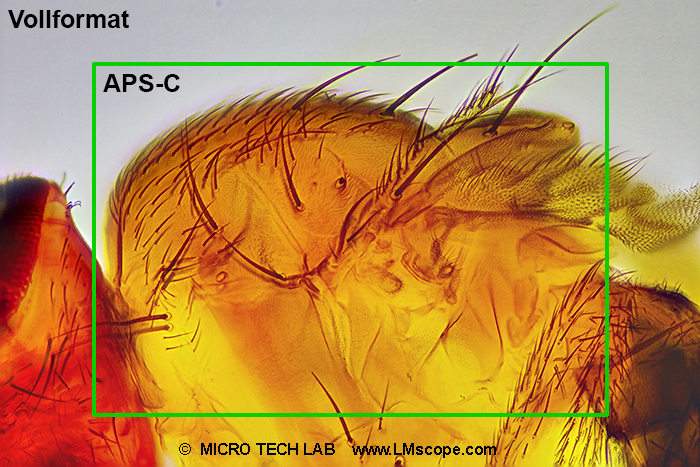 The sensor on the Alpha 7R IV is exceptionally light sensitive and delivers extremely low-noise results, which is a big plus in microscopy. Despite its increased pixel count compared to the Alpha 7R III (42.2 vs. 61 MP), the ISO range is the same and runs from 100 to 32,000 (expandable to 102,400).
And when high-resolution isn't enough, there is Pixel Shift Multi Shooting. For in-body image stabilisation, the sensor itself moves rather than the moving parts in the lens. The Pixel Shift Multi Shooting mode takes advantage of this advanced image stabilisation system to capture multiple pixel-shifted images. The camera captures 16 images in a row, shifting the sensor slightly between each exposure at half-pixel precision, and then combines them into one composite image with a remarkable amount of detail and increased resolution. According to Sony's data sheet, the pixel value of the composited image is around 240 MP.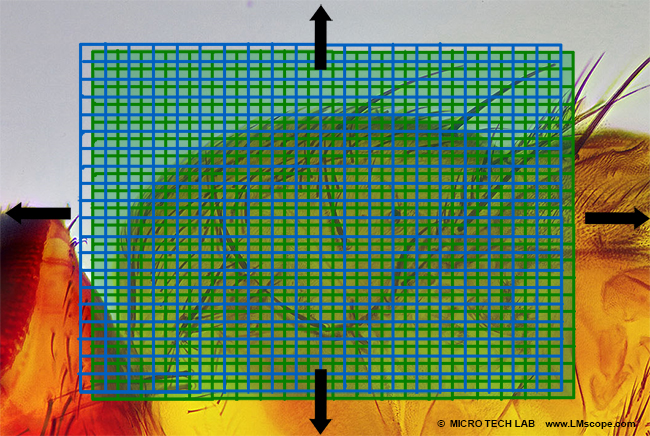 In Pixel Shift Multi Shooting mode, the image sensor unit is moved in all directions.
To avoid any unwanted vibration blur, we have been advocating for years that the camera should be controlled remotely from a PC/Mac or tablet/smartphone, using a software program or app. Sony's version is the "Imaging Edge" software suite, which contains three photography applications: "Remote", "Viewer", and "Edit". The "Remote" application allows for live tethered shooting. You can adjust the camera's settings on your computer in "M" mode and display the Live View output on the screen. "Edit" allows you to make further adjustments to your images and to store them uncompressed in 14-bit RAW format.
Using the standard Sony "E-Mount" lens mount and one of our LM adapter solutions, the Alpha 7R IV, which is relatively small and lightweight (665 grams only) can be attached to a microscope in just a few easy steps. We recommend attaching the camera to the phototube (if available) of the microscope. For microscopes not equipped with a phototube, we also offer solutions for attaching the camera to the eyepiece tube (30 mm or 23.2 mm). Our wide-field adapter is a particularly good match for large-sensor, high-resolution cameras, because it enables the camera to capture the largest possible field of view (FoV) and deliver excellent image quality without any vignetting.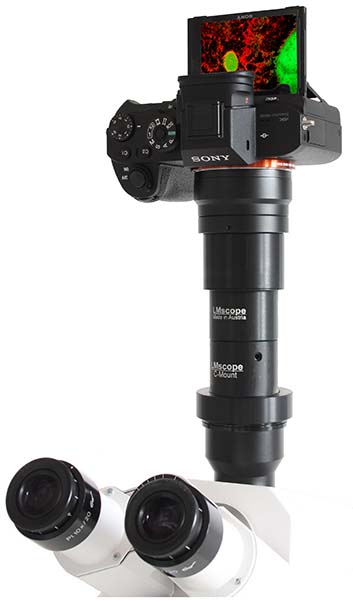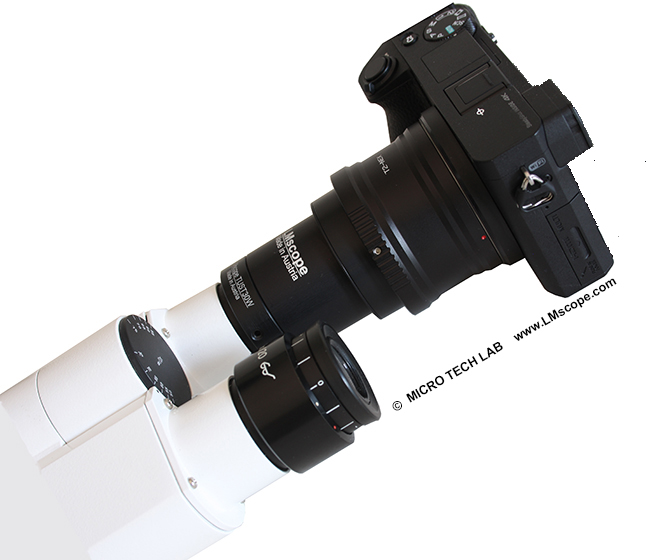 Versions of assembly
The Alpha 7R IV's tilting 3-inch (7.5 cm) 1.44-million-dot touchscreen display is also very convenient for microscope work.
Sony has always been a leader in video technology and quality and has many loyal followers in this field. The Alpha 7R IV records high-resolution and wide dynamic range 4K movies (3840 x 2160), using the entire sensor width. By shooting in S-log 2 or S-log 3 mode, the dynamic range can be maximised to up to 14 stops.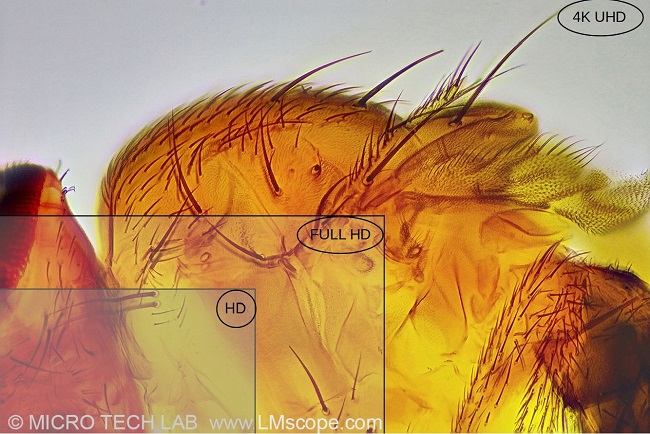 4K video technology also makes it easier to deliver engaging presentations, lectures and other educational events, by streaming the camera's Live View feed to a large screen via its digital video port (HDMI). High-resolution 4K monitors are very useful for many applications, and these days, prices have reached a reasonable level (starting at around EUR 400).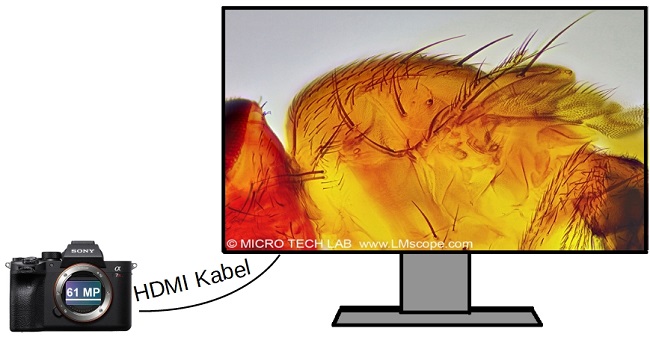 Increased connectivity with SuperSpeed USB 3.2 connector and Wi-Fi functionality that supports the new 5 GHz band for faster data transfer
In professional environments (laboratory or photo studio), fast data transfer is an essential need. The Alpha 7R IV features the latest USB 3.2 technology, which almost cuts the data transfer time in half: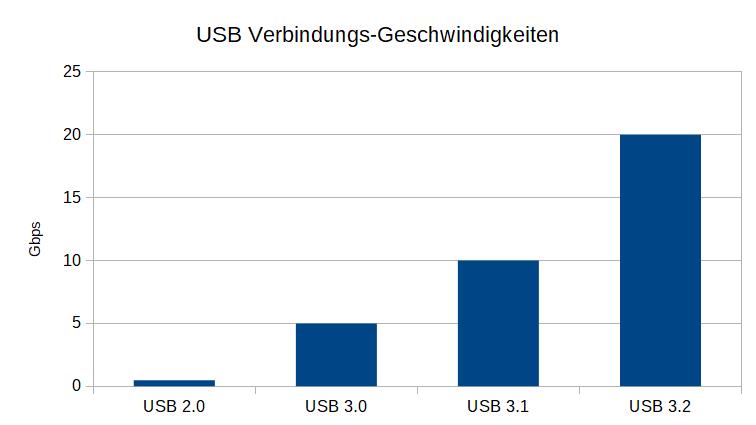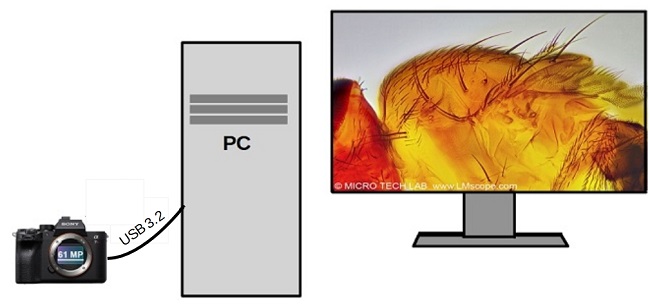 For wireless data transmission, too, the Alpha 7R IV adds new connectivity options: the camera includes wireless LAN functionality to support the new high-speed 5 GHz band. This frequency range is new and therefore rarely used, which translates into higher data transfer speeds. However, to use the GHz band, the Wi-Fi communication module used must also be compatible with this frequency.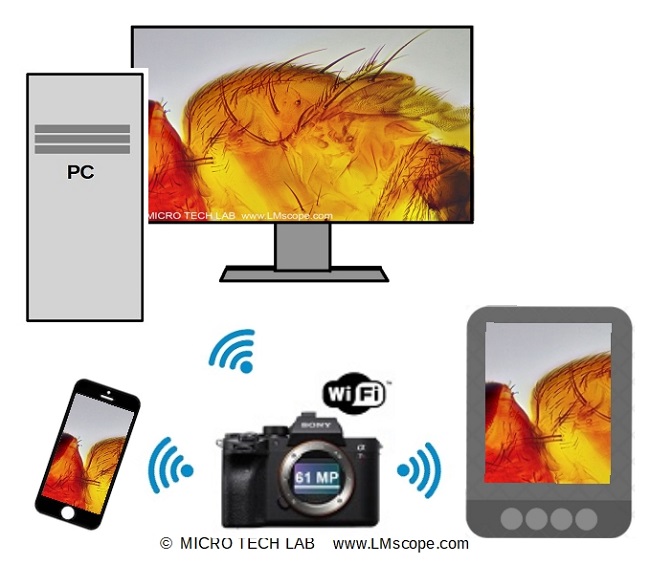 The camera can be controlled remotely, either via cable connection (USB) or wirelessly, from the Live View screen displayed on the computer. The Wi-Fi function enables real-time camera control from Android/IOS mobile devices. This tethering-optimised system is an essential feature for photomicrography, because the cameras are often mounted rather high up on the microscope, which makes it difficult to operate the controls without causing camera shake. Tethered shooting not only increases the workflow, but also results in a considerably better image quality, because it almost eliminates blur or image degradation caused by vibrations of the camera.
Microscope professionals and experts will also be pleased by another new feature of the Alpha 7R IV: it is finally possible to auto-upload images in the background via FTP protocol. This way, the images can be stored directly on the company/university server.
The key features of the Sony Alpha 7R IV:
61 MP Exmor R CMOS full-frame sensor, back-illuminated, with 5-axis image stabilisation

Pixel Shift Multi Shooting mode that composites up to 16 images

Up to 68 images in continuous shooting, 10 fps with mechanical shutter, 8 fps in Live View mode

ISO: 100 to 32,000 (expandable to 102,400) – same as the Alpha 7R III

15-stop dynamic range in photo mode = highest dynamic range

4K movie recording with 30 fps

3-inch (7.5 cm) tilting TFT LCD touchscreen display with 1.44 million dots and adjustable brightness

High-speed Wi-Fi in the 5 GHz band

Wi-Fi tethering not only via smartphone/tablet, but also from the PC/Mac, using the Remote, Viewer and Edit photography applications of Sony's Imaging Edge software suite

The viewfinder (100% frame coverage) has 5.76 million dots, which is about 1.6 times the resolution of the Alpha 7R III
Conclusion: With the introduction of the Alpha 7R IV, Sony has set a new milestone in their line of full-frame mirrorless cameras. Sporting the world's first 61-MP sensor and a host of other sophisticated upgrades, the 7R IV vastly outshines the capabilities of competitor models. Its high-end specs and features make 7R IV an excellent and – compared to pricey special-purpose microscope cameras – affordable option for photographic work on the microscope.

26.09.2019