483
Low budget 3D microscopy: how to create fascinating 3D transformations of a z-stack image series in microscopy and macroscopy
How can I visualise surface features such as wear and tear or surface roughness? How can I capture an image of an object under the microscope that makes it look as if it's popping out from the screen?
In microscopy and macroscopy, focus stacking and the corresponding software tools are increasingly employed to extend the apparent depth of field of a photograph. Especially at higher magnifications of 30x, where, due to physical limits, the depth of field is very low, photographers often use focus stacking to improve depth of field. Over 100 separate photos are taken by gradually incrementing the focusing distance across the subject (this is the "z-stack"). With a specialised software, a composite image is then created, based on the sharpest regions from each of these separate photos.
We used a simple coin cell battery, available everywhere batteries are sold, for this process.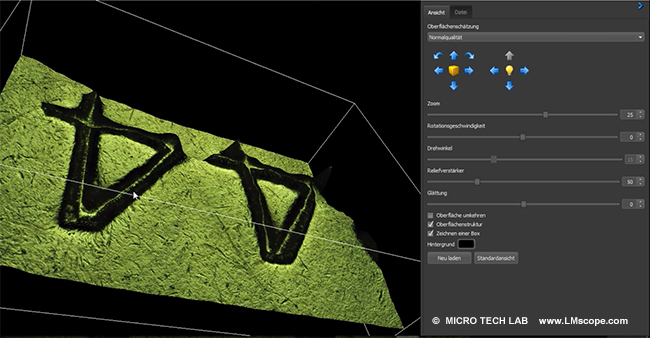 These z-stacks can also be created by using a motorised focus rail (StackShot) and the Helicon Remote software. The finished z-stack, which contains more than 100 separate images, is then merged into one frame using the Helicon Fokus software. Because the image collection process is automated, all the images in the z-stack are captured with the same step size. It takes just a few mouse clicks and minutes of your time to create the finished image, which translates into significant improvements in workflow efficiency.
With our LM macroscopes and photomicroscopes, which are equipped with objective lenses that are optimised for this technique, it is possible to achieve the best possible image quality for each individual image. Achieving maximum resolution is a key aspect in the design of our devices.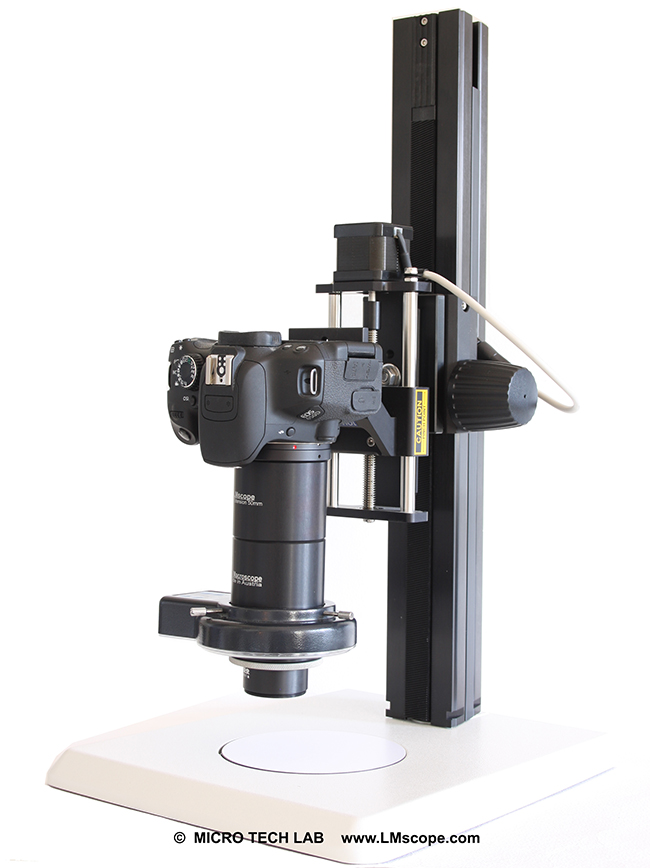 The image above shows an LM macroscope with Cognisys StackShot system.
The LM macroscope has a central optical path and is thus considerably more powerful than comparable systems with a dual optical path or conventional stereomicroscopes. Thanks to its modular construction, it is extremely flexible and enables a multitude of magnification combinations (3x -> 18x), depending on which configuration of tube elements is used. The objective lenses are also available without a tripod.
Once the z-stack has been created, the rendering process can be started.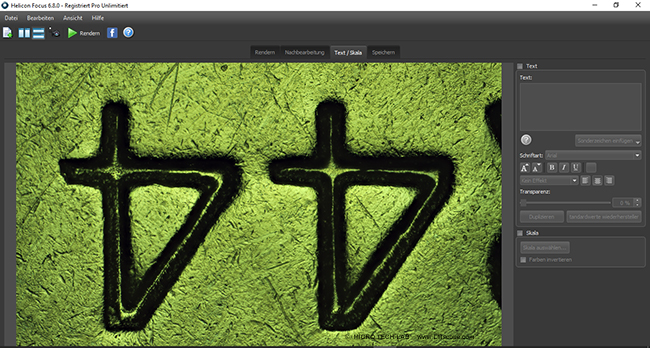 The data in the image file are then exported to create a 3D model with just one click.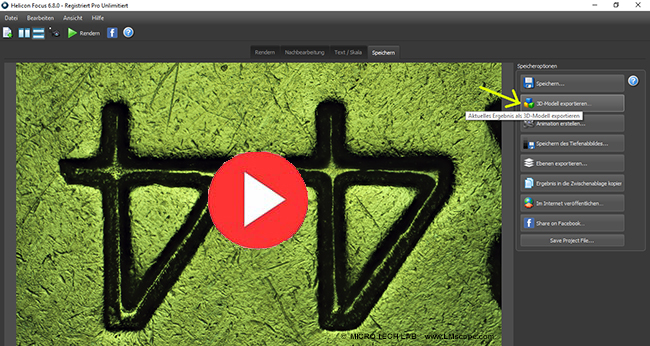 The video above shows how a 3D model is created
Helicon's "3D viewer" utility, which is included into the Helicon Focus installation, is designed to visualise 3D models. The object is displayed in a box, where it can be rotated and observed from any angle.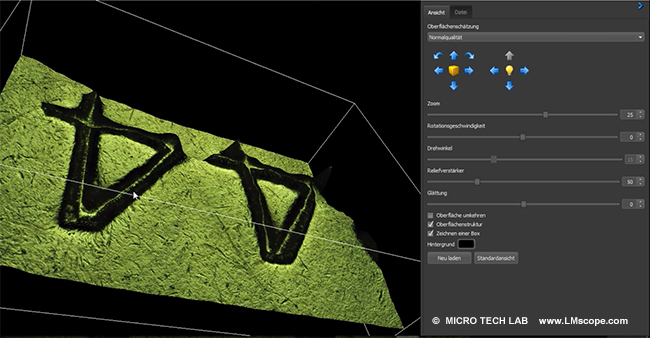 The 3D viewer supports almost all microscopic observation methods – bright field, dark field, incident light, fluorescence – at nearly any magnification.
Because DSLRs and system cameras have highly sophisticated camera sensors with up to 40 MP resolution and a huge dynamic range, it is possible to produce a highly accurate 3D dataset. We have compiled a set of camera recommendations to help you choose the DSLR that is best suited for your needs.
New LM Digital Adapter for:
Nikon Z9 / Sony Alpha 7R V / Sony Alpha 1 / Sony FX3 Cinema Line / Sony Alpha 9 II (ILCE-9M2) / Sony Alpha 9 / Nikon D6 / Canon EOS R3 / Canon EOS R6 Mark II / Canon EOS R8 / Sony Alpha 7R IV / Canon EOS R5 / Sony Alpha 7S II / Sony Alpha 7S III / Sony Alpha 7R III / Canon EOS R6 / Nikon Z6 / Nikon Z6II / Sony Alpha 7R II / Nikon Z7 / Nikon Z7II / Canon EOS R / Canon EOS Ra (Astro) / Nikon Z5 / Sony Alpha 7C / Canon EOS RP / Sony Alpha 7S / Canon EOS R7 / Leica SL2-S / Canon EOS R10 / Canon EOS 1D X Mark III / Nikon Z50 / Nikon Z30 / Nikon Z fc / Nikon D850 / Canon EOS 1D X Mark II / Nikon D780 / Olympus OM-1 / Sony Alpha 7III / Olympus OM-D E-M1 Mark III / Nikon D5 / Sony Alpha 6600 / Fujifilm X-H2S / Fujifilm X-S10 / Fujifilm X-E4 / Fujifilm X-Pro3 / Olympus OM-D E-M1X / Sony Alpha 6400 / Sony Alpha 6100 / Sony ZV-E10 / Canon EOS 1D X /