621
Canon EOS 850D: practical test of a budget-friendly DSLR microscope camera
The Canon EOS 850D was introduced to the market in 2020. Its solid technology and ease of use make it a great option for microscope photography. Without having to spend a lot of time learning about special techniques, even novice photographers can create stunning microscope images.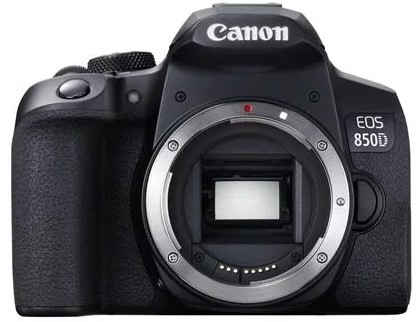 Key technical specifications:
24 MP APS-C (22.5 mm x 15.0 mm) CMOS imaging sensor

7 fps in photo mode

ISO range of 100 to 51,200

ULTRA HD (4K) Video: 3840 x 2160

Time limit of 30 minutes for video recordings

3.0'' TFT LCD fully-articulating display

Shutter speed from 1/4,000 to 30s

card slots for SD, SDHC, SDXC (compatible with UHS class 1 memory card)

no sensor shift image stabilisation system

Micro USB 2.0 for data transfer and continuous power

Mini HDMI (type C) terminal to display the live image on an external monitor (max. 25 fps)

Built-in WiFi (wireless LAN), Bluetooth technology

Weight: 515g (body only with battery)

4K and Full HD time lapse

compatible with battery Type LP-E17
Canon's EOS 850D is equipped with a 24 MP APS-C CMOS sensor and is a good fit for photomicrography applications. With our LM adapter solutions, which feature an integrated plan-achromatic optical system, the camera can be attached to almost any microscope in just a few easy steps.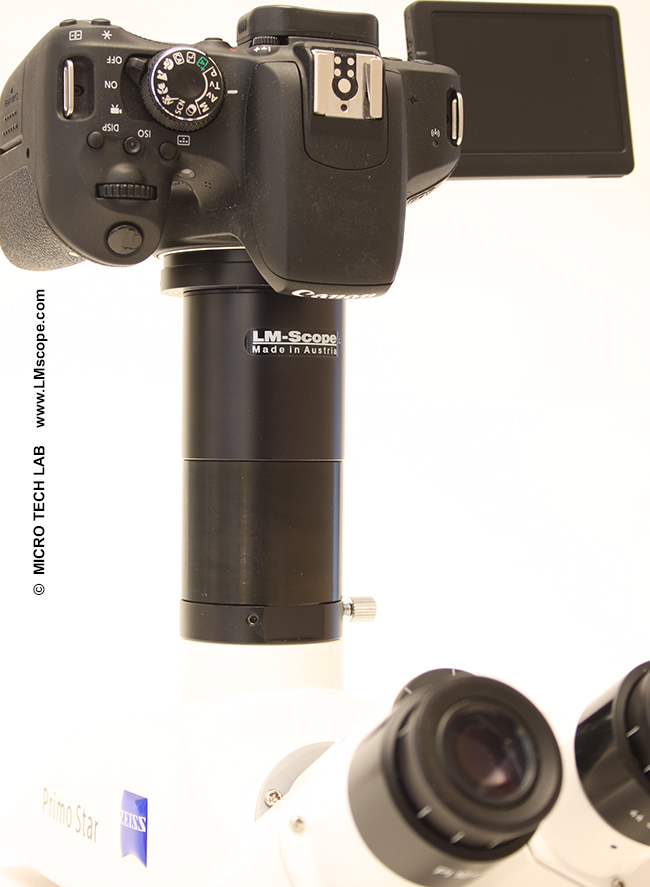 If the microscope has a phototube, we recommend using it to attach the camera to the microscope. The adapter creates a stable connection between the microscope and the camera and performs the optical adjustment between the two. This way, you get the best possible image quality. The rear monitor of the EOS 850D is touch sensitive and can be rotated and swivelled, which is convenient for adjusting camera settings and reviewing images. The screen is large and also bright enough for use in strong daylight. Menu navigation is simple: the camera features an "index card system", which displays the settings on the side of the screen, which eliminates having to scroll through all the settings to get to the one you want.
As an alternative to using the phototube, the camera can also be attached to the eyepiece tube of the microscope. This is a universal solution, and the image quality is equally good as that achieved with the phototube solution. Because our adapters feature a robust, mechanically sturdy and compact design, the camera, which weighs 520 grams (body only), can even be attached to the microscope at an angle.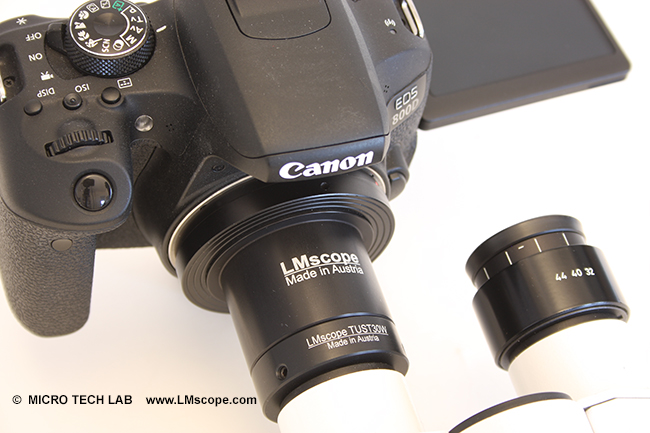 The modular construction of our adapter solutions facilitates maximum flexibility: with just a few small accessory parts and our adapter systems, the camera can be used on a variety of different microscopes.
The EOS 850D has a mini HDMI (type C) port, which can be used for connecting it to a large external monitor. This is very useful because a group of people can view the images at once in Live View mode, for example during presentations. The micro USB port can be used for data transfer but not for charging the camera battery. However, a DC coupler (or dummy battery) is available on the internet or in photography stores. It replaces the Canon LP-E17 battery pack so you can continually power your camera from an outside power source and the USB port can be used for data transfer.
The EOS 850D features Wi-Fi connectivity, which allows you to connect the camera to a PC/Mac or tablet/smartphone. We recommend controlling the camera remotely from the computer with Canon's EOS Utility software, which comes with the camera at no extra charge. With this software, you can view the images from your shoot live on the screen of your computer and also adjust various camera settings. There is also a magnifying function for precise adjustment of the camera focus in Live View mode. In addition, the shutter can be released remotely from the PC or Mac with just one click, which helps to avoid camera shake. After the shot has been taken, the images can be saved directly to the hard drive. For tablets and smartphones, you can download Canon's Camera Connect app – it also offers some exciting features and is available for both Android (Google) and iOS (Apple).
The EOS 850D is equipped with a Digic-8 image processor and has a maximum continuous shooting performance of 7 fps (frames per second) – up from 6 fps in its predecessor, the 800D – which is quite decent for a mid-range camera. For comparison, Canon's new EOS R10 system camera shoots at 23 fps with its electronic shutter. Images can be stored in JPEG and RAW format.
The EOS 850D is the first of the EOS 800 series to feature 4K video at 25 fps and Full HD video at frame rates as high as 60 fps. As with most cameras of that year, the recording time is still limited – the maximum recording time per video of the 850D is just under 30 minutes.
Another video feature of the EOS 850D might also be of interest – the camera has a 4K time-lapse movie mode that can be set to intervals of up to 60 minutes and record up to 3,600 frames.
With an ISO range of 100 to 51,200 (manual mode), the camera is also well suited for low-illumination techniques such as fluorescence microscopy.
Conclusion: The EOS 850D is a typical Canon DSLR with features that are very well suited for microscopy as long as you don't have any special requirements. Its affordable price (currently around € 800), straightforward layout and ease of use are very attractive and make the EOS 850D a top choice for photography beginners and amateurs who want to create amazing microscope images with the help of our adapter systems.
Further information on camera selection can be found on our current camera recommendation.
06.01.2023
Photography:
Fitting the microscope to digital single-lens reflex (DSLR), mirrorless interchangeable-lens cameras (MILC ), digital single-lens mirrorless (DSLM) or C-mount cameras is easy with our LM digital SLR adapters, which feature a plan achromatic optical system. Our products make it possible to capture top-quality microscope images. To help you select the adapter that is right for your camera, we have set up an online configurator on our website. You can also email us – ideally with attached photographs of your microscope.
Modern DSLR and single-lens mirrorless (DSLM) offer the latest technology and are generally very well suited for microscopy applications. Most of them can be controlled remotely via PC/Mac. Because of their high sales volumes, they offer an excellent price/performance ratio compared to special-purpose microscope cameras.
Features of top DSLR and single-lens mirrorless cameras (DSLM):
- Large, powerful full-frame sensors (36 x 24 mm)
- Sensor resolution of 61 megapixels or 240 megapixels with Pixel Shift technology
- High light sensitivity (ISO 400,000+)
- Extensive dynamic range (up to 15 aperture stops/f-stops)
- Short exposure times (1/8000 second) up to 1/32,000 seconds using the digital shutter
- 4K Ultra HD or 8K Ultra HD video function
- Live video capture on external monitors in ultra HD quality
In most cases, these cameras are significantly more powerful than microscope cameras with smaller sensors (1/2" or 2/3"). On our website you will find our current camera recommendations and a camera ranking which is specifically tailored to microscopy applications.