628
Canon EOS R6 Mark II: a powerful full-frame sensor with many advantages for microscopy
Canon officially announced the new R6 Mark II in November 2022 – a high-performance hybrid camera with a pro-level set of features and specs for high-quality stills and video that delivers outstanding performance – including on the microscope, thanks to our LM adapter solutions.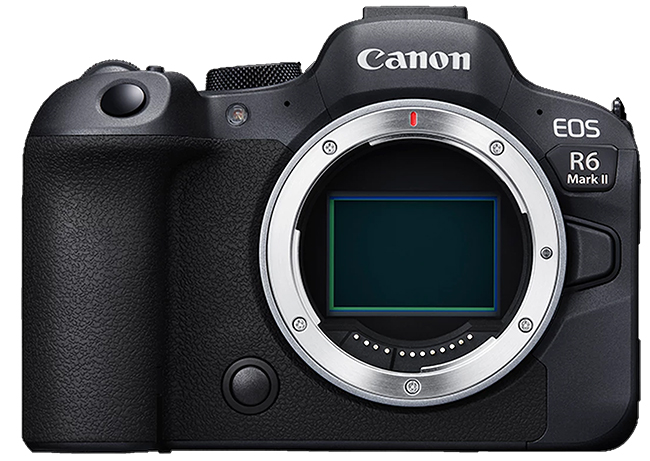 (c) Canon
The EOS R6 II allows recording at up to 180 fps in Full HD. This amounts to up to 6x slow motion and enables users to play back and analyse recordings of fast processes frame by frame. And that's not all the EOS R6 II can do.
Key technical specifications:
24 MP fullframe (36.0 mm x 24.0 mm) CMOS imaging sensor

DIGIC X image processor

40 fps (12 bit RAW) in photo mode with electronic shutter, 12 fps (14 bit RAW) with mechanical shutter

ISO range of 50 to 204,800

video image size (pixels) and frame rate: 3840 x 2160 ULTRA HD (4K) up to 60 fps without crop (oversampling from 6K or 6K videos for external recordings), 180 fps with full HD (slow motion recording top!)
No time limit of 30 minutes for video recordings

3.0'' TFT LCD fully-articulating display, non-reflective

Shutter speed from 1/16,000 to 30s (electronic shutter)

2x card slots for SD (compatible with UHS class II memory card)

USB 3.2 SuperSpeedPlus Type C for data transfer, charging function and continuous power

Micro HDMI (type D) terminal to display the live image on an external monitor

Built-in WiFi (wireless LAN 2.4 and 5 GHz), Bluetooth technology, FTP, SFTP and FTPS support (variants of data transfer)

Weight: 664g (body only with battery)

4K and Full HD time lapse with 25 and 30 fps

compatible with Canon battery Type LP-E6NH

Remote shooting: EOS Utility Vers. 3.16 or more (incl. Remote capture)
With a sensitivity range from ISO 100 to 102,400 in automatic mode, the 24 MP full-frame sensor of the EOS R6 II is exceptionally light sensitive. To take full advantage of the camera's capabilities, you should try to work at the best possible lighting conditions, because the sensor performs best (i.e. highest dynamic range) at low ISO. According to DXO, a renowned independent review magazine, the R6 II has an excellent dynamic range score of 14.8 stops at ISO 100, similar to that of the R5!
When mirrorless system cameras such as the EOS R6 II are used for professional tasks, the ability to control the camera remotely from a PC or Mac is a critical factor. Canon's EOS Utility software is a robust and useful tool that offers support for both image transfer and remote camera control. The camera can be controlled and operated remotely via the fast USB-C port and also wirelessly via WLAN/Wi-Fi in Live View mode. The integrated magnification function is a very useful feature, because you can zoom in on the live image to pinpoint focus on a single element of the subject. The shutter can be released by mouse click, which minimises the risk of motion blur caused by pushing the on-camera shutter release. The images can be stored directly on the computer's hard drive.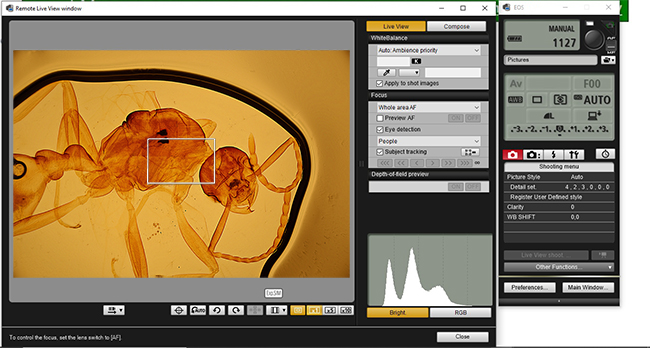 The EOS R6 II has a powerful DIGIC X image processor which supports up to 40 fps continuous shooting with the electronic shutter. This continuous shooting rate is extraordinary for this price range (starting at EUR 2,900 body only). The big advantage of the electronic shutter is that it is totally silent. The mechanical shutter is able to capture full-quality 14-bit RAW files at 12 fps, which permits higher-quality images. Another important aspect, especially in microscopy, is the ability to precisely control the exposure time. The electronic shutter of the R6 II supports shutter speeds from 1/16,000 up to 30 seconds versus 1/8,000 up to 30 seconds for the mechanical shutter.
When it comes to video, the EOS R6 II leaves nothing to be desired: it is able to record 4K videos at 30p without crop (with internal downsampling from 6K to 4K). With the right equipment, you are even able to record externally in 6K quality. The EOS R6 II also has great slow-motion abilities: 180 fps in Full HD, which gives users a lot of room to work with slow motion footage at high quality and resolution. The camera is also capable of pushing 4K video over HDMI to high-resolution external displays.
Another key upgrade is the removal of the 30 minute recording limit – you can keep recording non-stop until either your storage is full or the battery is depleted. Also of note, the camera does not get hot when it is used for extended periods of time, even at relatively high ambient temperatures. This is important, because overheating could have a negative impact on image quality due to a poorer signal-to-noise ratio – a problem that obviously does not affect the EOS R6 II.
Dual SD memory card slots (UHS 2) are available for storing photos and videos. However, if you control the camera remotely from the PC – which we usually recommend – this is not relevant anyway, because the recordings are stored on the hard drive anyway.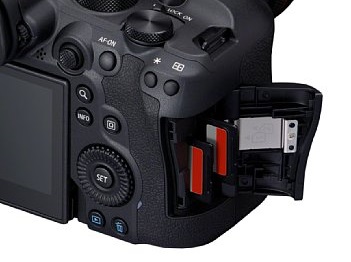 (C) Canon
If it is not possible to control the camera from the PC or tablet, the vari-angle touchscreen is a big plus in ergonomic terms. Its articulating design lets you work from a range of angles, which allows flexible viewing of the live image and easy adjustment of the camera settings.
We offer a variety of adapter options to attach the EOS R6 II (R-mount) to a microscope. Of course, the most convenient and efficient way is to attach the camera to the phototube of the microscope. If you choose this route, is important to make sure that the phototube does not have built-in reduction optics (0.5x, 0.63x, etc.). Our adapter solution with integrated plan-achromatic optical system is usually attached directly to the standard phototube.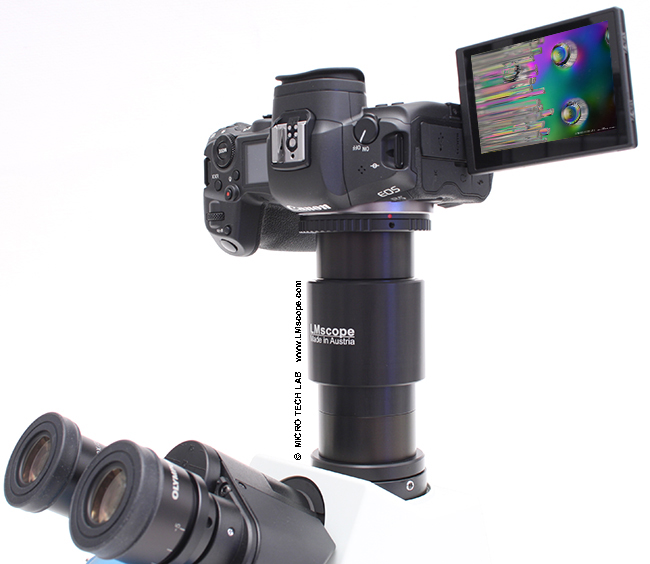 If the microscope doesn't have a phototube, the camera can also be attached to the eyepiece tube of the microscope. The robust design of our adapter systems allows even heavy cameras to be securely attached to an inclined eyepiece tube. You only need to remove one eyepiece and put the camera-adapter combination into its place. This option is the most versatile: the eyepiece tubes of most microscopes have an inside diameter of either 23.2 or 30 mm, which means that the adapter can be used on many different microscopes.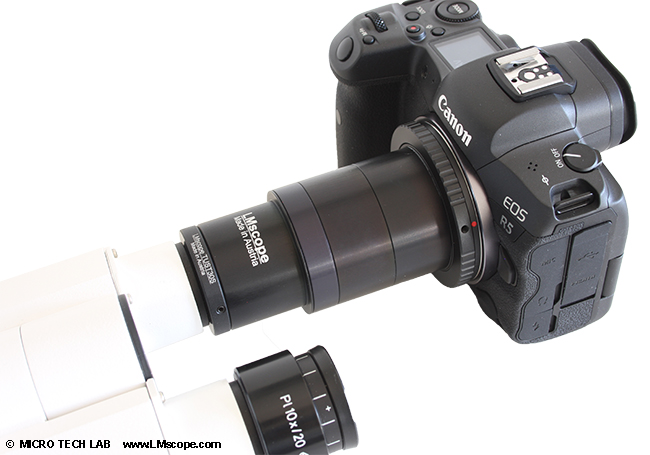 The SuperSpeed Plus USB 3.2 (type C) connector of the EOS R6 II can be used for data transfer/storage to a PC/Mac, for controlling the camera remotely (using the Canon EOS Utility software) and for providing continuous power to the camera. In addition, it can be used for in-camera charging of the battery (Canon LP-E6NH).
Conclusion: Our camera ranking currently (March 2023) has the Canon EOS R6 Mark II among the top 10 models. Its price-performance ratio is among the very best. Matching strong photo performance with apt video capabilities, it offers a well-rounded suite of features and is a highly recommendable tool for microscopy and macroscopy applications. We recommend controlling the R6 II remotely from the PC.

31.03.2023
New LM Digital Adapter for:
Canon EOS R3 / Canon EOS R6 Mark II / Canon EOS R8 / Canon EOS R5 / Canon EOS R6 / Canon EOS R / Canon EOS Ra (Astro) / Canon EOS RP / Canon EOS R7 / Canon EOS R10 / Canon EOS 1D X Mark III / Canon EOS 1D X Mark II / Canon EOS R100 / Canon EOS 1D X / Canon EOS 90D / Canon EOS 5D Mark IV / Canon EOS 6D Mark II / Canon EOS M6 Mark II / Canon EOS 250D / Canon EOS 850D / Rebel T8i / Canon EOS 6D / Canon EOS M200 / Canon EOS 5DS R ( without low-pass filter) / Canon EOS 80D / Canon EOS M50 Mark II / Canon EOS 5DS / Canon EOS M50 / Canon EOS 70D / Canon EOS 200D / Canon EOS 800D / Rebel T7i / Canon EOS 77D / Canon EOS 5D Mark III / Canon EOS 60D / Canon EOS 750D / Rebel T6i / Canon EOS 760D / Rebel T6s / Canon EOS 5D Mark II / Canon EOS 1D Mark IV / Canon EOS 7D Mark II / Canon EOS 600D / Rebel T3i / Canon EOS 650D / Rebel T4i / Canon EOS 700D / Rebel T5i / Canon EOS 2000D / Rebel T7 / Canon EOS 7D / Canon EOS 550D / Rebel T2i / Kiss X4 Digital / Canon EOS 1300D / EOS Rebel T6 / Canon EOS 4000D / Canon EOS 100D / Canon EOS 50D / Canon EOS 1200D / EOS Rebel T5 / EOS Kiss X70 / Canon EOS 1100D / Rebel T3 / Canon EOS 1D Mark III /