348
The camera shutter
In photography, a shutter is used to control exposure time. It has a significant influence on image quality.
Mechanical shutter
The vast majority of cameras have a mechanical shutter. During the exposure time, the shutter is opened briefly to allow the optimal amount of light to reach the sensor. After this, the shutter closes again. When capturing moving objects, short exposure times are particularly important. If the exposure time is too long, the image will appear blurry because the objects are moving too fast in relation to the time when light from the scene is collected. Modern DSLRs offer shutter speeds of up to 1/8000 of a second.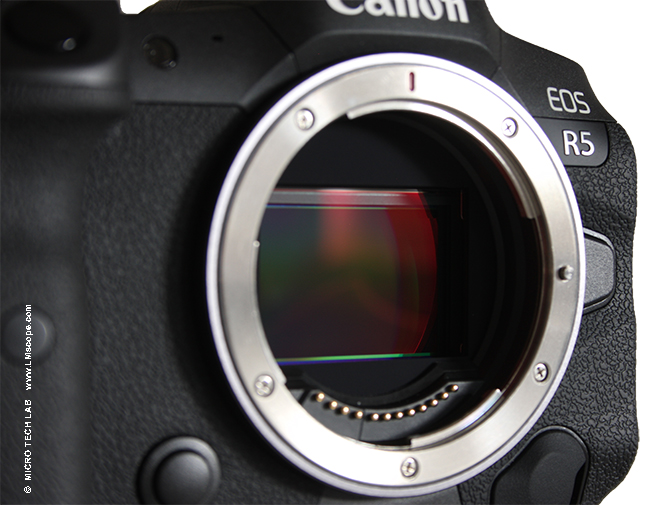 shutter is open - sensor is visible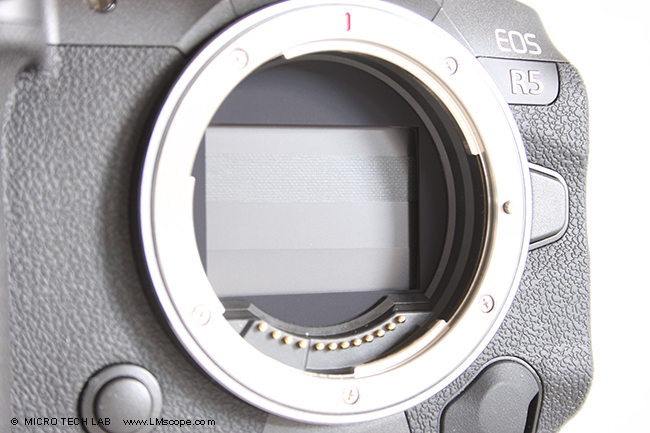 shutter is closed - sensor is mechanically covered
If the selected exposure time is too short, the image will become too dark and few details will be visible. In a perfectly exposed image, even minor differences in brightness are visible. Usually, exposure time is controlled by a feature called automatic exposure mode. For special applications, the exposure can also be set manually. In most cases, bright lighting conditions (high levels of illumination) are recommended as these allow short exposure times with maximum utilisation of the sensor's dynamic range.
The fact that the sensor is mechanically covered has the advantage that the image sensor can be completely reset to a nominal stage and the image signals are read out in their entirety after the shot has been taken. This produces shots with optimal image quality and sharpness. Without this mechanical element, re-exposure occurs while the image is being read out row by row, resulting in lower resolutions and more blur in the case of moving objects.
Digital shutter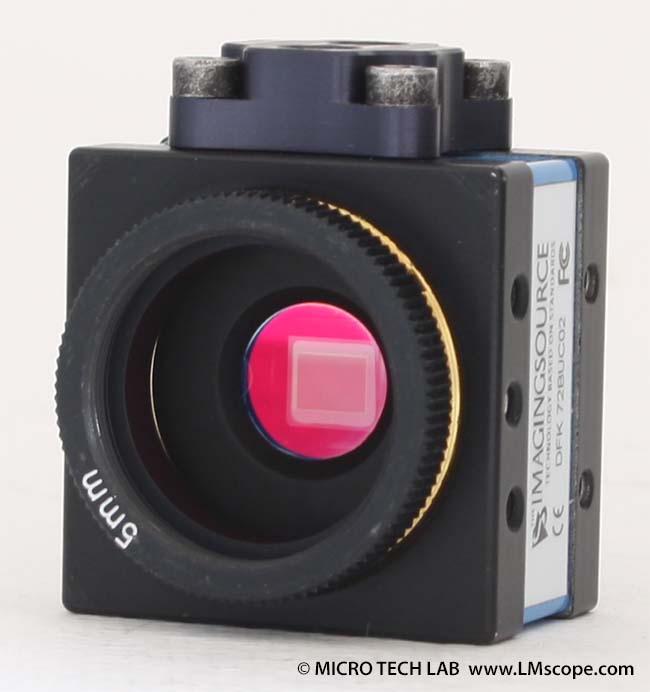 In cameras with digital shutters, the sensor is exposed and the image information read out continuously. Most video cameras have a digital shutter. At the beginning of each exposure, a digital reset is performed. During this process, all pixels are set to zero, exposed and then read out row by row. The sensor receives light throughout the process. The images are stored at a rate of 25/30/60 frames per second and the exposure time is always the same, regardless of the lighting conditions. A major disadvantage of the digital shutter is that fast moving objects cannot be imaged with ideal sharpness. These distortions are called rolling-shutter effect.
Most microscope cameras (C-mount) do not have a mechanical shutter. This is a major disadvantage compared to DSLRs because fast moving processes and specimens (e.g. sperm cells, etc.) cannot be captured without predictable distortions. Even with non-moving objects, external vibrations (caused, for example, by operating the microscope, table surface vibration, etc.) can cause blurring as re-exposure occurs while the sensor is being read out (i.e. during storage of the image data).
With a digital shutter, there are two ways to capture sharp, crisp images of fast-moving processes:
Keeping the interval between sensor reset and data readout as short as possible => short exposure time. In most cases, the electronics are too slow for fast movements or the exposure time set is too short. Although there is no blurring, the image appears much too dark.
Using a flash. A short light pulse can be used to capture moving objects without blurring. The camera and flash must be synchronised for this purpose.
High-speed cameras:
These are special cameras for capturing extremely fast image sequences, achieving several thousand frames per second in slow motion. The electronic system of these cameras is extremely fast, capturing vast amounts of data within short periods of time, which comes at the cost of lower resolutions. High-speed cameras can only have a digital shutter as a mechanical shutter would be much too slow to capture moving specimens. In most cases, these special-purpose cameras are also very expensive.
DSLRs, on the other hand, allow optimal control of the exposure time, making it possible to capture moving objects at superfast shutter speeds of up to 1/8000 of a second.
20.07.2015
New LM Digital Adapter for:
Nikon Z9 / Nikon Z8 / Sony Alpha 7R V / Sony Alpha 1 / Sony FX3 Cinema Line / Sony Alpha 9 II (ILCE-9M2) / Sony Alpha 9 / Nikon D6 / Canon EOS R3 / Canon EOS R6 Mark II / Canon EOS R8 / Sony Alpha 7R IV / Canon EOS R5 / Sony Alpha 7S II / Sony Alpha 7S III / Sony Alpha 7R III / Canon EOS R6 / Nikon Z6 / Nikon Z6II / Sony Alpha 7R II / Nikon Z7 / Nikon Z7II / Canon EOS R / Canon EOS Ra (Astro) / Nikon Z5 / Sony Alpha 7C / Canon EOS RP / Sony Alpha 7S / Canon EOS R7 / Leica SL2-S / Canon EOS R10 / Canon EOS 1D X Mark III / Nikon Z50 / Nikon Z30 / Nikon Z fc / Nikon D850 / Canon EOS 1D X Mark II / Nikon D780 / Olympus OM-1 / Sony Alpha 7III / Olympus OM-D E-M1 Mark III / Canon EOS R100 / Sony Alpha 6700 / Nikon D5 / Sony Alpha 6600 / Fujifilm X-H2S / Fujifilm X-S10 / Fujifilm X-E4 / Fujifilm X-Pro3 / Olympus OM-D E-M1X / Sony Alpha 6400 / Sony Alpha 6100 / Sony ZV-E10 / Canon EOS 1D X / Nikon D4s / Olympus OM-D E-M5 III / Canon EOS 90D / Canon EOS 5D Mark IV / Nikon D4 / Nikon D750 / Canon EOS 6D Mark II / Fujifilm X-T4 / Fujifilm X-T3 / Sony Alpha 6300 / Sony Alpha 6500 / Nikon D500 / Nikon D810 / Nikon D800 / Canon EOS M6 Mark II / Nikon D800E / Nikon Df / Panasonic Lumix DC-G9 / Nikon D610 / Nikon D600 / Canon EOS 250D / Canon EOS 850D / Rebel T8i / Canon EOS 6D / Sony Alpha 99 II (SLT-A99 II) / Canon EOS M200 / Canon EOS 5DS R ( without low-pass filter) / Olympus OM-D E-M1 Mark II / Canon EOS 80D / Canon EOS M50 Mark II / Canon EOS 5DS / Canon EOS M50 / Sony Alpha 77 II / Canon EOS 70D / Nikon D7200 / Pentax K-1 Mark II / Canon EOS 200D / Canon EOS 800D / Rebel T7i / Canon EOS 77D / Canon EOS 5D Mark III / Canon EOS 60D / Sony Alpha 7R / Sony Alpha 7 / Nikon DS-Qi2 (Microscope Camera) / Olympus OM-D E-M5 II / Nikon D3x / Olympus OM-D E-M1 / Pentax KP /