396
Innovative photo adapter solution for older standard Zeiss microscopes without a photo tube
We have succeeded in developing a completely new adapter solution that is perfect for older, standard Zeiss microscopes without a photo tube. In our approach, the entire binocular head is removed and the adapter and camera unit are mounted directly to the remaining opening. This solution is ideal for upgrading standard Zeiss microscopes for special photographic purposes (progress monitoring, time-lapse recordings, measurement tasks, etc.)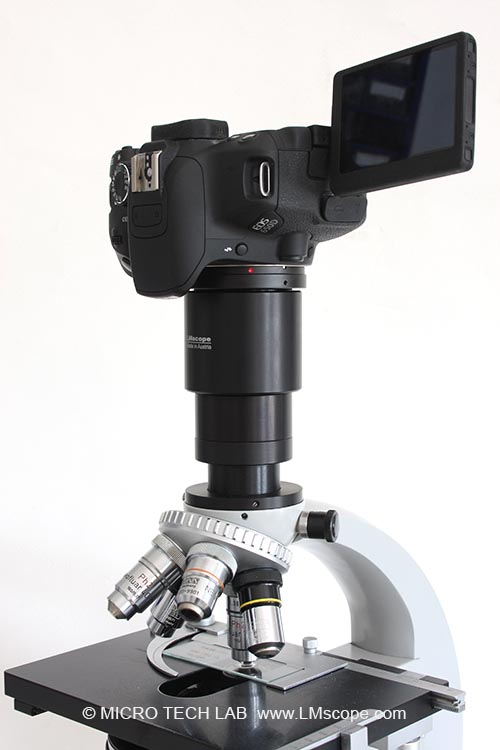 In many areas of contemporary microscope use, visual eyepiece-based observation plays a very minor role, and many specialists are already working with high-resolution cameras that project Live View images to large monitors. Thus, given the increasing ability to display Live View images on a screen, eyepiece-based observation is steadily becoming marginalised. Indeed, viewing images on a monitor makes it possible to see as many details of the specimen as when looking through the eyepieces. For everyday work, for instance, it is far more comfortable to view images directly on a screen, especially since such external monitors are now readily available in larger sizes.
Another advantage is that cameras can be controlled conveniently from a PC/Mac equipped with the necessary software. Likewise, camera sensors are continually being optimised and are now so light sensitive (high ISO cameras) that it is frequently possible to detect greater detail in the camera image than with the human eye alone. Cameras also offer the possibility of longer exposure times (more than 30 seconds), and the different spectral sensitivities yield additional benefits.
Our LM digital adapter solution mounts directly to the microscope stand in place of the binocular tube. Of note, this adapter does not add elements that compensate for residual aberrations in the objective lenses. In other words, if any errors are present in the lens, these will also appear in the images. Yet this condition is not problematic under normal circumstances, as such image flaws are barely noticeable. Nevertheless, it is worthwhile using the highest quality lenses for photomicrography applications.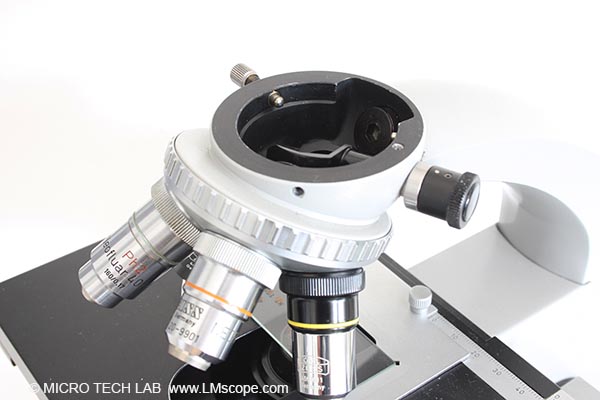 The benefits of our LM digital adapter solution for standard Zeiss microscopes without a photo tube are obvious: Users save money as they do not need to purchase an expensive photo tube, and at the same time they can take excellent microscope images using a compact camera adapter unit.
If you are interested in more information about our new adapter solution, please do not hesitate to contact us.

New LM Digital Adapter for:
Nikon Z9 / Sony Alpha 7R V / Sony Alpha 1 / Sony FX3 Cinema Line / Sony Alpha 9 II (ILCE-9M2) / Sony Alpha 9 / Nikon D6 / Canon EOS R3 / Canon EOS R6 Mark II / Canon EOS R8 / Sony Alpha 7R IV / Canon EOS R5 / Sony Alpha 7S II / Sony Alpha 7S III / Sony Alpha 7R III / Canon EOS R6 / Nikon Z6 / Nikon Z6II / Sony Alpha 7R II / Nikon Z7 / Nikon Z7II /