Improved picture quality through mirror lock-up in SLR cameras
High-quality SLR cameras allow you to flip the mirror up before exposure. Disruptive vibrations caused by the mirror reverberating no longer occur in the sensitive exposure period. Any type of vibration or motion during the exposure of the sensor chip or film reduces the picture quality.
Vibration measurements during image recording with a Canon EOS 350D
1. Mirror lock-up flips up mirror
2. Sensor exposure begins: The focal-plane shutter is opened
3. Exposure is complete. The focal-plane shutter and the mirror return to their original position.

The image recording sensor is exposed during phases 2 and 3. No motion or vibrations should occur during this period. Any disruption in this stage considerably reduces the picture quality, particularly in the case of pictures in microscopy, macroscopy or astronomy, where the smallest detailed areas must be in focus. A camera with mirror lock-up should definitely be used in these cases.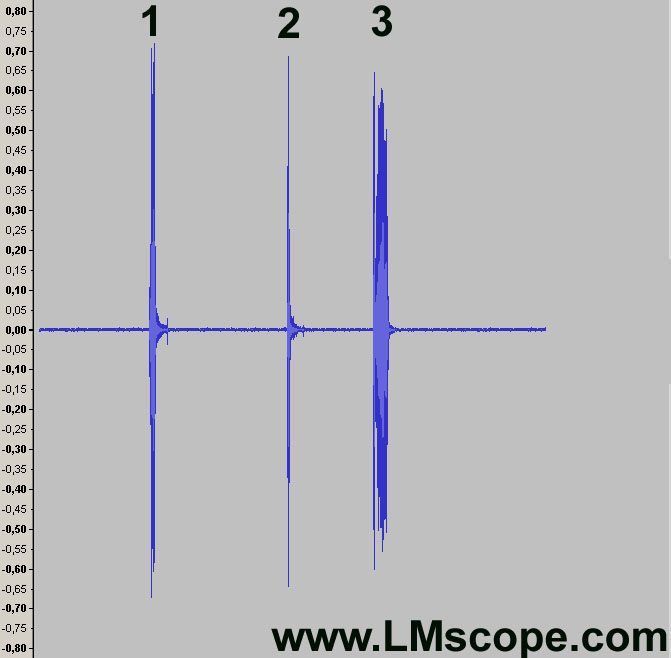 Camera perspective for a Canon EOS 350 Digital with removed lens:
The mirror is in its original position, flipped down. In this stage, the object can be observed using the viewfinder. The recording sensor or film is protected from the light by the closed focal-plane shutter.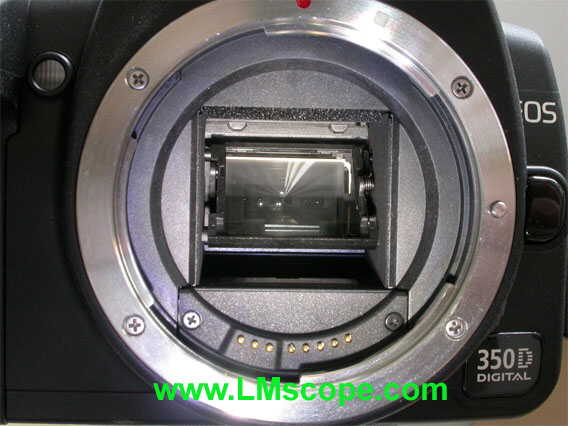 In the stage between phases 1 and 2, the mirror is flipped up. It is no longer possible to see the object through the viewfinder. The sensor is only protected from the ambient light by the focal-plane shutter.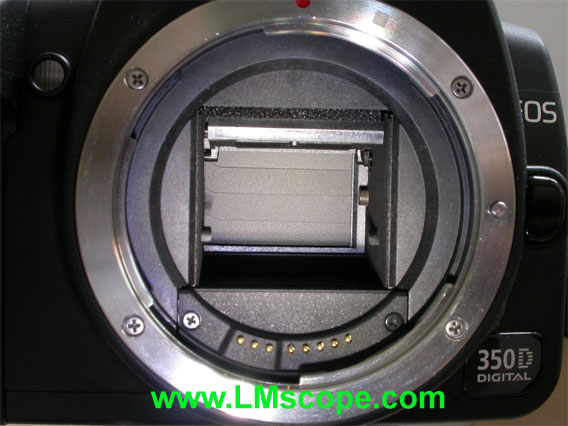 The exposure takes place when the focal-plane shutter is opened in the period between phases 2 and 3. If the lens is removed, it is now possible to look directly at the recording sensor.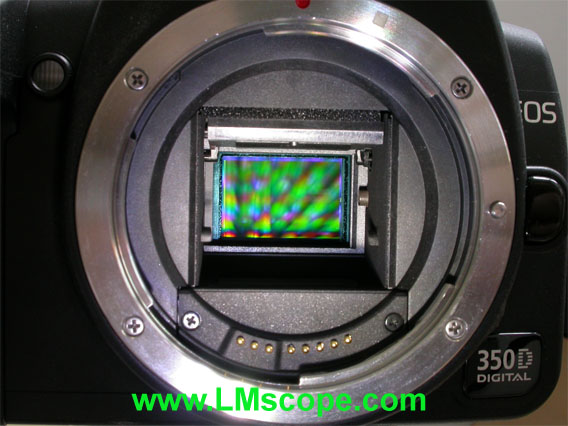 At the end of the exposure, the focal-plane shutter closes. The camera mirror is flipped back to its original position. The camera is now ready to take the next picture.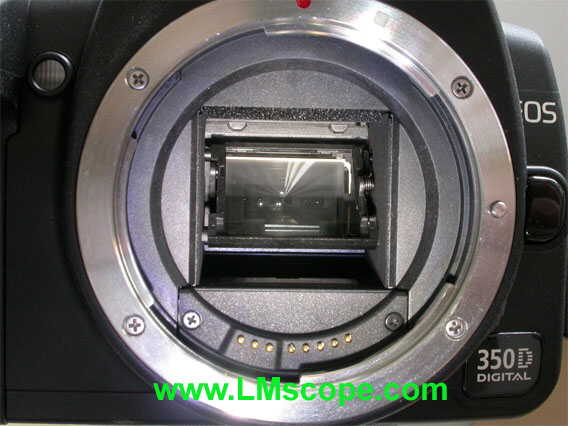 For the best picture quality we recommend using a remote-control release or using a computer to control the digital SLR camera. This is a sure way to avoid pictures being blurred or fuzzy due to camera shakes.
Canon EOS R with Canon Adapter EF-EOS R / Canon EOS 1D X Mark II / Canon EOS 1D X / Canon EOS 5D Mark IV / Canon EOS 6D Mark II / Canon EOS M50 / Canon EOS 6D / Canon EOS 5DS R ( without low-pass filter) / Canon EOS 80D / Canon EOS 5DS / Canon EOS 70D / Canon EOS 200D / Canon EOS 800D / Rebel T7i / Canon EOS 77D / Canon EOS 5D Mark III / Canon EOS 60D / Canon EOS 750D / Rebel T6i / Canon EOS 760D / Rebel T6s / Canon EOS 5D Mark II / Canon EOS 1D Mark IV / Canon EOS 7D Mark II / Canon EOS 600D / Rebel T3i / Canon EOS 650D / Rebel T4i / Canon EOS 700D / Rebel T5i / Canon EOS 2000D / Rebel T7 / Canon EOS 7D / Canon EOS 550D / Rebel T2i / Kiss X4 Digital / Canon EOS 1300D / EOS Rebel T6 / Canon EOS 4000D / Canon EOS 100D / Canon EOS 50D / Canon EOS 1200D / EOS Rebel T5 / EOS Kiss X70 / Canon EOS 1100D / Rebel T3 / Canon EOS 1D Mark III / Canon EOS 40D / Canon EOS 60Da for astrophotography / Canon EOS M100 / Canon EOS M6 / Canon EOS M5 / Canon EOS 1000D / Digital Rebel XS / Canon EOS 1Ds Mark III /

Related Links