518
Test: Sony's Alpha 7R III full-frame system camera on the microscope
With the launch of its Alpha 7R III in late 2017, Sony has set new standards that took its competitors a while to catch up on. It took two years before cameras with a similar level of specification and quality – Canon's EOS R and Nikon's Z – reached the market.
The Sony Alpha 7R III is a highly capable camera and ideally suited for photomicrography and ‑macrography applications. In addition to a powerful 42.4 MP full-frame sensor, the camera also offers a vast range of features and functions, such as Live View tethering (controlling the camera remotely via PC/Mac with Live View feed), app-based remote camera control from a smartphone or tablet via Wi-Fi, 4K HDR movie recording, Full HD video with up to 120 fps for slow motion recording, USB power supply and much more.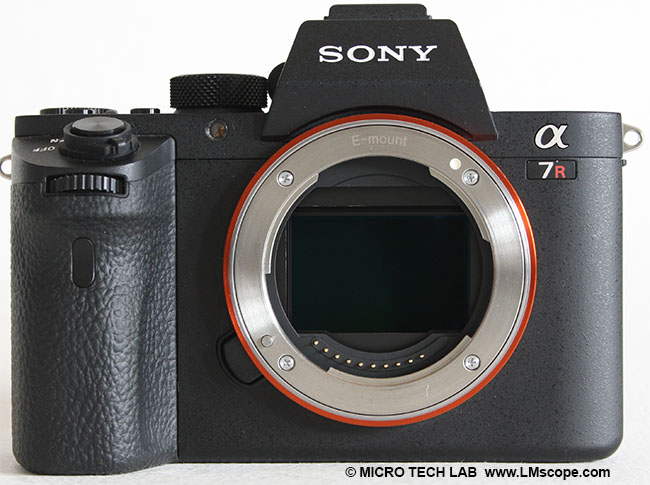 The key features of the camera at a glance:
42.4 MP Exmor™ R CMOS full-frame sensor with 5-axis image stabilisation

Pixel Shift Multi Shooting function for high-resolution images: the camera shoots a sequence of images while shifting the image sensor one pixel at a time

Continuous shooting at up to 10 fps

ISO sensitivity: ISO 100 to 32,000 (expandable to 102,400)

4K HDR movie shooting

Full HD video with up to 120 fps for slow motion recording

USB-C port for data transfer and power input

Live View tethering with Live View feed

Digital shutter speed control
At 650 grams, the compact, well-built body of the Alpha 7R III is only slightly heavier than that of its predecessor. The camera's tilting LCD screen measures 3 inches (7.7 cm) and has a resolution of 1,400K dots.
The dynamic range capabilities of the Alpha 7R III improved over those if its predecessor, the Alpha 7R II. The camera has a native sensitivity range from ISO 100 to 32,000, which can be further extended to 102,400 in Manual mode. Basically, it is better to use a lower ISO, because the higher the ISO, the lower the dynamic range. The backside-illuminated CMOS sensor on the Alpha 7R III is exceptionally light sensitive and delivers extremely low-noise results.
Also making its debut on the Alpha 7R III is a Pixel Shift Multi Shooting mode for creating super-high resolution composite images. In this mode, the camera uses the image stabiliser to capture a sequence of pixel-shifted images containing a total of approximately 170 MP of image data. These images are then composited together and result in a 42 MP still image with an overwhelming resolution.
The HDR mode is also a very useful feature for microscopy, as it adds more dynamic range to a photograph, which means that more details of the specimen are revealed. HDR thus brings out much more detail in the image and captures the subtleties of light intensity.
Shutter speeds range from 1/8,000 to 30 seconds, and there is also a Bulb mode for ultra-long exposures of more than 30 seconds, which comes in particularly handy in low-light situations (poor lighting conditions).
The camera also has a mode that allows the photographer to disable the mechanical shutter, so that images can be captured without making any noise or additional vibration. This is a particular plus for high microscope magnifications (> 400x), because even the most subtle vibrations can have a disastrous effect on image quality.
The Alpha 7R III offers 4K video (3,840 x 2,160 pixels) in multiple frame rates up to 30 fps. In Full HD it supports up to 120 fps, which is particularly important for slow-motion clips.
The HDMI interface can be used for an external monitor (preferably also 4K) to display Live View videos and images.
Using the standard Sony E-mount lens mount and one of our LM adapter solutions, the Alpha 7R III can be attached to a microscope in just a few easy steps. We offer LM digital adapter solutions that work on photo tubes as well as eyepiece tubes (23.2 mm or 30 mm internal diameter).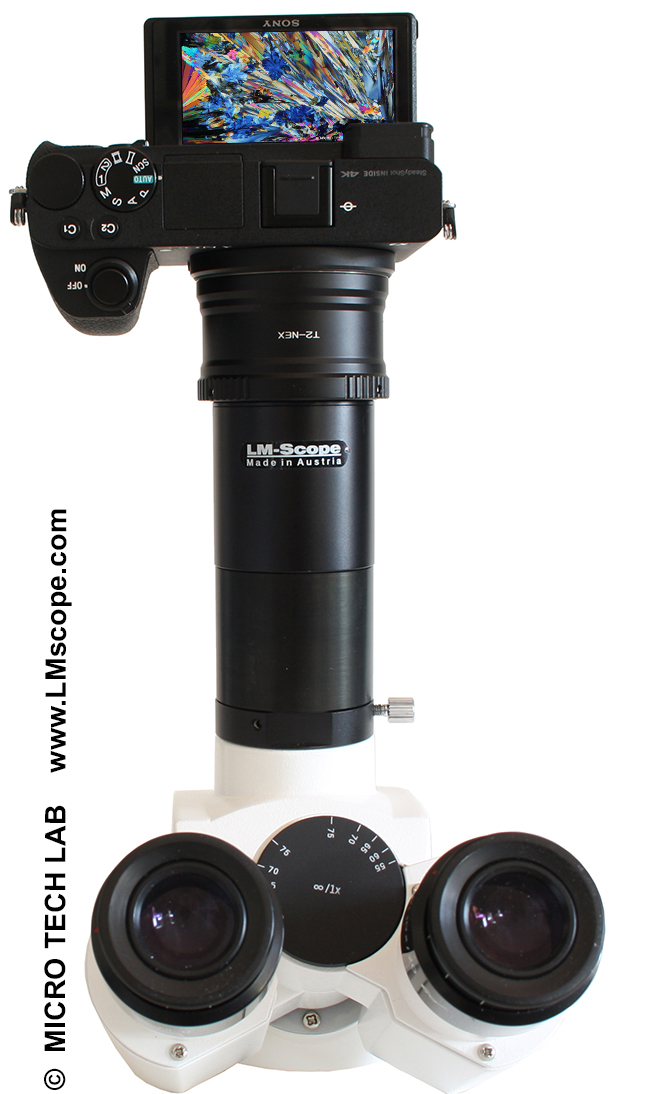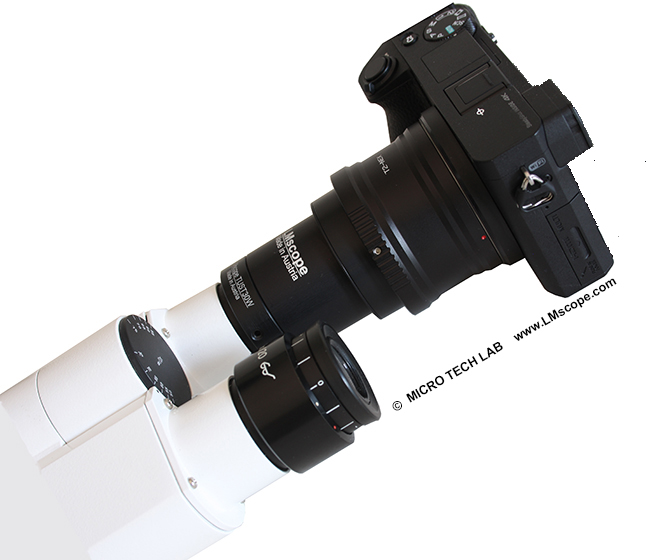 The full-frame sensor, combined with our wide-field adapters which have been specifically developed for that purpose, enables a maximum field of view (FOV). Because our products feature a plan-achromatic optical system, the image quality that can be attained is outstanding – even when shooting videos.
Tethered shooting (controlling the camera remotely from a computer) is possible with the Capture One software or Sony's Imaging Edge software suite. The Live View image can be conveniently viewed on the monitor of a PC/Mac, which significantly improves the workflow. Sony also added a USB 3.1 Gen 1 port for high-speed data transfer. Alternatively, the camera can be controlled remotely from a smartphone/tablet via a wireless network/Wi-Fi.
CONCLUSION: The Sony Alpha 7R III is one of the most amazing cameras on the market right now and excellently suited for use with a microscope. If you're looking for a low-light ace, you should also consider the Alpha 9 and Alpha 7S II (the sister models of the Alpha 7R III in Sony's full-frame mirrorless lineup). For more information, please refer to our current camera ranking and our camera recommendations.