467
Sony Alpha 7S II – a video specialist with ultra-high light sensitivity
Rather than after the Alpha 7S, which continues to be available on the market, Sony has positioned its successor/ sister model, the Sony Alpha 7S II, alongside it. The camera, with its 35mm EXMOR® CMOS full-frame sensor, is first and foremost one thing: sensitive to light. It combines a phenomenal sensitivity of up to ISO 409,600 with a dynamic range of 14 stops! The Alpha 7S II is therefore especially suited to challenging tasks in low light conditions – and, in our field of work, fluorescence microscopy in particular.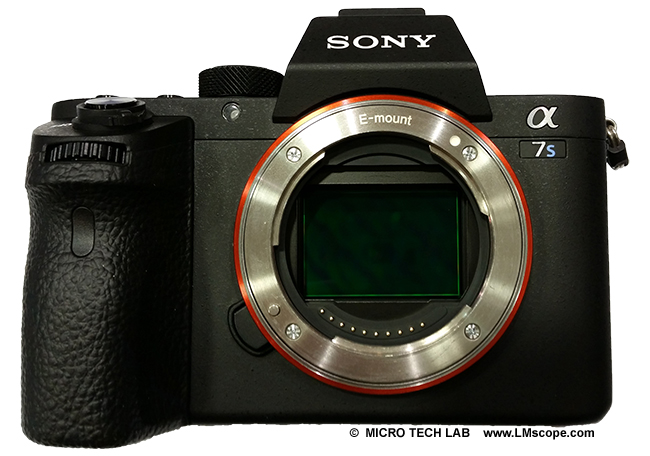 The Alpha 7S II is very well built, and its small and compact body (630 grams) makes it a fit for pretty much any microscope or macroscope. With our LM digital DSLR adapters with plan achromatic precision optics, it is easy to attach the camera to either the photo tube, C-mount tube or eyepiece tube of the microscope.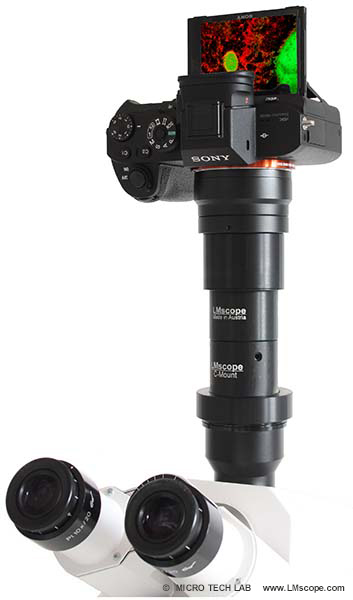 Alongside the Panasonic GH5, the Sony Alpha 7S II is THE video specialist in the Ultra HD (4K) range. Especially for this area of application, the number of megapixels has been reduced to 12.2 MP in order to increase the pixel area. The recording length is also not limited to what is an often too short 30 minutes. Long-term video recording in, for example, industry, medical practices and hospitals are therefore not a problem. Videos are saved in 14-bit RAW format. The Alpha 7S is the first model in the Alpha 7 series that is capable of recording 120 Full HD frames per second. It is therefore definitely possible to capture moving objects in slow motion, which may be of interest, for example, in microscopy for the recording of microorganisms, cell cultures or insects.
The Sony Alpha 7S II also offers another special feature: the "Silent Shooting mode". This function engages the camera's fully electronic shutter, making it possible to shoot in silence and absolutely vibration-free without using the mechanical shutter. In the process, the camera is able to produce up to 5 frames per second.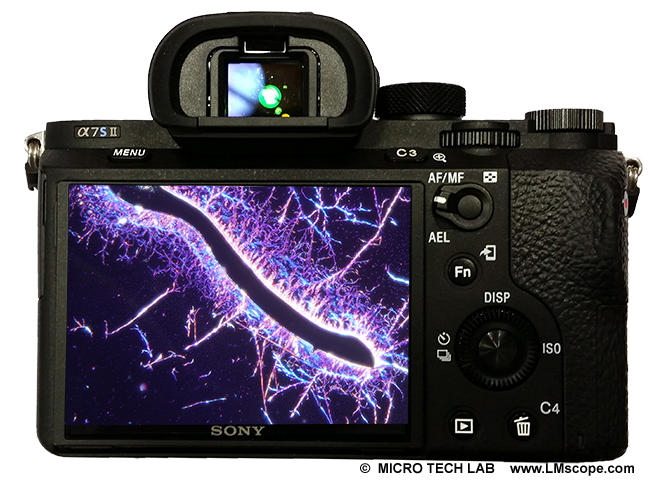 With the Capture One software, the Sony Alpha 7S II can also be controlled remotely from the PC/Mac in Live View mode. The 3.0" (7.5 cm) TFT LCD can tilt up by 107 degrees and down by 41 degrees and is thus especially well-suited for use on a microscope. This flexibility makes working more ergonomic, as it is no longer necessary to stand up all the time. The remote control capabilities not only enhance image quality but also increase workflow efficiency.
Conclusion:
The professional Sony Alpha 7S II is a 4K video specialist with ultra-high sensor sensitivity and thus offers everything that could possibly be needed for microscopy – especially when working in low light conditions. The camera is priced at around € 2,900 and up.