461
Panasonic Lumix DC-GH5 – an interesting solution for long-term video recording at the microscope
The Panasonic Lumix DC-GH5 mirrorless interchangeable lens camera features a sturdy magnesium alloy body (size: 138.5 x 98.1 x 87.4 mm, weight: 725 g without lens) which is splash- and dustproof. Its Four Thirds sensor has a resolution of 20 megapixels and features in-camera 5-axis image stabilisation. The Micro Four Thirds format is very popular in creative fields and is often used for film projects. Because the camera can be easily attached to either the photo tube or the eyepiece tube of almost all conventional microscopes with our LM digital adapters, it can now also be used for micro and macro photography, for example with laboratory, stereo or surgical microscopes.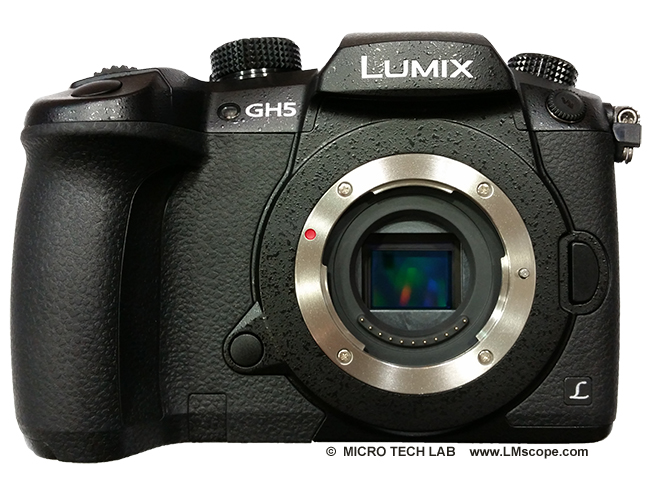 The fact that the GH5 allows unlimited video recording is a particular plus: with no duration limit, you can easily film over 30 minutes for continuous shots or long exposures of excellent quality.
The GH5 also offers 4K quality capture at up to 60 frames per second, which lives up to even professional users' demanding requirements, and outputs up to 180 frames per second in Full HD. As regards storage format, users can choose between MOV, .mp4 and AVCHD. The dual card slot enables memory extension for large data storage.
The camera has a very quiet, vibration dampened shutter, which provides a top shutter speed of up to 1/8000 seconds. It also features a Bulb mode, which permits up to 60 seconds of exposure. The shutter unit is durable for approximately 200,000 releases.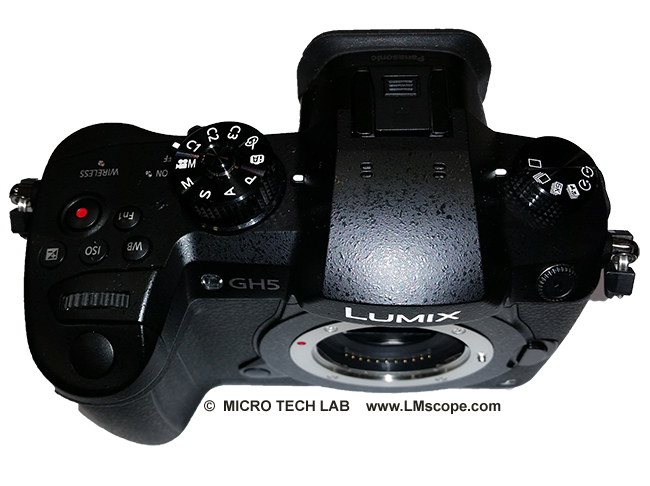 In Auto mode, the camera's ISO sensitivity is 25,600, and in Creative Video mode, ISO can go up to 12,800. This represents a significant consideration in microscopy, since only a small amount of light reaches the camera sensor in some microscopy applications (such as fluorescence microscopy).
The GH5 has a vari-angle TFT LCD monitor with a display diagonal of 8cm and a 3:2 aspect ratio. The resolution is 1.6 million dots.
For a wireless setup, the camera offers WiFi capabilities for data transfer and remote operations. Although it also has a connection for remote control, the GH5 can be easily controlled via WiFi when paired with a mobile app (iOS and Android) – even with Live View.
It also has Bluetooth connectivity, which enables a connection between camera and smartphone or PC with low energy consumption, and a USB 3.1 socket. A digital video port in HDMI is present on the camera, but no additional audio/video port.
With our LM digital adapters, the GH5 can be attached to almost any microscope in a few easy and simple steps. We offer two connection options: via the photo tube and via the eyepiece tube. The plan-achromatic optical system of our adapters guarantees outstanding image quality.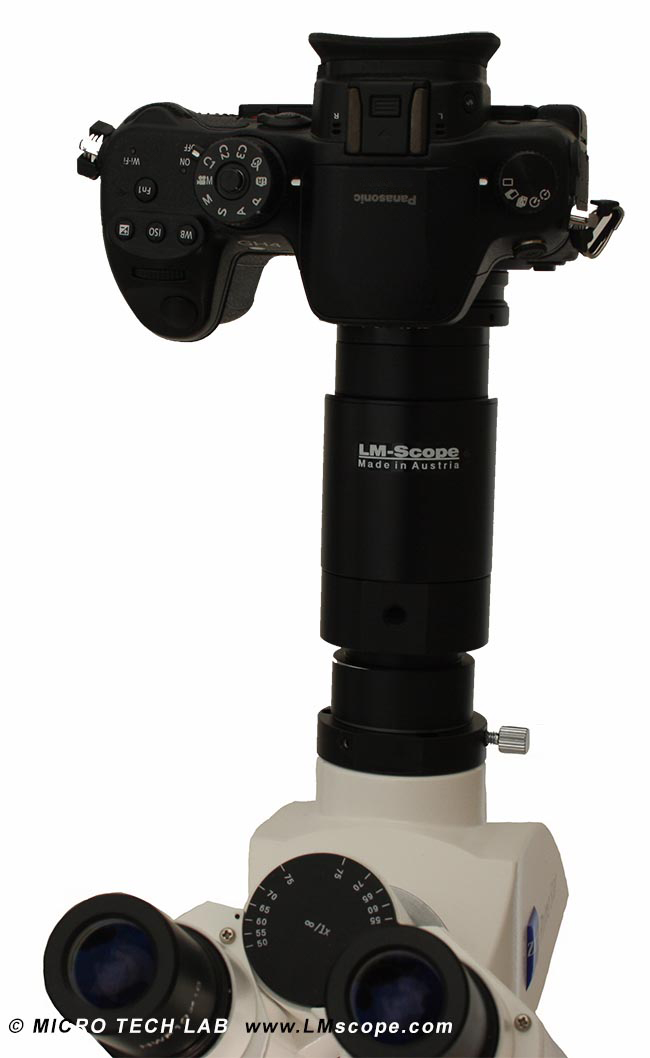 Image: Attaching the Panasonic GH5 to the photo tube of a Zeiss microscope.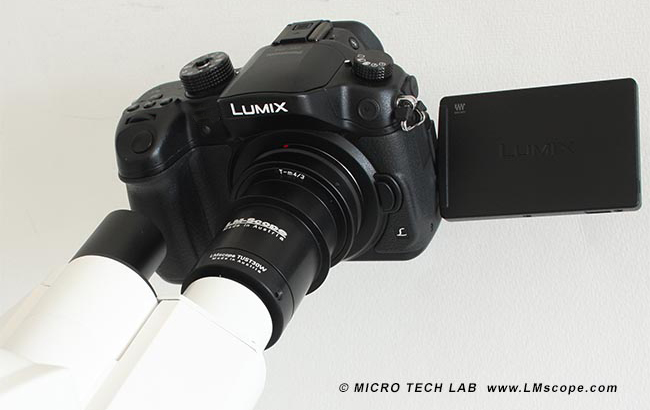 Image: Attaching the Panasonic GH5 to the eyepiece tube. This option is not quite as convenient as a connection via the photo port (see above), because the eyepiece tube cannot be used for observation at the same time.
Panasonic does not have any image viewing and editing software included with the GH5. Although the camera is compatible with the Capture One Pro software, working in Live View mode is not supported. The GH5 firmware update, which is scheduled for the second half of 2017, will give access to the following features:
Full HD 4:2:2 10 bit video recording

​

Full HD high-resolution video recording in anamorphic mode

USB tethering
Conclusion:
The Panasonic DC-GH5 is a great camera, especially when it comes to filming, because it allows video recording without a predefined 30 minute time limit. It is very well built and has a vari-angle touch screen. However, due to the smaller sensor format (Micro Four Thirds), the image quality is no match for that of APS-C or full frame cameras.