523
Test report of the Canon EOS R – a capable full-frame mirrorless system camera that is great for microscopy
Easy connection to either phototube (phototube adapter) or eyepiece tube (C-mount adapter) with the LM microscope adapter
Canon entered the market with its inaugural full-frame system camera in the second half of 2018. Thus, all of the big three camera makers (Sony, Nikon and Canon) are now offering full-frame mirrorless camera systems. We took a closer look at the EOS R to see how it performs in our special area of use: that of microscopy and macroscopy. To put it short, we were pleasantly surprised. With the EOS R, Canon has managed to create a well-rounded performer with powerful features that has been designed for ergonomic operation and works very well with the Canon Utilities software. Shooting with the EOS R is fun, and it can be used to its (or the user's) full potential without too much effort.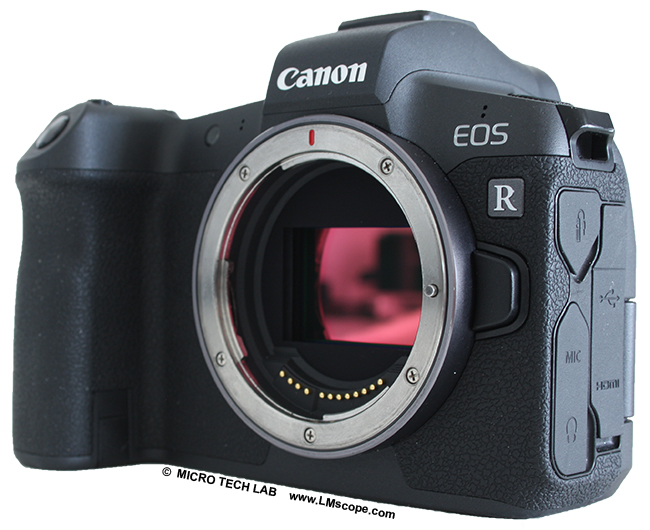 Key features of the EOS R:
Mirrorless full-frame system featuring a 30 MP CMOS sensor with Dual Pixel technology

Fully articulating LCD screen

4K video recording and HDR video mode

4K video shots (UHD, 16:9) at 30 fps

In-body charging via USB-C
Burst rate of 8 fps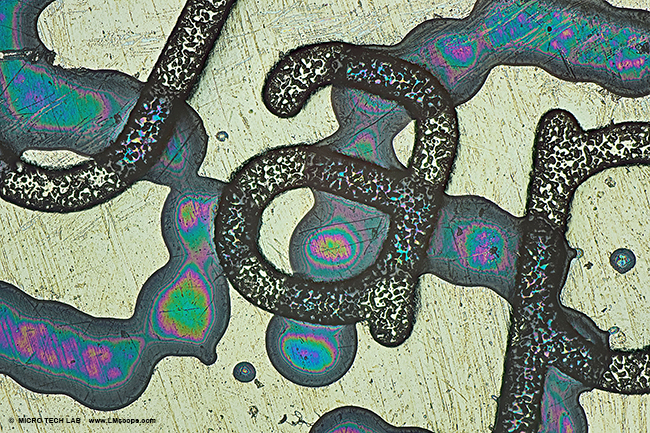 h
When used for microscopy applications, the camera (which, at 580 grams, is a lightweight for its class) can be attached to either the phototube (C-Mount adapter) or the eyepiece tube (eyepiece adapter) with an optical LM adapter solution. Our product comes with the matching R bayonet adapter - the original Canon EF-EOS R adapter is no longer necessary.
The LM adapter solution with plan achromatic precision optics performs the optical adjustment.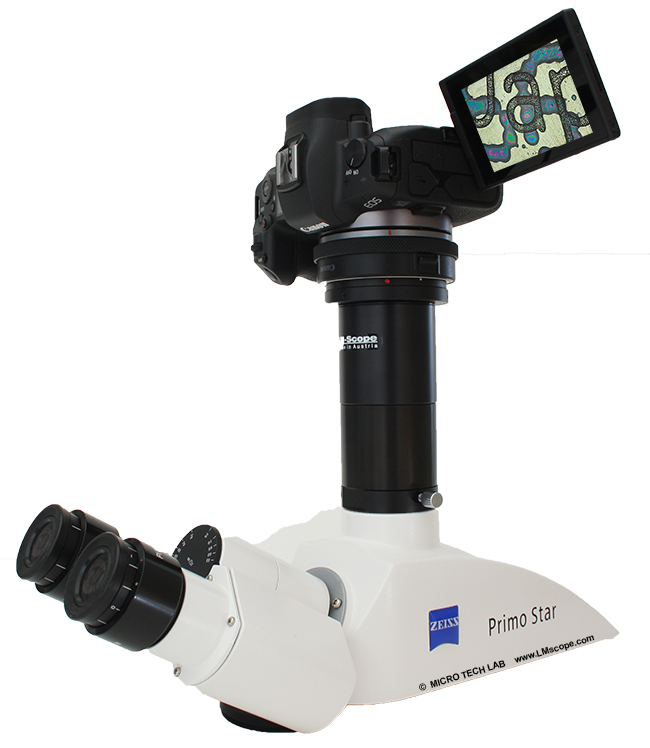 attached on photo tube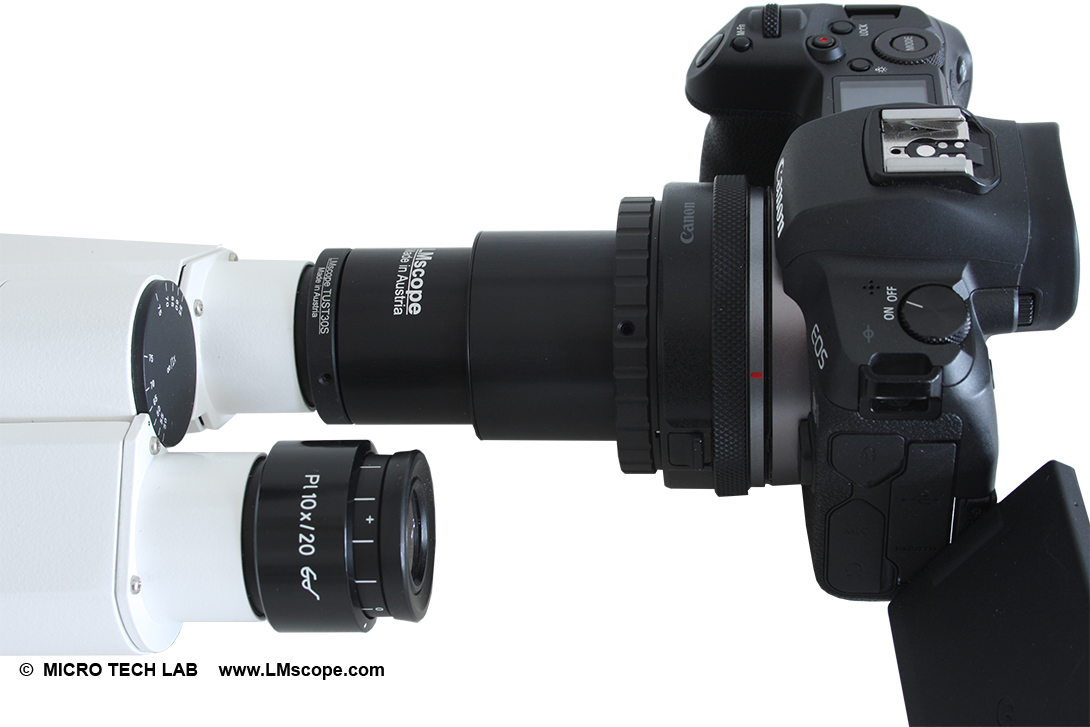 attached on eyepiece tube

The LM adapter solution is attached directly to the camera body. The Canon EOS R is the only full-frame system camera to feature a vari-angle Clear View LCD II display with approximately 2,100,000 dots. This is a nice benefit in terms of ergonomics, because the microscope operator can remain in a sitting position when looking at the camera screen. The competition (Sony), is still sticking to its relatively inflexible tilt-only design.
In many situations, the camera is controlled remotely from the computer (PC, Mac). With the Canon Utility software, it is really easy to set up remote camera access.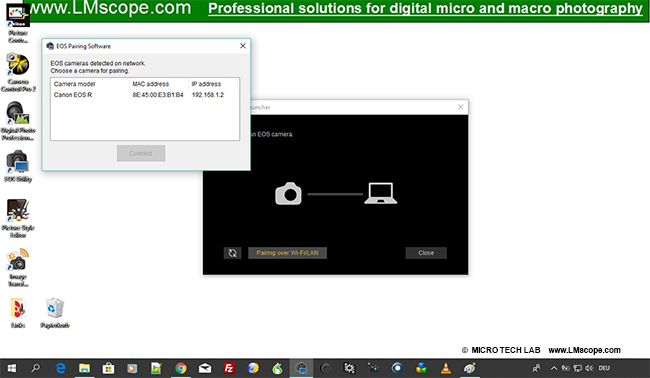 This way, the user can view the live image on the computer and use it for pinpoint focusing.
The camera can be controlled either via a cable connection (USB) or a wireless network (Wi-Fi). The Canon Utilities software is included in the price of the EOS R and does not need to be purchased separately. The software is very well designed and has an ergonomic layout. The EOS R also has onboard memory, which means that the images can be stored directly to the computer – you don't even need an SD card.
The magnifying feature is also very useful: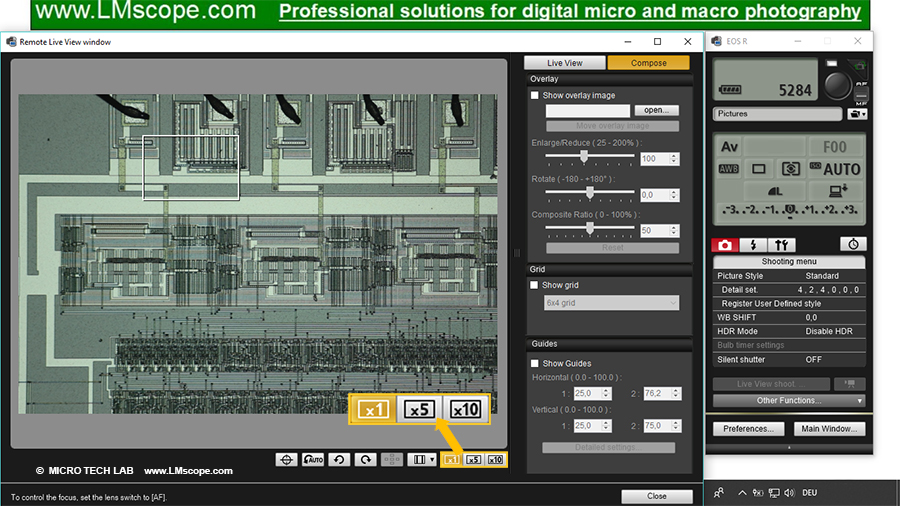 Image above: At the bottom edge of the screen, you can toggle between magnifications (1x, 5x, 10x), which is very convenient.
Image below: Depending on the light source, the white balance should be set before you start shooting. With the Canon Utilities software, you can quickly adjust the white balance by clicking the eyedropper symbol. Just use a white object as a reference, and with one click, the white balancing is done.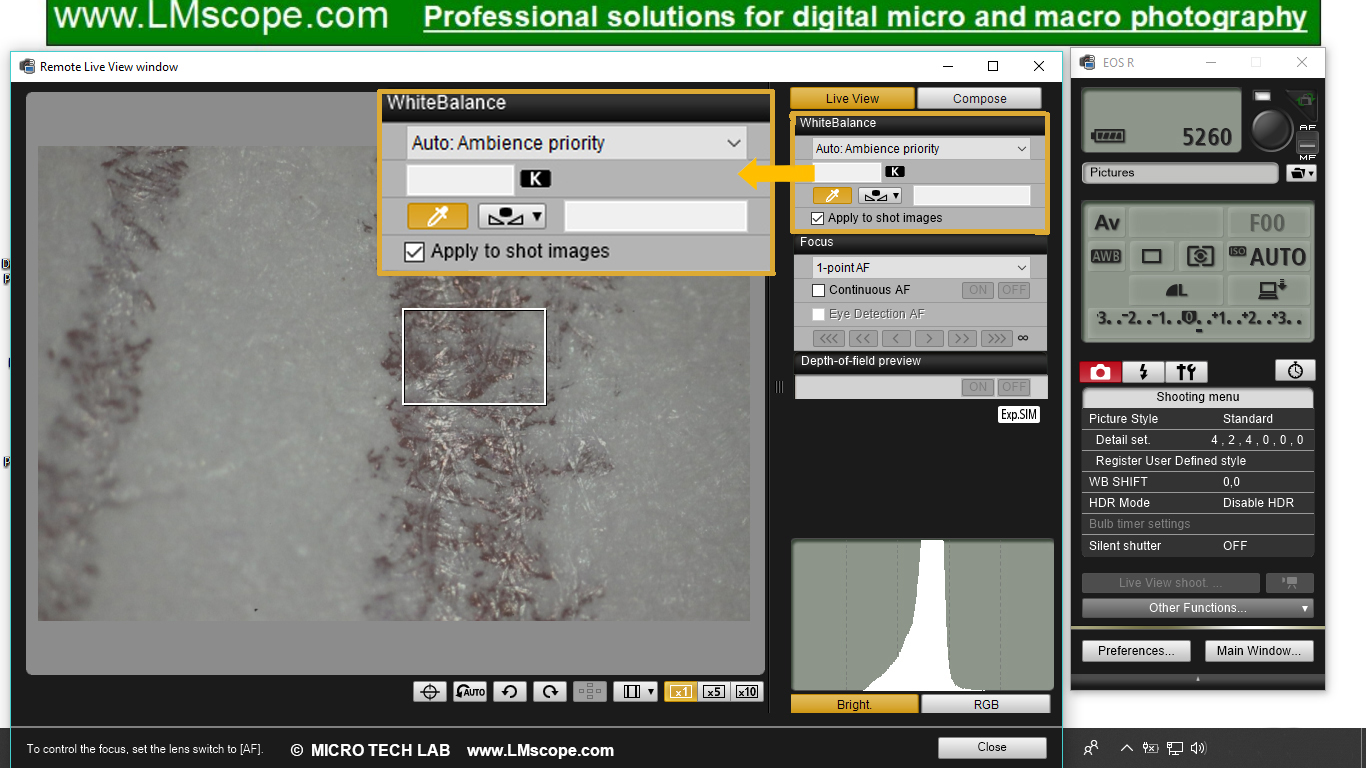 Besides using a PC or Mac, working with smartphones and tablets has become quite common. With the Canon Camera Connect app, images shot can be transferred to a paired phone, tablet or computer. All you need is turn on the Wi-Fi connection to your mobile, or a Wi-Fi link to your computer. Even tethering the EOS R to a PC or Mac via Wi-Fi, USB/Wi-Fi or USB 3.1 is supported.
For professional use, we recommend connecting the camera via the USB 3.1 port for fast data transfer. Live image output to an external monitor is possible via the HDMI port. The camera can also charge over USB-C, but only with a stronger USB power supply (15W or 3A).
In remote control mode (tethering), Canon EOS cameras bring the live image output either to the camera screen or to an external monitor via the HDMI port. This is convenient and actually necessary for many applications where the user needs to see the image and control the camera at the same time.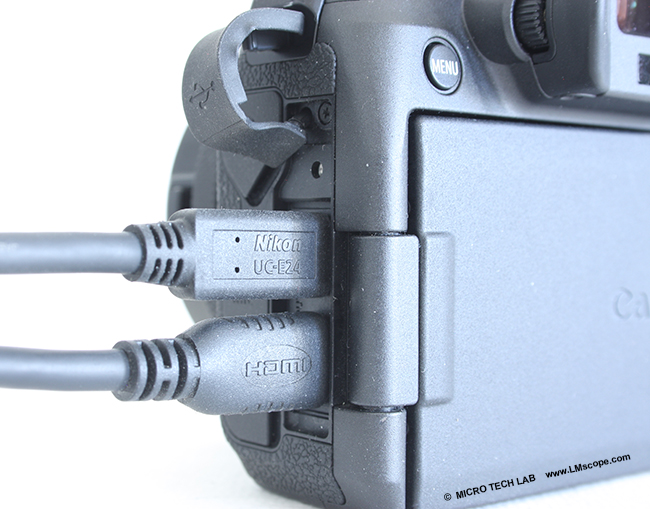 The ability to deactivate the auto power-off function in the menu is especially important when the camera is used for presentations or similar tasks and cannot be permitted to switch itself off automatically.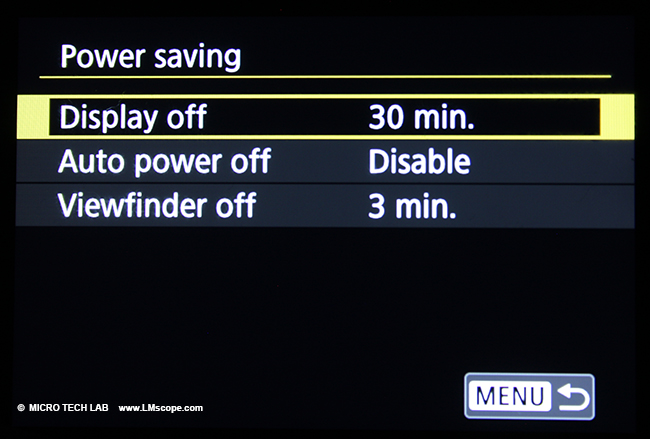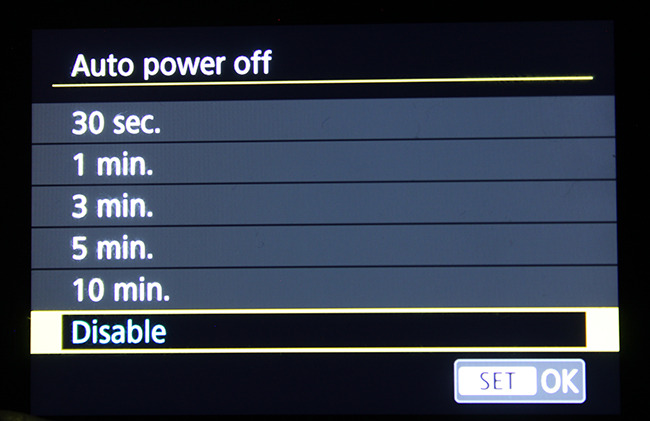 The HDR (High Dynamic Range) mode is widely used by professional photographers to support a higher level of image contrast. In HDR mode, the camera takes a series of images, each with a different exposure, and then blends them to create one perfect composite image.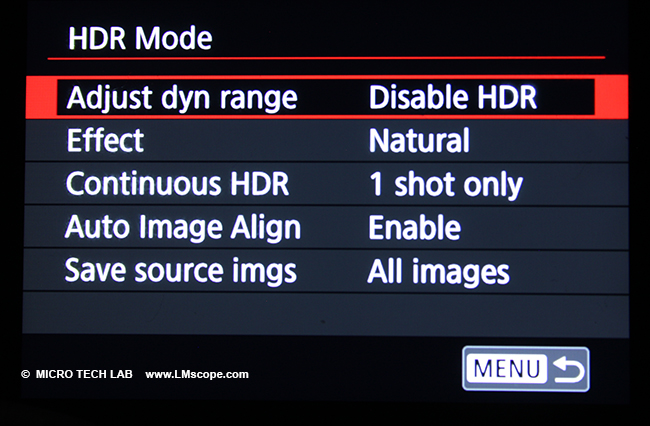 With an expanded ISO range of ISO 50 to 102,400, the EOS R is also a good fit for low-light microscopy applications, such as fluorescence microscopy.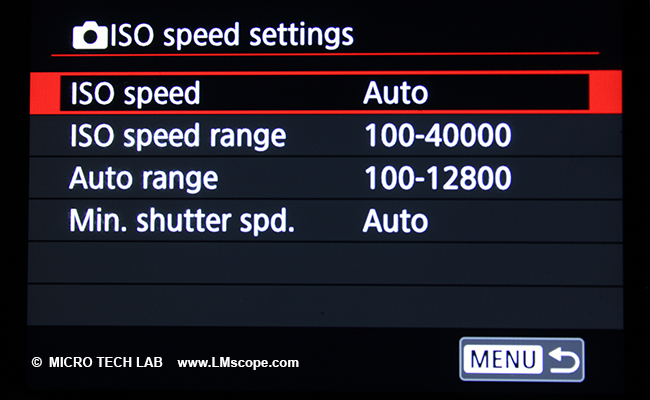 The thermal image we like to take shows the temperature of the sensor after the camera was working for 30 minutes in Live View mode. The sensor warms up to only around 30°C, which is a very good level. In older Canon cameras, the sensor reached a temperature of around 40°C. This is important because a cool sensor has a better signal-to-noise ratio and consequently a higher dynamic range.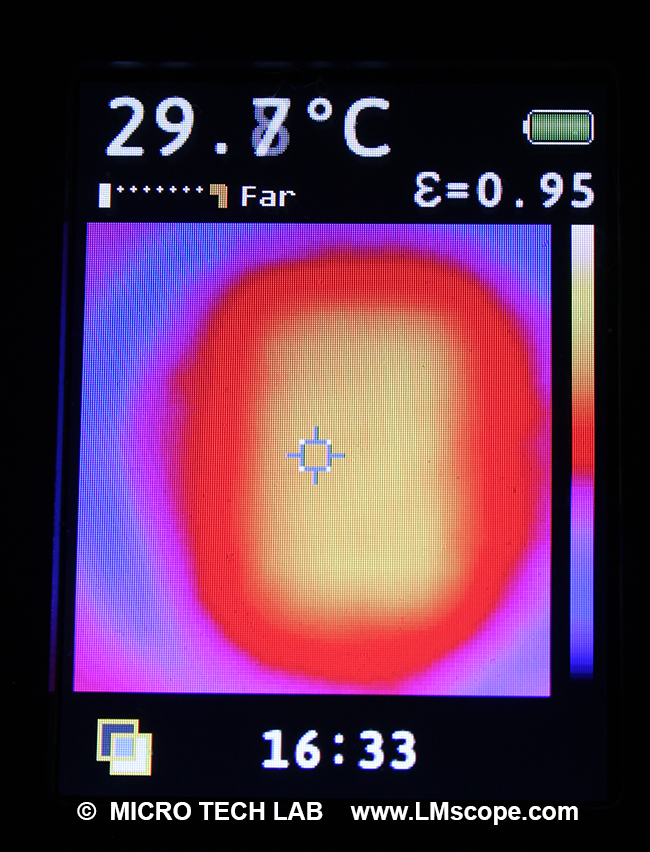 The video settings of the EOS R can be changed quickly. The camera can shoot in 4K ((16:9) 3,840 x 2,160 at 30 fps), but with a maximum recording time of 29 minutes and 59 seconds, and it can also record uncompressed 4K digital video over HDMI in 10-bit resolution for precise details.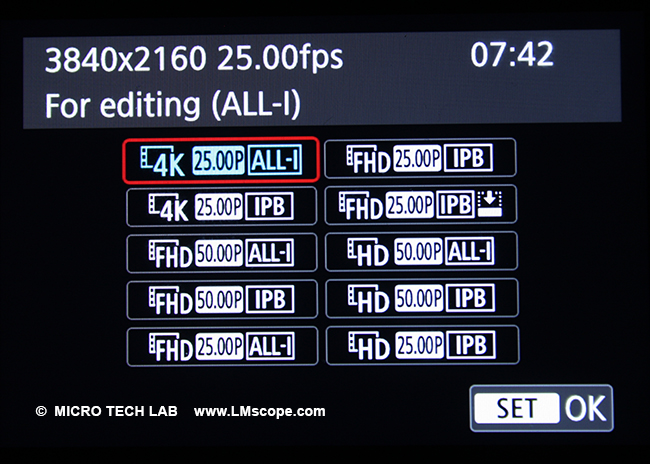 The only shortcoming is that when recording in 4K, the sensor is cropped and users cannot benefit from the full image sensor but only from a cropped central area. This means that you don't get a full-frame readout (where the whole sensor area is read). We specifically noticed that when shooting video, the central area of the frame is always used.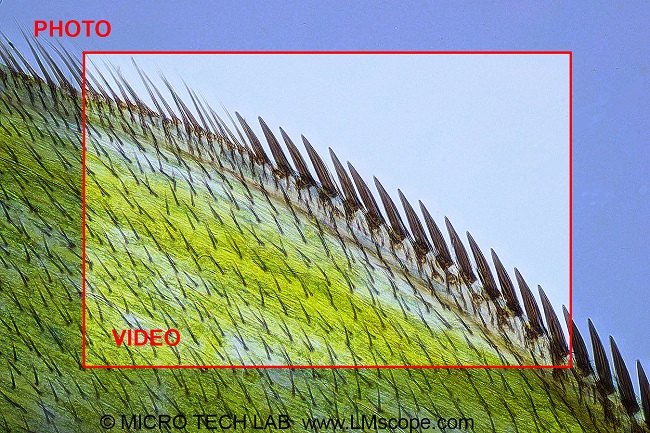 Another feature of the EOS R is the silent shooting option, i.e. fully electronic sensor operation without mechanical shutter.
The possibility to disable the shutter release lock is also very important when the camera is used to take pictures through a microscope, telescope or macroscope.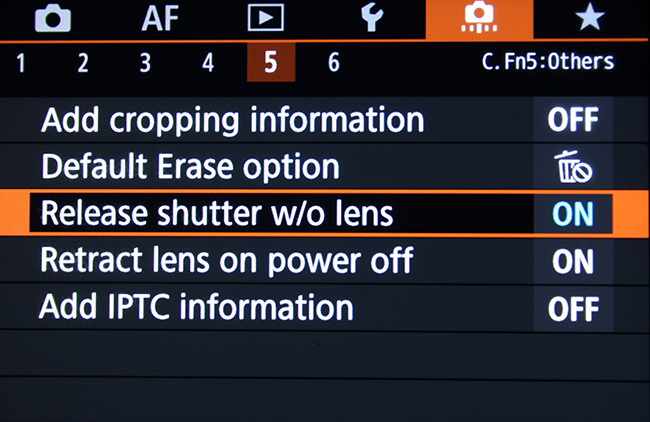 Interesting accessories for specialists: The original Canon EF-EOS R lens adapter, which is also available, adds the ability to use drop-in filters and is available with a variable neutral density filter (V-ND), a circular polariser (C-PL) or a clear filter (CL) for shooting without filter effects. It is an important accessory for scientific applications. These filters are handy tools that can be placed in front of the lens. Especially for microscopy and for macro imaging, the circular polariser is a great asset, because it can be used to create polarisation images without complicated setups.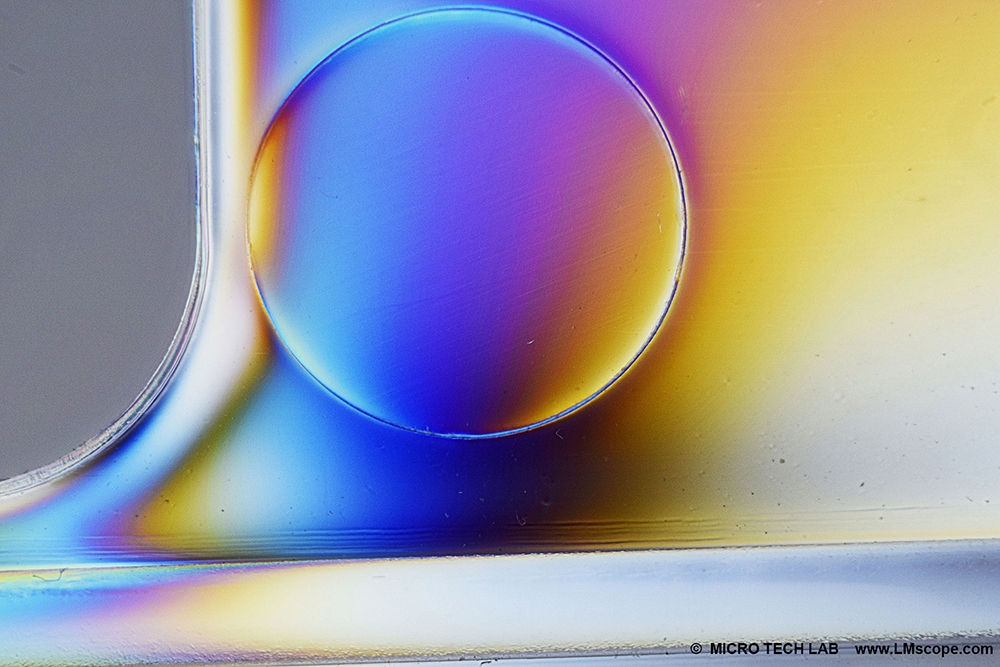 With neutral density filters, you can control the amount of light hitting the camera sensor. They are crucial for filmmakers who are shooting in bright light and want to use a large aperture and a long exposure. They also allow landscape photographers to use a low shutter speed to create a motion blur effect on clouds or flowing water.
Conclusion: Canon deserves credit for doing an impressive job with its EOS R, which is available at a starting price of around EUR 2,400 and offers a great blend of hardware, software and interesting accessories.
New LM Digital Adapter for:
Nikon Z9 / Sony Alpha 7R V / Sony Alpha 1 / Sony FX3 Cinema Line / Sony Alpha 9 II (ILCE-9M2) / Sony Alpha 9 / Nikon D6 / Canon EOS R3 / Canon EOS R6 Mark II / Canon EOS R8 / Sony Alpha 7R IV / Canon EOS R5 / Sony Alpha 7S II / Sony Alpha 7S III / Sony Alpha 7R III / Canon EOS R6 / Nikon Z6 / Nikon Z6II / Sony Alpha 7R II / Nikon Z7 / Nikon Z7II / Canon EOS R / Canon EOS Ra (Astro) / Nikon Z5 / Sony Alpha 7C / Canon EOS RP / Sony Alpha 7S / Canon EOS R7 / Leica SL2-S / Canon EOS R10 / Canon EOS 1D X Mark III /