521
Sony Alpha 5100 (DSLM) on the microscope – easy connection to either phototube or eyepiece tube with the LM microscope adapter solutions
With the Alpha 5100 – the successor to its flagship of the range, the NEX-5T – Sony has launched an affordable system camera that gets beginners off to a good start and is also an interesting option for photomicrography applications.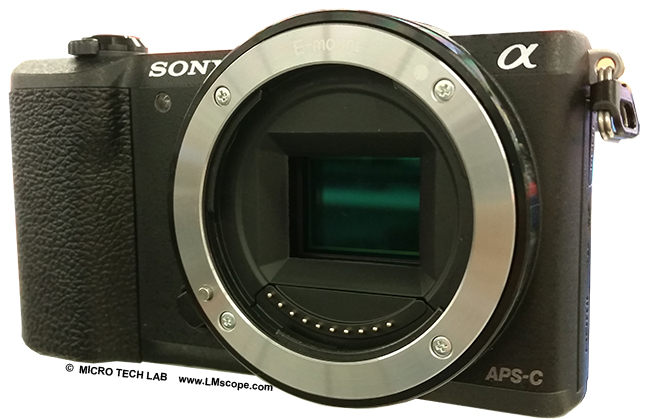 The camera is equipped with a 24-MP Exmor APS-C CMOS sensor that records movies in Full HD. Using the standard Sony E-mount lens mount and one of our LM adapter solutions, the Alpha 5100, which is quite small and compact (dimensions: 11 x 6.3 x 3.6 cm) can be attached to a microscope in just a few easy steps. When this setup is chosen, the LM microscope adapter is attached directly to the camera body. We generally recommend using the phototube of the microscope (C-mount) because this allows the user to continue working with the eyepiece(s).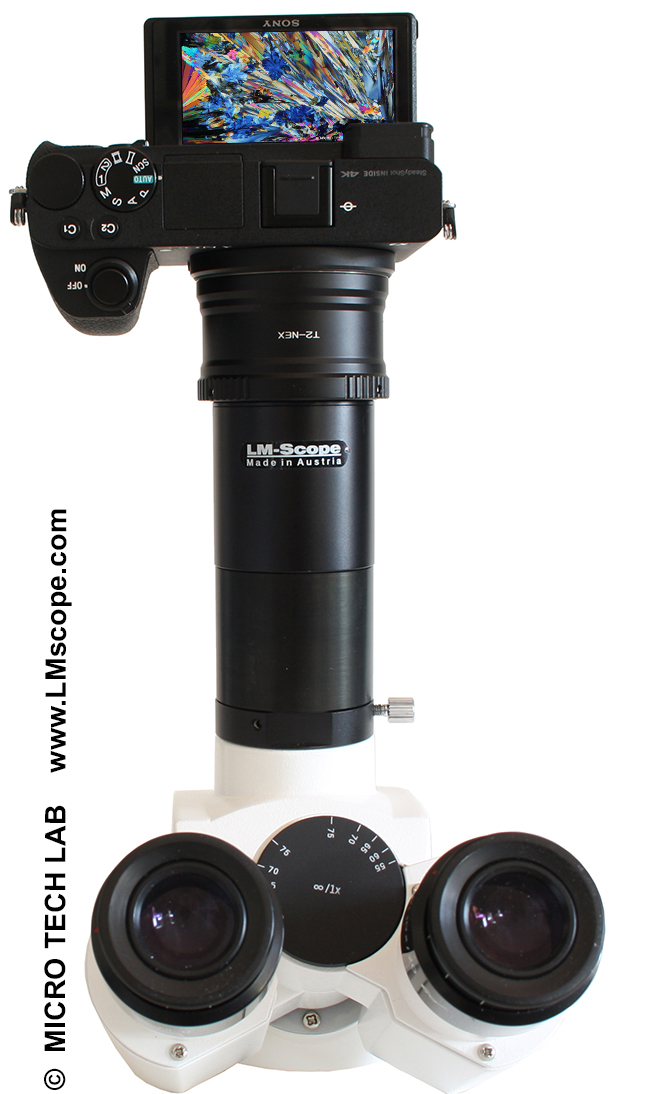 If the microscope doesn't have a phototube, the camera can also be attached to the eyepiece tube. Our product range includes an adapter solution with integrated optics for this scenario. Because the Alpha 5100 weighs in at only 283 grams (battery included), the risk of tipping is negligible even when attaching it to very small, lightweight microscopes.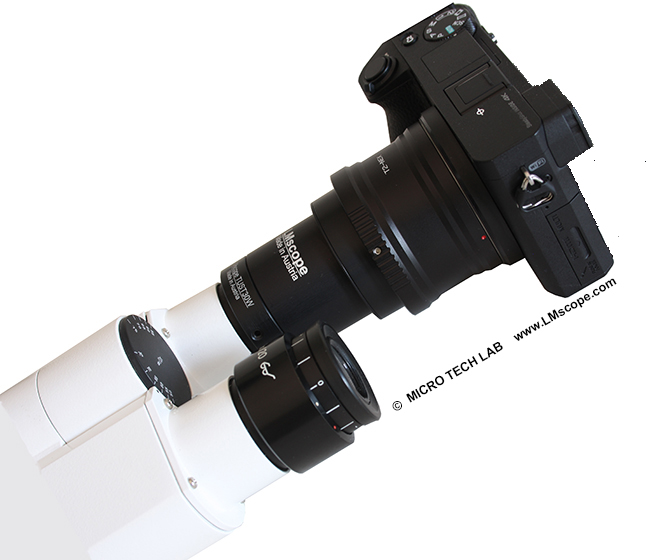 The Alpha 5100 has a 3-inch touchscreen LCD display, which can be tilted up and down at a 180 degree angle and facilitates an ergonomic position, which makes working on the microscope a lot more comfortable. The screen houses 921,000 dots.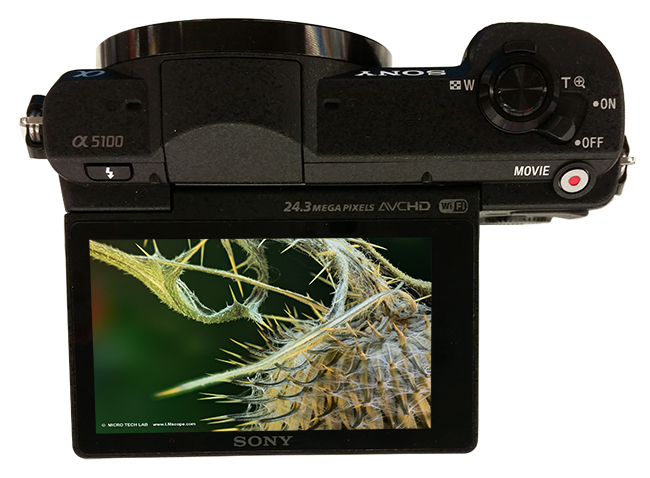 The Alpha 5100 realises up to 6 fps continuous shooting at maximum resolution. ISO sensitivity can be set between 100 and 25,600, which is mid-range. The camera's HDR mode takes three images at the desired interval (up to 6 EV stops) and combines them in-camera into a single image with balanced contrasts. This is a particular benefit when dealing with microscope specimens that are not uniformly thick, such as insects. The Alpha 5100 offers shutter speeds between 1/4000 and 30 seconds with a Bulb option, which places it in the mid-range category.
Wi-Fi connectivity allows the user to control the camera wirelessly with a compatible smartphone or tablet. The only requirement is Sony's PlayMemories Mobile app, which can be downloaded for free.
The Capture One software also enables remote camera control from a PC/Mac, but unfortunately does not support LiveView mode. Recently, we came across a new remote control app for PCs called LOCANA, which allows the user to shoot tethered with LiveView. In addition to the Alpha 5100, the XX are also supported (we haven't tested the software yet).
The Alpha 5100 has a micro HDMI port at the side of the body, which can be used to connect it to an external monitor. It also works very flexibly with other specialised optical instruments (telescopes, spotting scopes, microscopes, etc.) that have non-CPU lenses. There is no shutter release lock, and the operator can make full use of the camera's convenient auto exposure capabilities in AV mode.
Newer Sony cameras offer in-camera charging: a very helpful feature that enables the camera to be charged via USB like a cell phone. This eliminates the need for a battery adapter accessory to ensure uninterrupted work in the studio or lab.
Conclusion: The Sony Alpha 5100 system camera is quite well suited for microscopy applications and comes at a very reasonable price point. For more information, please refer to our current camera ranking and our camera recommendations.
New LM Digital Adapter for:
Sony Alpha 1 / Sony FX3 Cinema Line / Sony Alpha 9 II (ILCE-9M2) / Sony Alpha 9 / Sony Alpha 7R IV / Sony Alpha 7S II / Sony Alpha 7R III / Sony Alpha 7R II / Sony Alpha 7C / Sony Alpha 7S / Sony Alpha 7III / Sony Alpha 6600 / Sony Alpha 6400 / Sony Alpha 6100 / Sony ZV-E10 / Sony Alpha 6300 / Sony Alpha 6500 / Sony Alpha 99 II (SLT-A99 II) / Sony Alpha 77 II / Sony Alpha 7R / Sony Alpha 7 / Sony Alpha 68 / Sony Alpha 99 (SLT-A99) / Sony Alpha 7II / Sony Alpha 6000 / Sony Alpha 77V /