528
Test: The Canon EOS 40D on the microscope – a DSLR classic with an advanced sensor
The Canon EOS 40D was launched in 2007. With an APS-C Live View sensor, a strong feature set and great hardware it is geared for the semi-professional market. When it was introduced, the EOS 40D was ahead of its time and offered pretty much everything that is important for microscopy applications: an advanced sensor with high ISO sensitivity, a fast, low-noise focal plane shutter and shutter speeds from 30 to 1/8000 sec. With Canon's proven EOS Utility 2 software, the EOS 40D can be controlled remotely from a computer, using Live View and magnification to get sharp focus. Canon continues to provide updates for the software, which means that the EOS 40D can be used with any computer running current Windows versions.
If you're on a budget or want an affordable second camera for microscopy applications, the EOS 40D is one of the best DSLRs you can buy. It can be found on the used camera market for about € 100.
Main features of the Canon EOS 40D:
APS-C CMOS Live View sensor with 10 megapixels
Solid, well-built camera from Canon's semi-professional line-up

Quiet, noise-reduced shutter

Shutter speeds between 1/8000 and 30 seconds
EOS Utility 2 software compatible with Windows 10 und IOS (Mac)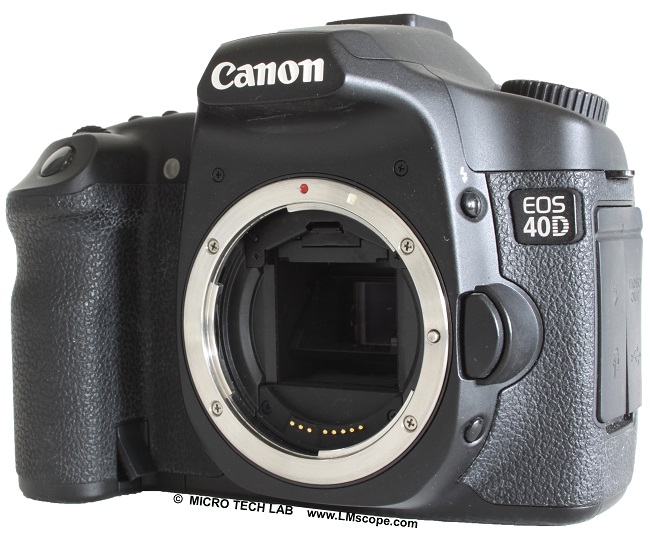 The EOS 40D has an APS-C CMOS sensor with 10 megapixels. At 6.5 fps (according to specs published by Canon) it has a high continuous shooting capability. The body is made of magnesium alloy for rugged performance and weighs 740 grams. Images can be displayed live on the rear 3-inch (7.62 cm) TFT LCD display, which has a broad viewing angle, but only 230,000 pixels.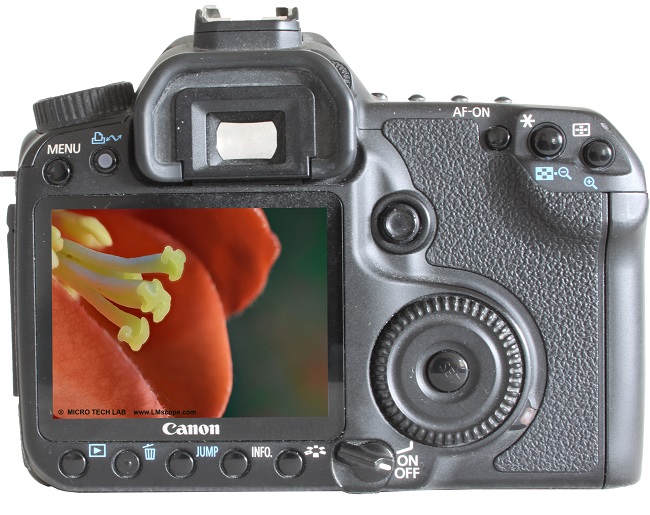 In addition, the camera has a top LCD panel that displays status information about most of the shooting settings: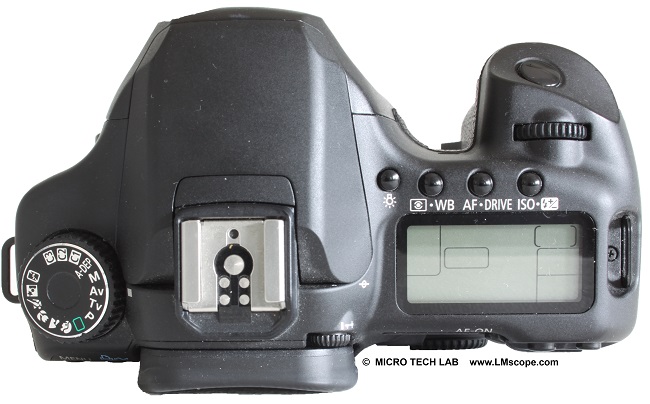 Another plus: The EOS 40D has two dedicated magnify buttons: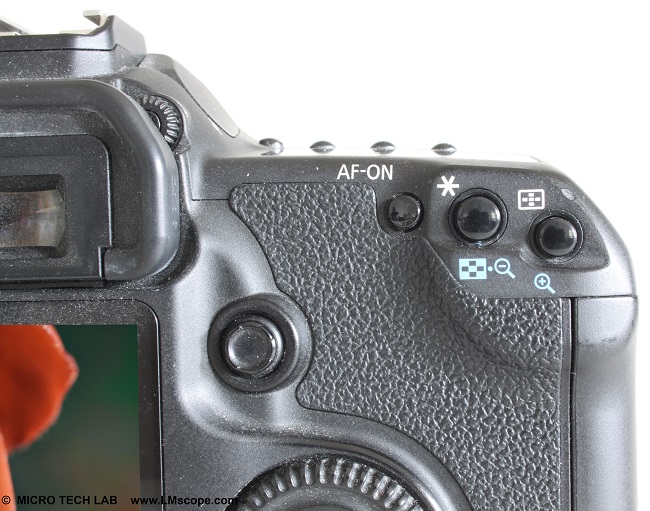 The memory card format is CompactFlash, and if the camera is controlled remotely, it outputs directly to the hard drive or SSD. When working with a microscope, it is generally advisable to control the camera remotely with a compatible camera control software. Canon's EOS Utility 2 is a free program that comes included with the EOS 40D and can also be downloaded directly from the Canon server.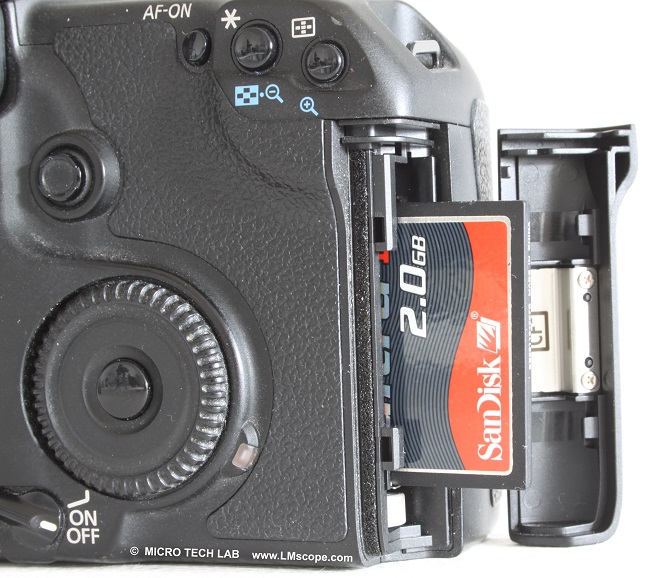 The sensor has good light sensitivity, with an ISO range from ISO 100 to 3200. Shutter speeds vary between 1/8000 and 30 seconds, and there is a Bulb mode for even longer exposures. With a USB 2.0 port and a micro HDMI output (type D) for connecting to a larger monitor, there is a sufficient number of interfaces for data transfer.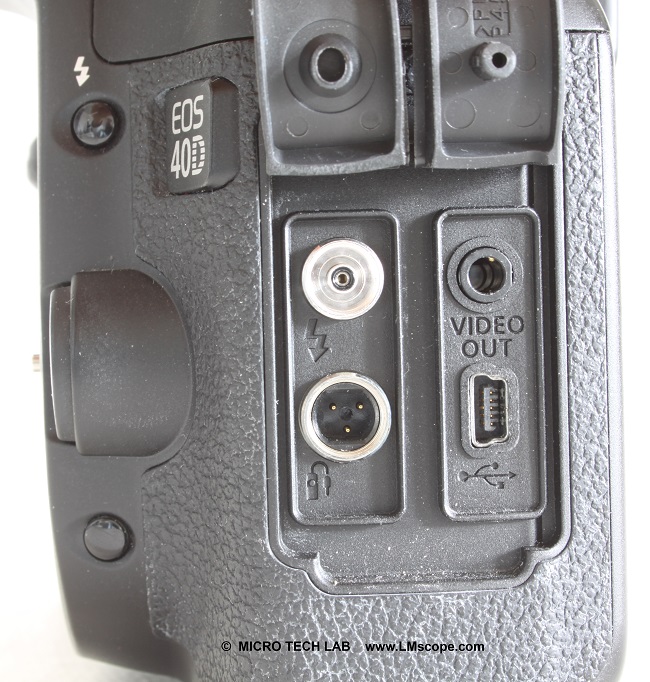 The EOS 40D has a Canon EF bayonet mount, to which our LM digital adapters can be attached in a few easy steps. If your microscope has a phototube, we recommend adding the adapter to it. If that's not possible, we also offer adapter solutions for the eyepiece tube.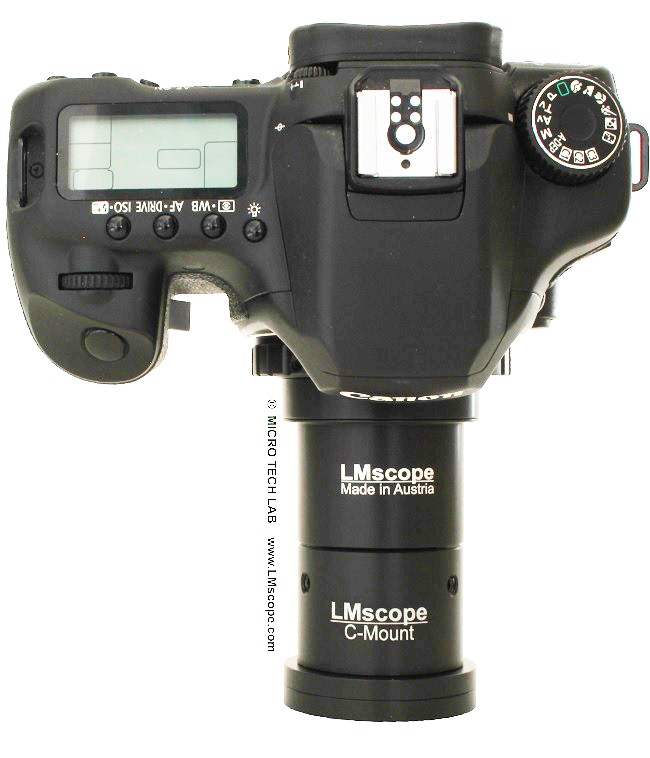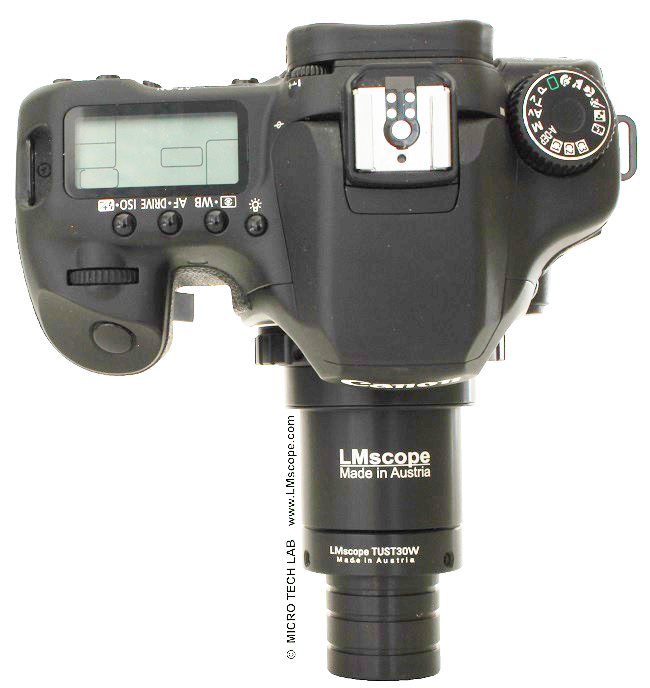 Conclusion: Although it has been around for more than ten years, the Canon EOS 40D is still a great camera that is capable of giving outstanding results. If you want a budget-friendly camera in mint condition with few shots, the EOS 40D will not disappoint you. For about € 100, the EOS 40D is one of the best buys in the used camera market and offers good value for money. However, it is certainly also worth looking into the 40D's successor models – the EOS 50D / 60D / 70D / 80D. More information about cameras can be found in our current camera recommendations and our camera ranking.
15.05.2019
New LM Digital Adapter for:
Canon EOS R3 / Canon EOS R5 / Canon EOS R6 / Canon EOS R / Canon EOS Ra (Astro) / Canon EOS RP / Canon EOS R7 / Canon EOS R10 / Canon EOS 1D X Mark III / Canon EOS 1D X Mark II / Canon EOS 1D X / Canon EOS 90D / Canon EOS 5D Mark IV / Canon EOS 6D Mark II / Canon EOS M6 Mark II / Canon EOS 250D / Canon EOS 850D / Rebel T8i / Canon EOS 6D / Canon EOS M200 / Canon EOS 5DS R ( without low-pass filter) / Canon EOS 80D /