512
DSLR camera test: the Nikon D7500 on a microscope
Nikon has updated its D7200 model with advanced technical features and launched the new D7500 – a solid all-rounder sporting a 20 megapixel APS-C sensor, a native ISO range of up to 51,200, 4K UHD video recording and a tilting touch-sensitive screen, but with one major downside for our special area of use, which we will touch on later.
Because they deliver high quality and are very versatile, DSLRs and system cameras are widely used for scientific applications that require the use of microscopes or macroscopes. With a price tag of around € 1,100 (body only), the D7200 faces serious expectations regarding quality and versatility, because the competition (Canon, Sony and Olympus, etc.) has already set the bar quite high for cameras with this sensor format. For our special application, only the camera body (without lens) is attached directly to the microscope using an optical adapter solution. This is where the camera will prove its mettle, and that's exactly where we ran into an issue with the D7500 (which we will get to later).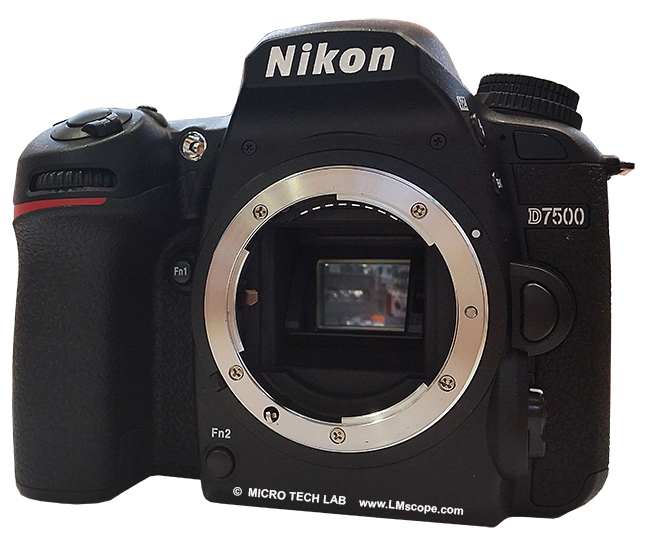 The body of the D7500 is made of a high-quality carbon composite material (plastic) and is sealed against dust and splash water. A mini HDMI connector, a micro USB port and a multi-function accessory terminal that can be used, for example, for a remote control device are located on the side of the camera and covered with rubber caps.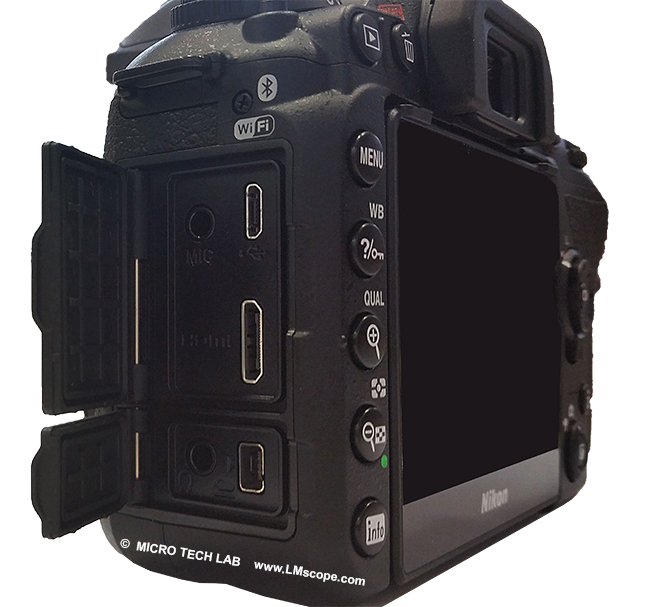 With an HDMI cable, the camera can also be connected to high-resolution monitors – the image quality settings can be easily customised in the menu.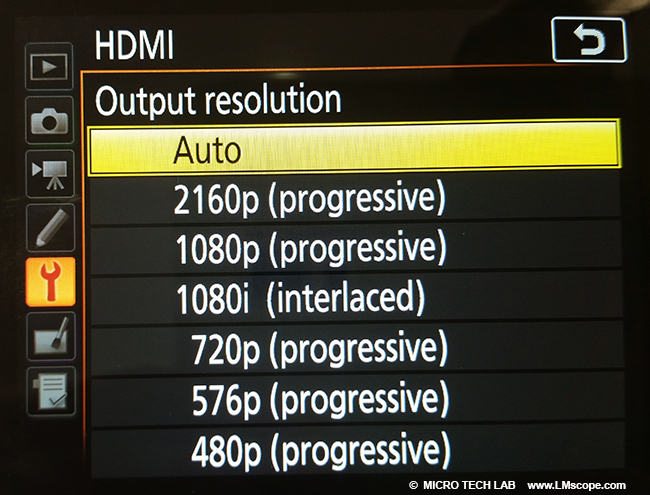 The D7500 features 22 buttons, four dials and four switches for camera control and operation. The info screen on the top of the camera is illuminated, but does not show as much information as that of the D7500's "big sister", the D850. A more noticeable aspect is the camera's large (3.2 inch) TFT LCD monitor – a feature that is quite important for our application – which tilts up and down for shooting at odd angles.
ISO sensitivity ranges from 50 to 51,200 and can be expanded up to ISO 1,640,000.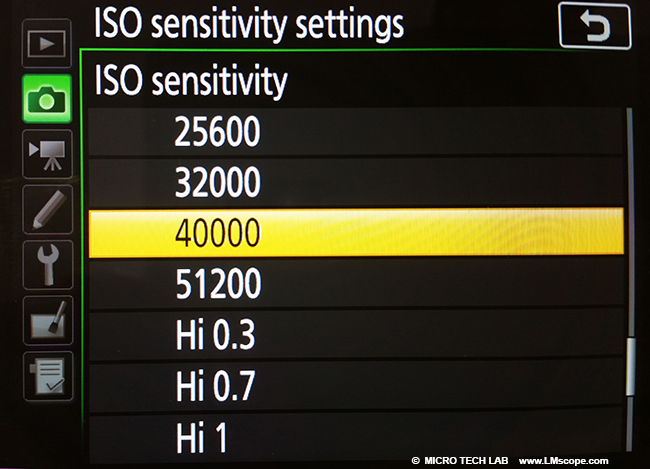 The dynamic range is almost equal to that of the Canon EOS 80D, with eleven f-stops even at ISO 100, which is quite remarkable for a mid-range camera.
Equipped with the same EXPEED 5 image processing engine as the D850 – Nikon's top technical performer – the D7500 can record a 4K/UHD video resolution (3,840 x 2,160 pixels) at up to 30 fps and captures a standard HD video at 60 fps.
The D7500 also offers an in-camera HDR imaging function (several images at different exposures are combined into one "super" image) and an Active-D-Lighting option to make the images look more appealing. The maximum exposure differential is limited to 3 EV.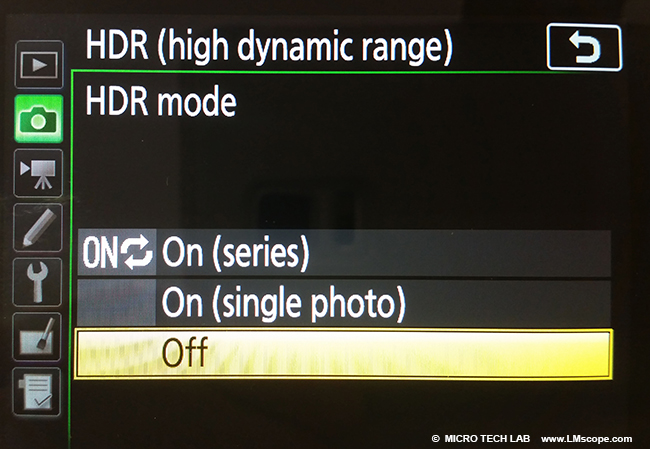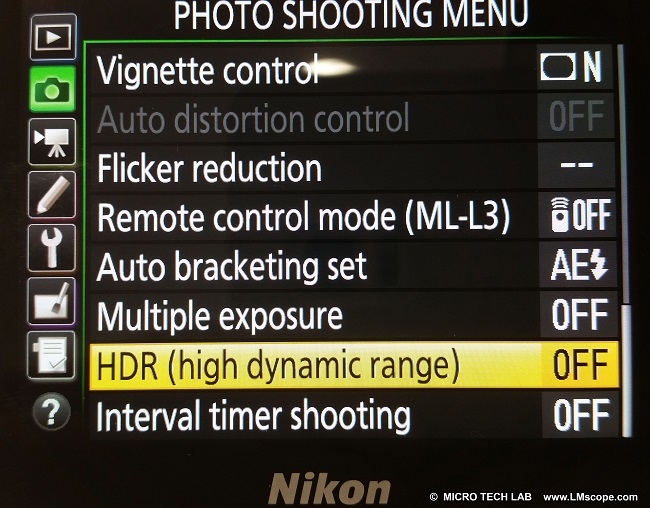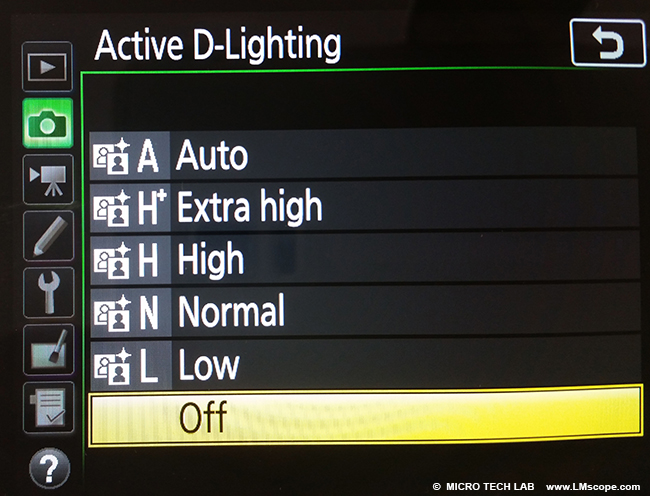 When capturing native microorganisms, cell cultures, insects, etc., short exposure times can be selected, which will increase image sharpness.
A major drawback of the D7500 when using it with a microscope, macroscope, telescope or any other lens that is not equipped with a CPU is that with a non-original CPU lens the camera will only operate in M-mode (manual mode) and you can't shoot at any other setting! Cameras in this price range usually don't have this restriction and will accept lenses and other optical devices without any limitations. So far, we were only aware that Nikon's entry-level D3xxx and D5xxx cameras did not work with non-CPU lenses except in full manual mode. This restriction is probably motivated by economic considerations, in an effort to get customers to buy Nikon's own lenses.
Of course, working only in M-mode is not that difficult, but you can't use the camera's convenient auto exposure capabilities when in manual. If your specimens and lighting conditions are quite similar, that is not a big issue because the exposure time doesn't change that much when you take photos through the microscope, and a bit of trial and error and some test shots should help you find the optimal setting.
For photomicrography applications, we recommend controlling the camera remotely. Nikon's reliable Camera Control 2 studio software enables simplified remote control of compatible cameras. This way, the user can view the live image on the computer, adjust the focus and transfer the recorded image directly to the computer. For work in a stationary setting (laboratory, photo studio, etc.), this software is indispensable and considerably improves workflow and efficiency.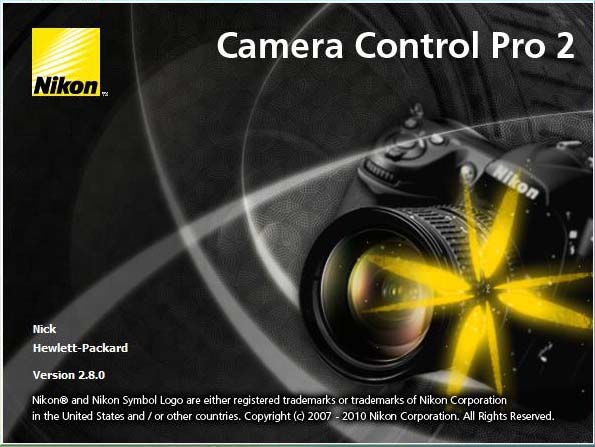 The camera can also be controlled remotely from a smartphone/tablet via WiFi.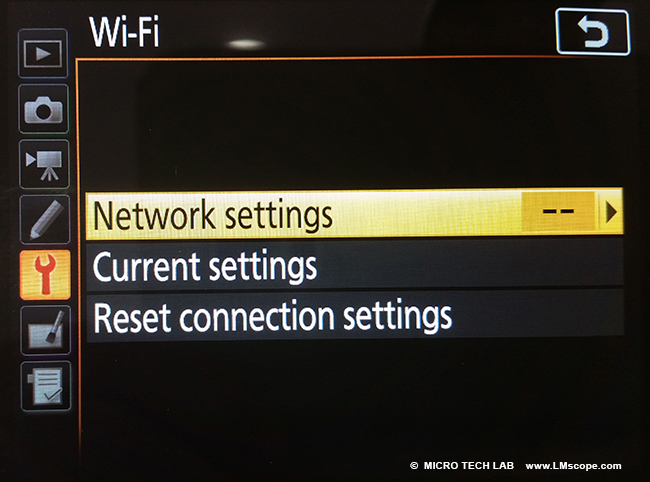 CONCLUSION: Anyone looking for a camera to be used specifically with a microscope should consider other camera models. If the budget allows, Nikon's current D850, Z6 and Z7 full-frame cameras are great choices for photomicrography and offer outstanding versatility and performance. Even older full-frame models, such as the Nikon D810 / D800 / D610, deliver great results. The competitor models in the same price range have considerably more to offer in terms of photomicrography – for more information, read up on the Canon EOS 80D, EOS 77D or Sony Alpha 6500. If you already own a D7500 and want to take photos through the microscope, you can achieve good results in M-mode. Further information on cameras that are best suited for use with a microscope can be found in our current camera recommendations and our camera ranking.
New LM Digital Adapter for:
Nikon Z9 / Nikon D6 / Nikon Z6 / Nikon Z6II / Nikon Z7 / Nikon Z7II / Nikon Z5 / Nikon Z50 / Nikon Z30 / Nikon Z fc / Nikon D850 / Nikon D780 / Nikon D5 / Nikon D4s / Nikon D4 / Nikon D750 / Nikon D500 / Nikon D810 / Nikon D800 / Nikon D800E / Nikon Df / Nikon D610 / Nikon D600 / Nikon D7200 / Nikon DS-Qi2 (Microscope Camera) / Nikon D3x / Nikon D3S / Nikon D7100 / Nikon D7000 / Nikon DS-Ri2 (Microscope Camera) / Nikon D7500 / Nikon D700 / Nikon D3 / Nikon D5500 / Nikon D5200 / Nikon D5300 / Nikon D300 / Nikon D3500 / Nikon D3400 / Nikon D5100 / Nikon D3200 / Nikon D300S / Nikon D5600 / Nikon D3100 / Nikon D5000 / Nikon Coolpix S8100 / Nikon Coolpix S9100 / Nikon Coolpix P500 / Nikon Coolpix S6100 / Nikon Coolpix P7000 / Nikon Coolpix 4500 /