511
State-of-the-art camera technology at work: The high-performance sensor of the Nikon D850 offers enhanced capabilities for microscopy and macroscopy applications.
With its 45.7 megapixel back-side illuminated full-frame BSI CMOS sensor that allows for more efficient light capture per pixel, the Nikon D850 is far more powerful and versatile than its sister models D7500 and D5600. With an amazing level of resolution capacity, an extensive dynamic range and notable low-light sensitivity, this sensor outperforms all competitor models currently on the market. Apparently, as our internal comparison tests indicate, both the Nikon D850 and the new Nikon Z series system cameras are equipped with the same sensor. Also, Nikon has opted for no resolution-reducing low pass filters in the D850. In our DSLR microscope camera test, the D850 has been occupying the first place for over a year now (as of November 2018).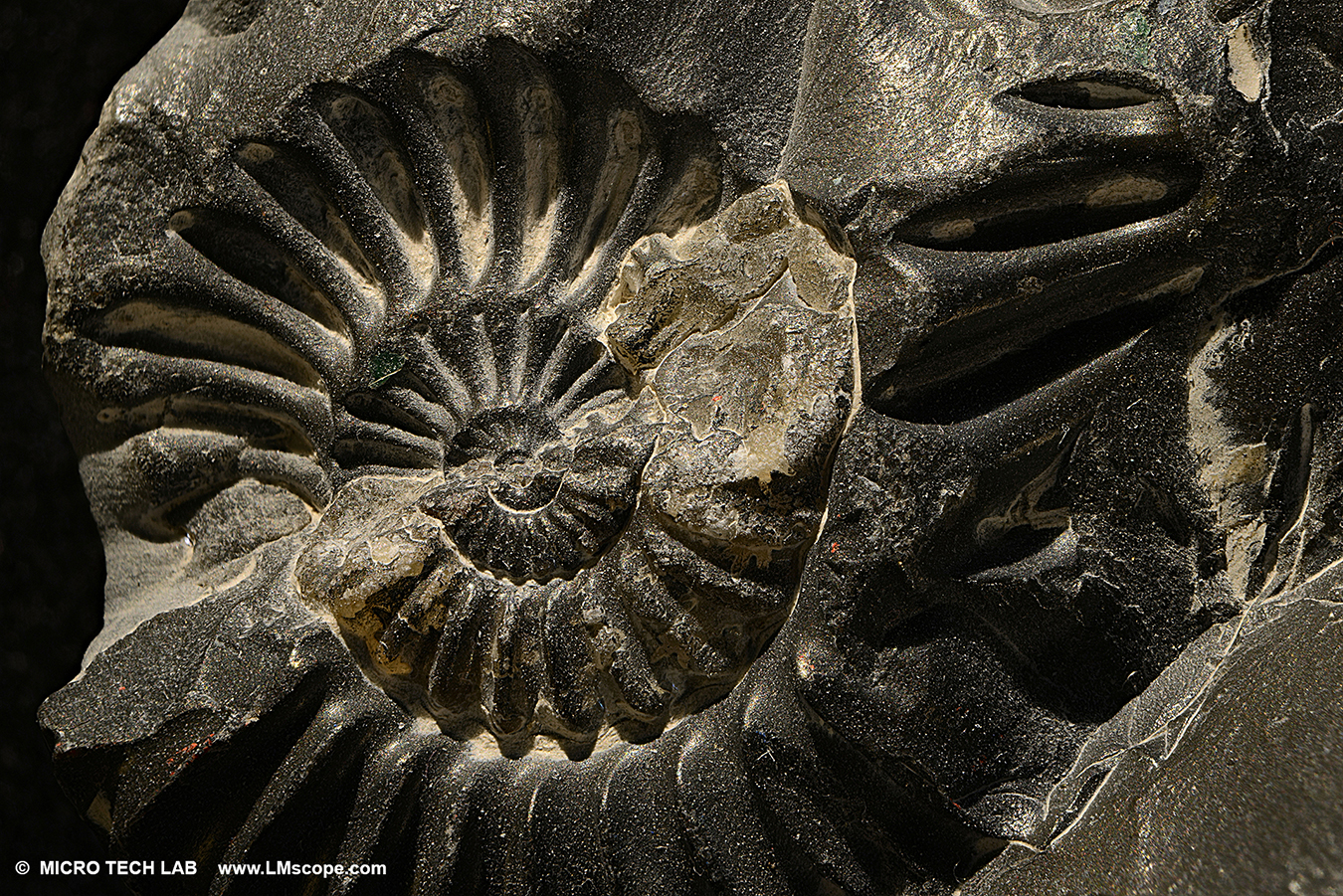 Demo photo: petrified ammonites under the microscope - the combination of LM macroscope and Nikon D850 enables professional digital photo documentation
First, here's a brief overview of the camera's technical details:
45.7 megapixels

Extensive dynamic range

High ISO sensitivity

Back-side illuminated BSI CMOS sensor for more efficient light capture per pixel

3.2 inch tilting touch-enabled LCD screen with 2.36 million pixels

4K UHD video at up to 30 fps

Continuous shooting: 7 fps at full resolution

Integrated WiFi

In-camera HDR

Electronic Front Curtain Shutter (EFCS) feature to reduce the camera blur caused by the first of the two shutter curtains opening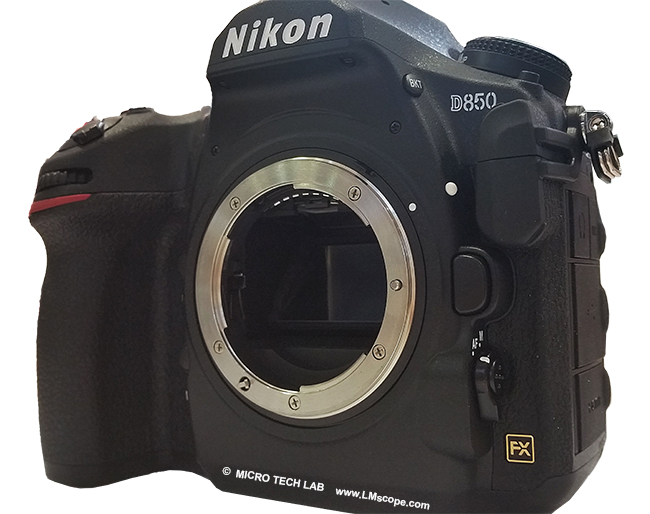 The Nikon D850 has a robust magnesium alloy body that is resistant to dust and moisture and weighs in at almost 1 kg (body only). As usual, the camera functions are controlled by buttons, the mode selector dial and the high-resolution touch-enabled LCD screen with a diagonal display of 8 cm (3.2 inches) and 2.36 million pixels. One of the constraints of Nikon's D 800 and D810 (the predecessors to the D850) was that they had a fixed screen, so it's good to finally see Nikon embracing a tilting touchscreen on the D850. A tilting screen is an important aspect when using a camera on a microscope because it enables the microscope operator to remain in a sitting position.
For photomicrography applications, we generally recommend controlling the camera remotely from a computer. Nikon's Camera Control Pro 2 software enables simplified remote control of compatible cameras, so that the camera can be comfortably controlled from the computer while looking at the live image on the monitor. This not only increases the workflow, but also results in a considerably better image quality.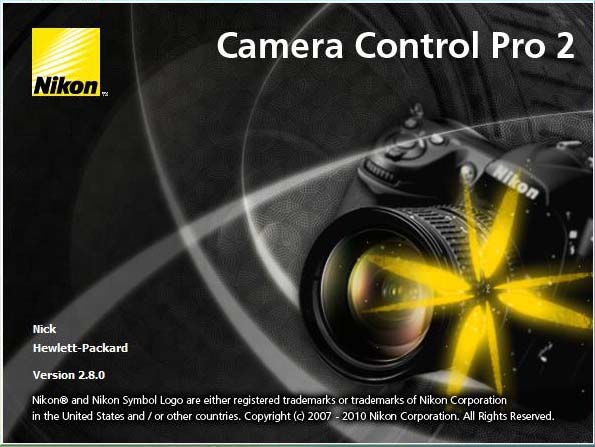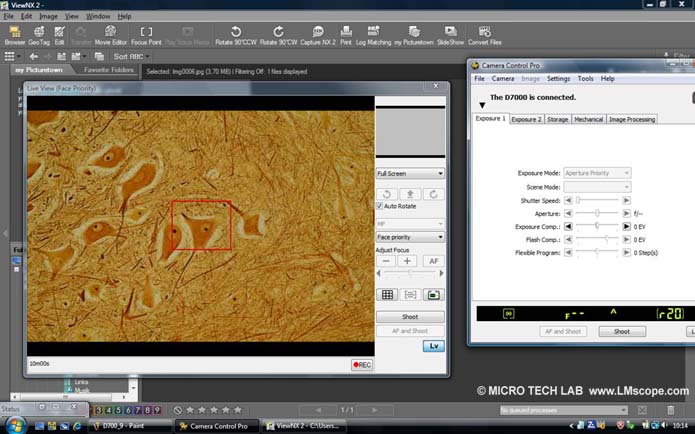 The Nikon D850 is excellently suited for high-quality photomicrography. With our LM digital adapter solutions which feature a plan-achromatic optical system, attaching the camera to the microscope is an easy and uncomplicated task. We offer adapters for connecting the camera to the microscope via the photo tube or via the eyepiece tube. The modular construction of our adapters allows for a high degree of flexibility, and changing to another microscope is no problem at all.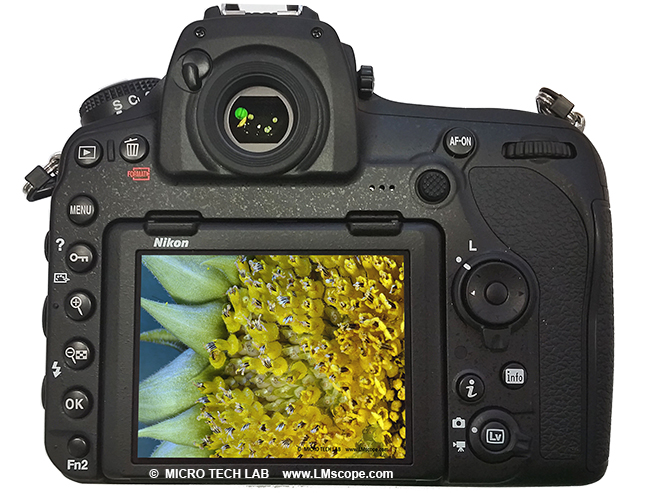 For our special area of use with modern microscopes and high-resolution macroscopes, a more powerful camera has the benefit of significantly improving image quality. The combination of increased resolution (45.7 MP) and higher light sensitivity thus makes the D850 an optimal camera for our needs. How much of an impact the excellent quality of the camera actually has depends, of course, also on the microscope that is used. At low microscope magnifications (1x to 80x), which are mainly used with photo macroscopes, stereo microscopes and special microscopes, the high number of pixels will certainly result in improved image quality: the image will show the object in greater detail and, thanks to the high dynamic range, the level of observable colour graduation will also increase. At medium and high magnifications, the high number of pixels the sensor holds does not yield that much of a benefit because the resolution capacity is limited by the objective of the microscope. However, the phenomenal dynamic range (f-stops) most definitely gives a boost to image quality.
Equipped with an EXPEED 5 image processing engine, the D850 can record a 4K/UHD video resolution (3,840 x 2,160 pixels) at up to 30 fps and can shoot up to 60 fps in Full HD/120 fps in standard HD. Video recording at up to 120 fps in HD is, for example, ideal for slow-motion sequences. With an external software, time-lapse videos are even possible in 8K quality. The continuous shooting speed is also quite good at 7 fps.
With the D850's in-camera HDR imaging function (several images at different exposures are combined into one "super" image) and Active-D-Lighting option to optimise shadow and highlight details, the images can be made even more appealing. White balancing improves the image quality another notch.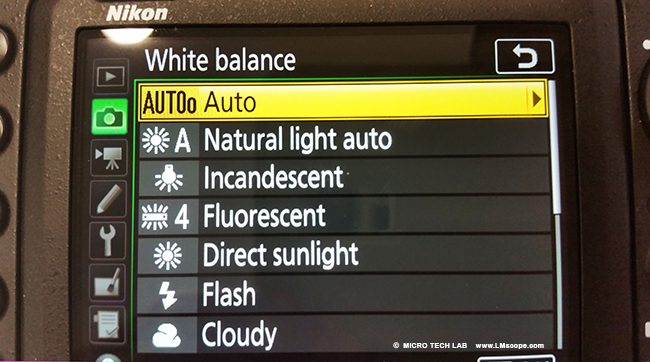 Its high ISO sensitivity of up to 102,400 makes the D850 particularly well suited for fluorescence microscopy.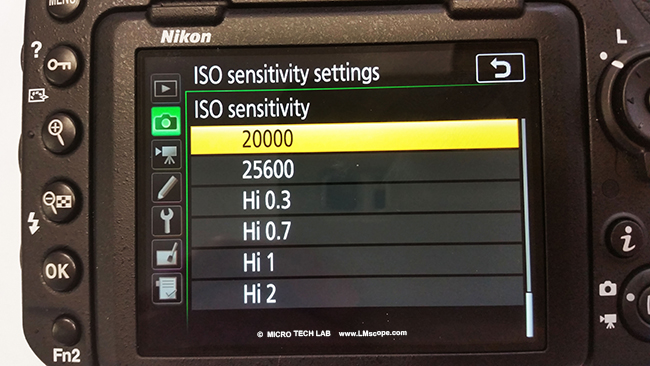 In terms of dynamic range, the D850 is far ahead of its competitors (Sony A7III, Canon EOS 5D Mark IV, Canon EOS 5DS R).
True to its role as a camera for professionals, the D850 also offers a large number of ports and connections. There is a multi-function accessory terminal for Bluetooth and WiFi adapters, a USB 3.0 port and a mini HDMI connector. This means that high-contrast images can be presented to a larger audience on external monitors, for example when teaching or giving a demonstration. Setting the HDMI output resolution is quick and easy: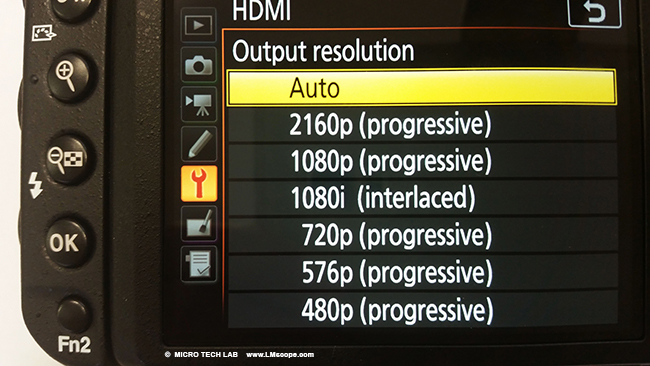 Image Overlay is another interesting feature offered by the D850: Several images are recorded at designated intervals and then merged into one composite image. The user can choose from a variety of different modes. Up to 10 images can be overlayed, but the Image Overlay option is not available in Live View mode. To minimise vibration when triggering the camera, it is advisable to control the camera remotely or use the self-timer function. Enabling the EFCS function is also a good way to avoid vibration.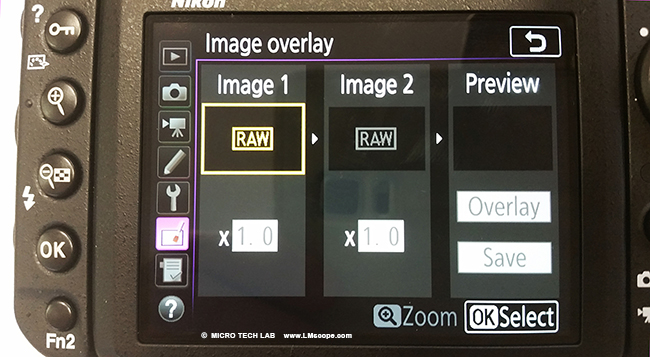 Nikon launched two new system cameras (Z series) in autumn 2018. We explored the question of whether system cameras or DSLRs are the best choice for use with a microscope.
Essentially, the difference between system cameras and DSLRs is that system cameras don't have a complex mirror system as DSLRs do. This means that they are lighter and more compact. In microscopy, the Live View mode is typically used to capture images with a DSLR, i.e. the mirror is always folded up. The camera's mechanical shutter is used to control the exposure time. After the shutter has been actuated, the image is saved to the camera's memory. The complex mirror system thus has no impact on image quality, but allows the photographer to view the image through the lens using an optical viewfinder, which is a good way to check the photo before pressing the shutter button. New system cameras, on the other hand, have an electronic viewfinder, which means that the camera has to constantly collect sensor information. As a result, cameras with electronic viewfinders typically have significantly shorter battery life and their sensors get warmer because of the continuous readout. This increase in sensor temperature causes a reduction of signal-to-noise ratio, which in turn leads to a loss of dynamic range. In the case of special applications, where the goal is to wring every last ounce of performance from the camera, such aspects are quite important.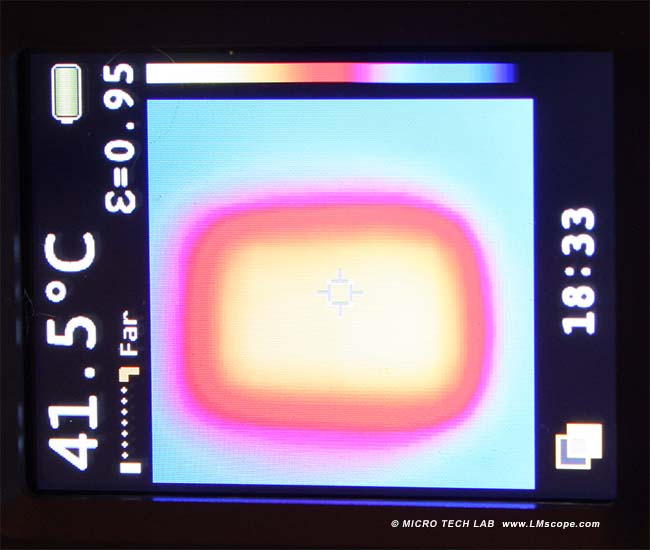 Thermal image of a Nikon sensor after prolonged use
If you have been using a normal microscope C-mount camera and are now looking to change to a new camera system, the Nikon D850 and similar high-end cameras will give you a huge increase in image quality. Typically, C-mount cameras use very small sensors that are nowhere near the capabilities of their full-frame DSLR brethren. Normal microscope C-mount cameras usually do not have a mechanical shutter to control the exposure time, which makes it difficult to produce distortion-free images of moving objects. Modern DSLRs and system cameras, on the other hand, are equipped with an extremely fast mechanical shutter, which enables shutter speeds of 1/8000 seconds (D850).
CONCLUSION: The Nikon D850 is a top-tier camera and excellently suited for use on a microscope. In view of its top-performing sensor, the price tag of about € 2,500 is more than justified. For stationary use in a laboratory or studio, we recommend Nikon's Camera Control Pro 2 software for controlling the camera remotely from a PC or Mac and a battery adapter for connecting it to an external power supply.
New LM Digital Adapter for:
Nikon Z9 / Nikon Z8 / Nikon D6 / Nikon Z6 / Nikon Z6II / Nikon Z7 / Nikon Z7II / Nikon Z5 / Nikon Z50 / Nikon Z30 / Nikon Z fc / Nikon D850 / Nikon D780 / Nikon D5 / Nikon D4s / Nikon D4 / Nikon D750 / Nikon D500 / Nikon D810 / Nikon D800 / Nikon D800E / Nikon Df / Nikon D610 / Nikon D600 / Nikon D7200 / Nikon DS-Qi2 (Microscope Camera) / Nikon D3x / Nikon D3S / Nikon D7100 / Nikon D7000 / Nikon DS-Ri2 (Microscope Camera) /