515
Camera test: The Nikon D5600 on the microscope – a capable all-round camera, but with a major flaw for microscope imaging applications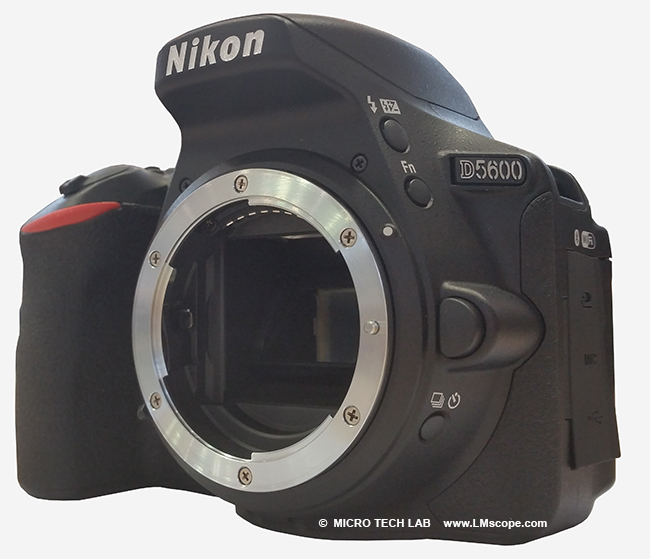 The D5600, Nikon's entry-level DSLR, offers advanced camera technology at an appealing list price of around EUR 600. It has a very good APS-C sensor with 24 MP and boasts an excellent dynamic range. The 8.1 cm tilting and rotating touchscreen LCD display is also a very handy feature.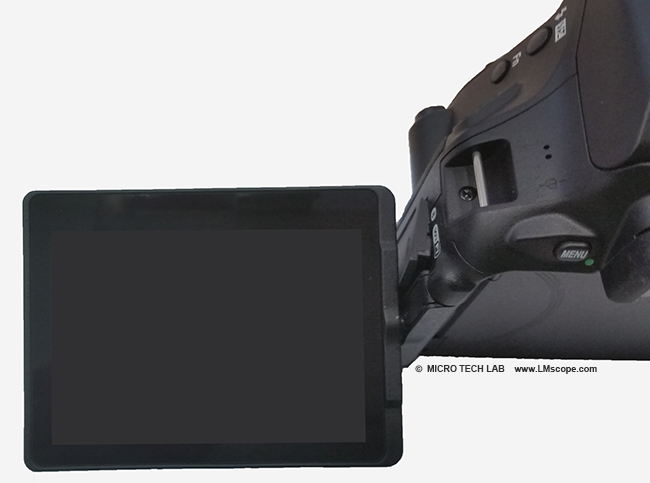 The camera can be easily controlled from a smartphone or tablet (Wi-Fi connection) with an app (available for iOS and Android). You can use the live image preview to adjust the focus and release the shutter. The magnifying feature, which can be activated with a button press or via touchscreen, is also useful for ensuring that the camera focuses where you want it to. Alternatively, you can control the camera remotely from a PC/Mac with Nikon's Camera Control 2 software. Having the option to control the camera remotely is particularly important in microscopy, because the camera is permanently mounted to the microscope, and a remote control software generates a dramatic improvement in workflow and efficiency.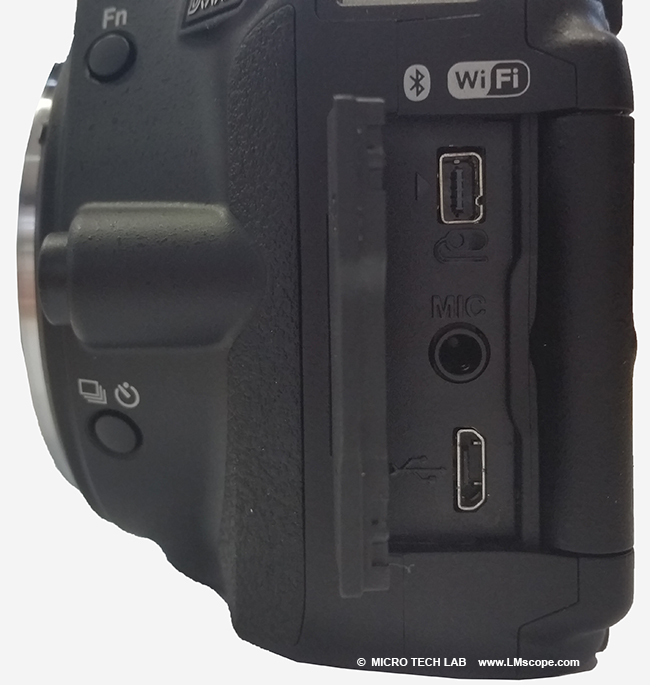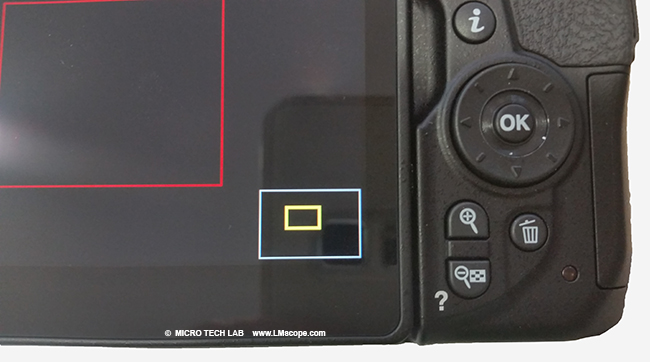 The D5600 offers an ISO range of 100 to 25,600 and 5 fps burst shooting at maximum resolution. Full HD video recording is supported at up to 60 fps. The camera also features Bluetooth, Wi-Fi and NFC connectivity. The shutter speed in automatic mode is between 1/4,000 and 30 seconds. The D5600's HDR mode, which has become a common feature on newer cameras, is another great tool which merges multiple exposures into a single, well-exposed image. This is a particular benefit when dealing with heterogeneous microscope specimens of dissimilar thickness, such as insects (thicker body, very thin wings).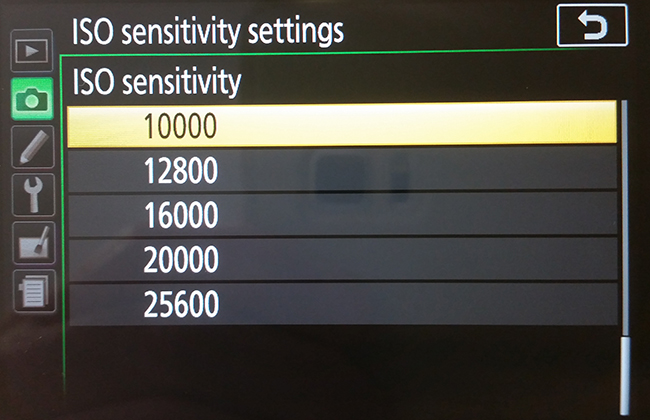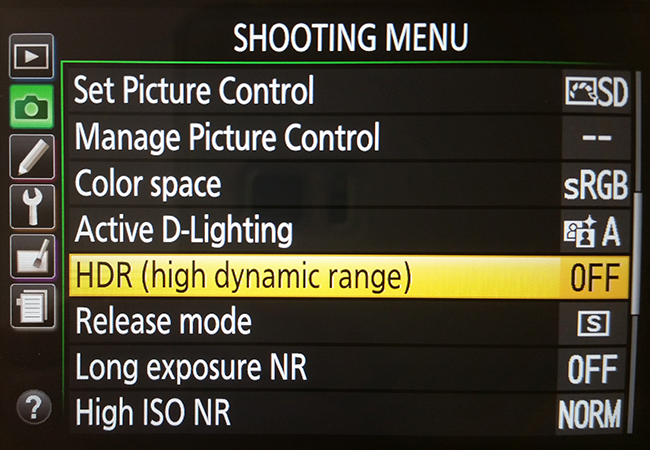 The D5600 has a Nikon F-mount bayonet lens mount, which can be used to attach the camera to a microscope with one of our adapters. We offer adapter solutions with integrated plan-achromatic optics for a wide variety of microscopes. The following are standard connections:
- Adapters for C-mount connections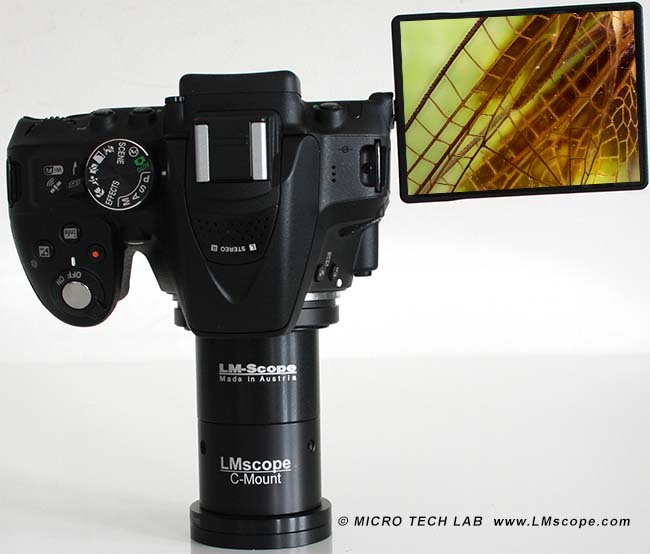 Symbol photo
- Adapter solutions for eyepiece tubes with internal diameters of 23.2 or 30 mm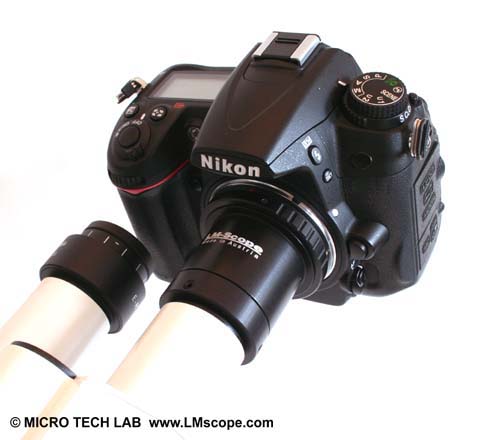 - Adapter solutions for microscope-specific photo tubes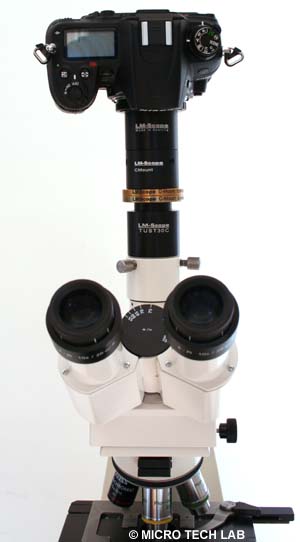 Thanks to the modular design of our adapter solutions, changing microscopes is no problem at all, which facilitates maximum flexibility.
With all these features, the D5600 would actually be a very capable camera for microscopy – if it wasn't for one major flaw: like its higher-priced sister model (D7500), the D5600 is disappointingly limited in terms of compatibility with third-party lenses. If the lens does not communicate with the camera, you can't use the AV mode and let the camera do the work, and the shutter won't fire.
The camera manual specifically addresses this issue: Non-CPU lenses may only be used when the camera is in manual (M) mode. Other manufacturers (Canon, Olympus, Sony, …) don't have this lens compatibility restriction!!! Only the more expensive Nikon cameras (D850, D810, D800, D500, D610, Z6, Z7, D7000 ,D7100, D7200, D7300) are compatible with third-party lenses. For scientific microscope imaging applications, as well as for working with a telescope or macroscope, this means that to flexibly use Nikon cameras, you need to have deeper pockets. Of course, working in M mode isn't that big of a hassle, but auto exposure is a rather convenient feature and makes work much easier.
Conclusion: The Nikon D5600 is a solid entry-level DSLR with a capable sensor and a tilting/turning screen. If it is primarily intended as a combo solution for routine photography and microscope applications, then it is definitely a viable option. However, if you want to use it as a microscope camera only, the fact that you must set the aperture and shutter speed manually, without automation, is something of a deal breaker. Alternative solutions can be found in our camera recommendations and our camera ranking.