317
The Nikon D7100 on the microscope
When the Nikon D7000 was launched on the market four years ago, we were very satisfied with its performance on the microscope. As quite some time has passed since then, we were curious to see the improvements that the experts at Nikon had made with the D7100. Because Nikon's entry-level range (D5100, D5200, D5300) is only suitable for use on the microscope to a limited extent, the Nikon D7000 and D7100 are good basic models for Nikon enthusiasts.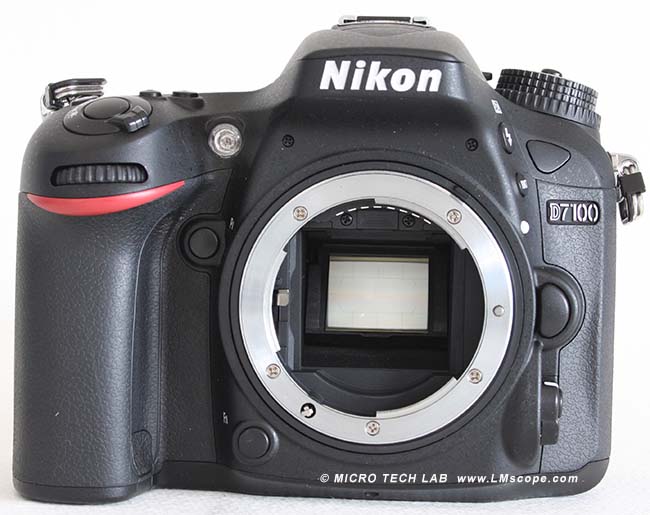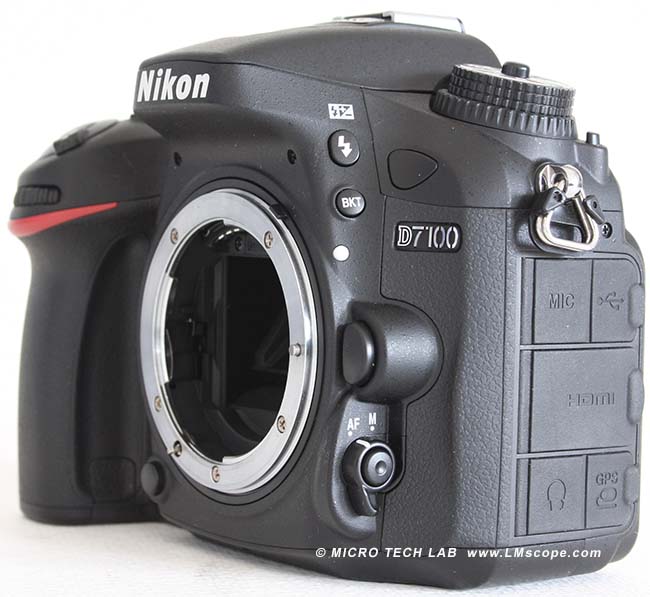 Looked at from the outside, there is very little difference between the bodies of the Nikon D7000 and D7100. In terms of weight they are identical, too (camera body: 780 g). The body itself is, as is customary for Nikon models in this price range, very well built, and the buttons are well thought-out and easy to operate.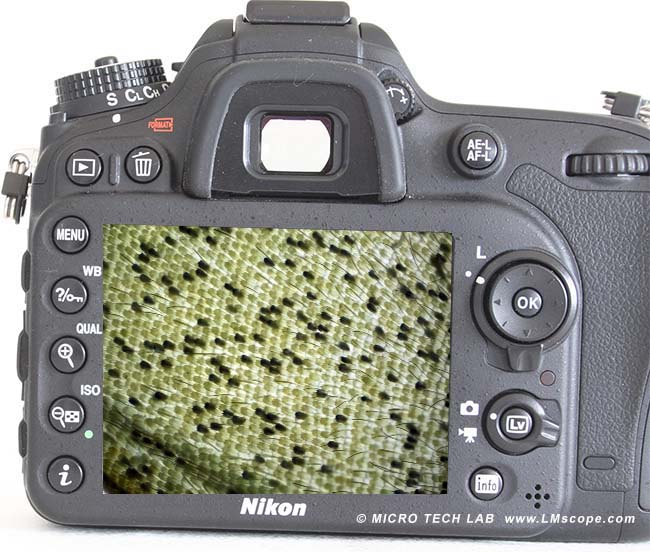 Small differences become apparent when we look at the rear of the camera. There is an additional button which brings up a quick menu on the screen. The display itself is very good, although, as with the predecessor model, it cannot be swivelled or rotated, but is – much to our regret – fixed in place.
The Nikon D7100 has an APS-C sensor in DX format with 24 megapixels. ISO sensitivity can be adjusted automatically from 200 to 25,600, and manually from 100. The colour depth is 36 bits. In comparison, the Nikon D610 has 42 bits.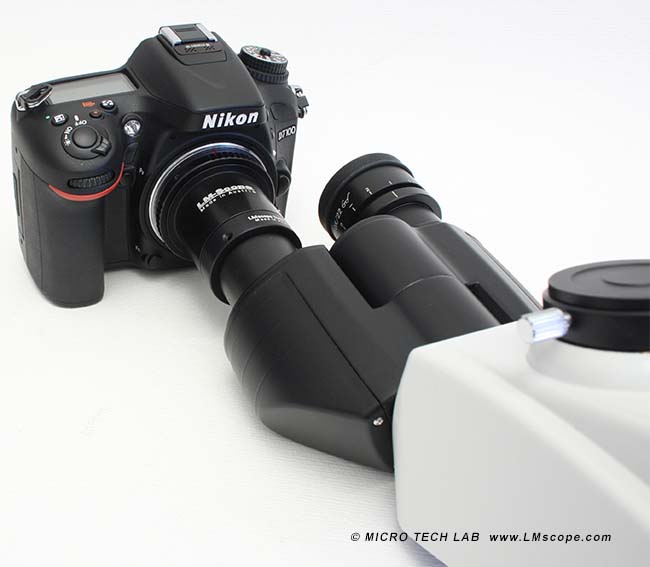 Using our LM digital adapters, the camera can be attached to all conventional microscopes quickly and easily, either to the phototube or to the eyepiece tube.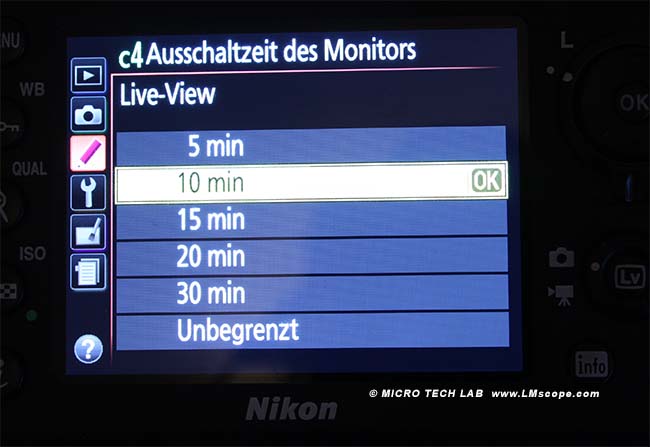 An image magnifying function is available in Live View mode, and the Live View image can be displayed without difficulty on an external monitor via an HDMI cable. The option to set the auto shutoff time to unlimited is very convenient. This is a very important point if you are planning to show live presentations during speeches or lectures (with the Nikon D5300, the time for auto shutoff can only be set to a maximum of 30 minutes). The shutter of the camera is very quiet when activated.
To obtain high-quality images when working on the microscope, the camera should always be controlled from a PC or tablet using the Nikon Camera Control Pro 2 software. This software is not included in the price of Nikon cameras and must be purchased separately (approx. € 130).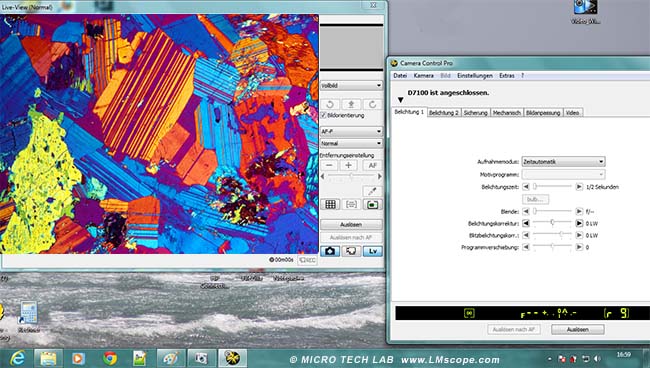 The Nikon D7100 is in direct competition with the Canon EOS 70D. While the latter may have fewer pixels, it does come with a vari-angle screen and the software for controlling the camera by computer is included for free with the camera.
Conclusion: The Nikon D7100 is certainly a very good camera with a high-quality APS-C sensor. It offers all the functions that are important for use in microscopy. In terms of price, it sits in the middle segment (approx. € 900). While it may be somewhat more expensive than the Nikon D5300, it does offer significantly better quality.
19.03.2014
New LM Digital Adapter for:
Nikon D6 / Nikon Z6 / Nikon Z6II / Nikon Z7 / Nikon Z7II / Nikon Z5 / Nikon Z50 / Nikon Z30 / Nikon Z fc / Nikon D850 / Nikon D780 / Nikon D5 / Nikon D4s / Nikon D4 / Nikon D750 / Nikon D500 / Nikon D810 / Nikon D800 / Nikon D800E / Nikon Df / Nikon D610 / Nikon D600 / Nikon D7200 / Nikon DS-Qi2 (Microscope Camera) / Nikon D3x / Nikon D3S / Nikon D7100 / Nikon D7000 / Nikon DS-Ri2 (Microscope Camera) / Nikon D7500 / Nikon D700 / Nikon D3 / Nikon D5500 / Nikon D5200 / Nikon D5300 / Nikon D300 / Nikon D3500 / Nikon D3400 / Nikon D5100 / Nikon D3200 /