478
The Canon EOS 800D on the microscope – a practical test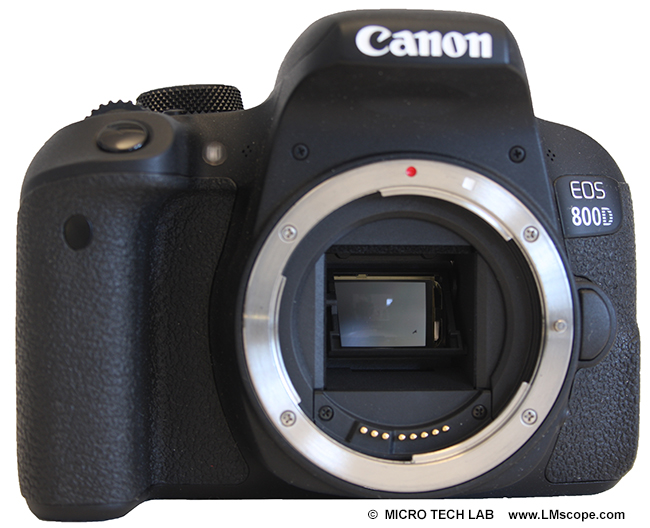 Canon's EOS 800D DSLR camera was released in April 2017 as the successor to the EOS 760D.
The display is an important aspect when it comes to installing a camera on a microscope for image acquisition, and the EOS 800D does not disappoint in that respect: it features a TFT LCD touchscreen panel with a display diagonal of 7.7 cm (3.0''). The screen can be pulled out from the body by 180 degrees and rotated through 270 degrees, which is a great advantage over fixed screens in terms of efficiency and ergonomic characteristics.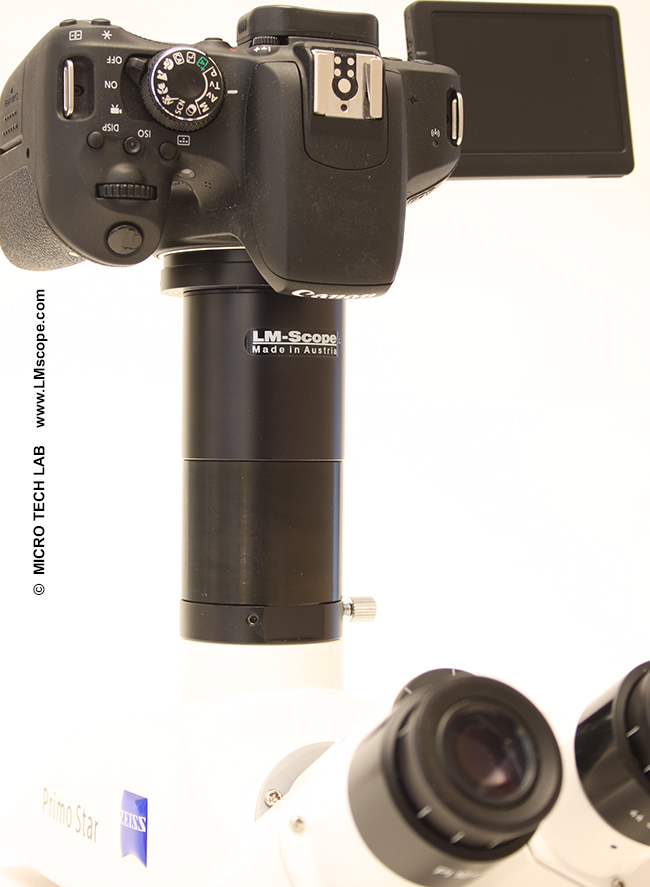 The image shows the Canon EOS 800D attached to a Zeiss photo tube using one of our LM digital adapters with a plan achromatic optical system. The practical advantages of the vari-angle screen are particularly noticeable in that configuration.
The Canon EOS 800D weighs 531 grams (body only with battery and card). As only the body is attached to the microscope, it is exactly that weight which is relevant in photomicrography. For using the microscope's eyepiece tube, a more lightweight camera – such as the Canon EOS 200D – would be even better, but with our LM adapters, fitting the EOS 800D to the eyepiece tube is an easy feat. The modular construction of our adapter solutions facilitates maximum flexibility and easy conversion to microscopes from different manufacturers at relatively low additional costs.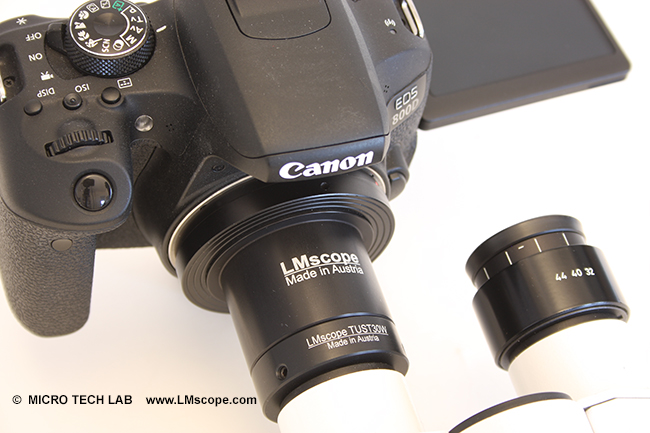 The EOS 800D has an APS-C sensor with 24 megapixels. Its image processor is capable of shooting at a maximum of 6 frames per second. Images can be stored in JPEG and RAW format. The camera also includes Bluetooth, WiFi and NFC for added connectivity options and has an HDMI mini OUT terminal. Movies can be shot at Full HD. If higher resolution (4K) video is required, a Sony Alpha 7R II or 7R III should be used.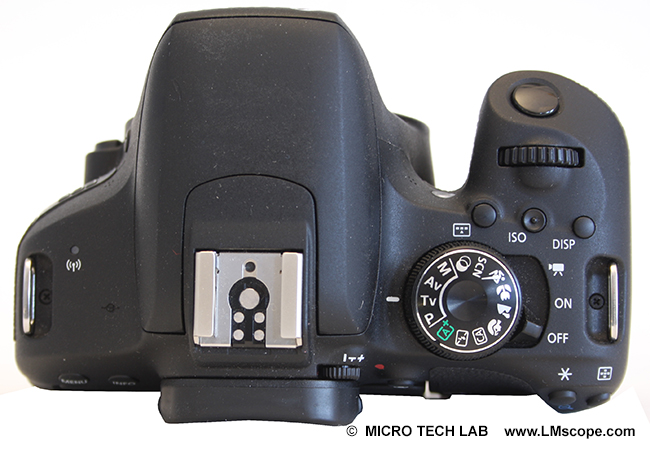 ISO sensitivity can be set between 100 and 25,600, which places the EOS 800D in the mid-range, similar to the EOS 80D. The camera is thus also well suited for low-illumination techniques such as fluorescence microscopy.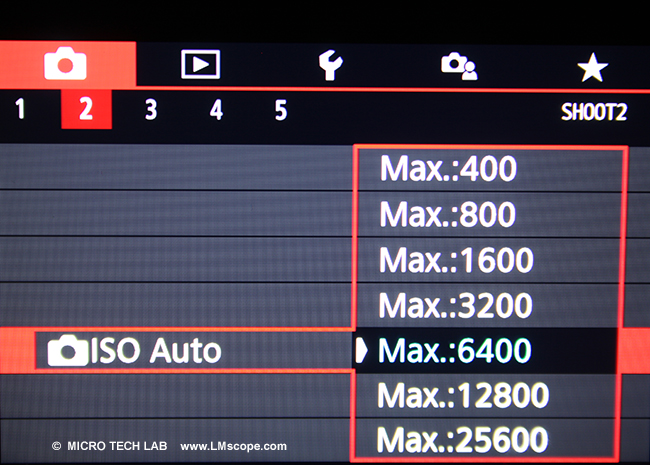 All basic functions that are essential for photomicrography – manual ISO adjustment or deactivating auto shut-off – are supported. Disabling the auto power-off setting is especially important when the camera's internal battery is charged with an AC adapter or when the camera is used for longer presentations.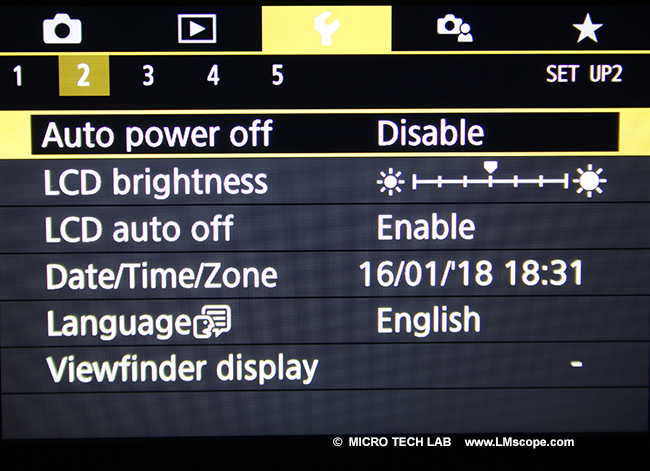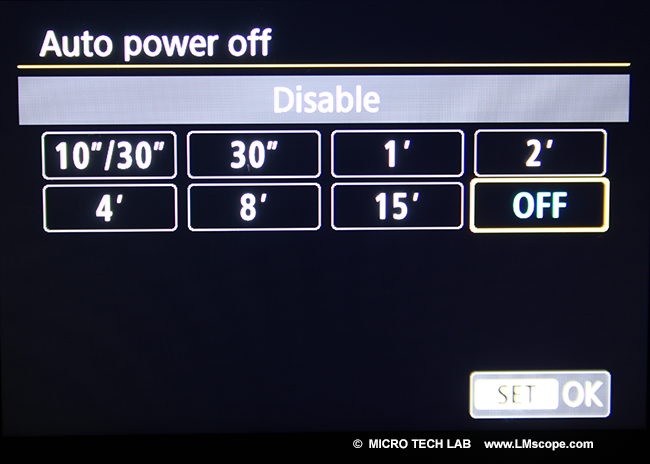 We tested the EOS 800D on a PC using the proven Canon Utility software which is included for free with the camera.
The computer detects the camera without any problems.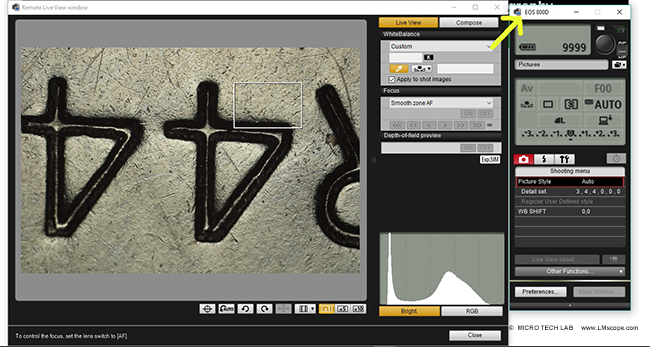 Now, different settings can be configured in Live View, such as
Rotating the view by 180 degrees (because microscopes usually give you a reversed image).

White balance is easy to adjust using the eyedropper symbol. You just need to click on the white background.

ISO can be set directly on the camera screen or – conveniently – using the Canon Utility software.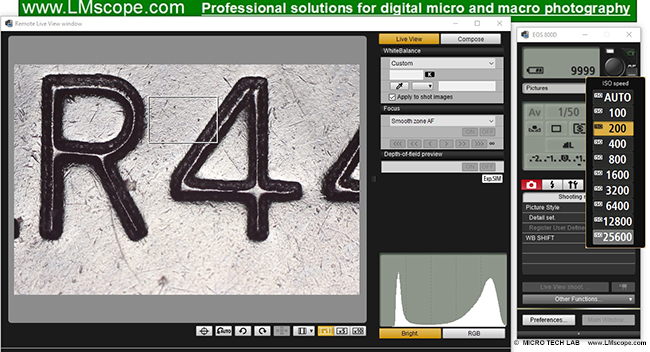 Exposure correction and brightness compensation can also be controlled via the software.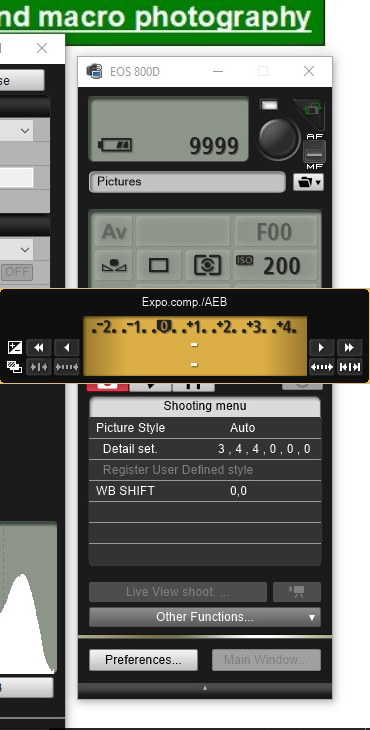 Switching to Live View mode and using the Magnify button (which toggles between 1x, 5x and 10x) makes it easy to home in on the precise focus.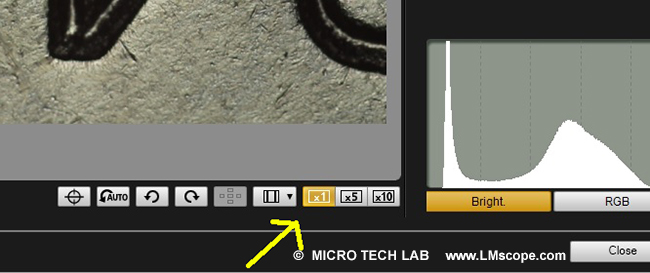 The images are directly filed on the hard drive, and the target folder can also be selected manually.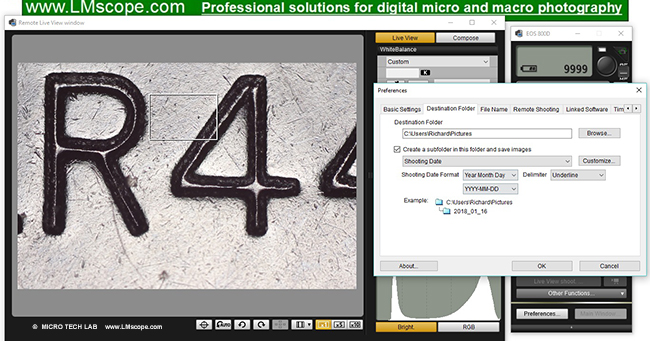 For your convenience, we have created a video that provides a summary of all steps: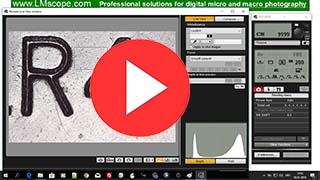 The following steps are shown:
Camera is detected

"Remote shooting" is selected

"Live View" is selected

The object is repositioned

Zoom 5x – image is focused

ISO sensitivity is set

Brightness is set

Various settings are configured (such as destination for saved images)

Information about the program

Rotate

Release shutter
Overall, the software is very well structured and easy to use.
In addition to its EOS Utility software, Canon also offers an app that connects mobile devices to Canon cameras. We used the Canon Camera Connect app to connect to a tablet. Again, the camera – after enabling its built-in WiFi – is detected immediately.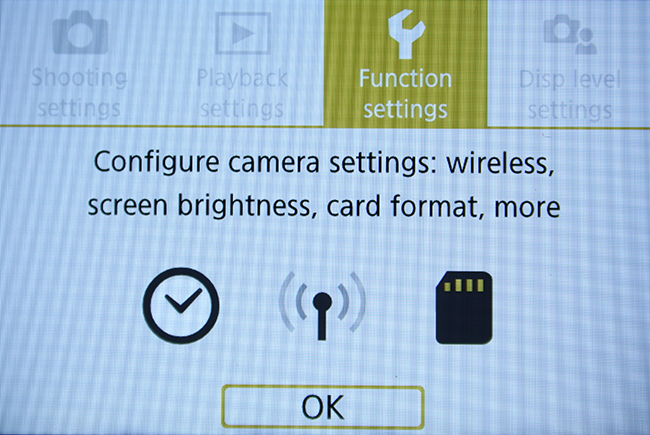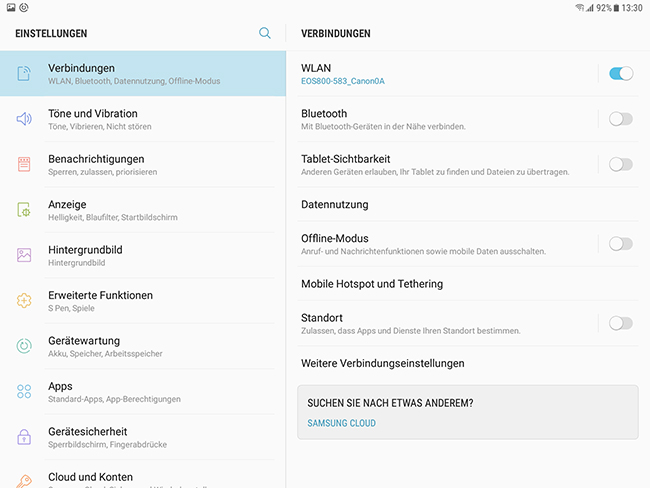 Using the tablet as a remote shutter release works like a charm.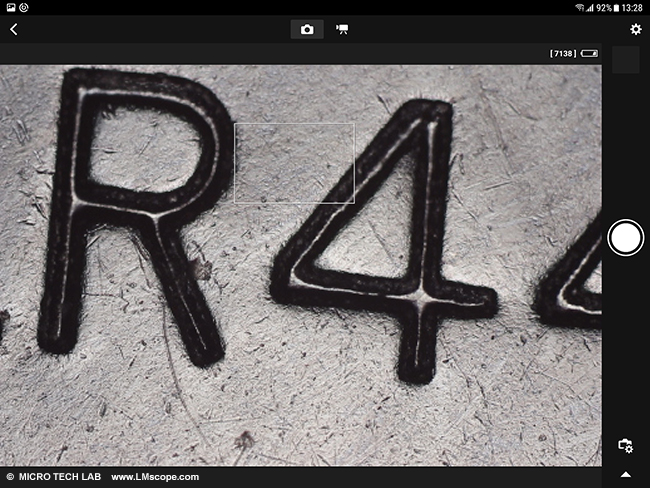 It is also possible to change the ISO settings.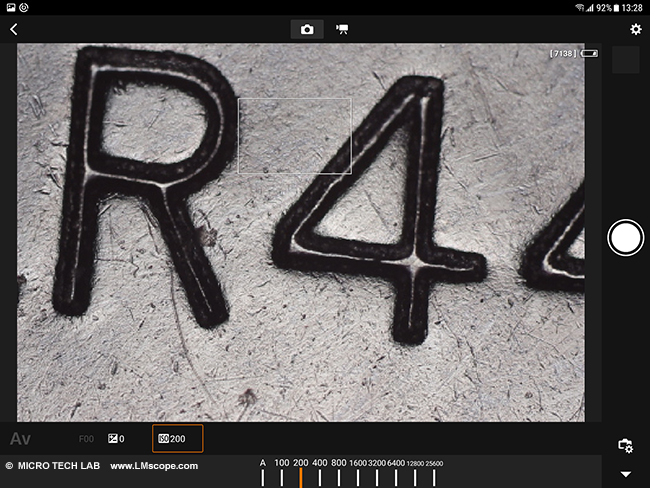 The menu displays additional options, such as image rotation, Live View rotation or mirroring as well as magnification and touch AF.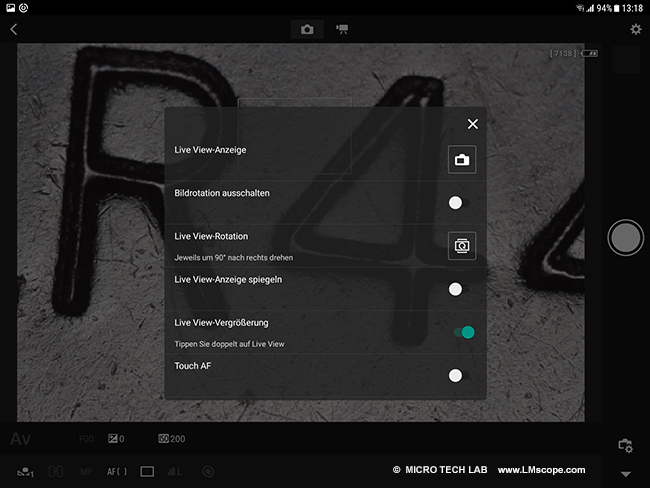 Conclusion:
Thanks to the powerful Canon Utility software, Canon's new EOS 800D DSLR camera is a great choice for use with a microscope. Additionally, Canon's Camera Connect app offers several interesting options for working with a smartphone or tablet. The EOS 800D comes equipped with all the basics you need to create truly satisfactory microscope images. The absence of a built-in HDR mode is the only drawback – if you want to shoot 4K video, cameras like the Sony Alpha 7R II or 7R III would be a better choice.
New LM Digital Adapter for:
Canon EOS R3 / Canon EOS R6 Mark II / Canon EOS R8 / Canon EOS R5 / Canon EOS R6 / Canon EOS R / Canon EOS Ra (Astro) / Canon EOS RP / Canon EOS R7 / Canon EOS R10 / Canon EOS 1D X Mark III / Canon EOS 1D X Mark II / Canon EOS R100 / Canon EOS 1D X / Canon EOS 90D / Canon EOS 5D Mark IV / Canon EOS 6D Mark II / Canon EOS M6 Mark II / Canon EOS 250D / Canon EOS 850D / Rebel T8i / Canon EOS 6D / Canon EOS M200 / Canon EOS 5DS R ( without low-pass filter) / Canon EOS 80D / Canon EOS M50 Mark II / Canon EOS 5DS / Canon EOS M50 / Canon EOS 70D / Canon EOS 200D / Canon EOS 800D / Rebel T7i / Canon EOS 77D / Canon EOS 5D Mark III / Canon EOS 60D / Canon EOS 750D / Rebel T6i / Canon EOS 760D / Rebel T6s / Canon EOS 5D Mark II / Canon EOS 1D Mark IV / Canon EOS 7D Mark II / Canon EOS 600D / Rebel T3i / Canon EOS 650D / Rebel T4i / Canon EOS 700D / Rebel T5i / Canon EOS 2000D / Rebel T7 / Canon EOS 7D / Canon EOS 550D / Rebel T2i / Kiss X4 Digital / Canon EOS 1300D / EOS Rebel T6 / Canon EOS 4000D / Canon EOS 100D / Canon EOS 50D / Canon EOS 1200D / EOS Rebel T5 / EOS Kiss X70 / Canon EOS 1100D / Rebel T3 / Canon EOS 1D Mark III /